Tore Morten Olsen has 17 years of experience in the satellite communications sector working for Telenor and Vizada. He started in 1994 as a Technical Product Manager and moved into the commercial field responsible for the governmental market sector in 1997.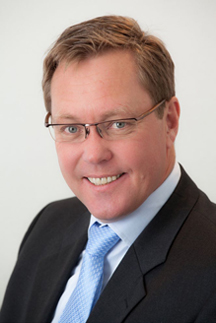 In 1999, he moved to Slovakia to lead the international satellite communications activities of Telenor and then returned to Norway in 2004 to head up Telenor Satellite Networks AS. Since 1999, Tore Morten has held several senior positions within the company that include CEO Telenor Slovakia spol.s.r.o, Chairman of the Board of Directors in several Telenor Satellite Networks companies, Country Manager for Telenor in Slovakia, and CEO of Telenor Satellite Networks.
Following the establishment of Vizada, Tore Morten has taken responsibility of the Maritime VSAT and Mobile Satellite Services retail activities of the company, operating under the Marlink brand. He was CEO of the Marlink Group and held numerous Board positions in the Vizada group.
After Astrium Services acquired the Vizada Group in December 2011, in September 2012 Tore Morten was appointed CEO of Astrium Services Business Communications—Maritime division, taking responsibility for both indirect and direct sales within the Maritime segment in the newly established business division.
SatMagazine
Good day, Mr. Olsen. Would you please tell our readers how you became interested in the satellite communications industry, and why Astrium Services Business Communications (Astrium Services) became your company of choice for your career?

Tore Morten Olsen
I completed a Masters degree in engineering at the
Norwegian University of Science and Technology
. Norway was one of the first countries in the world to use SATCOMs as part of its domestic telecoms infrastructure. Additionally, the state-owned telecoms company, at the time known as
Norwegian Telecom
, was at the forefront of these developments within the satellite industry.
Norway is, obviously, also a major maritime nation and, by nature, this industry is highly dependent on SATCOMs. Selecting this career path enabled me to bridge a link between maritime and satellite communications. It's a way of combining the innovativeness of telecoms with the requirements of maritime customers. Norwegian Telecom became
Telenor
, which then merged with the then
France Telecom Mobile Satellite Communications
, before the rebranding to
Vizada
in 2007. In 2012, Vizada was acquired by
Astrium
to join
Astrium Services
.
Throughout my career with this company, in its different forms, I have had some great opportunities and challenges to sink my teeth into.
SatMagazine
Is Astrium Services involved in helping youngsters become more interested in careers within our various market segments? Given the need to educate trained professionals to support companies' advanced technical needs for various projects, how can we, as an industry, encourage today's youth to consider careers in SATCOMs, as well as further courseware in middle and high school for such future employment?
Tore Morten Olsen
Today's youngsters are our future. With the innovations and development taking place in the SATCOM industry, we need to ensure that we have talented young people joining us, to challenge traditional thinking and help us to bring new ideas to market. This is a core focus for both Astrium. Some of the elements we focus on are:
• The World Space Week (organized by the UN) in October every year. Astrium engineers are particularly active during this event, meeting young pupils and students to explain the benefits of joining the satellite industry
• Partnerships with universities and engineering schools
• Human resources/recruitment initiatives with universities and schools
• Promoting the "critical mission" nature of the SATCOMs industry, particularly interesting for young engineers keen on getting involved with the armed forces, NGOs etc. This can be a very exciting environment for young recruits and a fantastic training opportunity as it requires a particularly high level of service and expertise.

SatMagazine
How has Vizada's transition to Astrium Services affected the company and their customers? Is everyone "onboard" for the changes ahead?
Tore Morten Olsen
The new Business Communications unit of Astrium Services was birthed from the acquisition by Astrium of the Vizada Group and Marlink at the close of 2011. Partners and customers benefit from this move by having access to a complete range of satellite services that cover the full range of systems (L-, C-, Ku-, Ka-band) and a scope of solutions from airtime and hardware sales to fully managed and outsourced solutions.
Following the acquisition, we now have an enhanced network infrastructure, as well as the strategic and financial backing of
EADS
, the global leader in aerospace, defense and space related services, to continuously develop new innovations and opportunities. The significant size and scale of Astrium and its resources will enable us to continue a technology-agnostic approach, with a sales strategy dedicated to providing maritime customers, such as shipping companies, oil and offshore, fishing, cruise and ferry, as well as NGOs, enterprise and energy companies, with an extensive choice of satellite systems, through indirect and direct channels.
SatMagazine
What moves are major satellite operators taking to satisfy the current thirst for broadband data communications as well as the associated market implications?
Tore Morten Olsen
What we're seeing right now when it comes to evolutions in satellite technology is a race for speed. Satellite operators, equipment manufacturers and solutions providers are all currently moving towards the same common goal: Develop an offering capable of satisfying increasing demand for data throughput.
Data speeds are currently available at around 10 Mbit/s over C- or Ku-band, depending on the service and the provider. The arrival of Ka-band is due to boost throughputs up to 50Mbit/s and beyond. The first Ka- satellite was launched mid 2012 by
Eutelsat
(and built by Astrium), and has multiplied by 70 the capacity of the Ku- satellite.
Inmarsat
will be close on their heels with the launch of their
Global Xpress
Ka- service this year following a satellite launch in 2013-14, with global coverage expected in 2015.
SatMagazine
An area of constant conversation and project analysis is that of hosted payloads, with the commercial and MAG sides of the industry seemingly willing to work together to lower the cost and shorten launch timeframes. What are your thoughts regarding HPA? Is Astrium Services involved in such projects?
Tore Morten Olsen
Hosted payloads can be an interesting model on a case-by-case basis, as long as it creates a win-win situation and improves cost efficiencies. A few examples include:
•
Anik-G
: Astrium is not the manufacturer of this Telesat satellite, but Astrium Services will operate an X-band hosted payload for the defense and government market
•
EDRS
: The first EDRS payload will embark on the Eutelsat 9B satellite (Astrium Satellite manufactures the satellite for Eutelsat, with Astrium Services operating the EDRS Hosted payload. The European Data Relay System (EDRS) will be two telecommunication payloads in geostationary orbit which will enable broadband, bi-directional data relay Low Earth Orbit (LEO) satellites. EDRS increases the time LEO satellite can remain in communication with the ground and enables immediate broadband data transfer to the user
SatMagazine
How is Astrium Services positioning itself as a broadband communications expert, catering for shipping companies increasing need for high-speed data?
Tore Morten Olsen
Astrium Services has been at the forefront of a number of significant industry changes linked to broadband satellite during the recent years. In 2012, the company launch
Pharostar
™, the new addition to its maritime VSAT portfolio. This latest innovation was developed with a view to make maritime VSAT easier to install and more accessible to a wider range of vessels, including medium-sized transportation, fishing and leisure boats. With data rates up to 1.5Mbps, Pharostar is based on data allowances to compliment the traditional throughput-based VSAT offering. An important development in late October saw the Pharostar coverage zone significantly extended over the
Indian Ocean Region
(
IOR
), with a further expansion due over the southern part of the Atlantic Ocean by the end of the year. Customers currently using all Astrium Services' VSAT systems will automatically be able to receive coverage in the new areas.
SatMagazine
Even with military drawdowns across the globe, the need for mobile communications continues to increase. What can Astrium Services offer in this regard?
Tore Morten Olsen
At the moment, a number of leading nations are withdrawing their troops from major conflict zones, such as Afghanistan, and this is obviously having an impact on the military's satellite communications requirements. However, we're seeing many civil organizations working to stabilize the situations in these former conflict zones. Astrium Services is one of the main partners to the United Nations' organizations in terms of SATCOMs. The enterprise entity within Astrium Services provides videoconferencing solutions for UN workers in remote areas. We continue to provide services to military elsewhere, particularly maritime services as navies make the move from a traditional secure X-band environment to C- or Ku-band.
SatMagazine
What technologies or events do you believe will carry the most significant weight during 2013 as budgets continue to weigh heavily on all sectors of the industry? How do see such projects coming to fruition?
Tore Morten Olsen
Leading satellite operators Inmarsat and Intelsat are working on major technological developments. As mentioned above, Intelsat is due to evolve its Epic service over time to offer throughputs of 100Mbit/s, and Inmarsat will launch their Global Xpress Ka- service this year or next. Regional players such as Telenor, providing Ka-band capacity, are also worth watching. What we're experiencing is an important increase in throughput per dollar—a good thing for customers—communications become more affordable and attractive to more and more people on land and in maritime environments. We'll probably have to wait until 2013-14 for many to come—several of these systems won't be launched until at least the end of this year. Astrium Services is in talks with all of these companies and we're confident that we will become a core partner for them.
SatMagazine
Over your 18 years of experience in the SATCOM environments, which projects or programs have brought you the most satisfaction?

Tore Morten Olsen
As a general rule the most satisfaction comes from meeting a customer who has a requirement you believe is difficult to meet and then finding the solution that helps them communicate. Following the Tsunami in Asia in 2006, through the relationship between the UN and the Norwegian government, we were able to mobilize people and equipment within three days of the disaster. It's during this kind of situation that you realize just how important satellite communications are to the world.