SatMagazine
Mr. McCormick, how did you ready yourself to work in aerospace?
What advice do you have for those who may be contemplating a similar career path?
Chris McCormick
In college, I was interested in many subjects; math came naturally for me. Studying aerospace was an easier way for me to graduate. The space industry in particular had plenty of development, exploration and discovery going on in the 1970s.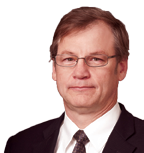 As for advice, get an engineering, applied math or scientific degree. Math and, in particular, the scientific process that supports the creation of new knowledge is essential. It is important, not just to acquire our past knowledge, but for learning the process to create new proficiencies.
SatMagazine
From Multicomm/Mutual Broadcasting, to DARPA, to Spectrum Astro and then to running Broad Reach Engineering, what caused you to decide to move over to Moog?
Chris McCormick
I worked at Multicomm, an offshoot of Mutual Radio developing new broadcast technologies, and then at Space Applications supporting the Advanced Space Program Office at DARPA. For DARPA, we improved components for spacecraft and new space communications applications in the late 1980s. I also worked on some of the first microsats used for remote communications; basically, it was an early version of "email" in the sky. We could communicate anywhere on the planet from three to 14 times per day using small radios. The new communications and applications were used around the globe during the Gulf War and by the government and the military for the clean up of Clark Air Base and Naval Base Subic Bay after Mt. Pinatubo erupted.
In the early 1990s, DARPA was removing themselves from the space segment. Spectrum Astro (Spectrum Research at the time) offered me a position helping in the development of small, remote-sensing spacecraft and then to work on Martin Marietta's Mars missions. When Spectrum Astro no longer had opportunities for space sciences, I started a company (with some smart friends) called Broad Reach Engineering to support space sciences and, in particular, develop high-end science and spacecraft avionics. As an employee-owned company, we decided to sell Broad Reach to Moog in 2013.
SatMagazine
Did your work with DARPA prove to be an asset when moving into the commercial space in presenting product for the MAG world? What differences did you encounter when involved with a government agency to a private firm? Do you have any suggestions as to how the acquisition process may be improved?
Chris McCormick
Unlike much of the space industry, which is risk averse, DARPA in the late 1980s taught that making progress required you to accomplish new things. Craig Fields, the director of DARPA at the time, said, "If the technologies you are managing are over 70 percent successful, you are not taking enough risk. If the technologies you are managing are only 30 percent successful, you are not being very smart."
I think the government can improve the acquisition process by mostly specifying on mission performance requirements rather than dwelling on the methods used to achieve the performance. We are, for instance, currently over specifying weather instruments versus the required improvements needed for weather forecasting models.
SatMagazine
Moog has primarily been known for valves and TVC— how has Moog's work grown to encompass more than those family of products?
Chris McCormick
Since 2008, Moog has acquired CSA Engineering in California; Bradford Engineering in The Netherlands; AMPAC/ISP in Niagara Falls, New York, California, Ireland and the U.K.; and Broad Reach Engineering in Arizona, California and Colorado. Moog has gone from making TVCs and thruster valves (actually, much more) to precision spacecraft and launch vehicle vibration damping, spacecraft control components, propulsion systems and radiation-hard avionics and flight software.
SatMagazine
What has been the most-recent Moog partnership with NASA, and what has it entailed?
Chris McCormick
There have been a number of missions, but the LADEE mission, in particular, probably best shows the diverse technology that Moog offers. A Moog SoftRide vibration isolation system reduced energy transmission between the Minotaur V and the satellite; attitude control system components made by Moog oriented the vehicle, and to establish and maintain lunar orbit, LADEE used our thrusters and latch valves, which were part of the spacecraft's propulsion system.
Moog's integrated avionics unit (IAU) controlled the spacecraft and interfaced to the four LADEE payloads. The Moog avionics unit includes a flight control computer and data handling.
Before the mission launched, we used our capabilities in environmental control system technology to protect LADEE, while a specially rigged truck moved the spacecraft from California to Virginia.
SatMagazine
What role did Moog play in this summer's launch of ORBCOMM's OG2 satellites? What systems originated with your company to provide satellite functionalities?
Chris McCormick
Moog built OG2's propulsion systems. Moog also made the "ESPA" rings that carried the satellites into orbit. The company also manufactured the launch vehicle adapters and helped install the spacecraft for deployment from the launch vehicle once in orbit.
SatMagazine
How has Moog moved from simply supplying components for space exploration to becoming involved with missions and payloads?
Chris McCormick
Moog has been involved in solving problems for space missions since the 1960s. These days, our Advanced Missions and Science (AMS) unit designs instruments and payloads and architects missions; some missions are with national labs and universities, some are done commercially on our own. We also have principal investigators, scientists and engineers dedicated to developing atmospheric phenomenology sensors and missions; we also collaborate with other organizations around the planet to help them develop their sensors.
SatMagazine
When we first visited Moog a few years ago at the then-named Space Symposium, the ESPA Ring had just debuted and was the center of attention at your booth. How has this secondary payload adapter evolved and what has the response been for companies interested in hosted payloads? What programs have included the ESPA?
Chris McCormick
The ESPA initially supported up to six secondary satellites, up to 181kg. each, on a Delta IV or Atlas V launch vehicle. Since then, we developed a "stretch" version, called ESPA Grande, accommodating four 300kg. secondary spacecraft on 61cm. ports. We also offer a Propulsive ESPA, which uses Moog's propulsion components for missions. ESPA is a "standard" interface for smaller secondary spacecraft; this enables more missions to get into orbit. Notable ESPA missions include: STP-1 in April 2007, LCROSS in October 2009, OG2 (with two, stacked ESPA rings) in July 2014, ANGELS in July 2014, and DSX, which is planned for 2017.
SatMagazine
Are there also projects that move the ESPA into a primary payload adapter? If so, would you tell us about those efforts?
Chris McCormick
We have missions that use the ESPA ring as a flyable structure. ANGELS is one that has launched already; others, including DSX, are manifested. We have been approached for other mission ideas for a flyable ESPA with propulsion installed inside its volume.
SatMagazine
How does Moog support satellite launches and what type of on-orbit support are offered by the company?
Chris McCormick
We build vibration and shock isolation systems between the launcher and the primary spacecraft, fuel monopropellants or bi-propellants, and help to install ESPA rings and secondary spacecraft as well as deploy the spacecraft.
SatMagazine
What can we expect from Moog over the next year or so?
Chris McCormick
We are growing in the commercial and government sectors in the U.S. and abroad via more mission content and, hopefully, new payload
design capabilities.
SatMagazine
How will High Throughput Satellites (HTS), hosted payloads, on-orbit servicing and repair, and other technologies provide the platforms for the ever-increasing demand for SATCOM services?
Chris McCormick
The industry is getting more efficient in building and supporting what's needed for satellites and launch vehicles, so we are not at all saturated when it comes to developing and launching more missions. There are near-term bottlenecks with larger launchers and launch facilities, but I think Moog, and the industry, can supply many more if there is a commercial or government case for an increased number of space missions.
SatMagazine
Given your more than 30 years of involvement within the industry, when you review your career, what project or projects bring a sense of satisfaction to you?
Chris McCormick
Being part of any first-time-ever mission or technology development is exhilarating. The COSMIC mission (Constellation Observing System for Meteorology, Ionosphere and Climate) is probably the most satisfying. COSMIC improved by an order of magnitude the accuracy of the data on the Earth's atmospheric and ionosphere physics supplied to researchers and forecasters. The data made a large impact on weather forecasting accuracy and knowledge of the ionosphere's dynamics.
We are now supporting the COSMIC-2 equatorial mission and PlanetiQ, which is a large, worldwide commercial constellation version that we believe will make an even larger impact on weather forecasting. MACSAT was a close second; we were able to supply, store and forward "email" worldwide in the late 1980s. I traveled around the planet demonstrating the capabilities to government and scientific users.
SatMagazine
What does the company's tagline, 'Be the reason for going to space,' mean?
Chris McCormick
Moog has been (and still is predominately) a component and subsystem supplier to the aerospace "primes" and will continue to be driving this market segment. For much of my career, I have been involved, in some small way, in mission and spacecraft development tailored to accomplish a unique mission.
I'm a science facilitator. Whether at DARPA, Spectrum or Broad Reach, I tried to be a part of the development of an experiment, a one-off science mission, or a serial no. 1 mission or payload design capability. I'm continuing this at Moog with a large cadre of very talented scientists, engineers, technicians and staff.
We tell ourselves and our customers that we can supply the crucial components as well as assist in developing the missions and payloads. That's what we mean by: "Be the reason for going to space."
The Moog infosite is located at http://www.moog.com/