Kim Gram has held the position of Vice President Aeronautical Business Unit at Cobham SATCOM (previously Thrane & Thrane A/S) since 2009.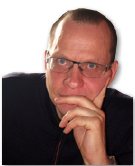 Kim has commercial responsibility for the global aeronautical business of Cobham SATCOM. He joined Thrane & Thrane A/S in 2001 as Sales Director Global Maritime Sales, before becoming the Director of Sales Asia Pacific and Global OEM Accounts from 2003 until 2009.
SatMagazine
Mr. Gram, would you please tell our readers about your background and how you decide to enter the SATCOM business?
Kim Gram
I have worked with technology companies for most of my career. I have found it very challenging and exciting to apply the methodologies of strategy development, sales and marketing in a broad sense to the international development of technology firms. It was an irresistible opportunity and a challenge I could not turn down when Thrane & Thrane [now part of Cobham SATCOM] approached me and asked if I was interested in heading up their global maritime business within satellite communication.
SatMagazine
What training was required for you to realize your career goals?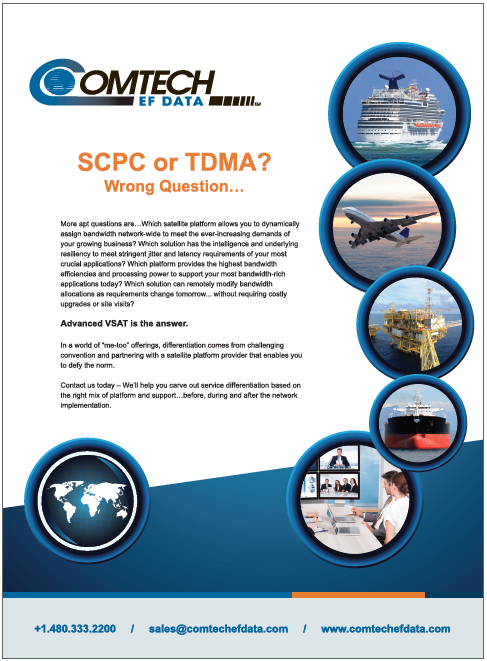 Kim Gram
I graduated with a master's degree in business sciences and have found that arriving as a business graduate into the industry with a great passion for the technology has been hugely beneficial when I look back at my 12-year history in the business.
SatMagazine
What drew you, initially, to Thrane & Thrane A/S? How was your transition to Cobham SATCOM A/S and what benefits were realized by the company from the acquisition?
Kim Gram
It was an exciting prospect to joint Thrane & Thrane, as the company was one of the most progressive satellite communication manufacturers in the aeronautical industry and many of the pre-eminent experts and engineers in the field were part of the company. Cobham SATCOM was formed in October 2012 after the July 2012 acquisition of the Danish satellite telecommunications group by British defence equipment manufacturer Cobham plc. This resulted in the creation of an aeronautical group within the Satellite Business Unit (SBU) with the capability to lead the way in this important market sector.
In Thrane & Thrane, and now Cobham SATCOM following the acquisition, I have actually had three different jobs, which suits me well, as I enjoy variety. My first role was taking on the global commercial responsibility for the maritime business. Then I had the responsibility for our Asia organization across our land mobile and maritime businesses. This involved establishing our local organization in the region, while also running the day-to-day business. When I was asked if I would take over the Aero business, I was excited to take on the challenge as there is a huge opportunity to make a difference in aircraft SATCOM.
The opportunity to join Cobham SATCOM and Thrane & Thrane created the engineering platform to really make a leap with the kind of satellite systems available to the airline industry. The companies have always been competitors and business partners, all at the same time. Our combined experience, expertise and global operations has now made it easier for customers to select communications equipment and integrated solutions that are correct for their needs. The convergence of the manufacturers has already made a huge impact, as Cobham SATCOM invests in product and market development to respond to new regulations as well as the surge in demand for connectivity within the air transport, business aviation and defence sectors.
SatMagazine
What are the similarities, and the major differences, between land based SATCOM-On-The-Move (SOTM), Maritime and Airborne satellite communication technologies?
Kim Gram
I would start by pointing out the differences and subsequently move on to some important similarities.
Airborne satellite communication equipment is characterized by being subject to extremely stringent requirements from authorities, airframe manufacturers and the airlines. The opportunity to install equipment on board the aircraft predominantly exists when the aircraft is being built or subsequently or when it is undergoing major maintenance work.
The exception occurs when the aircraft operator will gain a strong advantage from the SATCOM connectivity on the aircraft that they are prepared to move the aircraft out of service outside of the normal, scheduled maintenance.
Other more technical differences include the fact that aircraft move at a speed which incurs different technical implications. Another important aspect is that, currently, fewer satellite communication systems are being sold in aviation than in maritime and SATCOM-On-The-Move (SOTM).
The similarities are significant as the basic radio technologies for all of the application areas are basically identical. Furthermore, across airborne systems and SOTM satellite communication, weight, size and power consumption truly matters. In SOTM, equipment has to be portable and, in aviation, the equipment has to be as light in weight as possible.
Cobham is in a position where we are active in all areas'—SOTM, maritime and airborne communication. When building our AVIATOR S products, we obviously investigate to what extent we gain from the efforts in our SOTM radio technologies, to the benefit of the aviation industry, in which we have been active since 1992.
SatMagazine
What does the global aeronautical satellite communications business encompass for Cobham?
Kim Gram
Our business encompasses our modem and antenna business, reaching out to all of the industry verticals: Air Transport, Government and Business Aviation. Our products reach all major aircraft manufacturers in the three verticals and virtually all aircraft models. More than 700 aircraft are equipped each year with our technologies, which we believe gives us a solid position in the industry.
As the largest provider of mobile satellite systems, we are at the forefront of developing a new generation of technologies that will handle the specific requirements in the airline industry and meet the continued push for broadband in the cabin and on the flight deck. In example, our AVIATOR portfolio of compact, lightweight and cost-effective systems offers wireless communications to a broad range of aircraft, including turboprops, light jets, air transport aircraft, military aircraft and unmanned aircraft vehicles (UAV).
SatMagazine
What have been the most significant changes in SATCOM systems over recent years and what do you think will be the next developments in terms of SATCOM equipment?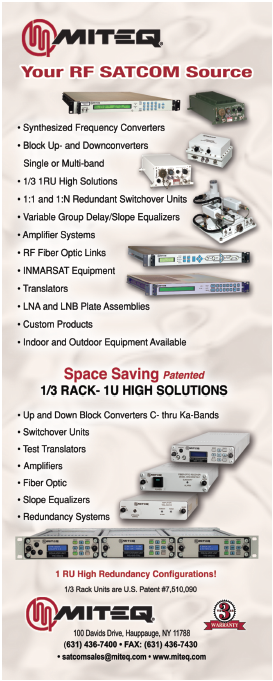 Kim Gram
We believe the adaptation of IP data communication to and from the aircraft will increase drastically over the coming years. This will drive the need for cost-effective SATCOM technologies. In cooperation with the industry, we are developing our products accordingly. Our major effort right now is our AVIATOR S product family.
The versatile S series will allow secure data communication for aircraft operation, maintenance and management services, as we prepare for the technology shift to IP data-connected aircraft in the future. Suitable for aircraft ranging from regional turboprops to large jets, the new AVIATOR S terminal and antenna product family reflects Cobham's commitment to the 'connected aircraft.' The series will support a wide range of communication applications in both the cockpit and cabin, including cockpit voice dialing, in-flight calling and Internet browsing.
SatMagazine
Will High Throughput Satellites (HTS) benefit airborne SATCOM? What are your thoughts regarding HTS for the commercial side of our various industries?
Kim Gram
I am not an expert when it comes to HTS. However, it is obvious that the effective provisioning of higher data speeds and throughput is a highly positive theme in all frequency bands.
SatMagazine
How fierce will the competition become regarding satcom for the commercial airline industry and what advantages will Cobham offer to potential customers?
Kim Gram
I believe the competition is significant. We trust that our history of developing aero SATCOM products since 1992, combined with the efficiencies of scale from being the world's largest mobile satellite communication equipment manufacturer, offers us the opportunity to provide our customers with products which represent a step change in innovation, form, fit and function.
SatMagazine
As it satisfies future safety requirements and allows for aircraft domain separation, does the AVIATOR S series represent the way ahead for all SATCOM systems?
Kim Gram
Domain segregation is a necessity to meet flight safety requirements. This is particularly relevant when IP is used more and more by the other airline functions, such as maintenance and operations, dispatchers and passenger service. We have offered to take the lead in this field by engaging in the development of industry standard requirements and architectures.
SatMagazine
What requirements and architectures is Cobham SATCOM promoting for the standards?
Kim Gram
In the ARINC 781 workgroup for small SATCOM (Inmarsat), annex 7 describes the Hardware—Annex 8 describes the required data segregation architecture for AC (Aircraft Control), AIS (Aircraft Information System) and PIES (Passenger Information and Entertainment) domains. The standards sit in the public domain. Cobham believes it is highly beneficial for the manufacturing community to share this information. Cobham AVIATOR S products will adhere to the standards and offer IP and Safety Service data modems in a form factor which we believe will benefit the industry.
SatMagazine
Can you predict how the picture for in-flight connectivity may look in 5 or 10 years, for the operator, user and owner?
Kim Gram
We believe that the aircraft is the final frontier in today's world where an effective IP pipe is not available to the employees onboard the aircraft—this is a transitory situation. When the appropriate technologies are made available, the use of data communication in-flight will be spread across all professional disciplines present in the airline, as it has done in every other company or workplace on the ground or at sea in the world.
We are ensuring the appropriate technologies are available in an effective form factor to facilitate this trend. As part of our involvement in this
on-going process, we make our engineers available to assist the airlines in trying out applications both on the ground in our lab and in flight.
We are also actively engaged in the ARINC committees working on future SATCOM systems that will provide the connectivity to make aircraft a business domain where people can be connected with the rest of the organization. While doing this, we need to be sensitive to the security issues and need for versatility of the future satcom communication systems.
We enjoy playing this active role and this is fun, to be part of the journey in a tangible way.
SatMagazine
What is Cobham's vision for aircraft SATCOM moving forward and what is the company's role in these technologies as far as support and implementation are concerned?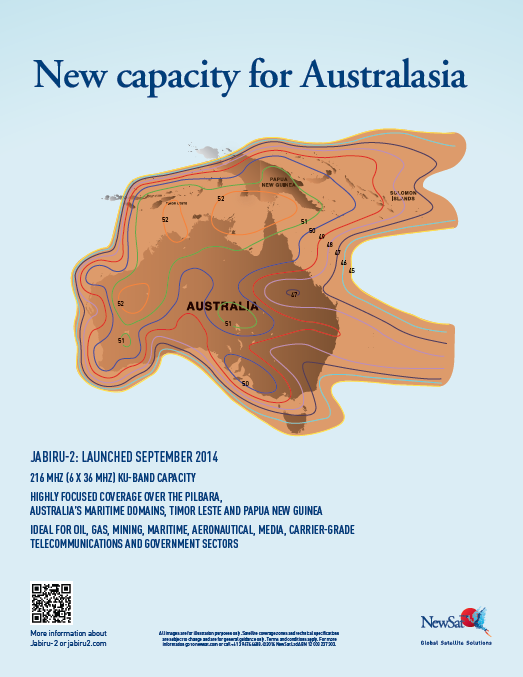 Kim Gram
Ultimately, we believe adaptation of SATCOM for data communication will be a global standard. Through our ability to move technologies across from our land and maritime segments and achieve similar efficiencies, we have the opportunity to assist the airline industry using our in-the-air engagement with the airlines.
SatMagazine
What efficiencies will be achieved, thanks to the cross pollination of technologies?
Kim Gram
I look at it from this angle. The aircraft and the personnel on board the aircraft are almost the last remaining pieces of infrastructure and organization in international corporations which is not a 'node' on the corporate network. Our notion is that this will change. Exactly how the operators of aircraft, such as the airlines, will capitalize on IP data links is really for the airlines to answer rather than the satellite communication provider.
SatMagazine
Could tell us about Cobham SATCOM's involvement with the Volvo Ocean Race?
Kim Gram
We are extremely proud that Cobham will play an integral part in the Volvo Ocean Race 2014-2015, with both the SATCOM and Tactical Communications and Surveillance (TCS) signed on as partner sponsors for this event, which started in Alicante, Spain, in October.
As the Satellite and Radio Communications Equipment Partner, Cobham SATCOM will provide the satellite communications hardware for every boat, including new SAILOR 500 and 250 FleetBroadband systems, as well as safety and radio systems.
The SAILOR FleetBroadband will allow each boat's 'Onboard Reporter' to send video and audio reports to VOR HQ. The design of the identical racing boats includes six built-in cameras covering every station from cockpit helmsman to foredeck hand, to catch every harried expression and looming wave. The content will be used for TV and online coverage of the race, for a global audience of millions of fans, helping to maximize value for sponsors.
Operating in the most challenging environments, we are excited that SAILOR products will allow people around the world to see the teams in action. The system will also provide crews with a means of updating weather information, communicating with support crews and even keeping crew members in touch with loved ones on dry land.
Cobham SATCOM also provides EXPLORER 710 Terminals for race officials to use at stop overs.
SatMagazine
When you review your career, what project, or projects, truly brings you a sense of satisfaction?
Kim Gram
It is actually quite simple. Bringing great engineers together from my own and our customers organizations and having them develop ideas which subsequently become a reality is what professional development and success is all about.
For more info: http://www.cobham.com/about-cobham/aerospace-and-security/about-us/satcom.aspx
---
One of the most recent success for Cobham SATCOM was with Hawaiian Airlines. The company is equipping Hawaiian Airlines' fleet of Boeing 767-300 aircraft with their AVIATOR SwiftBroadband satellite communications systems.
This agreement represents an important milestone for Cobham in the development of its next-generation product family, AVIATOR S, as the system will be used for Safety Services data as well as for the provision of an IP pipe to the cockpit.
The new Cobham SATCOM contract will serve to demonstrate how the AVIATOR products can provide high speed IP data services and voice communication not only for the cockpit, but also other domains of the aircraft.
Installation of the Cobham systems on the Hawaiian fleet is a significant step forward in the process of approval for SwiftBroadband as a safety service by the aviation authorities, which is a requirement for the operation of the AVIATOR S series.
This technology demonstration, under FAA supervision, will pave the way for other airlines and equipment manufacturers. It will eventually allow the fast, efficient transfer of ACARS data messages over the SwiftBroadband link, as well as flight deck safety voice services and IP connectivity to the flight deck, enabling other flight operations and cockpit services.
During the SwiftBroadband safety evaluation period, the AVIATOR SwiftBroadband system will be used for FANS and CPDLC messaging and will also be used for data transmission in support of Hawaiian's new eFLIE, Electronic Flight Bag program (EFBs).
Hawaiian's B767s will be retrofitted with Cobham's current generation AVIATOR SwiftBroadband SATCOM hardware, which includes an IGA-5001 intermediate gain antenna. The system is capable of providing both voice and data communications with the addition of many enhanced features such as immediate aircraft tracking information and Ethernet ports for connecting devices like Aircraft Interface Devices (AIDs) and Electronic Flight Bags (EFBs) for the pilots to obtain real-time information including graphical weather updates. The connectivity will facilitate dynamic routing to favorable winds and away from unfavorable weather.
These enhanced features will become the centerpiece of Cobham's AVIATOR S product family which is designed specifically to leverage Inmarsat's new SwiftBroadband Safety service and will ensure a system configuration that can meet the requirements of all aircraft types.
AVIATOR S will be available early 2016 to coincide with approvals for
FANS 1/A services over SwiftBroadband.
The Cobham SATCOM AVIATOR S infosite may be accessed at:
http://www.cobham.com/about-cobham/aerospace-and-security/about-us/satcom/cockpit-and-cabin-communication/products-and-services/swiftbroadband-systems/aviator-700d.aspx
The Hawaiian Airlines infosite may be reached at http://www.hawaiianairlines.com/
---