Al Yah Satellite Communications Company (Yahsat) has signed a Memorandum of Understanding (MoU) with Microsoft Gulf to potentially offer YahClick online services based on Microsoft Live to Middle East, Africa, and South-West Asia. Microsoft Live is a set of Internet-based services designed for consumers and small businesses interested in creating a website or storing and sharing documents online.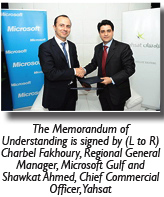 The cooperation will help address the challenges faced by regions with limited or no Internet connectivity and improve the overall information and communication technology (ICT) landscape. The collaboration will allow
YahClick
— the advance broadband satellite internet service from Yahsat — to offer Microsoft Live based online services such as email, customer relationship management,
SharePoint
,
Health Vault
, and so on, to consumers, businesses, and government, wherever appropriate or applicable.
The Yahsat and Microsoft partnership will focus on connected industry frameworks like government, health care, education, tourism, government, citizen portals and e-services. The two organizations will also collaborate in developing awareness and training programs that aim at building IT capacity within markets served, to lead social and economical transformation in the public and private sector.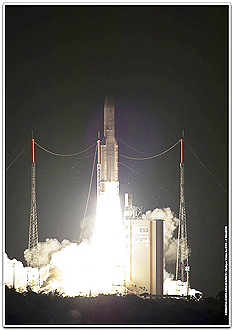 Arianespace achieved success with their Ariane 5 launch — this was the vehicle's 33rd consecutive success and its fifth flight in 2009 — bringing total payloads orbited by the company this year to seven telecommunications satellites, two deep space telescopes and two piggyback spacecraft.
This mission carried the
Amazonas 2
civilian relay platform for Spain's
HISPASAT
and the German
COMSATBw-1
secure military communications satellite as a dual-passenger launch.
The flight orbited a combined payload mass of more than 7,900 kg. for the Amazonas 2 and COMSATBw-1 passengers, bringing Ariane 5's total lift performance in 2009 to approximately 34,000 kg. Amazonas 2 rode as the upper passenger in the launch vehicle's payload "stack," and was deployed 27 minutes into the mission by
Ariane 5
. This satellite will be operated by Spanish telecommunications operator HISPASAT, for which Arianespace has provided repeat launch services since its orbiting of the Hispasat 1A telecom relay platform in 1992. The Amazonas 2 spacecraft was produced by
EADS Astrium
and is the 66th satellite from this manufacturer orbited by Arianespace. With a mass at liftoff of approximately 5,500 kg., Amazonas 2 will provide a wide range of telecommunications services over its coverage area extending from Alaska to Tierra del Fuego. It is to be operated from an orbital slot of
61 degrees West
for relay services with 54 Ku- and 10 C-band transponders. Based on EADS Astrium's Eurostar E3000 spacecraft bus, the satellite has a design lifetime of 15 years, with an end-of-life power of 15.3 kW.
Also, the next Ariane 5 mission has moved into its final preparation phase as the vehicle for this sixth flight of 2009 is delivered to Arianespace. Following its rollout from the
Spaceport
's Launcher Integration Building in French Guiana — where the vehicle's basic build-up was performed by prime contractor
EADS Astrium Space Transportation
. The mission is scheduled for liftoff later this month, carrying
SES WORLD SKIES
'
NSS-12
spacecraft and
THOR 6
for
Telenor Satellite Broadcasting
.
NSS-12 was manufactured by
Space Systems/Loral
based on the company's
1300
spacecraft platform and is designed to reach an estimated two-thirds of the world's population. As a replacement for
NSS-703
at
57 degrees East
, NSS-12 is to serve virtually the entire Eastern Hemisphere with its 40 C-band transponders and 48 Ku-band transponders, providing direct-to-home (DTH) TV delivery power levels, as well as elaborate beam interconnectivity and C-/Ku-band cross-strapping. Its DTH coverage will be handled through four regional Ku-band spot beams covering the Middle East and Europe, Central and South Asia and — for the first time — East Africa. NSS-12's high-capacity, high-power C-band hemispheric beams are configured for Europe, Africa (including Mauritius), and the Middle East, as well as an area stretching across Asia to Australia. They will be augmented by a powerful C-band global beam that reaches from the United Kingdom to the Far East.
Atrexx Ltd. & Co. KG is offering more widespread 2way2sat services in C-band to tropical regions, especially to Africa, where rain attenuation often presents a problem.
"Rain fade is still a considerable issue for users of Ku-band satellite services in areas where wet weather is extremely common, causing disruption of services that cannot be delivered through any other means", commented
Jean-Claude Bisenius
, Managing Director of
atrexx
. "This can cause problems for important public services that rely on satellite-based services as an alternative to terrestrial that cannot reach certain areas or is too expensive to roll-out."
Due to the much lower frequency range of C-band, the margin for weather degradation is often only 1 decibel (dB), but in Ku-band, it can be 6 to 10 dB in subtropical and tropical regions. Power losses of 10 decibel in Ku-band equate to the need of a tenfold power increase or an antenna diameter of 3.80 meters in tropical regions instead of 1.20 meters needed in drier regions — for the same service availability!
The
2way2sat
services offered by atrexx are based on the
iDirect iNFINITI
platform over the Intelsat 10-02 satellite which boasts very strong C-band coverage over all of Europe, the entire African Continent, and the Middle East, and offers 45 C-band transponders.weather sensitivity, such adaption is not necessary.
Gateway has upgraded its pan-African network from the original Digital Video Broadcasting standard for satellite to a second generation system; DVB-S2. Migrating to the new standards allows more efficient use of scarce African satellite capacity and as a consequence significantly improves the commercial position of Gateway in the marketplace.
Gateway has spent the last six months transitioning more than 1,000 customers onto a new network that has dramatically improved speed, security and network reliability. Initially, Gateway's entire hub infrastructure had to be prepared in order to migrate its customers from the older iDirect Infinity system to the new Evolution DVB-S2/ACM system. The transition started in West Africa, where Gateway's corporate customers switched across seamlessly, with no service interruption. Extensive, independent tests show that DVB-S2 systems can deliver substantial improvements in network uptime through Adaptive Coding and Modulation (ACM), the ability to change encoding parameters in real time.
For customers, this means that their service doesn't drop off during adverse conditions. This is because rather than there being a service outage, there is instead a small drop in bandwidth speed as the coding adapts to the most suitable speed for the conditions. Upgrading the network has maximized Gateway's efficiency in using its backbone and bandwidth. This means Gateway can continue to provide the highest quality service level and network availability to its customers in the most effective efficient manner.
Gilat Satellite Networks Ltd. [NASDAQ: GILT] has been selected by Cable & Wireless Panama, the country's largest telecommunications operator, to provide a SkyEdge II high-performance network that will be used to deliver broadband Internet to hundreds of schools in remote areas nationwide. Gilat will provide equipment, technical support, assisted network operations, and training.

The new network will enable students in Panama's remote areas to enjoy an enhanced educational experience through interactive learning programs and other Internet applications.
Cable & Wireless Panama
is already using a
Gilat SkyEdge
network, deployed in recent years, to provide telephony and Internet services to more than 450 remote Panamanian communities.
Gilat's SkyEdge II is a multi-service platform enabling the delivery of high-quality voice, broadband data and video services for diverse environments including enterprises, rural networks, cellular backhaul and government network apps.
SkyEdge II is a standards-based system using DVB-S2 and DVB-RCS. With better efficiencies and full adaptability for both the inbound and outbound channels, it provides higher performance that serves the growing requirements of end-users. Gilat's diverse portfolio of SkyEdge II VSATs are all supported by a unified platform, offering service providers the most suitable product for their application needs as well as the flexibility to evolve their networks. The newest addition to Gilat's SkyEdge II portfolio is
NetEdge
™, a dedicated solution for multi star networks, specifically designed to meet the needs of corporations and cellular backhaul applications.
SIGNIS, the non-government World Catholic Association for Communication with members from 140 countries, has invited iDirect to participate in its 2009 World Congress event in Chiang Mai, Thailand, during October 17-21. SIGNIS and iDirect will demonstrate the capabilities of satellite communications for efficiently distributing and sharing media content to developing nations to encourage social development and growth.
SIGNIS evaluates, promotes and provides communication technologies for use in the spreading of faith and human values, especially in developing countries.
Today, the organization has more than 1,000 VSAT stations in operation for missions, hospitals, dioceses, nunciatures and non-government organizations, mainly in Sub-Saharan Africa. SIGNIS Services Rome (SSR) recently upgraded its network infrastructure to the iDirect platform to maximize bandwidth efficiency and reduce the cost of sharing capacity among its large deployment of stations. iDirect's IP-based satellite platform can support significantly higher traffic over conventional video broadcasting networks, providing a more cost-effective system for SIGNIS.
During the 2009 World Congress, SIGNIS will use the iDirect network and capacity provided by
Asia Broadcast Satellite
(ABS) on the
ABS-1
satellite to exhibit live broadcasts of SIGNIS radio programs streamed over the Internet. SIGNIS and iDirect will showcase several advanced media applications including video broadcasting, Voice over IP and IP radio, and multicast content distribution.
iDirect, Inc. has announced that NYNEX Network Solutions (Nynex), a satellite network operator headquartered in Germany, has expanded its DVB-S2 broadband satellite service to accommodate growing business demand. Nynex has upgraded its network infrastructure with iDirect's new Evolution XLC Line Cards, X5 Satellite Routers, and iDX 2.0 operating software. The enhanced network will deliver increased data performance, while allowing Nynex the flexibility to serve an expanding customer base efficiently.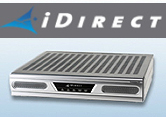 The investment follows
Nynex
's introduction of an iDirect DVB-S2 Evolution network in the Middle East and Africa. For Nynex, nexgen bandwidth efficiency gains have led to significant customer contracts with government organizations and with enterprise customers in the oil and gas, financial services, and other industries.
The upgraded network stretches these gains further through iDirect's newly released 2D 16-State inbound coding capability, which delivers an additional 10 to 20 percent increase in inbound IP throughput over DVB-S2/ACM gains. With expanded network capabilities, Nynex will continue to leverage the iDirect platform to meet a broad range of customer requirements from TDMA and mesh networks to maritime connectivity, secure government communications and GSM network integration.
Iridium Communications Inc.'s subsidiary, Iridium Comunicaciones de Mexico SAPI de CV ("Iridium Mexico"), has now received all of the necessary authorizations to operate, provide, and sell mobile satellite services (MSS) in Mexico. Iridium Mexico received its licenses from Mexico's Ministry of Communications and Transportation (Secretaria de Transportes y Comunicaciones or "SCT") and the country's Federal Telecommunications Commission.
As a result of these new licenses, customers in the business, government and consumer sectors in Mexico now have access to the world's only truly global MSS service. Plus,
Iridium
has partnered with
Spacenet Communications Services de Mexico SA de CV
("Spacenet"), a Mexican telecommunications company. Spacenet provides integrated communication solutions to the Mexican market, including a range of voice and data services and applications, developed to meet customized communications needs.
As more telcos in the Middle East and Africa prepare to launch IPTV services, and others move past phase 1 of their deployment, the region's pay-TV industry appears to be undergoing a considerable change. While IPTV and cable TV remain youthful platforms in the MENA region at present, many telcos are investing substantial amounts in their broadband networks, in line with government drives to keep ahead of the ICT curve, and regulatory barriers are starting to fall and content production values to increase.
According to a recent report from the
Arab Advisors Group
, there were six countries in the MENA region offering IPTV services as of May 2009 (Algeria, Jordan, Lebanon, Morocco, Qatar and the UAE), compared to four service providers in three countries in August 2007.
There are also thought to be ongoing or planned projects by service providers and/or governments in seven other countries in the region which would enable the future launch of IPTV — Bahrain, Egypt, Kuwait, Oman, Tunisia, Yemen, and Saudi Arabia.

The IPTV Forum Middle East & Africa event will once again tackle the big issues facing the region's IPTV industry, as well as giving regional players the chance to learn from each other and from other IPTV operators from further afield.
This year's
IPTV Forum MENA
will be held in Dubai's
Jumeirah Hotel
once again, on November 15th to 16th. The exhibition will be free to attend for all visitors, while delegates from Asia and Africa will also gain free entry to the conference sessions. There will additionally be a focus on the Indian IPTV market on Day 2 (November 16th) of the event, featuring speakers from
Indian IPTV
operators such as
MTNL
and
Bharti Airtel
, and from the
IPTV India Forum
.
Orbit Technologies has announced record orders for its satellite communication products — the company reports 2nd quarter additional orders in excess of US$5 million of its marine VSAT systems. According to Orbit, total worldwide VSAT systems orders are expected to exceed US$100 million this year.
Orbit
's record VSAT bookings reflect intentional and purposeful changes at the company since
Avi Cohen
took over as CEO. Mr.
Cohen
has undertaken the planning and implementation of a new direction. This has resulted in new products, increased sales, and overall renewed vigor at Orbit. With a can-do attitude and a new vision, the new CEO is proving that his current plan is the right one, resulting with company growth and success even in the face of a global economic downturn.
According to
Frost and Sullivan
, an international market research company, Orbit currently holds 17 percent of the world market for installations of VSAT antennae for satellite reception onboard marine platforms. Orbit, according to market research, is considered the world's second largest supplier of these types of systems. Frost and Sullivan asserts that the market size of the marine segment of satellite communication is expected to reach US$1.3 billion (systems and services combined).
Orbit Technologies
has also been awarded a $3 million order to provide a wide range of advanced tracking tactical systems for various applications, including UAVs, large aerial platforms, and radar system integration to two leading Israeli defense companies with a range of tracking solutions over the coming year. The deal includes tactical systems for tracking UAVs, systems designed for radar installation integration, and large systems for tracking airborne manned platforms.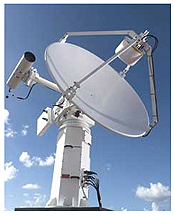 As part of the orders that Orbit has received from these leading Israeli defense companies, Orbit will supply small tactical systems based on its
AL-4012
, capable of being carried by infantry troops, for tracking UAVs. It will supply large systems based on its
AL-4018
intended for tracking test flights, and Orbit will be supplying, as part of this deal, electro-mechanical rotational systems for radar.
With high dynamic and high accuracy modular design, the rugged, customizable AL-4018 withstands harsh environmental conditions, boasting a proven track record of worldwide performance. The AL-4012 is a compact, robust, and cost effective lightweight digital tracking system with high dynamic accuracy and a single command and control communication link. The system is designed for both fixed and portable ground installations.

Overwatch's Communications Systems business has been selected by Astrium Limited of the United Kingdom to provide SATCOM solutions in support of Yahsat.
Yahsat
has partnered with
EADS Astrium
and
Thales Alenia Space
to build a multi-purpose satellite communications system. The Yahsat system includes two multipurpose satellites designed to provide government and commercial SATCOM capabilities.
Overwatch
will provide three one-meter, Ka-band shipboard antennas and accompanying radomes that are expected to be used aboard United Arab Emirates naval ships. The award includes options for as many as 30 additional units.
"This award builds on the successful relationship established between Astrium and Overwatch on the ASTIS program in support of the Royal Australian Navy," says Communications Systems Business Area Manager
Terry Benson
. "With this new endeavor, Overwatch is bringing its proven experience and mature military SATCOM technologies to new users." Overwatch delivers single-band and simultaneous multiband SATCOM system solutions for flyaway, transportable, fixed-site and shipboard applications.

RapidEye, who owns and operates a constellation of Earth Observation satellites, will supply the Brazilian state of Bahia with RapidEye satellite imagery through their Brazilian distributor Santiago & Cintra Consultoria.
"RapidEye has been selected to provide the state of Bahia imagery because of their capacity to return to an area multiple times until a low cloud cover image can be acquired, and because of their high quality satellite data. Bahia is quite difficult to image with low cloud cover, as it is a tropical area, and the five RapidEye satellites are the best system out there to capture these challenging images. RapidEye satellite imagery will provide the state of Bahia with updated land use information for decisions on environmental issues, agriculture and infrastructure. The imagery will be used by multiple organizations and decision makers that are related to territorial planning with a socio-economic sustainable approach," said
Rita Pimentel
from the
SEI–Bahia Government Organization
.
"This contractual agreement will provide proof of our system capabilities. We have already delivered 250,000 square kilometers of imagery in September," commented
Michael Prechtel
, Head of Marketing and Sales for
RapidEye
. "It is hard to predict when this area will be cloud free. With the RapidEye system, we can continue to return to the area until we achieve our goal of a low cloud covered image. The successful completion of this project will highlight our advantageous imaging capabilities for frequent monitoring in tropical areas like the state of Bahia and the Amazon area."
Sierra Wireless [NASDAQ: SWIR - TSX: SW] and MobiPower of Brazil have agreed to the development of stolen-vehicle recovery and asset protection solutions based on Sierra Wireless embedded cellular modules.
The brain of the device is to be a Sierra Wireless
WMP100
Wireless Microprocessor®, which hosts an
Open AT
® application and communicates information via cellular connection to the Internet, enabling remote monitoring of vehicles and other personal property. The MobiPower device will offer Brazil's industry the ability to protect valuable assets including vehicles and possibly real property in order to improve service delivery. To do so, MobiPower has focused on providing a compact, low-power-consumption device that can be easily applied to a variety of different assets, all designed and produced locally in Brazil.< br />
"We chose Sierra Wireless because they offered the most cost-effective, feature-rich solution available on the market," said
Carlos Cecanecchia Neto
, Director of MobiPower. "By embedding our application on the module we are able to reduce component redundancy and realize both cost savings and a more compact design."
"Sierra Wireless is pleased to be actively involved in the growing marketplace in Brazil and particularly with our relationship with MobiPower," said
Dan Schieler
, Senior Vice President of Worldwide Sales for Sierra Wireless. "MobiPower is uniquely positioned to provide best-in-class asset monitoring, and we're proud to help keep insurance costs in check for business and consumers, especially in today's difficult economic environment."

Talia Limited, one of the largest suppliers of satellite Internet for Africa, the Middle East, and Europe, have debuted Talia Home, a VSAT-based residential broadband service. With coverage from Ireland to Iraq, and Senegal to South Africa, Talia Home is the first offering which brings affordable Internet access to areas which otherwise lack connectivity.
Talia Home
is a Ku-band service on several satellites. With excellent coverage throughout all service regions, prices start at as little as US$50 per month for an uncapped service. Talia Home includes access to the
Talia Voice
service, a voice over IP service which offers inexpensive worldwide calling as well as incoming calls. Talia Voice accounts are included as part of Talia Home. The Talia team will be attending
Gulfcomms 2009
in Dubai from October 18th through 22nd at stand Z-C35, Zabeel Hall, in the Dubai International Conference Centre.

The SPACECONNECTION, Inc., a provider of satellite transmission services, recently inaugurated their new office in Mexico City, Mexico, to service customers. The new office builds on SPACECONNECTION's presence in the Americas. SPACECONNECTION's Mexico City office was opened in response to Latin America's growing demand for content transmission services and draws on the company's successful track record of sourcing satellite capacity globally.
The SPACECONNECTION's Latin America team will complement SPACECONNECTION Canada and U.S. teams, working collaboratively under the direction of SPACECONNECTION's U.S. headquarters.
The office is located at:
Blvd. Manuel Avila Camacho
no. 36 Flor 10
Col Lomas de Chapultepec, Del. Miguel Hidalgo
Mexico D.F., C.P. 011000 — Tel: +52 (55) 9171 1725 — Fax: +52 (55) 91711699
Orlando Skelton
, VP of Sales, spearheaded the founding of the Mexico City office and is overseeing Latin America sales initiatives.
ViaSat Inc. received a US$46 million contract award from Star Satellite Communications Company, a wholly owned subsidiary of Al Yah Satellite Communications Company PrJSC (Yahsat), for SurfBeam 2 network infrastructure and initial customer premises terminals.
The equipment will power an advanced new high-speed Internet access service called
YahClick
. Under the contract,
ViaSat
will deliver and install four complete satellite broadband gateways, provide the equipment and installation for a network control center, supply a pilot production quantity of user terminals, and support
Yahsat
with network operations and maintenance services.
YahClick, targeted to enterprise customers and consumers in the Middle East, Africa, and Southwest Asia, is expected to go live upon the launch of YahSat's second satellite,
Y1B
in the second half of 2011. Y1B includes a spot-beam Ka-band payload designed to support broadband access networks for a range of applications. Ka-band spot beam satellites re-use frequencies to maximize spectrum efficiency for more network capacity.
On the ground, the design enables use of smaller, lower cost terminals, antennas, and transceivers. The nexgen SurfBeam 2 network is designed for the latest Ka-band spot beam satellites. The system has been selected to bring to market more than 200 Gbps of aggregate satellite capacity serving four continents in the next few years. That capacity represents more than a 10x increase over the combined global Ka-band capacity in service today.
XipLink has announced DigitalSkys has commissioned an additional high value premium managed service offering, using XipLink's core optimization technology, to typically double throughput for its customers across the Middle East, African and Asian markets that they serve.
DigitalSkys
, a 'last-mile' wireless communications provider using current state of the art satellite-based VSAT technology, GSM, VoIP, IP-PBX and Wireless PBX, Visual Intelligence, and Wi-Fi technologies, has already initiated the roll out of the high value premium managed service offering to initial customers in the Middle East, African, and Asian sub-continents. Using the dual-redundant XipLink
XA-30K
optimization appliance platform, DigitalSkys is able to provide a full STM-1 capacity of optimized traffic across multiple satellites and networks into many different theatres and markets.
XipLink's XA-Series of wireless optimizers include a range of industrial computing appliances scaling from 2 Mbps and 50 connections to very high performance systems running at 155 Mbps and 30,000 simultaneous connections for the largest of installations.