No matter how you look at it, satellite technology's impact on the machine-to-machine (M2M) market is palpable. The landscape for oil and gas (O&G) companies has evolved to a point where M2M applications are now used to optimize operations from asset tracking, to communicating remotely with systems all over the globe, to running 24-hour monitoring schedules, while enduring both natural elements and influence from unexpected factors.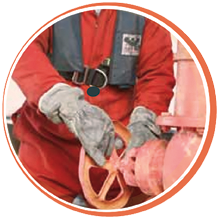 The promise of efficiency powered by M2M systems combined with satellite technology is even more significant. It impacts the optimization of processes, enables higher production capacity, enhances security and also helps establish redundancy.
A recent study from MarketsandMarkets predicted M2M satellite communications will grow from a $2.98 billion market in 2014 to more than $4.7 billion by 2019—a CAGR of 9.8 percent. Here are five key considerations that O&G operations need to make in order to harness the power of satellite technology for more efficient operations.
1. Reliability regardless of location
Mobile Satellite Services (MSS) have become invaluable in addressing the gap between the communications capabilities enabled by GSM backhaul services and VSAT networks. Service reliability is the foremost requirement for successful offshore operations. Oil and gas companies today need to consider private radio, GSM and mobile satellite solutions as part of their overall communications infrastructure. Mobile satellite-based solutions have the resiliency to act as a backup for terrestrial solutions. For geographically remote locations that are not served by terrestrial networks, oil and gas companies can leverage the strength and capacity of L-band networks to enjoy uninterrupted connectivity—even when operating under adverse weather conditions.
2. 24/7 monitoring
Obtaining real-time measurement of how operations are run 24/7 for upstream and midstream including well-head monitoring is highly critical. Oil and gas companies need to be appraised of the status of oil production at any time in order to adjust production capacity where needed. In times of emergencies, real-time monitoring and reporting is vital to keeping operations smooth and identifying causes and factors when things go awry. This enables companies to monitor, diagnose and maintain the operation of their assets—even in the most hazardous environments.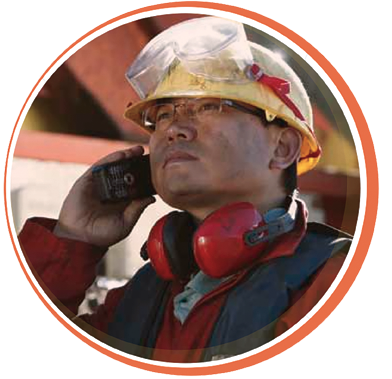 Recently, a Thuraya M2M partner successfully deployed an end-to-end well-head monitoring system for a major Middle East oil company, which uses field equipment based on Thuraya modules as well as a back-end connected over the Thuraya network for added security and redundancy. This enabled the end user to monitor and control their assets in locations where, in the past it was either impossible to do so or the cost of actively monitoring these assets was quite high.
3. Addressing security concerns for business continuity
Security and pipeline monitoring applications are a growing concern in the energy sector, particularly in the Middle East region. M2M applications can be leveraged for video surveillance to prevent tampering of systems as well as monitor operations in areas which are not easily accessible by teams. Deployment of VPN via mobile satellite solutions such as IP broadband terminals provides an additional layer of secure and reliable, end-to-end connectivity over public or private communication networks.
4. Providing better control over budgets
The mantra "doing more with less" has been adopted by enterprises across all sectors. Oil and gas companies are no different. Companies need to partner with a satellite provider that is able to understand their business needs and develop customized solutions as well as price plans and packages to enable these companies to benefit from volume discounts on M2M connectivity over SMS or data services. The right partner will also be able to help oil and gas companies expand their GSM and mobile satellite solutions as well as explore other communication solutions that will serve their needs.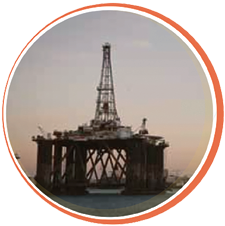 A successful example is where Thuraya recently worked with an oil and gas company in Africa, to develop and implement a tailored airtime package that met the end-user's forecasted budget for an asset tracking project in remote locations. The proposed package provided the end-user with better control over their communication needs over the duration of the project.
5. Remote access
Remote access enables oil and gas companies to obtain information or resolve any issues at any point in their operational supply chain, when needed. It also helps companies streamline and automate their processes to save costs over the long term. For example, if a company does not have remote access when an issue arises, they will have to send a technician or a team of technicians to obtain more information, diagnose the problem and resolve it. This process takes time, incurs additional manpower costs and would most likely be in a highly remote location. With remote access, the technician can run a diagnostic check to remotely isolate and resolve the issue, eliminating additional cost of manpower or logistics.
By provisioning for remote access, organizations will be able to reassign staff to where they are needed the most. Companies will have more control over how daily operational tasks are run and the costs of staff deployment for diagnostics, issues resolution, safety, cost and efficiency will be better managed.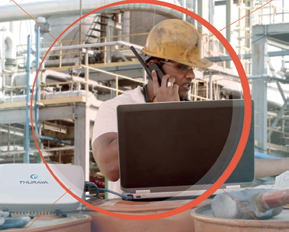 One of the most efficient ways of providing remote access is via VPN tunnel connectivity using the Internet via terrestrial GSM or satellite access. However, companies are wary of this due to recent security threats. In addressing these issues, satellite operators such as Thuraya have gone to great lengths to enhance the resiliency of their networks in addition to the safety and security of all of its customers around the world.
Efficiency powered by the intelligence of M2M systems is the ultimate goal of O&G companies. At the same time, companies need a dependable solutions partner that will help them expand on the solutions that they currently have and incorporate new applications as a step closer to fulfilling their long term goals.
By partnering with a commercial satellite operator to support their current and future communication needs, oil and gas companies will be able to achieve some degree of long-term cost stability and significantly benefit from the innovative capabilities provided by cutting-edge technology.
For additional information regarding Thuraya, please visit http://www.thuraya.com/energy-comms
---