Space Solar Power: Key To A Liveable Planet
The National Space Society (NSS) has announced a new space solar power international initiative.
NSS will work to forge an international organization involving America, India and other nations to develop space solar power. This has the potential of solving humanity's energy needs and greatly mitigating climate change.
The following is a joint statement by Dr. A. P. J. Abdul Kalam, Former President of the Republic of India and Mr. Mark Hopkins, Executive Committee Chairman, National Space Society.
We, Dr. Kalam and Mr. Hopkins, have long shared humanity's dream of all nations living together in prosperity and peace and moving forwards through global collaboration in space to meet the challenges that now face our Planet Earth. We are conscious that all nations have to strive to make our planet livable again, after centuries of devastation of its environment and ecosystems and rapid depletion of its precious mineral resources, including fossil fuels and fresh water.
Over these last three years many of our colleagues, in NSS and in India, have come together and made progress towards this international collaborative mission by sustained dialogue with mutual respect, understanding, and trust. It is essentially this process that has helped us to decide that the time has arrived for us, together, to attempt to give a direction and momentum to this movement to realize space solar power and its enabling technologies through international collaboration that can help rebuild our environmentally vulnerable planet.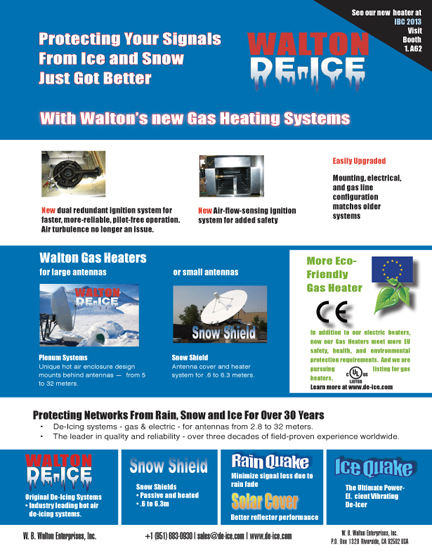 Today, we begin working together in a well organized and well supported manner to realize such a 21st Century global collaboration; and together help to lay the structural foundation for an international collaboration to develop and deploy space solar power systems. We are aware that coalitions and collaborations work best if there is a shared mission and common goals, and effective leadership.
We need to build strong, trusting relationships across nations through a participatory process with the active involvement of member nations and their institutions and organizations. We will work to develop an effective mission governance process and hope to evolve, jointly and together in international teams, clear operating procedures regarding decision-making, communications, and accountability. We shall be working together to develop a shared vision, to build strong relationships within the leadership team, and to rotate leadership roles.
A shared vision shall include specific mechanisms such as the Global Space Knowledge Platform, the International Virtual Laboratory, and the International Advisory Committee that Dr. Kalam has elaborated through discussion papers with Mr. Hopkins and his Address to the 2013 National Space Society's International Space Development Conference (ISDC 2013).
We hope our international collaborative mission will act as a catalyst for a livable planet which will promote prosperity and peaceful relations within and between nations.
We shall start our team building and mission structuring phase with core members from nations who we know are already networking and who are contributing to the dream of harvesting energy from space, including the U.S., India, Japan, and U.K.
We shall also invite, as observers, representatives in relevant domains of public policy, science and technology and management systems from other space faring nations like Russia, China, and other European nations.
We shall engage in open and frequent communication with people who share our values and goals in governments and societies which are important to the success of this venture. We will help accomplish this through collaborative practices that are the true hallmark of effective global cooperation for a livable planet Earth.
We shall have a clear plan of action to market the idea of a livable planet Earth through space solar power to G8 or G20 nations within a year.
Toward this end, we agree to start working together by jointly identifying the core members and observer members in the joint working mechanisms that Dr. Kalam has proposed. This shall be the direction of what we must accomplish in the coming months.
We shall build upon the trusting relationships we have established and consolidated these last three years between NSS, Dr. Kalam, and others
in India.
We shall now strive to expand this relationship in an organized and well-structured manner towards an international collaborative mission to realize space solar power for all humanity.
For more information concerning the plan, see Dr. Kalam's June 2, 2013 address to the leaders of the Indian aerospace community and "Global Space Solar Plan Unveiled," Aviation Week, June 3, 2013.
* * * * * * * * * * * * * *
Signed, Sealed + To Be Delivered In 2015
Arianespace has announced a launch contract with Telespazio to launch the Göktürk-1 satellite for the Turkish government.
Stéphane Israël, Chairman and CEO of Arianespace, and Luigi Pasquali, Chief Executive Officer of Telespazio, announced they have signed the launch contract for the Göktürk-1 satellite. This is the ninth contract signed since the beginning of the year by Arianespace and the second commercial contract for Vega on the open market.
Telespazio is the prime contractor for the Göktürk-1 high-resolution observation system, while Thales Alenia Space is providing the space segment. Weighing 1100kg. at launch, the Göktürk-1 satellite will be launched by Arianespace's Vega light launcher into a Sun-synchronous orbit at an altitude of about 700km. It will be launched from the Guiana Space Center, French Guiana, in 2015.
The Göktürk-1 system will provide very-high-quality panchromatic and multispectral products for a wide range of applications, including cadastral surveys, management of natural resources, environmental monitoring and homeland surveillance.
* * * * * * * * * * * * * *
A Sending Is Signed
An agreement to launch the EUTELSAT 3B spacecraft in April 2014 using the Sea Launch Zenit-3SL launch system and launching from the ocean-based Odyssey launch platform.
Currently under construction by Astrium, an EADS company, EUTELSAT 3B is based upon the Eurostar-3000 platform. Operating in C, Ku and Ka-bands, the satellite has been designed with high levels of operational flexibility to serve video, data, Internet and telecom customers across Europe, Africa, the Middle East, Central Asia and parts of South America.
The satellite will operate from Eutelsat's orbital slot located at 3 degrees East longitude in geostationary Earth orbit and have a separated launch mass of more than six metric tonnes.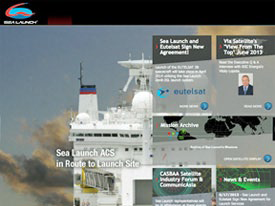 "This agreement represents a significant expression of customer confidence in Sea Launch program, both in our capability demonstrated to date as well as in our future " said Sergey Gugkaev, chief executive officer of Sea Launch.
Kjell Karlsen, president of Sea Launch, said, "We are very pleased with the confidence and trust placed in us by Eutelsat, and look forward to building upon the successful launches of Eutelsat spacecraft in 2011 and 2012."
Michel de Rosen, Eutelsat CEO, added, "We look forward to working once again with the Sea Launch teams on the EUTELSAT 3B mission following the successful launches of EUTELSAT 70B in 2012 and EUTELSAT 7 West A in 2011. This new contract increases the flexibility we need to pursue our in-orbit expansion plan of six new satellites by end 2015 that will diversify our overall resources, increase our operational flexibility and further raise in-orbit security."
* * * * * * * * * * * * * *
Thrusters For FORMOSAT-7
European Space Propulsion, an Aerojet Rocketdyne company, has signed a contract with Surrey Satellite Technology Limited (SSTL) for the delivery of 19 MR-103 thrusters for the FORMOSAT-7 program.

This first award for ESP includes delivery of thrusters for six spacecraft and an option for hardware for an additional six spacecraft. FORMOSAT-7/COSMIC-2 program is a joint constellation metrological satellite mission between Taiwan and the United States for observing and monitoring the global meteorology, climate and ionosphere.
Bill Smith, head of Business Development for ESP and Aerojet Rocketdyne in Europe, said, "We welcome the opportunity to bring high performance in-space propulsion to SSTL and Europe's growing portfolio of satellites."
The MR-103G thruster, a 1N hydrazine monopropellant thruster, was designed and flight proven by Aerojet Rocketdyne. The MR-103 has a long flight heritage for use on a variety of space programs including commercial and civil spacecraft. The MR-103 was originally designed for the Voyager program and the thrusters on that vehicle remain operational today nearly 36 years after launch.
"ESP represents a new competitive force in the European arena," said Aerojet Rocketdyne President, Warren M. Boley, Jr. "It will maintain a strong European identity while leveraging Aerojet Rocketdyne's seven-decade legacy of propulsion performance. International collaboration will lower costs and enhance customer support."
* * * * * * * * * * * * * *
Africa Banks On SATCOM
Satellites are making it possible to transfer money between remote locations in sub-Saharan African countries that are otherwise unconnected to the outside world.
An ESA project looking at ways to use satellites for services in developing nations where land networks are simply impossible or non-existent gave rise to the Agency's SatFinAfrica pilot project in 2011.
The project was so successful that a company called SatADSL was established in Belgium early last year to provide SATCOM for financial services to Africa. Microfinance offices in different villages, linked via satellite, allow people to transfer or withdraw money with ease.
The SATCOM service is sold via local African distributors who resell it to the microfinance offices on behalf of SatADSL.
Financial services via satellite in Africa mean that people can withdraw money from SatADSL cash machines at any time, even in remote and otherwise unconnected places. Pictured is a SATADSL unit in Ghana.
Currently, SatADSL serves more than 100 offices and the number is growing. Each branch has its own satellite terminal. SatADSL has just received 1 million euros from a leading Belgian private equity investor to support this growth, with the aim of connecting thousands of branch offices of microfinance companies in sub-Saharan Africa via satellite.
Other services offered by SatADSL include cash machines to withdraw money at any time, even in remote and otherwise unconnected places. The machines operate in the same way as they do in Europe, only in Africa, a satellite terminal sits on the roof.
For those withdrawing cash, the procedure is no different. SATCOM also provides the same level of security as terrestrial networks.
SatFinAfrica uses Sat3Play satellite technology developed by Newtec in Belgium, with assistance from ESA's Advanced Research in Telecommunications Systems, or ARTES, program. The satellite link is provided by SES Astra in Luxembourg using SES Broadband.
* * * * * * * * * * * * * *
This IRIS Can Look @ The Sun + Not Blink
Orbital Sciences Corporation's Pegasus® rocket successfully launched the Interface Region Imaging Spectrograph (IRIS) satellite for the National Aeronautics and Space Administration (NASA). The IRIS spacecraft was deployed into its targeted orbit approximately 400 miles above the Earth and early results confirm that the satellite is operating as anticipated at this stage of its mission.
The launch of the Pegasus rocket originated from Vandenberg Air Force Base (VAFB), California when Orbital's L-1011 "Stargazer" carrier aircraft took off from the airfield at approximately 6:30 p.m. (PDT) on June 27, 2013. Following a one-hour preplanned positioning flight, and a 13-minute powered flight sequence, Pegasus launched the 440-pound IRIS satellite into its polar, sun-synchronous Earth orbit.
"The Pegasus rocket carried out another successful mission for NASA today, extending its record of consecutive successful missions to 28 over a 16-year period," said Mr. Ron Grabe, Orbital's Executive Vice President and General Manager of its Launch Systems Group. "We are proud of our launch team and are pleased to have contributed to a successful beginning of this important NASA heliophysics science mission."
"We are thrilled to add IRIS to the suite of NASA missions studying the sun," said John Grunsfeld, NASA's associate administrator for science in Washington. "IRIS will help scientists understand the mysterious and energetic interface between the surface and corona of the sun."
"Congratulations to the entire team on the successful development and deployment of the IRIS mission," said IRIS project manager Gary Kushner of the Lockheed Martin Solar and Atmospheric Laboratory in Palo Alto, California. "Now that IRIS is in orbit, we can begin our 30-day engineering checkout followed by a 30-day science checkout and calibration period."
IRIS is expected to start science observations upon completion of its 60-day commissioning phase. During this phase, the team will check image quality and perform calibrations and other tests to ensure a successful mission.
NASA's Explorer Program at Goddard Space Flight Center in Greenbelt, Md., provides overall management of the IRIS mission. The principal investigator institution is Lockheed Martin Space Systems Advanced Technology Center. NASA's Ames Research Center will perform ground commanding and flight operations and receive science data and spacecraft telemetry.
The Smithsonian Astrophysical Observatory designed the IRIS telescope. The Norwegian Space Centre and NASA's Near Earth Network provide the ground stations using antennas at Svalbard, Norway; Fairbanks, Alaska; McMurdo, Antarctica; and Wallops Island, Virgina. NASA's Launch Services Program at the agency's Kennedy Space Center in Florida is responsible for the launch service procurement, including managing the launch and countdown. Orbital Sciences Corporation provided the L-1011 aircraft and Pegasus XL launch system.
IRIS is a NASA Explorer Mission to observe how solar material moves, gathers energy and heats up as it travels in the sun's lower atmosphere. This interface region is where most of the sun's ultraviolet emission is generated. These emissions impact the near-Earth space environment and Earth's climate operations and receive science data and spacecraft telemetry.
* * * * * * * * * * * * * *
A Spatial Penguin Encounter...
The NASA/ESA Hubble Space Telescope has produced this vivid image of a pair of interacting galaxies known as Arp 142.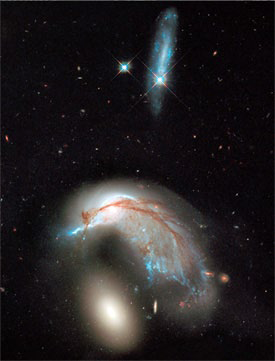 When two galaxies stray too close to each other they begin to interact, causing spectacular changes in both objects. In some cases the two can merge—but in others, they are ripped apart.
Just below the center of this image is the blue, twisted form of galaxy NGC 2936, one of the two interacting galaxies that form Arp 142 in the constellation of Hydra. Nicknamed "the Penguin" or "the Porpoise" by amateur astronomers, NGC 2936 used to be a standard spiral galaxy before being torn apart by the gravity of its cosmic companion.
The remnants of its spiral structure can still be seen—the former galactic bulge now forms the "eye" of the penguin, around which it is still possible to see where the galaxy's pinwheeling arms once were. These disrupted arms now shape the cosmic bird's "body" as bright streaks of blue and red across the image. These streaks arch down towards NGC 2936's nearby companion, the elliptical galaxy NGC 2937, visible here as a bright white oval. The pair show an uncanny resemblance to a penguin safeguarding its egg.
The effects of gravitational interaction between galaxies can be devastating. The Arp 142 pair are close enough together to interact violently, exchanging matter and causing havoc.
In the upper part of the image are two bright stars, both of which lie in the foreground of the Arp 142 pair. One of these is surrounded by a trail of sparkling blue material, which is actually another galaxy. This galaxy is thought to be too far away to play a role in the interaction—the same is true of the galaxies peppered around the body of NGC 2936. In the background are the blue and red elongated shapes of many other galaxies, which lie at vast distances from us—but which can all be seen by the sharp eye of Hubble.
This pair of galaxies is named after the American astronomer Halton Arp, the creator of the Atlas of Peculiar Galaxies, a catalogue of weirdly-shaped galaxies that was originally published in 1966. Arp compiled the catalogue in a bid to understand how galaxies evolved and changed shape over time, something he felt to be poorly understood. He chose his targets based on their strange appearances, but astronomers later realized that many of the objects in Arp's catalogue were in fact interacting and merging galaxies [1].
This image is a combination of visible and infrared light, created from data gathered by the NASA/ESA Hubble Space Telescope Wide Field Planetary Camera 3 (WFC3).
Notes
[1] The birth and evolution of various sets of merging galaxies was the subject of the book Cosmic Collisions—The Hubble Atlas of Merging Galaxies, produced by Springer and the European Southern Observatory. The book is illustrated with a range of stunning Hubble Space Telescope images.
The Hubble Space Telescope is a project of international cooperation between ESA and NASA. Image credit: NASA, ESA, and the Hubble Heritage Team (STScI/AURA)
* * * * * * * * * * * * * *
Mapped + Measured
The biomass of the northern hemisphere's forests has been mapped with greater precision than ever before thanks to satellites, improving the understanding of the carbon cycle and our prediction of Earth's future climate.
Accurately measuring forest biomass and how it varies are key elements for taking stock of forests and vegetation. As forests assist in removing carbon dioxide from the atmosphere, mapping forest biomass is also important for understanding the global carbon cycle.
In particular, northern forests—including forest soil—store a third more carbon stocks per hectare as tropical forests, making them one of the most significant carbon stores in the world. The boreal forest ecosystem—exclusive to the northern hemisphere—spans Russia, northern Europe, Canada and Alaska, with interrelated habitats of forests, lakes, wetlands, rivers and tundra.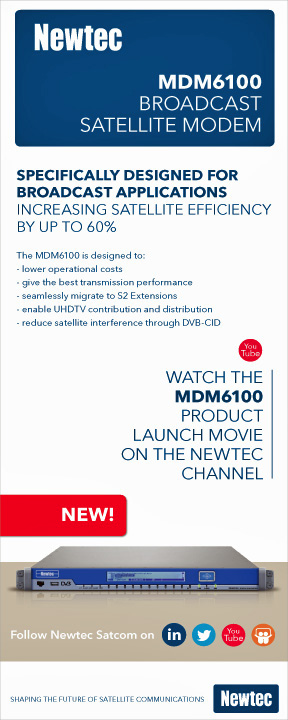 With processing software drawing in stacks of radar images from ESA's Envisat satellite, scientists have created a map of the whole northern hemisphere's forest biomass in higher resolution than ever before—each pixel represents 1 km on the ground.
Map showing growing stock volume (GSV)—the amount of wood expressed in cubic metres per hectare—over the northern hemisphere derived from about 70 000 Envisat radar acquisitions from October 2009 to February 2011. Dark blue and purple represent areas of high growing stock volume, while orange areas have low. White areas have none. Map courtesy of ESA.
About 70,000 Envisat radar images from October 2009 to February 2011 were fed into this new, 'hyper-temporal' approach to create the pan-boreal map for 2010. This is the first radar-derived output on biomass for the whole northern zone using a single approach—and it is just one of the products from the Biomasar-II project.
Sponsored by ESA, the project also exploited Envisat archives to generate regional maps for 2005. The future Sentinel-1 mission will ensure the continuity of this kind of radar data at large, but the dedicated Biomass satellite was recently selected to become ESA's seventh Earth Explorer mission. The mission is set to provide an easier and more accurate way to monitor this precious resource regularly. The Biomass satellite will complement the Biomasar results, especially for tropical regions.
The Biomass satellite will deliver, for the first time from space, radar measurements at a wavelength of around 70 cm to delve below the treetops. It will also monitor forest disturbance and regrowth.
* * * * * * * * * * * * * *
A Challenging State Of Affairs
China is actively exploring commercial opportunities to boost its share of the global satellite-launching market, in an attempt to challenge U.S. and European dominance of this field, according to a recent infopiece in China Daily.
China Great Wall, the country's sole commercial provider of international launch services and satellite in-orbit delivery, is also using the event to demonstrate its Long March family of rockets, communication satellite platforms, and remote-sensing and meteorological satellites in the hope of attracting more potential international business, said Zhou Yuanying, the deputy general manager of the company's launch service division.
China launched 19 satellites last year, more than the U.S. did for the first time. The country aims to increase its market share in the global satellite-launching business to 15 percent by 2020, according to report of Xinhua News Agency. It currently has about 3 percent market share and its main clients are countries from Asia, Latin American and Africa. Since 2005, China has launched satellites for Nigeria, Venezuela, and Pakistan, and, in April, added Turkey, Argentina and Ecuador to its international roll call of clients, after sending three more satellites into orbit.
Zhou said that China is basing its offering on a combination of high reliability and reasonable cost, but she admitted that it faces major obstacles in entering the U.S. and European markets. The U.S., for instance, has banned the export and transfer of satellites to China as well as the launching of satellites with U.S. components in China, and analysts say the restrictions have helped reinforce the U.S.' dominance of the sector.
The U.S. generated revenue of $1.9 billion from launching services in 2011, accounting for 39 percent of the global market share, according to a report by the Satellite Industry Association. Europe accounted for 25 percent, while Russia had 19 percent of the market.
Zhou said China is looking for ways to compensate for the market restrictions by seeking opportunities in satellite leasing and cooperation with the world's leading satellite operators, such as European companies SES SA and Intelsat SA.
China has already leased its commercial satellite Apstar-7 to the U.S. Defense Department for control of the communications of its Africa command, and the Pentagon recently extended a $10.7 million leasing contract with China.
China Great Wall is also promoting the applications of the Beidou satellite navigation system, an alternative to the US Global Positioning System, to international clients.
China plans to invest 7 billion yuan ($1.13 billion) to further develop the system, which began to provide services for clients in the Asia-Pacific region in December 2012, according to media reports. The system is expected to serve global customers in 2020.