Exelis makes the FAA smile
There has been a decrease in accident rates of more than 35 percent for ADS-B-equipped aircraft over non-equipped aircraft in Alaska.
As the prime contractor responsible for the Federal Aviation Administration's (FAA) execution of the Automatic Dependent Surveillance-Broadcast (ADS-B) program, Exelis is delivering surveillance coverage requirements on budget and on schedule. ADS-B is the cornerstone pillar of the FAA's NextGen initiative to modernize the U.S. air traffic control system.
Awarded to Exelis in 2007, the 18-year, $1.8B contract is for the design, deployment and operation of nationwide ADS-B ground infrastructure.
The system uses satellite-based technology, including GPS, and the ADS-B network of ground stations to transmit aircraft position information more frequently and accurately than ground-based radars.
Exelis has delivered the required network of ADS-B ground stations and has provided service delivery on budget and on schedule, meeting every major contract milestone. The deployed system is being operated and maintained by Exelis under FAA supervision which meets and/or exceeds the FAA's requirements for high-performance surveillance and aviation safety services, and has been verified through extensive flight testing.
Under the program, Exelis has deployed 634 complex ground stations across the continental United States and in locations in Alaska, Guam, Hawaii, Puerto Rico, Virgin Islands, and approximately 200 service delivery points in FAA air traffic control facilities.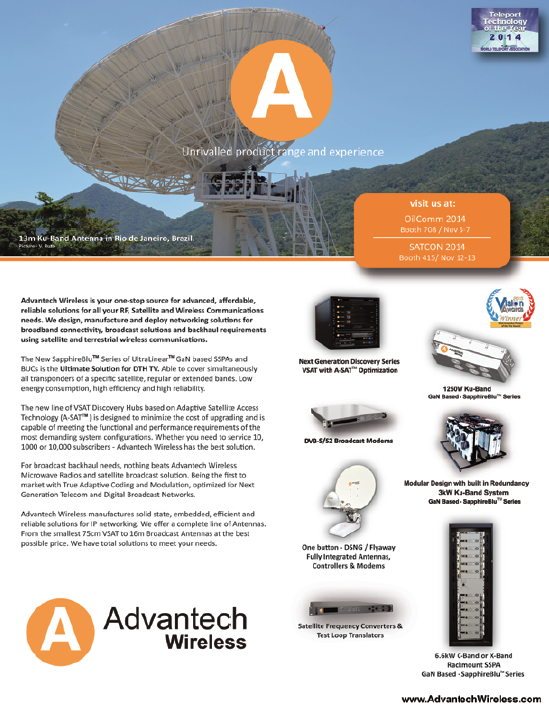 Recent media reports citing "coverage gaps" and the necessity for some additional 200 ground stations are not part of the core ADS-B program requirements and refer instead to extended coverage beyond the baseline program. The extensions are intended to bring coverage to airspace not currently served by radar. The ADS-B contract has a baseline requirement to provide coverage comparable to radar, rather than a certain number of ground stations. Exelis has exceeded the coverage requirement while remaining well within the contracted cost.
• Deployment of the ADS-B system in areas not previously covered by radar has already provided specific safety and efficiency benefits to the U.S. transportation industry including:
• Establishment of an ADS-B-only route over the Gulf of Mexico, which resulted in approximately nine minutes reduction in flight time between southern Florida and California.
• Decrease in accident rate of over 35 percent for ADS-B-equipped aircraft over non-equipped aircraft in Alaska.
• Increase of more than 300 percent for IFR (Instrument Flight Rules) low-altitude traffic in the Gulf of Mexico since 2009 as a result of ADS-B coverage.
The ADS-B system is safe, secure and fully redundant. The system has executed the National Institute for Standards and Technology-based security authentication and certification program throughout its design, implementation and operation. Accreditation recognizes that the system has substantial information security features built in, including multiple stages of certification, encryption and testing used to ensure the accuracy of all data transmitted to the FAA, air traffic controllers and pilots.
Airline adoption of the nationwide ADS-B technology will improve the safety, capacity and efficiency of the U.S. aviation industry, while accommodating future commercial air transport growth. NextGen reduces flight delays, fuel use and carbon emissions and most importantly, improves system-wide safety for air passengers.
Read more about ADS-B benefits in a statement issued by Aerospace Industries Association President and CEO, Marion C. Blakey: ADS-B Infrastructure: On Time, On Budget, On the Job, at http://www.aia-aerospace.org/news/ads-b_infrastructure_on_time_on_budget_on_the_job/
The Exelis infosite may be accessed at: http://www.exelisinc.com/
---
Atlas V rocks and CLIO climbs
While this satellite's mission remains under wraps, there's no secret that the launch of this satellite for the U.S. government was successful.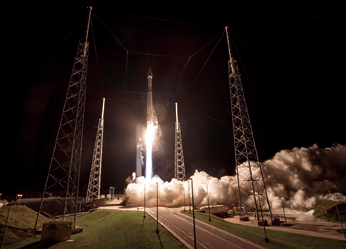 A United Launch Alliance (ULA) Atlas V rocket carried the CLIO mission skywards for Lockheed Martin Space Systems Company at 8:10 p.m. EDT on September 16, 2014, from Cape Canaveral Air Air Force Space Station, Florida.
CLIO marks ULA's 11th successful mission this year and the 88th successful mission since formation in 2006.
This mission was launched aboard an Atlas V 401 configuration vehicle, which includes a 4 meter diameter payload fairing. The Atlas booster for this mission was powered by the RD AMROSS RD-180 engine, and the Centaur upper stage was powered by a single Aerojet Rocketdyne RL10A engine.
"The ULA, Lockheed Martin, supplier, and government teams seamlessly integrated to ensure accurate delivery of the CLIO mission to orbit," said Jim Sponnick, ULA vice president, Atlas and Delta Programs.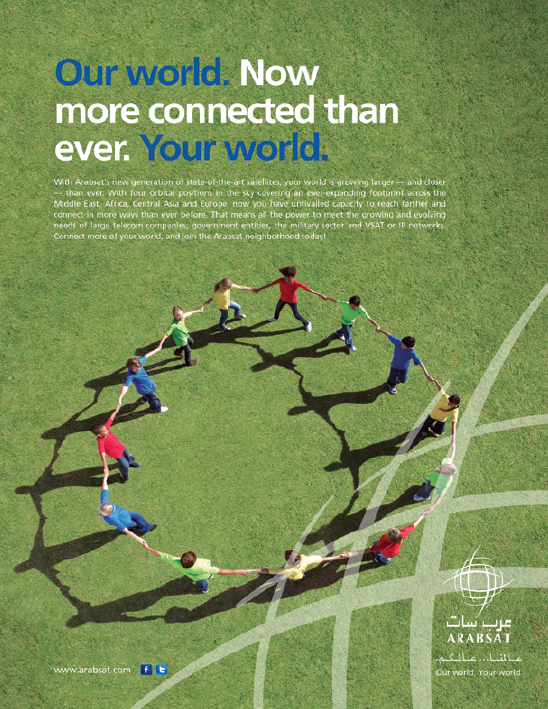 ULA's next launch is the Atlas V GPS IIF 8 mission for the United States Air Force scheduled for October 29, from Space Launch Complex-41 at Cape Canaveral Air Force Station, Florida.
ULA has successfully delivered more than 85 satellites to orbit that provide critical capabilities for troops in the field, aid meteorologists in tracking severe weather, enable personal device-based GPS navigation and unlock the mysteries of our solar system.
For more information on ULA, visit the ULA website at http://www.ulalaunch.com/
---
A replacement for the RD-180
ATK has provided the U.S. Air Force an American-made commercial solid rocket solution as a replacement for the RD-180 Russian-made, first-stage engine of United Launch Alliance's (ULA) Atlas V launch vehicle.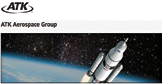 The development of new technologies has led to innovative design improvements with solid rocket motors, resulting in higher performance and increased reliability and affordability. Over the past seven years, ATK has incorporated those new technologies in the development of six new solid rocket motors—some developed in less than two years.
Blake Larson, president of ATK's Aerospace Group, said, "By combining our extensive experience with new technologies, we have provided commercial customers with low-cost solutions that progressed from design to flight qualification within months. Using a similar approach, ATK's propulsion solution will provide the U.S. Air Force with an
RD-180 replacement rapidly and at a highly competitive cost."
Solid rocket motors are optimal for first-stage performance as they provide high lift-off thrust, allowing for more payload margin. They also require less ground and launch infrastructure, resulting in fewer launch scrubs. Due to unmatched reliability, solid propulsion is used in every stage of America's strategic defense arsenal. New solid rocket motor technology has the capability to provide a smooth lift for payloads, which is especially important when launching critical payloads, sensitive satellites and crews. ATK has provided more than 1,900 commercial and more than 14,000 government solid rocket motors and integrated stages, all domestically built.
Manufacturing and testing of ATK's solution for the RD-180 replacement will take place within the United States using tooling and infrastructure already in place across the country.
The ATK infosite may be accessed at http://www.atk.com/about/business-groups/atk-aerospace-group
---
Unique solar panel design testing meets with success for Iridium
Iridium Communications Inc. has completed an extensive testing program for qualification of its new solar panel design for the Iridium NEXT constellation.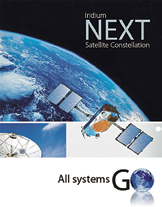 The innovative array that powers the Iridium NEXT satellites, expected to begin launching in 2015, contains four solar panels and will span 9.4 meters when fully extended, developing more than 2 kilowatts of power over a demanding charging cycle in Iridium's LEO.
The panel was developed by Spectrolab and Mitsubishi Electric Corporation (MELCO). These companies are part of the Iridium NEXT Mission Team, led by Iridium's prime contractor and European satellite manufacturer, Thales Alenia Space.
The solar arrays are powered by new, larger triple-junction (XTJ) solar cells manufactured from six-inch wafers which yield 50 percent more solar cell surface area than cells used in Iridium's current constellation and deliver higher performance, while reducing costs.
Working closely with Spectrolab, the new design was put through a grueling life test and qualification program to ensure it works to specification using representative sections of the actual panels.
The design verification test represented every mechanical and electrical configuration and was tested with a simulation of the rigorous LEO charging environment into which the arrays will be deployed.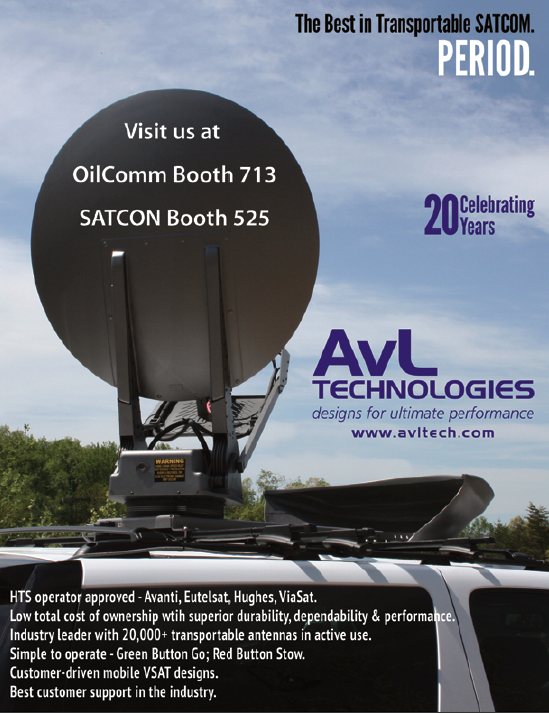 The solar array was tested to 1.5 times its planned lifespan in space to ensure it can meet and exceed the expected lifetime of the satellite.
The solar cells were put through 75,000 thermal cycles, each one representing the Iridium NEXT satellite's movements in and out of the sun's radiating heat as it orbits the Earth.
The Iridium NEXT satellite network will consist of 66 on orbit satellites and a number of on orbit spares. The constellation will offer continued high quality service for Iridium customers, as well as greater bandwidth and data speeds when fully operational in 2017.
"The successful completion of qualification testing for the solar panel design marks yet another important milestone on our journey to launching Iridium NEXT," said Iridium COO Scott Smith. "The innovation at the heart of the solar panels demonstrates how we're fundamentally rethinking the design of every aspect of our constellation with improved efficiency, performance and longevity in mind."
For more information on Iridium NEXT, please visit the Iridium infosite at http://www.iridium.com.
---
Launch of Nigerian indigenous satellite set for 2018
The News Agency of Nigeria (NAN) is reporting that the Nigerian Minister of Science and Technology, Abdu Bulama, has said that Nigeria would design, fabricate, test and launch its indigenous satellite
by 2018.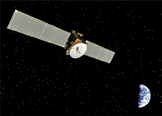 Bulama stated this while inspecting facilities at the Obasanjo Space Centre of the National Space Research and Development Agency (NASRDA). The minister said the center had the mandate to launch Nigeria's first indigenous satellite by 2018, and described space science and technology program as an important component of the Nigerian dream. According to him, the satellite program has a positive role to play in the transformation agenda of President Goodluck Jonathan's administration. Bulama directed that the assembly, testing and integration center, and the Synthetic Aperture Radar Satellite, which are under construction, be completed by 2015.
Earlier, the Director-General of NASRDA, Seidu Mohammed, who conducted Bulama around the facilities, said the agency could boast of world-class technology in terms of facilities. Mohammed said that about six million U.S. dollars (about N1 billion) annual budgetary allocation to NASRDA was inadequate, given the huge development expected of the agency. The director-general also said that no serious country allocates less than 100 million U.S. dollars to its space agency. According to him, NASRDA pays N1.6 million monthly to an Israeli company to maintain facilities at one of the centers of the agency. He said the Emergency Management Project of the agency could be used in tracking kidnapped victims, car theft, pipeline vandalization, fire outbreak, flood and accidents.
---
Alerts to continue for disaster management for Thailand
MDA's Information Systems group (MDA) has renewed its contract with the Geo-Informatics and Space Technology Development Agency (GISTDA) to continue to downlink of RADARSAT-2 data that will be used to support critical infrastructure serving Thailand's various resources management and disaster mitigation applications.
GISTDA has been receiving and processing RADARSAT satellites data imagery to support various applications since 2000.
RADARSAT-2's specific mission related features and benefits include the following: Finer resolution for improved object detection and recognition; Range of resolutions, swaths, and incident angles; Three polarization modes for higher-value data products;12-24 hours programming lead time for routine acquisition; 4-12 hours lead time for emergency acquisition; Near-real time processing and product delivery.
The RADARSAT-2 satellite has global high-resolution surveillance capabilities that include a large collection capacity, high accuracy, and wide-area coverage that is extremely useful in imaging the vast tracts of territory. The satellite acquires data regardless of light or weather conditions, provides frequent re-visit imaging options, and is supported by ground receiving stations that provide near real-time information delivery services. This versatility makes RADARSAT-2 a reliable source of information for resource and disaster management programs.
MDA operates the satellite and ground segment that includes a Mission Control System, two Telemetry, Tracking, and Control Station Systems, two Canadian Data Receiving Facilities, a Canadian Data Processing Facility, and an associated data archive containing every image the satellite will capture in its operational life.
Learn more at http://www.mdacorporation.com/
---
Airbus Defence & Space's satellite and maritime SATCOM biz + Marlink, go on sale...
Airbus Defence and Space is divesting its commercial SATCOMs business, including its maritime SATCOMs division and subsidiary Marlink, to focus on their core aerospace and defense work.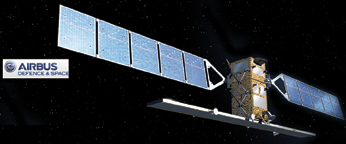 Bernard Gerwert, head of Airbus' Defence and Space unit, issued a statement: "After a detailed and comprehensive portfolio assessment, Airbus Defence and Space has defined Space (Launchers & Satellites), Military Aircraft, Missiles and related Systems and Services as its future core businesses. These are the areas in which the Division will further invest to strengthen its leading position.
Some business areas are identified as divestment candidates as they do not fit the strategic goals and for which the company sees possibilities to increase their development potential in different set-ups."
This decision was described as the "next logical step" following a 2013 meeting of Airbus Defence and Space's Group's Strategy Review, and the company believes business areas such as commercial satellite communications services, "will have better chances for growth and market success in different ownership structures."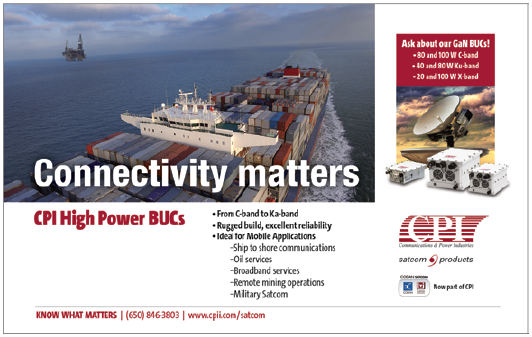 The news comes two years after the German government blocked a merger between Airbus, then EADS, and Britain's BAE Systems. "Given the tight budgetary situations in our home countries and increasing competition on global markets, the portfolio review is an essential element to further develop our defence and space business and to ensure its competitiveness. "We have identified those segments where this is an achievable target and those where we should explore alternative options. In short, the portfolio review is a logical next step in the overall transformation process.
I want to make clear that this is not just about cutting more jobs or closing more sites. Quite the contrary, we're focusing on certain businesses and are looking for someone who's willing to develop and invest in these businesses.
It will strengthen Airbus Defence and Space's business core, unlocking its full potential to drive the defence and space industry forward, particularly on critically important international growth markets."
Mr. Gerwert added that discussions with the company's employees on the implications of the move would be conducted "in a fair and open way." Learn more about Airbus here.
The Airbus Group acquired satellite communications provider Vizada in 2011 at a cost of almost $1 billion, adding the business to its Astrium division, which was subsequently renamed as Airbus Defence and Space.
Vizada itself was created through a merger of the France Telecom Mobile Satellite Communications and Telenor Satellite Services (including Marlink), after those two businesses were acquired by Apax Partners in 2007.
Airbus Defence and Space's announcement of this intention to sell has not included any indication of potential buyers—indusry speculation for possible buyers includes Inmarsat, who currently hold a major share of the VSAT market.
Sale of the businesses, with combined annual revenues of EUR2bn ($2.6bn), is expected to generate between EUR1.5bn and EUR2bn, according to figures from one Wall Street Journal report.
---
Successful launch for Luch and separation for this Russian Proton-M mission
Russian relay satellite Luch, launched by the Proton-M carrier rocket from Baikonur space launch facility early on Sunday, has separated from the Briz-M rocket booster and reached the calculated orbit, the press service of the Russian Space Agency (Roskosmos) has reported.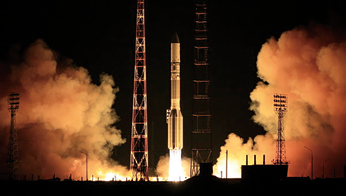 "The space apparatus has separated in scheduled time," the press service said. The Proton launch vehicle carried a classified payload known as Olymp ("Olympus") as well as Luch ("Beam"), which belongs to the Russian Ministry of Defense.
This was the fifth launch this year using the Proton carrier and the first launch after the recent accident with the carrier. Sunday's mission was previously scheduled to lift off at the latter half of May 2014. However, following the loss of another Proton rocket on May 16, it was postponed to July 8. The Express-AM4P communication satellite was lost some 545 seconds into the flight. The experts investigating that accident said it was caused by disintegration of a bearing assembly in the turbo pump of the Proton's third-stage engine.
Previous to that on August 23, 2013, a Proton rocket with several GLONASS (Russia's version of the Global Positioning System) cartwheeled across the sky before slamming into the ground in a massive fireball. It was later determined that a sensor was placed upside down and doomed the $1.3 billion mission.
The Luch spacecraft is another satellite of the Luch Multifunctional Relay System which is being developed under the 2006-2015 Russian federal space program.
The Luch relay system is intended to provide the Russian segment of the International Space Station (ISS); low-orbiting space devices; boosters and upper stages with communication with ground-based facilities.
The Russian segment of the International Space Station (ISS) can communicate directly with the mission control centers in Russia and in the U.S. for 2.5 hours a day. For communication outside the time limit, Russia buys services of the U.S. Tracking and Data Relay Satellite System.
The previous Luch spacecraft, Luch-5B, was successfully placed into orbit on April 28 of this year.
---
Rumors of a Sea Launch sale to Israel are refuted
The head of Sea Launch, an international spacecraft launch service, has denied recent reports of plans to sell the company to an Israeli company.
"The reports that an Israeli company is planning to buy the Sea Launch project are not true. We have received no proposals on the Sea Launch purchase," the company's CEO, Sergey Gugkayev, told ITAR-TASS Gugkayev confirmed, however, that Sea Launch, which launches Russian-Ukrainian Zenith-3SL rockets from a mobile platform in the Pacific Ocean, is in talks with an Israeli firm on "cooperation in the sphere of launching spacecraft. But this is not the only company manufacturing satellites with which we are holding negotiations on possible joint work," the Sea Launch consortium CEO said, commenting on the reports. A director of information policy department at Russia's United Rocket and Space Corporation, Igor Burenkov, said "various options for developing the Sea Launch project are being considered, in particular, in the interests of Russia."
A source in the Russian Defense Ministry told ITAR-TASS that Sea Launch is currently holding negotiations with Israel Aerospace Industries (IAI), a major Israeli aerospace and aviation manufacturer. Earlier media reports said, citing unnamed sources, that a leading Israeli company in the space sector is expected to hold talks in the coming days aimed at discussing the possible sale of the Sea Launch consortium.
The reports said that Russia's space agency, Roscosmos, and the United Rocket and Space Corporation, have refused to buy the consortium, and efforts have been made to search for a foreign customer.
The International Sea Launch consortium headquartered in Nyon, Switzerland, was founded in 1995 and re-organized in 2010. Its majority shareholder, Energia Overseas Limited (EOL) owns 95 percent of shares. Three percent of shares belong to the American airline company Boeing, and two percent to Norwegian Aker Solutions.
---