Luxembourg-based satellite operator SES is well-known for its global supply of capacity. Back in 2004, SES acquired Digital Playout Centre, founded in 1996 by Leo Kirch, and created to supply Kirch Group's Premiere pay-TV operation, and then Sky Deutschland with technical services including playout, Asset Management and up-linking to its satellites.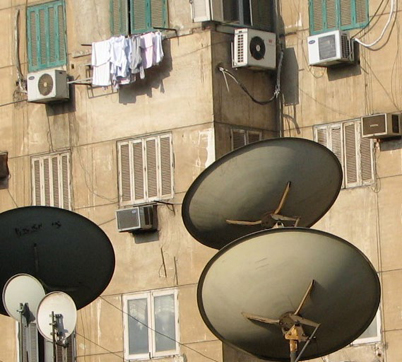 Since then,
Astra Platform Services
as it was known, and now under its new name of
SES Platform Services
(
SPS
), has won a significant number of interesting contracts around the world, not the least a supply a full bouquet of channels for South African pay-TV service
TopTV
.
SES now intends to rapidly expand its reach into the services, facilities and value-added market for all things programming, content and Asset Management based. It has already placed staff in Johannesburg, Singapore, and the USA. SES is also looking to invest into further expansion in Latin America, India and elsewhere, as well as to tap into what SPS CEO
Wilfred Urner
describes as a logical next step for the fast-growing business, and well beyond traditional organic growth.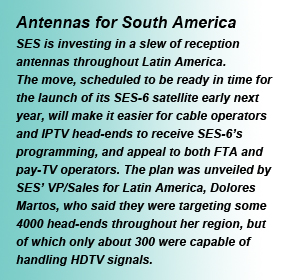 Last year, SPS invested in a purpose-built facility, adjacent to its existing building, and as part of what is increasingly seen as the central campus of Germany's broadcasters, at Unterföhring, near Munich in Bavaria, Germany. Now, further investment is being made in new reception antenna facilities throughout Latin America, for example.
Urner
says the investment is more than paying off, helped by major recent contract wins with players such as TopTV in South Africa, the
Pro7 Group
in Germany and news broadcaster
N24
in Berlin, and with more in the pipeline. He admits that some industry players see playout and their related services as near-commoditized.
"It is hard for some at SES, especially when you remember that 25 years ago, few would have thought that the satellite business would ever have become a kind of commodity. But it has. In Europe we have an excellent position because of our powerful broadcast neighborhoods but looking to Asia, or Latin America, or Africa, where we are just one amongst many. If you cannot offer more to potential clients, and we can talk about what 'more' is, then we might not win the business.
'More' might include any number of incentives, or capacity agreements, or service bundles. This might include ensuring that the client gets to market a little sooner, or help with their business models, or aid them with their technology development. But what we have to avoid is in stepping into their businesses. They are the broadcasters, not us."
He adds that this new expansion strategy might mean competing head-to-head with some very well established facility players such as
Arqiva
or
GlobeCast
, but he is also looking to build new relationships with these same names.
"GlobeCast and Arqiva are typical in that they are already sometimes partners, as well as customers and sometimes also competitors. However this is pretty normal in our industry. It could mean a challenge in some markets and for very few customers. But as we are mostly playing in different fields or value chains this has never become a major issue up to now and we do not expect it to become a real issue."
SPS' strategy is two-fold, explains
Urner
. "As an uplink facility you have a dual role, one aspect being almost like a factory with fixed routines and established processes. SPS does a great job in this aspect, but also carrying out the second role which is staying up-to-date, investing in the latest technologies as well as planning for the future. Over the years we have to improve the SES position as regards services, and this will make us more attractive to clients, and we have to make sure that all our teleports are up to this same SPS standard, and this includes fibre links. This applies also for teleports we are partnering with. We can then serve our customers with solutions that they want not only in Europe but around the world."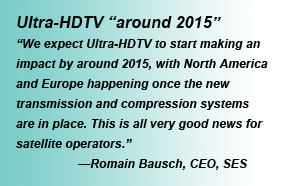 "There are some parts of the world that we, as SPS, cannot uplink to. At SES we might own teleports but perhaps we don't have uplinks to this or that satellite. So we have to think about how we might upgrade the teleports that SES owns and operates all around the world in order to supply much more flexibility for clients. Perhaps we have to improve the links we have with third-party teleports to improve connectivity for our clients.
Urner
admits that not every broadcaster will want the SPS-level of service. "You can offer someone a Rolls Royce-type service, but perhaps they want something less expensive and we can manage that. However, if you only have a smelly old Trabant as a business model, which might, if you are lucky, still get you from A to B, then you can never upgrade. We decided to be position here in Germany to serve our backbone customers such as Sky Deutschland and the likes of Pro7. In addition we can and do offer extremely competitive services but where there are some add-on charges that entirely reflect what the client might want or would consider essential."
Urner
says the whole broadcasting scene is changing, and fast. "The consumer is changing his behavior in terms of content, for example, and how media is consumed. On the one hand we have an increased perception of on-demand content, and the other is seen as the traditional linear distribution models. On-demand might end up being seen as the source for movies and 'catch-up' programming, while linear might be the model for big events, sports, reality programming and talk-shows, and such like."
"But broadcasters also have to change their focus in order to keep audiences watching," he adds. "It is no longer enough to buy a nice movie and screen it during the evening. They have to have much more in the way of primary entertainment to hold onto viewer's attention. Of course, a good broadcaster has some subsidiary channels where alternate programming can also be offered. This has proved to be a sound business model, and mix this in with some interactivity and this also helps. As to today's hype, and the suggestions that everyone will move from linear to non-linear, well I just do not believe this will be the case."
About the author
Contributing Editor Chris Forrester is a well-known broadcasting journalist and industry consultant. He reports on all aspects of broadcasting with special emphasis on content, the business of television and emerging applications. He founded Rapid TV News and has edited Interspace and its successor Inside Satellite TV since 1996. He also files for Advanced-Television.com. In November 1998 he was appointed an Associate (professor) of the prestigious Adham Center for Television Journalism, part of the American University in Cairo (AUC), in recognition of his extensive coverage of the Arab media market.


* * * * * * * * *
SES: Where Are The New Markets?
SES has had a good trading year, to date (numbers as at June 30th). Revenues were up 4.8 percent over the same period last year (to 892 million euros) and generating an operating profit up 2.4 percent to 411.5m euros, and at an improved margin of 74.6 percent (74.2 percent). Contracted backlog held steady at 6.8bn euros.

President/CEO Romain Bausch says that while European revenues were flat, not helped by the remaining unused 32 transponders that used to supply analogue TV for German viewers (German analogue was switched off in April). However, huge progress had been made in reallocating these transponders, and nine were sold during the period. Overall, utilisation for the Astra European fleet stood at 81.4 percent.

That's the good news. The even-better news is that SES is seeing real progress in the Asian and Latino markets, which SES reports under its 'international' segment. Revenues up 8 percent (y-o-y) and a useful slew of new orders and contracts secured. International utilisation grew by 48 transponders, and with an overall fill rate of 74.2 percent.

A major Telefonica contract for central America helped the international division. SES has six new craft under procurement, adding an incremental 242 transponders by 2014 (compared with the the position at the end of 2011). He revealed that SES had also identified two new segments for satellite investment. These, plus the upcoming pair of O3b launches now being readied, will add considerable new capacity and revenues opportunities for the operator. The current investment cycle is coming to an end, Bausch explained, and with the anticipated cash-flow now this would give flexibility to SES for further investment opportunities, including O3b (which is the project to circle the Earth with Ka-band MEO craft to servive the 'other 3 billion' with satellite communications).