This Executive Spotlight focus is on Patrick Shay, a Telematics and LBS industry pioneer with more than 20 years background in the GPS and wireless marketplace. He led the sales and marketing efforts on a global basis for Motorola's GPS and Telematics business. His team launched the Telematics business in Europe and the U.S. with General Motor's OnStar, Ford's Lincoln RESCU (the first Telematics program in 1995), Nissan's Communicator, BMW's Mayday, and Mercedes-Benz's Teleaid in Europe and the U.S., as well as Opel, Vauxhall, and Renault. These programs created a new US$1billion business for Motorola.
Additionally,
Patrick
created a winning strategy for
Mercedes-Benz
, the first automotive manufacturer to add Telematics as standard on all cars. At
Rand McNally
as Vice President,
Patrick
led the team responsible for creating a new electronic road atlas product, winning the
2001 "Best of Comdex Award
" with
Palm Inc.
He and his team launched new GPS and travel navigation programs with
Magellan
,
Sony
, and
Cobra Electronics
.
Patrick
's team created a new wireless turn-by-turn navigation service that launched with
Sprint
.
Sirius Satellite Radio
recruited
Patrick
as Vice President to create and launch the data services business for the automotive and consumer marketplace. With his leadership, his team developed and sold new satellite data services with service launching at
Chrysler
,
Ford
,
Alpine
, and
Panasonic
. As Vice President of
Hughes Telematics
,
Patrick
developed new Telematics and wireless services.
SatMagazine (SM)
Patrick, could you first, could you tell our readers about yourself? What is your background? How did you become involved in the mobile satellite communications' business?
Patrick Shay
I have more than 20 years of experience in the wireless and GPS business. That includes 13 years with Motorola, where I was involved in integrating GPS and wireless devices. This, of course, eventually evolved into what is now the booming Telematics industry. I also worked as vice president of data at Sirius Satellite Radio, where we created and launched new data services using the Sirius Satellite network. I joined Iridium last year to head up the newly established Data Division. I was attracted to this opportunity because I see tremendous opportunities and exciting challenges for the emerging mobile satellite data market.
SM
As vice president and general manager of Iridium's Data Division, what do your executive responsibilities encompass?
Patrick Shay
I am involved in all aspects of Iridium's mobile data business, including R&D, product development, sales and marketing, and managing relationships with our growing infrastructure of value-added partners in this arena. I am fortunate to be able to work with a superb team of professionals with extensive experience in the mobile satellite industry here at Iridium. I serve as a focal point for the global market requirements for Iridium data products and services. I am directing the effort to increase our market share in this rapidly growing sector of the business while expanding into new vertical market segments such as personal satellite location, tracking and messaging. I am also involved in Iridium's expansion into new geographical regions, such as South America, where there is growing demand for mobile data services.
SM
Can you give us a brief description of Iridium's current data communication products and services?
Patrick Shay
Sure, but first let me just restate Iridium's basic value proposition for mobile data. Iridium's constellation of 66 low-earth-orbiting (LEO) cross-linked satellites provides a unique combination of global pole-to-pole coverage, low latency, two-way (duplex) data links and high network quality. Our network has inherent built-in redundancy and resiliency, both in the space segment with multiple in-orbit spares, and in the ground segment. Iridium's narrowband satellite channels are ideally suited for voice and low-rate data applications, such as position reporting and telemetry from remote sensors.
Our current satellite data service offerings fall broadly into two groups: circuit-switched and short-burst data. We supply the satellite data modems to our service partners, who embed them in their end-user solutions for vertical market applications.
Our 9522B circuit-switched data modem is designed to integrate with user equipment through an RS232 interface and AT command set. The data protocol is based on Iridium's router-based unrestricted digital internetworking connectivity solution (RUDICS).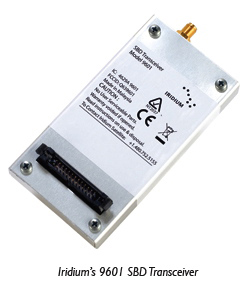 Iridium's short-burst data (SBD) service is based on our 9601 data modem, which is embedded by our partners, usually with a GPS receiver into a wide range of products for remote tracking, alarms, monitoring and other machine-to-machine (M2M) applications. The device is about the size of a deck of cards and weighs just 117 grams. It includes an RS 232 interface and SMA Antenna Connector to a small, omni-directional, L-band antenna.
In addition to these embeddable data products, our new 9555 satellite phone handset has a mini-USB port that makes it easy to connect to a laptop for sending and receiving emails and data files. This is very popular, for instance, with cruising sailboats, which use it to retrieve weather forecasts from the Web.
I'll also mention our new Iridium OpenPort® system, which we introduced to meet the rising demand for higher-bandwidth maritime voice and data connections. The IP-based Iridium OpenPort system provides three independent voice circuits and a separate data port with scalable rates from 9.6 to 128 kbps.
SM
Can you give us an example of the circuit-switched RUDICS service?
Patrick Shay
One of the most interesting applications is one that has been developed by our partner Uplogix. It uses the Iridium RUDICS service for an automatic out-of-band connection to the satellite and network infrastructure equipment at remote VSAT sites around the world. It provides console-level access for fault management and recovery, configuration management and maintenance activities. It acts as a secure 'back door' to provide a secondary means of accessing devices and systems if the primary connection has been lost. This ensures rapid restoration of service to the network, as well as a substantial reduction in IT support costs. These systems are now being deployed to support U.S. military operations overseas as well as in the oil and gas industry.
SM
What about the SBD service? Who are your major customers? What sorts of applications?
Patrick Shay
SBD is our fastest growing business area at Iridium. Our SBD modems are being incorporated into an amazing variety of products for applications such as automatic flight following for airplanes and helicopters, fuel consumption for ships at sea, oceanographic data from buoys, uploads from remotely operated subsea gliders and warnings from subsea tsunami-detection sensors. We're tracking virtually anything that moves — vehicles, construction machines, trains, aircraft, ships, weather balloons, sailboats, snowmobiles and even dogsleds.
There is also an emerging market for personal satellite location, tracking, alarm and messaging devices. (Hold this thought, and I'll return to this subject later.) In Canada, for instance, there is a government requirement that lone workers in remote locations must have an automatic tracking and alarm device for safety. And the maritime life-saving authority in Great Britain is deploying Iridium SBD-based devices, which are worn on lifejackets and automatically trigger an alert if a crewperson falls overboard. In the government markets segment, Iridium data is used for logistics and blue force tracking, unattended sensor monitoring and personal tracking and communications. Iridium data is also used for UAV communications.
Increasingly we are seeing the satellite SBD business transitioning from narrow niche-market applications into broad-based enterprise solutions for large industrial and government customers with assets worldwide. The Iridium satellite SBD solution gives them a standard data communication platform across all their geographical markets. Some of our service partners have also developed "dual-mode" hybrid devices that are programmed to transmit data reports via cellular when in range of terrestrial wireless towers, and defaulting to the Iridium SBD at all other times. Our customers value our global coverage coupled with predictable, low latency messages from a device and antenna that are small and easy to package.
SM
You mentioned dog sled tracking. I remember seeing that Iridium has been supporting the iconic Iditarod race in Alaska the last few years. Can you tell us more about that?
Patrick Shay
Iridium has been working with the Iditarod Trail Committee for several years now, providing satellite phone connections for the race organizers and teams as an important safety measure for the mushers and their dogs during the 1,000+ mile race across some of the most remote and lonely terrain in North America. In 2008, the committee installed an SBD remote tracking device developed by our service partner, IonEarth, on several sleds. They were so pleased with the results that in 2009 that they mandated that all mushers in the race must be equipped with the IonEarth tracking devices for safety.

The IonEarth device developed for the Iditarod consists of a miniature GPS receiver, Iridium SBD modem, control electronics and lightweight, high-performance batteries especially designed for extended operation in severe temperatures. IonEarth programmed the devices to transmit position, speed, heading and temperature through the Iridium network to a central server every 15 minutes.
Journalists, film crews and Iditarod race officials were also equipped with IonEarth terminals. These terminals were wirelessly connected to handheld computers, allowing them to monitor the mushers and each other from remote locations without the need for an Internet connection. Race fans all over the world could log onto the Iditarod Website, where they could view the latest information and location for each musher superimposed on a 3D terrain map of the trail. Importantly, the rules provided that mushers could not obtain information on their competitors' position or progress, to maintain the integrity of the race. You might be interested to know that we also have provided similar tracking services for off-road auto rallies, such as the famous Paris-Dakar event, and ocean sailboat races.
SM
The original business plan for Iridium back in the 1990s was based primarily on voice communications, with data as an afterthought. Now we understand that data is Iridium's fastest growing business area. Can you explain how this paradigm shift occurred? What factors are driving Iridium' rapid growth in mobile data?
Patrick Shay
It's true that Iridium was originally designed primarily as a mobile telephone service. I'm sure I don't need to tell your readers that a lot has happened in terms of data communications since the 90s. Just look, for instance, at the proliferation of handheld multi-function devices such as Blackberries and iPhones and the explosion of SMS text messaging.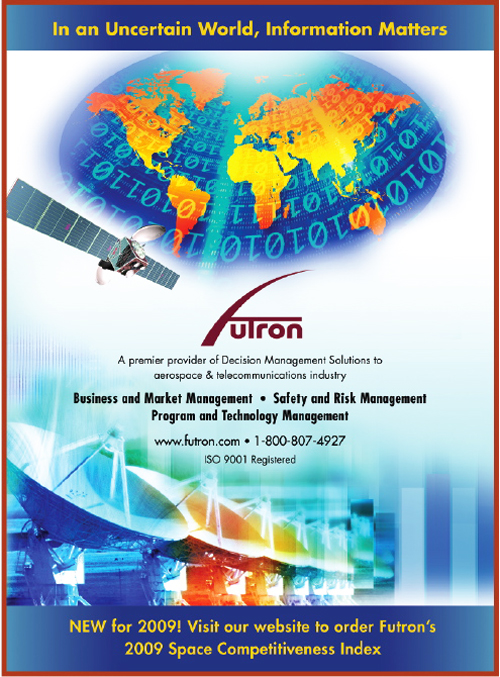 The Telematics revolution, which has been enabled by the combination of low-cost embedded GPS and wireless data modems, is continuing to grow and expand into other parts of the globe. Industrial and government customers are beginning to discover how mobile data can increase their visibility across their entire logistics and supply chain, as well as managing fleets of vehicles and shipping containers, even drilling down to pallet-level tracking with hybrid RFID-GPS-satellite data solutions. Applications are virtually endless, and we're just touching the tip of the iceberg in terms of market penetration.
SM
Exciting times, to be sure. Let's change the subject and ask about the industry alliance Iridium announced a few weeks ago. What exactly is the ProTECTS Alliance, and what are its goals?
Patrick Shay
Iridium has joined with more than a score of industry partners to create a new industry alliance with a primary goal of fostering the rapid and orderly market development for portable two-way satellite-based location, tracking and messaging devices.
The industry group, known as the ProTECTS (Promotion of Two-way Emergency Communication and Tracking Systems) Alliance, will provide a forum for addressing issues affecting the suppliers and users of these vital safety devices. It will also facilitate the development of bi-directional satellite data solutions meeting the requirements of the growing user base of government and business organizations deploying portable tracking devices, as well as the public-safety community.
There is a rapidly emerging market for satellite personal tracking and distress alerting devices, and a major goal of the group is to work in a collaborative atmosphere to develop broad-based industry standards that will ensure interoperability with public safety dispatch networks, systems and response procedures without stifling creative competition in the marketplace. We believe there is strong need for a standard based on two-way data as opposed to one-way (simplex) data links. It has been widely reported that simplex location and distress beacons have a very high incidence of false alerts triggered by accidental activations. This places a tremendous burden on first responders and search-and-rescue (SAR) authorities. The large number of distress alert messages makes it impractical, and prohibitively expensive, to launch rescue operations without determining whether it is a real emergency or accidental activation.
The interactive bi-directional data link permits first responders to send a return message to the transmitting beacon to ascertain whether it is a bonafide distress situation and determine the nature of the emergency before deploying resources in response. It also gives the mobile user a reassurance that the distress message has been received and that help is on the way. Membership in the ProTECTS Alliance is open to mobile satellite companies, service providers, product developers, manufacturers, system integrators, network operators, resellers, distributors, retailers, users, consultants, SAR organizations, first responders, trade associations, national and international regulatory bodies and non-governmental organizations (NGOs).
The first organizational meeting is scheduled to take place in conjunction with Iridium's annual partner conference in Arizona during January 2010. Regular meetings will be scheduled at major industry conferences, events and trade shows.
SM
Thanks for the information, and we'll be watching developments with interest, so please keep us informed. Let's close by asking what's on the horizon for Iridium in the mobile data arena?
Patrick Shay
I can't reveal any specific information regarding new product plans, but I can tell you that the next generation of satellite data modems will be even smaller and less expensive. We see continued rapid penetration of the burgeoning market for remote asset tracking and monitoring. Although GSM/GPRS networks continue to expand, more than 90 percent of the Earth's surface is outside the coverage of terrestrial wireless networks. This is our natural market.
Iridium NEXT, our engineering program for development and deployment of the next-generation Iridium satellite constellation, is well underway, with launches scheduled to begin in 2014. The full constellation is planned to be operational in 2016. We are designing it to be similar to the existing constellation architecture, with 66 LEO cross-linked satellites in 11 orbital planes intersecting over the poles.
Our plans incorporate a number of exciting new capabilities, including higher-bandwidth data links up to 1 Mbps. Two major aerospace companies ­— Lockheed Martin and Thales Alenia Space — are competing to become the prime contractor for Iridium NEXT, and we plan to announce our final selection in the next few months. At that time we will rapidly move into the full system development phase.
We passed a major milestone last month, with the closing of our merger with Greenhill Acquisition Corporation. As a result, our company's name has been changed to Iridium Communications, Inc., and our shares are listed on the NASDAQ stock exchange (ticker symbol IRDM). This is an important step in our Iridium NEXT development business plan.