In today's global business environment, it's all about speed: a quicker time-to-service or time-to-market, swifter exchanges of information, faster decision making, the "I want it now" mentality.
While the exact definition of speed may differ from person to person or organization to organization, for most of the world's population (who are faced with very slow Internet experiences and who must wait for slow web pages to load or important applications to open) an increase in connectivity speed can change their overall productivity paradigm.
With improved speed, what used to take minutes, or even hours, can happen in the blink of an eye. Workers in the world's most challenged areas for connectivity can browse the Internet at data center speeds from a remote office, access the web and data center applications just as if they were sitting in their corporate headquarters and update programs and applications amongst all global employees with the click of a mouse.
As corporations, non-governmental agencies (NGOs) and governments further expand facilities into remote locations, the need for a breakthrough in the speed of Internet service for all of an organization's employees (where WANs match LAN speeds, without having to buy more Mbps) is growing.
In fact, nearly four billion people in emerging markets have been waiting for a technology to deliver the speed and the overall connectivity experience they need to match their potential and to provide them with a true feeling of being part of an organization's overall team.
Fortunately, there have been a number of technology advances in improving speed for Internet access, including a new virtualization technology that can guarantee cloud speeds of up to 100Mbps up and 100Mbps down via satellite while tightening security and delivering an improved overall connectivity experience for all of an organization's workers, no matter where they are located.
This new infrastructure increases services for, and the productivity of, remotely located users while decreasing the costs associated with servicing and supporting those users.
The 'Zero Latency' Browser
This new technology advancement is the world's first 'Zero Latency' browser for satellite and terrestrial links. A virtual cloud-based browser built on a redundant global infrastructure, this technology runs on highly powered data centers where state-of-the-art cloud computing infrastructures reside to deliver true broadband experiences to workers based in the most remote locations on the planet.
By guaranteeing upload and download cloud speeds of 100Mbps while centralizing applications, this new browser enables a whole new subset of enterprises and organizations to operate at data center speeds (with LAN-like latencies), vastly improving their time-to-service and time-to-market while allowing even the smallest offices to feel like a true part of the larger organization. This is a paradigm shift, where IT departments try to leverage 1Gbps data center speeds before buying more satellite bandwidth.
In addition to fast Internet connectivity, the new Zero Latency browsers speed end-user access to http- or https-based applications such as customer relationship management (CRM), enterprise resource planning (ERP) and webmail (e.g., OWA). With the new browser, workers over WANs are able to access their corporate applications faster, so they're able to work more rapidly and efficiently.
In one instance, a large NGO reduced its typical ERP transaction times from a full eight minutes down to mere seconds, increasing the number of people they are able to serve each day. How's that for customer satisfaction?
Another benefit of the new Zero Latency technologies is that organizations can roll out new software and applications to all of their employees, worldwide, in seconds, rather than having to use the time- and resource-consuming process of going worker by worker or laptop by laptop.
For that same NGO mentioned above, the use of a Zero Latency browser delivered an incredible savings in time. Before the new browser, it took the organization over a year to move all of its global employees from Lotus Notes to Outlook. After deploying the browser, they were able to accomplish a similar software update in seconds with the click of a mouse. In addition to saving vast amounts of time and resources, this capability improved productivity by eliminating the challenges that can happen when different facilities are operating on different versions of software, or when operating with decentralized server architectures.
How it Works
In a typical browser, a user clicks on a website and the browser sends out several requests for content to create a page. These requests go back and forth across multiple hops, servers and domains, taking up the user's time, computing power and bandwidth. On the other hand, the new Zero Latency browsers (such as SpeedNet™ from Emerging Markets Communications (EMC)), are thin clients that give the user a visual representation of the actual physical browser running all of the processing in a state-of-the-art data center with multihoming 1Gbps ports to the Internet. There is only one Transmission Control Protocol (TCP) connection to a single server IP. So, the user gets all the benefits of browsing at data center speeds without the need for large amounts of bandwidth or processing power on the remote end—potentially decreasing the overall amount of bandwidth an organization requires and enabling them to dedicate scarce budget resources elsewhere.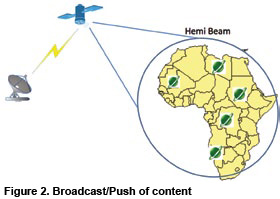 Intelligent Caching
One of the best advantages of satellites is the ability to push content via broadcast from a data center to a remote site. And it doesn't cost more money to have all the remote sites in the footprint listen to that broadcast. With intelligent caching, a smart local media server stores all of the most popular files, websites and multimedia that were broadcast, so content that is repeatedly accessed (training videos, websites, etc.) resides locally.
The new Zero Latency browsers like SpeedNet now also act as media portals, presenting all the precached content (a sort of iTunes). They are intelligent enough to decide whether to retrieve the content locally on the media server or from the cloud, providing the fastest and most reliable user experience when browsing the Internet. This flexibility is called a split-browser.
Private vs. Public Cloud
But what if an organization doesn't want to use someone else's data center to host their applications? The new flexible Zero Latency gateway infrastructures can be hosted anywhere on the planet, allowing IT managers to keep very close control and access over the technology environment.
Because they were targeted at satellite users, the new Zero Latency browsers have been optimized for the worst case in terms of bandwidth availability. But, they are robust enough a platform to be useful in any situation. This is important in many areas around the globe where bandwidth availability varies greatly throughout a single country or continent.
Security
While speed is incredibly important to productivity, innovation and time-to-market, security is just as vital to today's IT directors. Designed to improve the security of corporate applications and information, the new Zero Latency browsers such as EMC's SpeedNet use an enhanced, patent-pending ICA protocol to virtualize applications and centralize information in a secure environment. Port 80 is not exposed anymore on the end-user's browser because SpeedNet uses Secure Sockets Layer (SSL) over port 443, in addition to not having anything running in the end-user's laptop. This approach reduces the risk of threats from malware, viruses and such for remote users by decreasing the need for distributed firewalls and Internet access points down to one.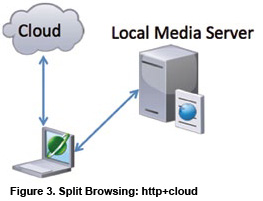 And, as SpeedNet only serves applications residing under the control of the data center, IT management is simplified, freeing resources for other mission-critical IT tasks and responsibilities.
The Changing Nature Of SLAs
As new Zero Latency browsers such as EMC's SpeedNet are being implemented by organizations across the globe, they are changing the nature of Service Level Agreements (SLAs) being offered by service providers and requested by end-users. Rather than focusing on Mbps, bytes and data points, end-users are focused on the overall quality of their experience—the ease with which all employees can access information and applications, improved security and knowing that even the most remote facilities are part of the team.
In short, new Zero Latency and Split Browser technologies are delivering increased productivity, enhanced security and improved communication between facilities regardless of where they are located. These technologies are providing better overall end-user connectivity experiences and satisfaction, while allowing organizations to reduce costs by enabling a reduction in the amount of bandwidth required at each location.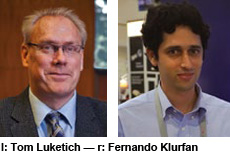 About the authors
Tom Luketich is Vice President of Videoconferencing and Application Services for Emerging Markets Communications™ (EMC). He has over 20 years of experience in sales and sales management in the computer and software industries, with a special concentration in the videoconferencing and collaboration markets. Tom is responsible for the commercialization of EMC's new HD Connect On Demand HD Videoconferencing over Satellite and SpeedNet products. He has a track record of launching, building and leading companies from start-up, funding and staffing through to full-scale operation. Tom specializes in new product campaigns, VAR/Integrator relationships, sales channel creation and enterprise sales, as well as sales management, mentoring and training. Prior to EMC, Tom was Vice President of Sales and Marketing for VSee, where he led the commercialization efforts for this powerful collaboration tool working and securing business with such organizations as IBM, Shell, Saudi Aramco, NASA and others. Additionally, Tom was Director of Unified Communications at HB Communications, where he championed the process of becoming the first A/V Integrator Certified Business Partner for IBM Social Software and he was instrumental in driving the initial pipeline for HB's UC Practice.

Fernando Klurfan is the Product Manager for Cloud Services for Emerging Markets Communications (EMC). He graduated in Electronic Engineering from Israel Institute of Technology (Technion) in 2003. With a strong background in satellite technology, Fernando is responsible for the technical and commercial aspects of EMC's new SpeedNet product suite. He is also leading the integration of Cloud and Unified Communications over Wide Area Networks for the Enterprise/Government market verticals.