TJ3SAT is joint project between the Thomas Jefferson High School for Science and Technology and industry partners to design and build a CubeSat to increase interest in aerospace technology, as part of NASA's Educational Launch of NanoSatellites (ELaNa) program.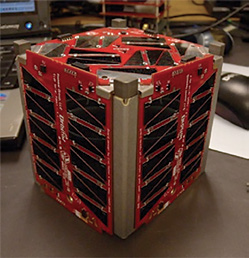 TJ3SAT's primary mission is to provide educational resources to other K-12 education institutions to foster interest in aerospace through the successful design and flight of a CubeSat. The school's mission will be successful if it provides resources to other high schools in order that they may also attempt to design and construct satellites, building upon what Thomas Jefferson High School students have learned.
TJ3SAT is the first satellite in history built by high school students and the satellite is currently in orbit.
The primary payload of TJ3SAT helps accomplish the primary mission objective by giving students and other amateur radio users the opportunity to send and receive data from the satellite. Onboard the satellite, a Text Speak module is used to convert text messages into an analog voice signal.
Students and other users from around the world can submit text strings to be uploaded to the TJ3SAT website. Approved text strings will be transmitted to the satellite and the resulting voice interpretation will be relayed back to Earth over an amateur radio frequency using the onboard Stensat radio.
In addition to the voice signals, properly outfitted amateur radio stations can receive state of health telemetry from the satellite. These data exchanges are available to the public and will become the main catalyst for education outreach.
This joint project was started in December of 2006 and offers students an insider's look into the aerospace industry. Students will be able to submit data for transmission to the satellite, with the data relayed back to the student via Amateur Radio frequencies.
The team was led by Energy Systems Lab Director Adam Kemp, with the satellite itself designed, constructed and tested by more than 50 students over the course of seven years. Orbital Sciences Corporatoin funded the purchase of the satellite hardware, engineering consultation, and hardware/software testing facilities. The Stensat Group LLC contributed to the design and construction of the radio and power handling hardware and also assisted with the schematic design and circuit board layout.
The Jefferson High School infosite: http://www.tjhsst.edu/
Editor's note: The preceeding TJ3SAT information and photographs are courtesy of Jefferson High School and Lead Systems Engineer Rohan Punnoose and TJ CubeSat Program Director Adam Kemp. Special thanks to Carlos Niederstrasser of Orbital Sciences Corp.