Chris heads up the sales organization for the European market of Hughes Network Systems, LLC., a subsidiary of EchoStar Corporation. His responsibility is to drive growth within existing and emerging European markets.
Chris joined Hughes Europe in July 2011. Previously, he spent six years at global telecoms provider Huawei Technologies as UK Sales Director, Fixed Line Service Providers. His early career included three years at Nortel Research & Development before moving on to the parent firm, Nortel Networks, where he held a number of positions in the carrier and enterprise divisions, including Pre-Sales Engineering Manager, Northern Europe Technical Sales Manager and as the EMEA Business Development Manager.
SatMagazine (SM)
Mr. O'Dell, what initially prompted you to pursue a career in communications and how did you move into the SATCOM arena?
Chris O'Dell
Since my childhood I have always been interested in how things worked and the impact they have on people's lives. As a result, a career in communications was a natural next step for me after studying Engineering at university. It's a dynamic, fast-paced environment that directly affects almost every aspect of our lives, both in and outside work.
In 2011, I moved into SATCOM at an especially exciting time, as satellite is currently at the forefront of much of what's new in communications technology development. As a highly-successful pioneer in this field, Hughes Europe was looking to further grow its managed services business and this ideally fitted both my existing skills-set and career aspirations.
SM
What are your key responsibilities with Hughes Network Systems Europe?
Chris O'Dell
I have overall responsibility for sales, pre-sales engineering and the creation and implementation of our marketing strategy. This is happening at a key stage of our parent company Hughes' development, as we look to make the most of the company's acquisition by
EchoStar Corporation
in 2011, bringing together two of the telecommunications industry's largest and most innovative players.
SM
How long have you been with Hughes Europe and what were your previous role(s)? How did you decide upon making the move to Hughes?
Chris O'Dell
I joined Hughes Europe approximately 18 months ago and was attracted by the prospect of joining the market's leading VSAT supplier at a time when that market segment was set to significantly expand. A closer look at the company's growth strategy, strong client base and history of success—in terms of technology leadership and customer engagement—made my commitment to join Hughes Europe an easy decision.
SM
Where were you employed before Hughes?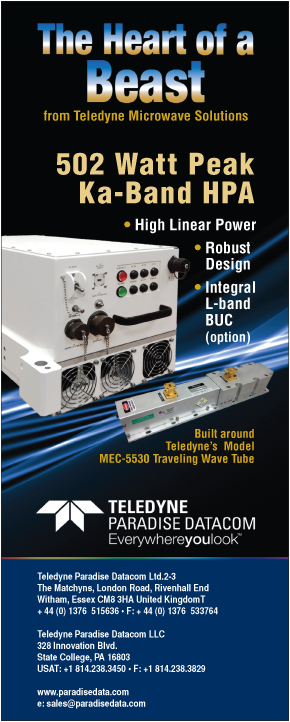 Chris O'Dell
My early career included an 11-year spell at Nortel Networks, initially in R&D before moving on to pre-sales engineering. I then took on various customer facing roles culminating in an EMEA-wide business development position, across the telco and channel markets. After that, I moved to
Huawei Technologies
as UK sales director, where, over a period of seven years, I grew the company's fixed line service provider division. This provided me with exactly the right kind of experience to take on my current role at Hughes, combining technical, managed services and strategic development skills.
SM
How would you sum up your experience of the satellite communications industry?
Chris O'Dell
From the outside and looking in, the satellite industry always looked to me to be one of the more vital and fast-changing areas of telecoms. Since joining Hughes, this view has been totally justified. With so many advances in technology and services coming to market and new satellites bringing advanced communications to businesses and individuals everywhere, it's great to be involved in such an energetic environment.
SM
How would you describe Hughes Europe and its parent company? Is there a fair amount of independence from the parent company for your firm to operate within its market segment as it deems fit?
Chris O'Dell
Hughes Network Systems Europe
(
Hughes Europe
) is recognized as the market's leading provider of high-quality, resilient broadband network solutions to organizations throughout Europe. This is accomplished by combining the best of breed in satellite, wireless and terrestrial technologies, which are fully supported by world-class Managed Network Services. As a result, we are uniquely placed to deliver exactly the right comms solution for each individual customer.
In addition, we are able to leverage a lot of synergies from our parent,
Hughes Group
. We benefit from the market-leading innovative solutions they develop and the global service capability that we are able to offer in conjunction with them.
Overall, Hughes Europe operates as part of the Hughes international organization, yet we do have a degree of independence, which is partly dictated by differences in market focus. The parent company in North America is mostly centered on the consumer and
SME
(
small and medium size enterprise
) market, whereas in Europe our primary focus is on the mid to large enterprise area.
There is another dimension here. There is a compelling fit in bringing together Hughes with EchoStar Corporation. By combining Hughes' operational strength and proven record of customer satisfaction with EchoStar's expertise in cutting-edge satellite video technology, our customers will benefit significantly from our combined portfolio and services expertise.
SM
What are your company's key products and services?
Chris O'Dell
Hughes provides managed resilient technology-agnostic services with a variety of applications, enabling customers to change the way they 'do business'.
We offer standard or bespoke services built up from a number of elements and provide development and operational support for all satellite offerings. This can be combined with our Managed Network Services portfolio, which combines
VSAT
,
MPLS
,
DSL
,
3G
and
WiFi
communications.
Hughes' Value-Added Services include security management, Internet access, and WAN traffic optimization. Finally, Hughes offers Media Services, such as training delivery systems and content distribution for business, television and digital signage
SM
What are Hughes Europe's key USPs?
Chris O'Dell
Hughes Europe offers a compelling combination of flexibility, ubiquity and broad capability. First, we are able to offer customers the best and most appropriate solution rather than only the network we operate. Second, we can offer all network types—from Ka-, Ku-, and BGAN/C-band satellite, to terrestrial and 3G/GPRS wireless—and will architect the customer network to include the most appropriate communication type for each location.
Third, we offer a global capability. For European customers, the entire global or multi-national network can be managed from our network management centres in Europe. And on top of this, we also have a range of value added applications that deliver true business benefit to customers.
SM
What have been the high points of Hughes Network Systems Europe's history and some of the main reasons for its success?
Chris O'Dell
One of the major highlights for Hughes Europe to-date has been to run the
UK National Lotter
y network. With more than 35,000 connections, including 90 percent VSAT, this represents one of the largest networks in the world. We are also the largest operator of networks for the retail petroleum industry across Europe, with solutions that incorporate VSAT, wireless and terrestrial connectivity as well as the delivery of training and digital signage into retail stores, all based on satellite broadcast technology.
There is a common denominator here. Hughes Europe's success is based on our consultative approach in working closely with customers. By understanding their business drivers and needs in each case, the resulting solutions are the best match and not constrained by any one network technology. As a result, Hughes has become a trusted advisor, one whom customers typically turn to for their current and future communications requirements.
SM
What is Hughes' "go to" market/distribution strategy and how are opportunities operated and addressed across the globe? How are such incorporated into the Company's Managed Services Strategy?
Chris O'Dell
Hughes Europe has a blended route to market, which depends on the type of end-customer in each case. This includes: Selling direct to large enterprises; indirect through VARs for consumers, SMEs and specific verticals; and jointly with System Integrators and telcos for highly complex enterprise solutions. Hughes has network operations centers around the globe, with the major hubs sited in North America and Europe that are able to manage the global networks of customers, no matter where they may be based.
In general, Hughes Europe will account manage all global business for European-headquartered companies. It will also manage significant regional organizations of non-European headquartered companies in partnership with other parts of the Hughes Group.
SM
Managed Services for large enterprises is the key driver for Hughes Europe. Why is this?
Chris O'Dell
Though we have a substantial market presence by selling hardware and systems, it is clear that large enterprises and public sector organizations do not have simple networking requirements and it is not a core competency to run them in-house. For these organizations, Hughes Europe is able to take on the management of their networks, freeing up the time and expertise for the enterprise to focus on its core activity and areas of competence. As a result, our strategy for Managed Services is to target multi-national organizations with a large number of distributed locations. Hughes Europe can then be the single centralized point of contact in managing the entire network.
SM
What impact will the recent launch of the JUPITER satellite have on the industry? What benefits will JUPITER bring to your firm?
Chris O'Dell
Hughes has already demonstrated the success and profitability of satellite-based Internet services. With the recent launch of EchoStar 17 (also more widely known as Jupiter) we can achieve a far lower cost per bit than that previously achieved.
The Jupiter satellite means we will be able to offer more services, more economically. In many cases, this means we can now talk about competing against DSL for the first time.
However, I think there is a wider context here. For the industry at large, the success of HughesNet and the launch of Jupiter is likely to encourage service providers around the world to invest in satellite broadband.
SM
How would you describe Hughes' future growth strategy? What products might we see come to fruition over the next few months?
Chris O'Dell
As a diverse corporation, at Hughes we are focused on a number of different growth areas. For example, with the launch of EchoStar 17 (Jupiter), consumer broadband services is currently a hot topic for us. In more established areas, we are also continuing to see strong demand for enterprise and government services. Similarly, there is an ongoing robust market for the sale of equipment to third-party operators who, in turn, use our equipment to address these same market segments.
In the area of new products, it is not Hughes company policy to talk about future developments. Some of our competitors announce new products far in advance. We prefer to announce new products when they are ready for delivery.
SM
How would you characterize the current state of the SATCOM market?
Chris O'Dell
SATCOM is alive and well—in fact, it's never been in better shape. For example, around a million U.S. households use VSAT for their Internet access. In 2011, Hughes shipped more than 300,000 VSATs and we expect to surpass this number by some even larger margin this year. We have now sold three million VSATs in total and these are being used for a wide variety of markets and applications, everything from consumer broadband to high-end enterprise and government services.
The mobile sector, including civil and military maritime and aeronautical applications, is also currently enjoying significant growth. New Ka-band services are being deployed across the globe to service growing end-user domestic and business demand. The reason for this is simple and compelling. Satellite is becoming an increasingly important and central component in a world where it is essential to be connected.
SM
What are your thoughts regarding Hosted Payloads and how will such impact the market?
Chris O'Dell
Hosted Payloads are an excellent way to enter markets without incurring the total cost of a dedicated satellite. These offer clear benefits to all parties involved and can help develop new markets and applications. Ultimately, hosted payloads will also benefit end-users, by enabling new, more innovative players to enter the marketplace and improve competition.
SM
What concerns does Hughes have regarding satellite interference and what is the company's role in addressing such concerns?
Chris O'Dell
Radio frequency interference
(
RFI
) is a major concern to Hughes as well as to the entire satellite industry. We ensure that we use highly skilled and trained installations and operations engineers, with regular audits to maintain our high standards.
We continue to work with industry groups such as the
Global VSAT Forum
and the satellite
Interference Reduction Group
(
sIRG
) to develop ways to reduce interference levels, improve industry-wide awareness and ensure all satellite users operate to the same high levels that we do.
SM
What changes do you see taking place in the next few years, such as satellite repurposing and on-orbit satellite repair?
Chris O'Dell
The demand for affordable bandwidth has never been greater and the need for that connectivity wherever you are located is increasing all the time. At the same time, continuing budgetary constraints are putting pressure on implementations for all of the actors in the private and public sectors. With the high costs associated with satellite construction and launch, anything that can extend the life of these assets such as satellite repurposing and on-orbit repair will be of real benefit the industry and become more important.
More broadly, the need to connect people anywhere, at any time and with anyone will drive mobility applications and coverage requirements. This creates the ideal environment for satellite to establish a unique role in meeting these needs, with technology and service innovation becoming ever more important in keeping costs low and the user experience high.
SM
For students interested in pursuing a rewarding career in our industry, what subjects do you recommend they undertake in middle and secondary school, as well as college level courses?
Chris O'Dell
Working in a highly technical field such as satellite communications, subjects such as math, the sciences and engineering are going to be extremely important. However, creativity is also an essential skill in an area where speed of innovation is vital to success.
Students need an insatiable curiosity to learn, to understand how things work and why things happen. They must ask questions, challenge ideas, be creative and think. In short, subject knowledge is obviously critical, but by itself will not be enough to succeed. There is no doubt that we have found it a challenge to find people with the right balance of skills and aptitude. Despite this, we have been able to employ high-calibre candidates into key positions. In our experience, there is significant talent out there in the marketplace, it is just taking longer to find those people at the moment. Persistence, and a clear but flexible focus on what attributes are essential, are being rewarded.
SM
Looking back over your career, what projects bring a true sense of satisfaction to you?

Chris O'Dell
I originally entered into the communications industry in order to play a role in helping improve the way we live through technology. For me, the best projects, therefore, have been those where such impact has been the greatest or most direct.
Since joining Hughes, the best example of this has been my involvement in the launch of Ka-band services via the Avanti Hylas 1 and 2 satellites. For the first time, we are now able to provide consumers and small businesses with consistent high quality, high bandwidth broadband across all geographies. This represents a giant step towards banishing 'not spots' to the dustbin of history.