Walter Thygesen, MSc (Engineering), MBA, has been with Thrane & Thrane since September of 2007. He is also the Chairman of the Board of Hewlett-Packard Danmark ApS and The Danish Fund for Industrial Growth. In addition, Mr. Thygesen is a member of the Board of Novozymes A/S and of Royal Unibrew A/S.
SatMagazine
Good day, Mr. Thygesen. As the CEO of a successful communication solutions company, such takes a true commitment of time and talent to become the Company&s leader. How did you develop an interest in this? What is your history of experience?
Walter Thygesen
Most of my work has been based around IT and technology, so joining Thrane & Thrane was a natural step. I have a Master of Science in Engineering from '75, and I received an MBA from Stanford in '82. I have been in the IT industry ever since with various international sales, marketing and general management roles with Hewlett Packard, Apple and Compaq in Europe. I'm now delighted to be part of a respected and high-profile Danish company with hundreds of skilled and dedicated professionals onboard.
SatMagazine
Thrane & Thrane provides hardware for the aero, land mobile and maritime markets. What are the current highlights and opportunities in these markets?
Walter Thygesen
The maritime market is currently very strong. Inmarsat FleetBroadband is a major success story, with many of the world's largest shipping companies adopting the system quite soon after its launch. Another current highlight is VSAT, especially following Inmarsat's recent announcement that it would be developing a new Ka-band service based on the new Inmarsat-5 constellation. We'll be watching this very closely, especially as we launched our own proprietary VSAT antenna earlier this year.



In the aeronautical market, Thrane & Thrane experience a significant interest from aircraft manufacturers, governments and private owners of small and larger aircraft. We recently introduced a whole new portfolio of SwiftBroadband products under the brand name AVIATOR — essentially enabling a true office in the sky. The newest product is the AVIATOR 200, which enables high quality, reliable communications for smaller aircraft. Its introduction has expanded the market considerably.
The land mobile market is mature and stable, and we continue to explore growth opportunities especially in China, Russia, Africa and Latin America. Our EXPLORER products are market leading, and are used by a wide variety of industries. For instance, EXPLORER is very popular with the media, being deployed regularly for outside broadcasts that require a fast reaction time. Likewise, the system is used by almost all emergency response organizations around the world as communication really can help to save lives. For example, Thrane & Thrane sponsors Télécoms Sans Frontière's ICT training programs.
We recently introduced EXPLORER 325, which we have high hopes for. It is an on-the-move, vehicular terminal that can be used for voice or data at speed, across almost all terrain. One of the first terminals has actually been loaned to a Danish electric car expedition, whose participants have been able to provide extensive updates whilst on-the-move all over the world.
SatMagazine
And what are the current challenges in these markets?

Walter Thygesen
The Shipping industry has been struggling the last couple of years, and the new building of commercial vessels has particularly been less than in previous years. There is now an increased focus on the cost of ownership and a higher demand for intelligent communication solutions. The challenge in the aeronautical market is to make the equipment simple to install and to achieve regulatory approvals. In the land mobile market the challenges are more based around new and emerging markets, as opposed to technology.

SatMagazine
How is Thrane & Thrane addressing these market challenges? May we expect to hear of new technological developments shortly to help the Company gain additional market share?

Walter Thygesen
As for maritime, Thrane & Thrane continue to develop and launch new products that meet the changing and evolving demand of the shipping companies. The increased focus on cost of ownership also means that more ship owners focus on the cost of service and maintenance. To support their need we have developed a new service concept that to a much greater extent will ensure the ship owner of the cost of ownership for the SAILOR products. This is another way to develop not only products but also services that support our customers.

We meet the aeronautical markets technical challenges by having common parts across our product range and making our products as simple as possible to install and use. We are able to achieve this quickly — demonstrated in the fast development of the AVIATOR 200 — by bringing in benefits from our land mobile and maritime product range. What we do in one segment has to be able to be used in the other segments; we are very keen on that concept. Feedback has proven that this approach is valid and customers are very positive about the ease of installation of our aeronautical products.

In the land mobile area, we are working to overcome the challenges and see potential for strong revenue all over the world.

SatMagazine
In the maritime industry, Thrane & Thrane is traditionally viewed as an Inmarsat hardware manufacturer — do you have plans to break into the VSAT market?

Walter Thygesen
Inmarsat products are a significant part of our product portfolio and maritime business, and we expect this to continue in the future. However the SAILOR product portfolio already offers products outside the Inmarsat L-band service. For instance, the SAILOR 700 VSAT has been in the market for more than a year now, and we introduced the brand new SAILOR 900 VSAT at the SMM Conference in Hamburg this year.

SatMagazine
Can you explain what the new ThraneLINK system is that you recently launched?

Walter Thygesen
ThraneLINK is a unique new network that has a huge amount of potential in terms of integration, since it enables our products to operate with each other in an intelligent way. As this develops further, we expect the benefits that it brings to installation, maintenance and operations to be very positive factors in end-users choosing Thrane & Thrane.

ThraneLINK provides automatic device discovery that reduces time for installation and enables one point of service and troubleshooting, meaning the service technician no longer needs to connect to each individual product for diagnostics and other troubleshooting issues. Likewise the technician no longer has to connect a service PC to each individual product to upload new software. Instead he will connect a USB stick or a SD Card to the SAILOR Message Terminal, and via the ThraneLINK application the system will automatically identify, which products need to be software updated.

We believe that by providing an open standard, other manufacturers of equipment such as navigational and automation will be able to utilize the benefits of the protocol and the entire system will be linked together in an intelligent way

ThraneLINK is currently only utilized on our new SAILOR 6000 GMDSS Series products, but we are looking at its potential across all of our products. The next few years are going to be very exciting.

SatMagazine
Your land mobile business operates across many industry sectors. How do you address the requirements of each category of end user?

Walter Thygesen
Although our EXPLORER products are used for many different applications, the customers all require the same service; simply fast, high quality data and voice connection for when ground infrastructure isn't available. We supply the hardware and our partners do specific solutions for the different segment requirements. That said, we continuously work to increase the level to which we offer further tailoring for the specific customer application.

SatMagazine
Inmarsat has recently gone live with its SwiftBroadband 200 service for the aero market. Will Thrane & Thrane capitalize on this move and, if so, how?

Walter Thygesen
We will work together with aircraft manufacturers in both the government and the private arena to bring the unique benefits of our AVIATOR 200 to the highest possible number of aircraft owners. As it is the most compact, lightweight SwiftBroadband terminal, this market is now much wider as more aircraft can have the system installed.

SatMagazine
Your Company has specific operations in the US and in China. Can you explain how these markets differ from one another and what are Thrane & Thrane's main focuses in each market segment?

Walter Thygesen
Of course we focus on all the big countries, but in general we see most potential for growth in the BRIC countries, which is reflected in our very successful office in China and our ambition to make Russia a major market.

SatMagazine
SatMagazine notes that Thrane & Thrane is sponsoring the Volvo Ocean Race for a third consecutive time. Why are you so keen on this particular event? What exactly will your Company offer at this competition in terms of sponsorship and/or equipment?

Walter Thygesen
The maritime market is our largest sector and our SAILOR brand is highly respected. By linking it to what is the toughest maritime sporting event in the world, we demonstrate to a huge audience that SAILOR is the toughest equipment you can get. It's an ideal scenario really. We also use the race for testing our products; the conditions and environment aboard a Volvo Open 70 are actually more extreme than on a commercial fishing boat. We get fantastic feedback and suggestions from the crews that help us to further develop our systems. Also, it is a very professionally organized race, so our investment in it shows excellent synergies with the world's elite yachtsmen and women.

The scope of supply for the 2011-2012 race includes new generation products. With the World's first second generation FleetBroadband antenna, the in-house developed SAILOR 500 FleetBroadband will be the central communication hub for each race team. From upload of race footage, reports and interviews for television and web, to download of weather data, vital for competitive navigation performance, all of the teams will benefit from true broadband communication along the entire course around the globe.

Every Volvo Open 70 race boat as well as Volvo Ocean Race's own crew and umpire fleet will be fully equipped with the newly introduced and advanced SAILOR 6200 VHF series with replay function and robust waterproof design. The teams will also benefit from the compact SAILOR 150 FleetBroadband for crew voice calling and IP data, whilst two SAILOR mini-C systems will constantly position data and global safety communication.

SatMagazine
Lastly, how does Thrane & Thrane encourage today's young people to gain an interest in STEM learning and activities to ensure enough qualified talent for the communications' industry workforce in the future?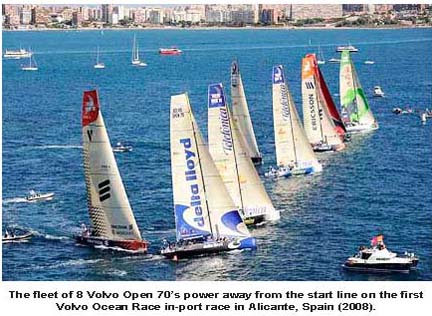 Walter Thygesen
We have an excellent collaboration with the Technical University of Denmark (DTU), which is almost our next-door neighbor. Quite a few students do projects about us and/or are trainees for a period of time. We are one of the few companies in Denmark that work with this kind of advanced technology, so it has always been relatively easy to recruit the best candidates as they see Thrane & Thrane as a company where they can really develop their skills and careers.