Since 1995, Mr. Pieczynski has held a series of senior-level positions on Delta launch vehicle programs for McDonnell Douglas, The Boeing Company and, most recently, United Launch Alliance (ULA) that included responsibility for engineering, manufacturing and launch site activities, as well as contractual and financial matters. From 1995 to 2002, he served as the Program Manager for the deployment of Iridium low-Earth orbit communications satellites aboard Delta II rockets. In 2002, he was promoted to Director of U.S. Air Force Delta II Programs, overseeing the launch of military spacecraft for the U.S. Department of Defense and its agencies such as the National Reconnaissance Office, Defense Advanced Research Projects Agency and Naval Research Laboratory.

For the past 15 months, Mr. Pieczynski served as the Delta Program Site Executive in Southern California, overseeing a workforce of over 900 ULA employees. He was responsible for coordinating the transition process for the ULA employees at the Huntington Beach location while all Delta rocket programs were being moved to ULA's new Denver, Colorado, location. Orbital then named Mark as the Vice President of the company's new Southern California Engineering Center in Huntington Beach, California.

In his position, Mr. Pieczynski will oversee the technical support provided to Orbital's various launch vehicle and space systems programs from the company's newest facility, as well as being responsible for on-site staff management and development. In particular, Mr. Pieczynski will support the company's strategic goal of evolving the new Huntington Beach engineering facility to be a center of excellence for liquid rocket propulsion.
SatMagazine
Mark, can you tell us about your background and your current role with Orbital?
Mark Pieczynski
I spent 25 years working on the Delta II program as Commercial Program manager. My major accomplishments in that capacity included the successful deployment of 60 Iridium satellites. The last several years of my work on Delta II were dedicated to the deployment of DoD payloads, the most notable of which was the delivery of 20 satellites into the GPS constellation.
I joined Orbital two years ago with the primary objective of assisting the development of Taurus II, which after the retirement of Delta II will be the only medium class vehicle in the U.S. fleet. I am also responsible for space launch strategic planning and business development for our entire family of space launch vehicles.
SatMagazine
With the recent success of the Minotaur IV launch in September, what is the outlook for the Minotaur IV in 2011?
Mark Pieczynsk
i
We were proud to have successfully delivered the SBSS mission for the Space Development and Test Wing to orbit in September. That was our second successful Minotaur IV launch in as many attempts. The inaugural Minotaur IV mission, a suborbital flight, was successfully conducted in April of this year.
We're currently focusing our attention on the next Minotaur IV launch, scheduled to take place before the end of this year, which will carry the Air Force's STP-26 payload. This mission to deliver a small developmental satellite for the Air Force will originate from the Alaska Spaceport launch complex in Kodiak, Alaska. [Editor's note: The launch was a complete success on Friday, November 19, 2010.]
Looking forward into 2011, we have three Minotaur I and three Minotaur IV missions on our manifest, so it will be a big year for the Minotaur program. In 2012, we have another Minotaur IV scheduled, as well as the first Minotaur V, which will be the first launch for our NASA customer. Minotaur V will be carrying LADEE, a lunar payload for NASA.
SatMagazine
<
Orbital has also been working on a mid-class launcher, Taurus II, in large part to service the International Space Station. What's the status of that program, and what other launch services could it provide?
Mark Pieczynski
The development of Taurus II is progressing quite well. PDR was conducted in the beginning of 2008 and CDR in the 2nd quarter of 2009 and today we are actively engaged in testing the system and in early production of the major elements. The main engine tests have been promising, and as of October we are readying the first flight engine for static fire tests at NASA's Stennis Space Center. Our first booster is completed in the Ukraine and is being shipped to our Wallops launch site, where it is due to arrive mid-November. In addition, ATK is now producing our second stage motor, which passed performance testing last December.
The Wallops launch site in Virginia has also made great progress: the Horizontal Integration Facility is near completion, commodity tanks for our tank farms are in place, the 300 foot water deluge tower and the ramp to the launch pad are in place, and the pad is being readied for the pouring of concrete. We are a just a few months from turning this into an operational launch site.
SatMagazine
How is Orbital differentiating its services for satellite customers?
Mark Pieczynski
Orbital is a recognized leader in both the satellite and launch business. More recently, we have been providing end-to-end services for satellite customers — including system design and manufacturing, launch services and post-launch operations. Our flexibility and straightforward approach to space systems comes through in this type of customer agreement. For years, we have conducted much of our business under fixed price contracts. So we are well seasoned and able to provide very affordable, high-value systems both for our civil, military and intelligence government customers and for commercial customers.
SatMagazine
Counting the Minotaur IV and Taurus II, Orbital has six launch vehicles on the market. What are some similarities and differences between them?
Mark Pieczynski
Orbital has four major space launch vehicle product lines: Pegasus, Taurus XL, Minotaur and Taurus II. The performance of these vehicles ranges from small-class through the medium-class of launchers, with Pegasus at the small end of our systems and Taurus II providing the greatest capacity.
By using systems that are common and flight proven across all the vehicles we gain great design and production efficiency and, most importantly, mission success. The most noteworthy of these common systems are in the avionics and software areas. All of our vehicles are compatible with our Modular Avionics Common Hardware (MACH) system, which was designed and is produced in-house.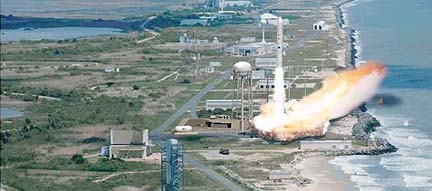 SatMagazine
What percentage of Orbital's business is satellite development versus launch services?
Mark Pieczynski
Orbital has achieved a desirable balance among its three business units — launch vehicles, satellites and space systems, and advanced programs — with each of them contributing about one-third of the company's approximate $1.2 billion in revenues.