Following the successful launch on July 5, 2012 of EchoStar® XVII with JUPITER™ high-throughput technology, Hughes Network Systems has put into orbit one of the world's highest capacity satellite systems. Designed with a flexible, Ka-band multi-spot beam architecture and well over 100 Gbps capacity, it is the cornerstone of a new generation of HughesNet® high-speed satellite Internet services for consumers and businesses in North America. Let's briefly summarize the key milestones achieved in reaching this significant threshold and the promise of high-speed satellite Internet technology globally.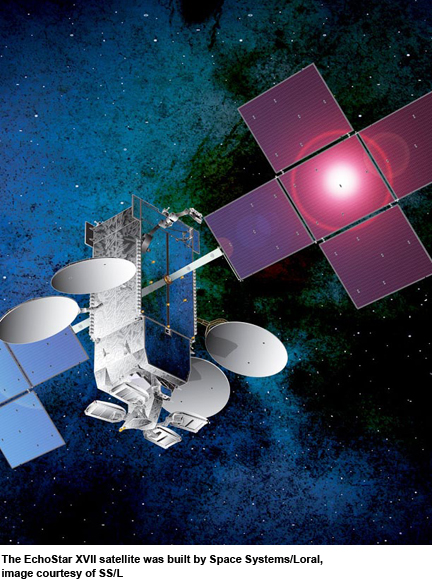 Steps to Success
Hughes pioneered the development of satellite Internet technology and services in the late 1990s, employing an architecture that built on its success in satellite
direct-to-home TV
(DTH) services. Called
DirecPC
, this early system employed a one-way satellite connection over the forward channel to the consumer receiver site, with the return channel over a dial-up modem. Though subscriber demand was modest and the business case risky, it nonetheless proved there was a sizeable and addressable market unserved, or underserved, by terrestrial broadband technologies, such as cable and DSL.
Indeed, it justified development of the first, two-way satellite Internet service,
DirecWay
, launched by Hughes in 2000, and later followed by the competing WildBlue service. Continued investments during the past decade in steadily improving technology price/performance have ushered in today's highly successful satellite Internet business—now with well over 1 million subscribers in North America alone, growing at 15 to 20 percent annually, and served by two providers, HughesNet from Hughes and
Exede
from ViaSat. Though North America is where the business case to date has proven most successful, the performance and cost advantages of the latest generation of high-throughput Ka-band satellites and technology hold the promise of unlocking a huge market to close this so-called 'digital divide' around the globe.
Closing the Digital Divide: Satellite's Advantage
It's hard to believe in 2012 that about 14 million American households and small businesses are beyond the reach of terrestrial broadband service, according to the latest FCC reports, and of which nearly five million still use dial-up for Internet access—with people in rural America particularly disadvantaged. Just consider that they could easily start a download of images or a video, take a leisurely walk and return to find it still trying to complete!
This population represents approximately 10 percent of all households, making up America's digital divide, which globally represents a far greater number. In Europe, the estimate is close to 30 million households, and worldwide it's staggering. Consider that in a world population exceeding six billion there are only an estimated one billion broadband subscribers, less than half of all Internet users.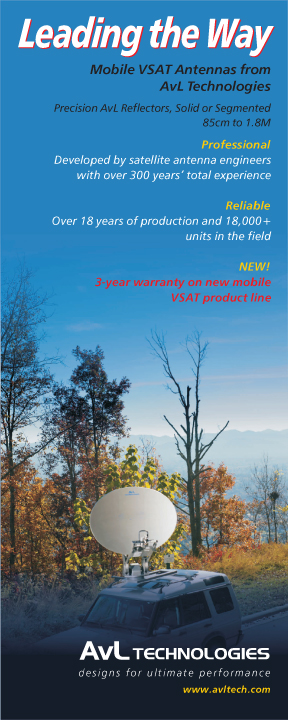 Satellite technology is the key to successfully unlocking this huge market. Unlike the distance-dependent cost of terrestrial technologies, whether fiber, cable or DSL, the unique advantage of geo-stationary satellites is that transport cost is uniformly the same, independent of location. However, prior to new generation Ka-band satellites, early Ku-band systems were challenged in ways which created high service costs and relatively low throughputs, primarily because operators were using satellite capacity that was designed for broadcast applications such as TV.
In fact, most of the Ku-band satellites still in orbit today are designed for the broadcast industry, which means that the transponder coverage illuminates a very wide area, even continent-wide. This type of coverage is excellent for broadcasting—simultaneous distribution of a signal to many locations—but is less efficient for unicast date, delivered to only one location, which is the foundation of Internet access.
The Game Changer: High-Throughput, Ka-band Satellites
Unlike broadcast satellites, Ka-band HTS satellites utilize narrowly focused beams covering a small area—perhaps 200-500km. Focusing available power on a small area results in higher spectral efficiency, or bits per Hz. In addition, HTS satellites utilize frequency reuse across multiple beams much like a cellular system, resulting in high capacity delivered to targeted subscribers, thereby maximizing revenue per megahertz.
The Hughes Ka-wave began in earnest with the launch of its award winning
SPACEWAY
®
3 satellite in August, 2007, the world's first with onboard switching and routing, delivering a 10-fold increase in capacity over conventional Ku-band satellites, to approximately 10Gbps. This step function increase enabled introduction in 2008 of the highest speed plans available at the time—from 1Mbps to 5Mbps, nationwide. It was wildly successful, as the HughesNet customer base skyrocketed from a few hundred thousand to more than 640,000 customers in just four years, with now over 500,000 on SPACEWAY
®
3—making it the world's largest Ka-band service network.
A Ka-Band Juggernaut: SPACEWAY 3 and Echo Star XVII
In fact, with this explosive subscriber growth the
EchoStar XVII
launch couldn't have come at a better time. SPACEWAY 3 is approaching its capacity limit while subscriber growth continues at a healthy rate and demand for higher throughputs escalates, fueled by users' insatiable appetites to share images and videos. With well over 100 Gbps capacity—a performance improvement of more than 100 times over conventional Ku-band satellites, EchoStar XVII is estimated to serve approximately 1.5 million new HughesNet subscribers.
And as Hughes has made these successive substantial performance gains, we've been able to lower the cost-per-bit of service with each next-generation technology. The additional "headroom" provided by EchoStar XVII's capacity will allow Hughes to offer a suite of multi-Mbps service plans, to meet every budget as well as offer the highest speeds ever—up to 15Mbps downstream—at a competitive price. The EchoStar XVII satellite has 62 beams that deliver extensive coverage and capacity "fine tuning" capabilities. Thanks to Hughes' 30+ year history in the business, the Company has become experts at determining precisely where the demand is heaviest. And if traffic patterns change, they can change with them.
Due to start commercial service in October, EchoStar XVII will complement and build on SPACEWAY 3's success to result in a continent-wide Ka-band network that's unprecedented in coverage and capacity, enabling Hughes to deliver 5 to 15Mbps service across the U.S. and much of Canada. EchoStar XVII is targeted at the high density populations, primarily on both coasts. With EchoStar XVII doing most of the heavy lifting, SPACEWAY 3 now has additional capacity to serve the central parts of the country. No matter where they live, HughesNet customers all gain a high level of performance and reliable service.
Consumers will receive numerous options for buying HughesNet
Gen4
, this next generation of high-speed satellite service. The service and support will be offered through an extensive list of Hughes distributors, local resellers, and online sales promotions, as well as national retailers and service providers. For example, Dish Network and other major providers will be selling HughesNet Gen4 along with their high-definition satellite TV service.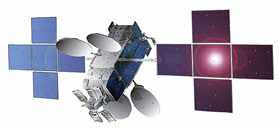 Going Global
As noted earlier, closing the digital divide with Ka-band technology represents a huge opportunity and Hughes is leading the way. In Europe, Hughes customer Avanti was the first to launch its Ka-band satellite
Hylas 1
in 2010, followed just recently by
Hylas 2
; both operate using Hughes HN and HX NOCs and customer networking equipment. And in April 2012, Al-Yah satellite communications company launched its Ka-band
Y1B
satellite to offer
Yahclick
services throughout the Africa/Middle East region, also employing Hughes NOCs and customer equipment, in addition to the company's powerful back-end operational and customer care systems and services.
On this side of the Atlantic, Hughes Brazil was awarded an orbital slot in an auction conducted in August last year by Anatel, the Brazilian telecom regulator, and with selected partners will provide DTH services and expand HughesNet Gen4 in one of the fastest growing regions in the world.
The high capacity and resulting economic advantages that EchoStar XVII with
JUPITER
high-throughput technology brings to the marketplace continue the rich history of innovation by Hughes and portend a global explosion—to make high-speed Internet access available and affordable to everyone across this ever-shrinking planet, regardless of where they live or work.

About the author
Dr. Arunas Slekys is vice president of Corporate Marketing, as well as vice president and general manager of the Russia & CIS Business for Hughes. In these dual positions, he is responsible for managing all of Hughes' marketing and advocacy initiatives worldwide, along with overall P&L responsibility for the company's broadband satellite business in Russia, Ukraine and the CIS countries.