EchoStar Satellite Services L.L.C., a wholly owned subsidiary of EchoStar Corporation, and a provider of satellite-related aggregation and distribution of video, audio and data domestically and internationally, experienced a year of growth and launch of new business initiatives.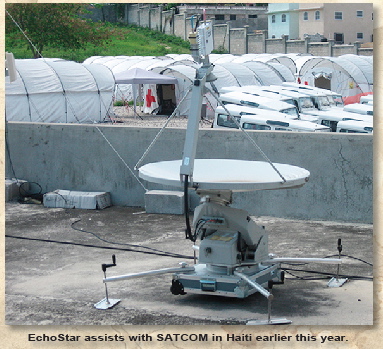 EchoStar started the year by donating satellite communications services to Haiti relief agencies following the disastrous earthquake. The company also worked in collaboration with Spacenet Integrated Government Solutions, a division of Spacenet Inc., to deliver two-way satellite communications involving space and ground equipment to the American Red Cross to aid in relief efforts in Haiti.
EchoStar's ViP-TV service for telcos and small cable operators continued to sign on new customers, including resellers such as Mega Hertz, Inc., Fidelity, and Pace. The resellers are important for marketing the ViP-TV transport solution to cable systems and telcos seeking a competitive IPTV solution for popular video and audio channels, including high definition.
In June, EchoStar announced that XStreamHD, an emerging leader in the delivery and distribution of Full HD entertainment directly to the home, entered into a long-term satellite service agreement with EchoStar to use satellite capacity from the EchoStar-leased AMC-16 satellite that is centrally located at 85 degrees west longitude. XStreamHD will increase its capacity on the AMC-16 satellite as the company's transport needs grow over time. The two companies have been working together for the past two years as XStreamHD completed the operational testing of its revolutionary transport technology.
One of the most exciting announcements came in September when EchoStar created a joint venture with Deluxe Digital Cinema, Inc., to form Deluxe/EchoStar L.L.C., a joint venture to build an advanced digital cinema satellite distribution network targeting delivery to digitally equipped theaters in the U.S. and Canada. This Deluxe/EchoStar Network brings the full power of the digital satellite technology directly to the local multiplex. With Deluxe as the leading worldwide provider of services in film and digital media to the entertainment industry and EchoStar's veteran experience as a satellite services provider, Deluxe/EchoStar can deliver traditional 2D and 3D feature films, live events, special content, and other programming developed specifically for digitally equipped theaters at the highest quality and with the most coverage, reliably and efficiently.
These new initiatives and business opportunities were led by Dean Olmstead, president of EchoStar Satellite Services, who, sadly, passed away in October after a courageously fought battle with cancer. (Please read the memorial tribute to Dean that leads off this issue of SatMagazine.) Dean joined EchoStar shortly after the company's spin-off from DISH Network in January of 2008, and was instrumental in building the foundation and guiding the strategic course for the company's then-nascent satellite operations.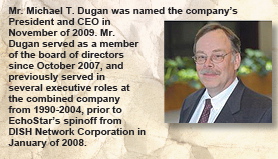 "Dean will be remembered as a true legend in the satellite industry and will remain an eternal inspiration for our employees," said Mike Dugan, CEO and president of EchoStar Corporation. "Dean was a visionary who helped reshape the entire industry. His accomplishments at EchoStar and through his esteemed career have created the base upon which others will build for years to come."
EchoStar looks forward to continuing to build on its new satellite-related business ventures into 2011.