2010 has been a great year for MTN. Despite the difficult economy, the Company grew in each of our markets — cruise, yachts, commercial shipping, aviation and government — by retaining existing customers, expanding with new customers, rolling out exciting new value-added services for our subscribers and increasing our investment in upgrading and enhancing our global VSAT satellite network in order to provide better communications for our customers.
Most recently, iDirect's Automatic Beam Switching (ABS) technology was deployed, integrated with MTN's proprietary Mapserver software across the entire C- and Ku-band VSAT network. With 32 satellite beams, MTN now operates the largest ABS VSAT network. This means ships can sail anywhere, thanks to the extensive worldwide coverage area, with seamless transition from one satellite footprint to another.
During 2010, a major upgrade to – and doubled the size of – our Network Operations Center (NOC) in Miramar, Florida, adding new capabilities and improvements to the 24/7/365 technical support offerings. Substantial improvements to our primary teleport and our NOC in Holmdel, New Jersey, were also completed.
In April, a new teleport in Santander, Spain, was opened, under a joint venture with Erzia, the leading Spanish satellite services company. It was built with the latest technology and architecture in a technology park sponsored by the local government and serves as a central gateway for MTN's VSAT communications with coverage over the Americas, Europe and Asia.
MTN also activated a new Ku-band satellite beam in the South Pacific to provide significant enhancements to our fully managed VSAT services to customers in waters surrounding Australia and New Zealand. The South Pacific Ku-band beam is uplinked through a teleport in Sydney, which is connected via fiber optic cable into MTN's extensive terrestrial support infrastructure.
A new sales and service office in Southampton, U.K., was opened, and appointing key staff personnel with strategic experience and a vision for moving the company forward continues at full pace. Key appointments were made of new resellers and Maritime Service Providers serving major maritime markets in Europe, Asia-Pacific, and the Middle East.
Today, MTN's private dedicated network encompasses 32 overlapping C- and Ku-band satellite beams, eight teleports, two NOCs, and five additional international points of presence, all interconnected by more than 30,000 miles of fiber cable. This extensive network permits the offering of an unmatched value proposition with guaranteed bandwidth (Committed Information Rate), with a 1:1 contention ratio and the ability to burst to higher data rates (Maximum Information Rate) as needed.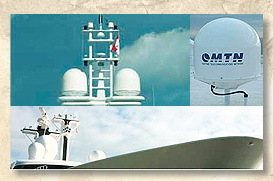 The Company continues to leverage the robust network and unique value proposition to develop new value-added services for core cruise business. Launched in February 2010, MTN Worldwide TV is the cruise industry's first television broadcast service delivering live programming from seven major U.S. and international television networks to cruise ship passengers anywhere in MTN's worldwide coverage area. Participating networks include BBC World News, CNBC, E! Entertainment Television, Fox News, MSNBC, Sky News and Sky Sports News. We currently provide MTN Worldwide TV to over 40 ships with over 35,000 passenger cabins.
As the pioneer of cruise ship VSAT communications with more than 20 years of experience, MTN continues to take the lead in bringing state-of-the-art broadband Wi-Fi connectivity to the cruise industry. In October, we worked with Silversea Cruises to complete a major retrofit program for shipboard Wi-Fi connectivity on two of its ships, Silver Wind and its flagship, Silver Spirit. The upgraded MTN Wi-Fi network has allowed Silversea's passengers and crew to access high-quality satellite Internet connections anywhere on the ship, giving them the same comforts and conveniences they get when staying in a luxury hotel or resort. Over the coming months, work with Silversea will continue to roll out the Wi-Fi service across the remainder of their fleet.
MTN is also rapidly becoming the preferred VSAT provider to the megayacht industry. More than 75 percent of yachts over 40 meters in size that were launched in 2010 using our service and also provided are the enabling technologies for new services, including as worldwide TV reception and remote medicine with live videoconferencing.
Among the new megayachts outfitted with MTN's global VSAT services in 2010 are the M/Y Eclipse, which, at more than 550 feet, is the largest private yacht in the world, and M/Y Cakewalk, the largest yacht to be built in a U.S. shipyard. The MTN DirectNet service offers guaranteed bandwidth service used for more demanding applications such as video streaming, online trading or IPTV, where constant bandwidth is a must for these large vessels.
Early this year, the new FlexNet service was launched to provide a cost-effective and flexible VSAT communications solution for yachts under 150 feet with lower bandwidth requirements.
A strong position in the commercial maritime industry is under development, with market growth for VSAT being largely driven by demand for lower-cost crew welfare solutions such as Internet, email and phone calls. Successful installations for existing customers include Teekay Shipping, Elcano, Hartmann Offshore and for new international shipping lines switching to MTN such as Beluga Shipping, Goodwood Ship Management, Intership Navigation Co. Ltd and Hellespont Ship Management GmbH & Co. KG, to name a few.
The StreamXcel Plus product was debuted at the September SMM maritime exhibition in Hamburg. This new software/hardware package assists ship owners with managing bandwidth and securing their networks; the improved technology automatically and seamlessly switches the satellite signal between VSAT and Inmarsat FleetBroadband, splits the administrative network from the crew network, employs least-cost routing, compresses data passing across the link and optimizes throughput.
The MTN Government Services (MTNGS) business, which was established as a separate, wholly owned subsidiary in 2009, provides advanced network solutions, information management solutions, system-integrated solutions, operations and maintenance service and technical consulting services. It is the fastest-growing sector of MTN, and is becoming widely recognized as a major player for the government and military, currently serving eight of 15 U.S. Government cabinet agencies, three of five military branches, and several non-governmental organizations (NGO).
The new MTN facility in Leesburg was established to accommodate the growth of MTNGS and will include all the facilities necessary to accommodate the demand for commercial satellite bandwidth to support Department of Defense (DoD), government and NGO field operations.
In March, MTNGS was awarded a five-year $50 million DISA contract to supply managed satellite services, and, in the fourth quarter of this year, MTNGS was awarded a contract renewal to continue providing broadband satellite communications to the National Oceanic and Atmospheric Administration (NOAA) fleet of research ships. Under this contract, MTNGS will provide end-to-end managed voice and data solutions for NOAA's 18 ships, as well as a new research ship under construction. We also recently supplied one of the most complex satellite communication systems ever installed on a maritime vessel for NOAA's newest and most sophisticated research ship, Okeanos Explorer. MTNGS enabled an unprecedented level of integration between ship and shore never before possible in oceanographic field operations.
A look forward into 2011 finds a great deal of anticipation for continued growth across all Company business sectors. Our customers, whether they be passengers on a cruise ship, engineers on a tanker, crew on a yacht, soldiers on the ground, or passengers on an airplane — all are demanding more connectivity and the same experience they enjoyed at home or in the office. During 2011, exciting new products will continue to be introduced, including services for remote or mobile usage that require outstanding reliability, consistency, and responsiveness, whether such is a new mobile application for an iPhone, or a better connection with Facebook or TV stations watched at home. Stay tuned, for MTN will continue its business growth in 2011.