As the world becomes a smaller place and people move from one end of the Earth to the other, broadcasters are realizing new opportunities. In the Diaspora World people may be far from each other physically, but they are never far from enjoying each other's experiences, lives and feelings. A sense of unity, in spite of the scattering of peoples across the globe, is enabled through the streams of information and entertainment produced by broadcasters, linking all to their homelands and their sense of "oneness."
In the same way that the Diaspora World provides ships, planes and trains and just about anything with wheels that enable almost any person to search and reach new geographic horizons, the broadcast world can reach each and every person who has changed his or her geographic identity—all the while remaining with the one in which they were born.
Savvy broadcasters and content providers realize that migrations and population movements—no matter how large or small—are new opportunities for increasing their audience. The prospect to expand one's marketplace into far away lands, while still remaining loyal to a local audience, can provide a breakthrough moment for a business.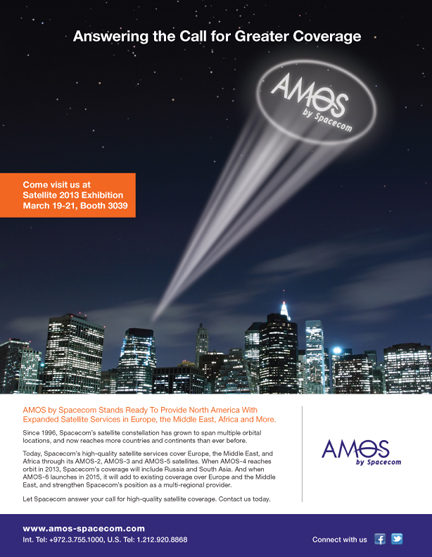 Likewise, the opposite is true when an immigrant becomes a successful entrepreneur and wants to broadcast from his or her new place in the Diaspora back to the homeland. The beauty is to do this with relatively minimal initial investments and being able to take advantage of market forces to keep prices low. At ECS, European Communication Services, we know and understand these trends. We work to take the twists and turns of the Diaspora World and create advantages thereby opening new opportunities to transform broadcasters into winners.
The New Reality
The phrase 'Glocal' is pithy and is now a cliché. However, the phrase really does represent our new reality. Being locally based yet reaching the rest of the world, and for broadcasters, reaching that target audience far, far away, is the most recent trend for the broadcast market. As broadcasters and content providers seek to extract new revenues from advertising, reach new audiences and re-connect the homeland with the Diaspora, it is important for them to know that this can be done easily, with low expense and intelligently.
One of the most important caveats that broadcasters need to realize concerns the sensitivities of penetrating various types of markets. Whether reaching Nigeria, Kurdistan, Australia, India, the Middle East, Bosnia, East London or Somalia, understanding that the right approach incorporates both the correct technology as well as the knowledge that cultural and business operations sensitivities abound. Whether recognizing how to best use the correct types of technical infrastructure that will enable a signal to be picked up by the most people for the least cost, or understanding how best to work with local distribution packagers, are extremely important. It is imperative to have an advisor onboard that understands how to operate in various local environments. This is especially important for small- and medium-sized broadcasters that want to be included in a specific broadcast neighborhood or need to be included in local content packages.
Advisors that can put together an end-to-end solution with a low expense threshold are highly appreciated by broadcasters—these advisors understand technology and culture and can operate in various localities to provide that extra plus that's required for growing a business. For instance, ECS provides such advisory services in researching the best methods for penetrating a market as well as providing the tools and means to reach and expand a market.
With ground station services in the United Kingdom connecting to world fibre networks, satellites around the world, and IPTV capabilities, we bring broadcasters and content providers to any geographic location. Offering remote and fully managed playout, uplink, downlink and turnaround, Earth stations, flyaway, channel management, aggregation, encryption, video monitoring and services for IPTV platform operators, ECS can provide all within a one-stop environment.
The Application Of Technology
ECS's ability to use technology and its knowledge of the markets enables it to reduce worldwide distribution costs. For broadcasters, this is excellent news, especially those from the U.K. or European Union (EU) that wish to engage audiences in Africa. ECS' full slate of broadcast services is able to take broadcasters from Europe to Africa with their programming.
ECS' turnkey solution for OHTV includes collecting its signal at a London PoP (Point of Presence), sending the signal by fibre to the Uplink Station, and then uplinking the signal to a Pan African C-band for distribution to the entire continent. Using contacts around the continent, the channel is able to locate local distributers for rebroadcasting throughout the region.
Another opportunity for ECS was the company's work with a Sub Saharan African TV channel to build out a world-wide multi-year distribution plan via four satellites to cover Pan Africa, Pacific Asia, Europe as well as the U.K. and North America. The channel has now received positive feedback from all over the world.

Another example of Diaspora broadcasting is the business of faith-based broadcasters. These groups wish to reach new audiences and shower the world with God's words. Many faith-based broadcasters either belong to, or are related to, movements with missionaries around the world, or in specifically targeted regions. To support their faith's expansion in the air, broadcasters seek novel methods to reach their audiences. Transmitting programming via TV and IPTV, these faith-based broadcasters can find their audiences around the world and support on-the-ground missionaries. Using specific satellites and specialized IPTV channels that reach cable, terrestrial and satellite operators, these broadcasters easily hook into a home and reach their flock.
Other faith-based broadcasters understand that the Diaspora has sent their believers around the world and they want to reach these men and women with a targeted message. Again, using any combination of distribution services can keep those far away linked to the religion. Thus, a local broadcast sent over a backhaul satellite to a centrally located ground station from where the signal can be sent via satellite or fiber to a point (or points) around the world is a perfect solution for the faith-based broadcaster or content provider. ECS works with a number of these broadcasters, both small and large, to enable them to bring the word of God to the people who really want to hear it.
The hunt for reaching far-flung audiences is a trend that will accelerate as the world continues to move into a Diaspora environment. Migrations for economic, health, political and religious reasons are age old. Now that technology has caught up, ECS is addressing the market with comprehensive and easy-to-create solutions that provide access and links between communities. We see these links as the backbone of world-wide growth.