In just a little more than four years, adoption of Inmarsat's BGAN broadband mobile satellite service has surged to more than 30,000 activations across multiple vertical markets. In nearly 200 countries, prominent media organizations, military agencies, first responders and other remote professionals have come to rely on the service for reliable, high-speed communications in areas where terrestrial or cellular networks are damaged, congested, non-existent or too difficult to deploy.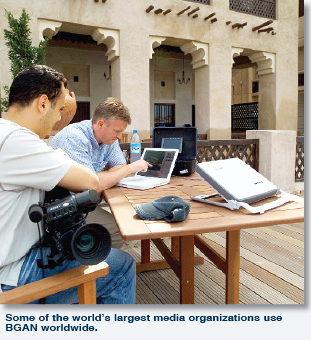 This steady rate of adoption is gratifying for
Inmarsat
and its
Distribution Partners
(
DPs
). Many of the world's largest militaries, federal governments and mining companies — in addition to elite broadcasters such as the
BBC
,
CNN
,
Fox News
and others — have established the lightweight BGAN terminals as easy to use and efficient to own for a wide range of critical applications.
To achieve this broad market penetration,
Stratos
and other Inmarsat DPs have expended a great deal of effort and creativity to address a variety of customer requirements. This includes bundling equipment and airtime with no capital investment, and offering starter plans with low usage allowances. Prospective customers also need the assurance that BGAN costs can be easily managed and that secure communications is guaranteed.
Cost Control + High Security
To meet those objectives, customers carefully evaluate the value-added services from Stratos and other Inmarsat DPs. Within these offerings, customers seek tools to monitor airtime, restrict unauthorized usage and manage costs. The online
Stratos Dashboard
is an excellent example — the product provides real-time information on the amount of BGAN traffic used for voice and data, and the associated costs. Stratos Dashboard is fully automated and enables customers to activate SIM cards in minutes and modify service configurations in real time, as well as manage the consumption per user or groups of users.
Other popular value-added services provide firewall management, full traffic information, pre-paid facilities, high security options, easy VPN access, messaging services and full IP range.
To ensure security for BGAN services, customers insist on a personal firewall residing between the Internet and the BGAN network. This feature, of which
Stratos Trench
is an example, provides additional security and cost savings by blocking specific web traffic and applications via an online, user-friendly interface. It also allows customers to block access to streaming services which can prevent unwanted high costs.
Broadcasters Cite Reliable Performance
Nowhere is the need for reliable remote connectivity and security more pressing than in the broadcasting market. The world's largest media organizations were BGAN's early adopters. Today, they continue to use the service for live broadcast and store-and-forward video clips from remote locations, or areas where communications infrastructure has been badly damaged. (BGAN was used extensively by major broadcast networks in Haiti, in the weeks following this year's earthquake.)
The expanded use of BGAN in this market is coming in two areas. First, smaller broadcasters — including specialty sports, music and financial networks — now see BGAN as a viable alternative. They are drawn to BGAN by its relative affordability. They also appreciate that BGAN offers a number of options for delivery of traffic, including low-cost video codecs, which bypass expensive leased lines and deliver video back to their headquarters locations.
Also, affiliate broadcasters for the major networks have discovered BGAN's appeal. More than ever before, these affiliates depend upon BGAN as a portable, rapid-deploy solution. BGAN can be used for broadcast in remote parts of their territories, or in situations where a VSAT truck is not available or cannot be physically deployed.
BGAN offers satellite communications in a form factor that is easy to deploy. It offers a reliable L-band solution that eliminates the need to coordinate VSAT connectivity, and provides the ability to be on the air in less than five minutes. BGAN is also unaffected by harsh weather conditions.
The premium
BGAN X-Stream
service, introduced early last year, offers a guaranteed minimum video streaming rate of 384 kbps, with streaming up to 450 kbps expected under optimal conditions. In February of this year, BBC News deployed BGAN X-Stream from Stratos to broadcast live coverage of
Helen Skelton
's record-breaking Amazon River kayak journey to benefit Sport Relief. The deployment represented BBC News' first use of live 384 kbps video streaming from a remote location.
In August of last year,
BBC Northern Ireland
deployed
FleetBroadband
from Stratos, the BGAN maritime equivalent, onboard the tall ship
Bark Europa
to broadcast coverage of the final leg of the
Tall Ships Atlantic Challenge
between Halifax and Belfast.
For their time-critical data, the BBC, Fox News and other international broadcasters use
Stratos GuaranteedAccess
to extend guaranteed bandwidth from the BGAN terminal through to the terrestrial infrastructure to the broadcast centers. Stratos GuaranteedAccess is enabled by
StratosNexus
, a Stratos-managed Global Core network for traditional and IP-based services.
Meeting The Connectivity Challenges For Remote Professionals
Reliability and cost efficiency have also helped BGAN become established as an ideal solution for remote professionals in the mining industry, where the need is growing rapidly for real-time information and "extended office" connectivity worldwide. Personnel in the field require fast, dependable communications with operation centers in order to meet operating requirements and maximize efficiencies.
In the mining exploration phase, teams of geologists venture out to remote locations, often well beyond the scope of fixed-line or cellular coverage. There they take rock samples and gather data via BGAN, which needs to be analyzed to see whether there are valuable mineral deposits in the area. If the decision is made to construct a mine, the mining company uses BGAN to establish a communications infrastructure within minutes, expanding to aid the construction process until fixed-line communications are established.
During the construction phase, BGAN is being used to liaise with contractors and suppliers. The service also can be used for telemedicine applications in the event of accidents or illnesses, and for voice communications between workers employed on different parts of the site.
Creative applications, such as
Stratos ChatCard Data
service, can be used in conjunction with BGAN to provide an effective solution for personal calling – enabling the remote workforce to stay in touch with friends and family back home.
BGAN has been successfully deployed by Toronto-based mining company
Phoenix Geophysics
, where advantages include: the requirement of fewer people in the field; more efficient troubleshooting; faster transmission of data; and savings in transportation costs. In Australia, surveying company
Haines Surveys
is using BGAN with great success during the exploration phase. Haines undertakes geological surveys on behalf of clients in the mining industry.
Creative Applications For Oilfield Services
The mining and oilfield-services markets have similar applications requirements. In both markets, the demanding connectivity needs of remote professionals must be met to ensure optimal corporate productivity.
Satellite-based
SCADA
(
Supervisory Control and Data Acquisition
) systems enable operators to monitor, control, optimize and start or shut down assets and processes anywhere in the world, from central sites.
Most SCADA operators still must make trips to remote sites for maintenance purposes and for general inspection. As a result, most SCADA customers employ significant field labor forces who need to stay in touch, both from a voice and network perspective. BGAN is ideally suited to meet this remote-communications requirement, as it provides users with quick access to email, corporate networks, Internet or voice. Its compact design, the size of a laptop computer, makes BGAN a valuable resource for system operators when they must venture out to their remote sites. Stratos and Inmarsat are also testing BGAN terminals as a fixed-site SCADA communication tool.
In addition, a number of BGAN terminals are undergoing rigorous testing to determine their capabilities in the general SCADA environment. Among those now being tested is the
Addvalue Ranger
, which is specifically built for permanent outdoor remote unmanned SCADA applications. It features a ruggedized housing to withstand environmental challenges.
Another terminal being tested for SCADA use is the
Hughes 9201
BGAN terminal. In its SCADA configuration, the rugged 9201 can be coupled with a pole-mountable option for use in outdoor environments.
Military + Government Adoption Increases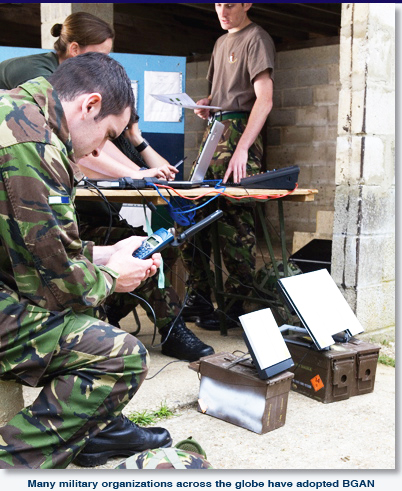 The advent of ruggedized terminals has also helped spur BGAN adoption by some of the world's largest military agencies. BGAN systems keep field commanders connected at all times, enabling them to access command-and-control (C2) systems and maximize the effectiveness of their forces. BGAN also features
Mobile Packet Data Service
(
MPDS
) that enables users to pay only for data packets transmitted and received.
BGAN systems provide advanced voice services, including STU-III/STE, Brent and FNBDT compatibility for secure calls. Stratos goes the extra mile by installing a SecureComms gateway with NET shout technology into the BGAN network, for multiple secure voice calls. The service supports up to 10 seconds of satellite delay — which is critical to ensure secure-call reliability.
BGAN systems also provide broadcast-quality transmissions for email, file transfer, Internet access and video teleconferencing. These capabilities enable battlefield commanders to maintain true, mobile-office connectivity wherever they travel. This helps maximize the utility of key officials by enabling extended travel and mobility without decreasing their day-to-day effectiveness or readiness status.
Overall, military users are in the midst of a paradigm shift to IP-based satcom solutions. The new Inmarsat mobile broadband services, such as BGAN and FleetBroadband, helped affect this shift by ensuring end-to-end, IP connectivity with high information security and encryption.
Commanders appreciate that leading Inmarsat DPs such as Stratos have the terrestrial-connectivity capabilities to bring secure communications into the heart of military operations, regardless of whether they are in the USA, UK or Australia. To demonstrate the importance of offering leading edge technology to military agencies, Stratos recently signed agreements to distribute ruggedized BGAN terminals from
ViaSat
and
Harris
. These provide customers with an affordable, high-performance military-rugged satellite solution .
On the civilian government side, perhaps the highest-profile BGAN deployment was by the
Brazilian Electoral Superior Court
(
TSE
), which recently used a 1,200-site BGAN network to support municipal elections. Stratos channel partner
Tesacom
was selected by TSE to deploy and operate the BGAN network at voting precincts in rural communities nationwide.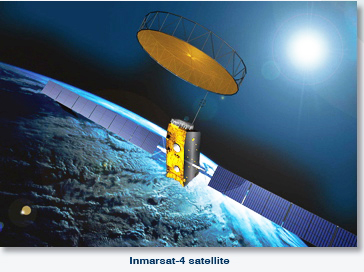 The BGAN systems quickly transmitted encrypted electoral results from local precincts to TSE's headquarters in Brasilia. The systems also supported voice and high-speed data connectivity for elections officials at the precincts. During the deployment, nearly 500 BGAN terminals achieved simultaneous data transmission on a single spot beam from
Inmarsat
's
I-4 F2
satellite. As part of this service offering, secure transmission of election results was ensured via the
Stratos BusinessAccess
dedicated private network over a VPN.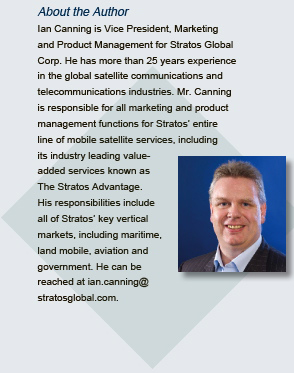 These case studies demonstrate the broad appeal of BGAN across multiple business and government sectors. Customers feel confident investing in a service that is accessed globally on the Inmarsat-4 (I-4) satellites, which are among the world's largest and most advanced. The I-4s were designed with IP communications in mind, and are optimized to deliver high-quality and reliable data communications.
For those who require broadband connectivity anywhere, anytime, BGAN has become the industry standard. Witnessing such a high rate of BGAN adoption is truly gratifying. For Stratos, the ultimate challenge is to continue providing solutions that make BGAN easy to use and affordable to own.