In times of natural disaster, conflict and disease, the need for vital information is essential and saves lives.

Look at the natural disasters that have occurred over the years: typhoon Haiyan in the Philippines; the Tsunami in Japan; earthquakes in Haiti, Pakistan and China. With each of these disasters, access to telecommunication services has played a most critical role in ensuring a community receives the support needed to recover from nature's or man's violence.
In the aftermath of the 2010 earthquake in Haiti, Valerie Amos, UN Under-Secretary-General for Humanitarian Affairs and Emergency Relief Coordinator, said, "…Without direct collaboration with humanitarian organizations, volunteer and technical communities run the risk of mapping needs without being able to make sure that these needs can be met."
What steps does the satellite community need to take to prepare to assist with the next natural disaster?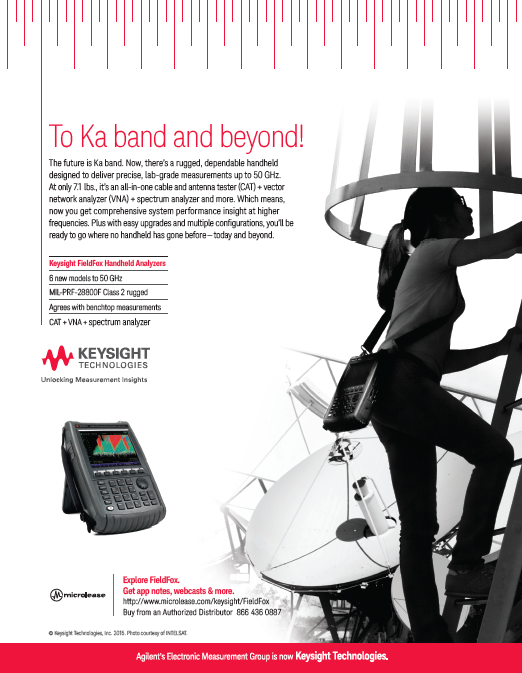 Mobile Satellite Services (MSS) operators must not wait for disaster to strike before taking steps to collaboratively help on relief efforts. To prepare appropriately, a number of steps must be taken that will ensure the ability of quick deployment and the effective use of available resources.
These steps include equipment fully ready and packaged for deployment to working teams on short notice. Rescue teams should be appropriately trained on the use of communication equipment.
A crucial requirement is that satellite communications (SATCOM) equipment be an integral part of the drills, exercises and training programs that rescuers undertake. Communication equipment should be tested continuously and packaged with all o the necessary accessories, such as cables, antennas and solar panels. Humanitarian teams need technical support and know-how on the ground, where such matters most. After all, time costs lives. There must be full, continuous collaboration and co-operation between all involved parties.
As technology is able to assist people at a time of their greatest needs, maintaining a reliable, mission-critical network operational is a huge responsibility while ensuring high-quality communications services are readily available where and when they are needed. For the satellite community to transform the humanitarian response further into an even more effective force, operational readiness, immediate transportation and deployment are of key importance.
The Benefits Of The SATCOM Infrastructure
A well-known fact is that, during an environmental or man-made crisis, terrestrial networks become unreliable for a number of reasons, such as congestion or infrastructure destruction. In these situations, NGOs frequently turn to MSS operators for the provision of what could be the only means of communicating with the outside world and for coordinating relief and appropriate responses. SATCOM in these situations is simply more reliable than terrestrial networks.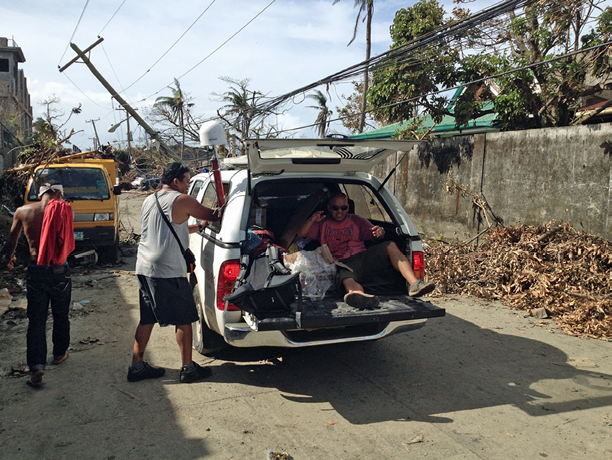 SATCOM is also the easiest to deploy in rural and remote areas. The satellite provides blanket coverage in any country around the world, whether an urban or rural area. End-user equipment and services include satellite handheld terminals for voice connectivity, data terminals (such as the Thuraya IP+ for broadband connectivity) and even a Public Calling Office (PCO) using prepaid or postpaid credit such as is typically used as a village phone.
These products and services help establish effective communications to rural areas which, in turn, provides people with medical help, medicine, food, and emergency communications.
SATCOM becomes their main connection to the world. Also well-known, and proven fact, is that the availability of Information Communication Technology (ICT) infrastructure in any area acts as a catalyst towards economic stability.
As technology and communication solution providers, support for the surge in the use of telemedicine in remote areas is on the rise. Terminals (such as Thuraya IP+) are used to connect telemedicine units, which enable relief workers to send information about patients, such as vital signs and images of injuries or trauma and receive instructions and information, to emergency doctors and health providers in trauma centers or hospitals.
Additional roles played by SATCOM enable connectivity to many different applications, such as food distribution and census bureaus, for example. During the Ebola outbreak in Africa, Thuraya IP+ terminals were established in hundreds of treatment centers across the countries that were hit by the disease to provide reports about new cases as well as citizen death and survival numbers.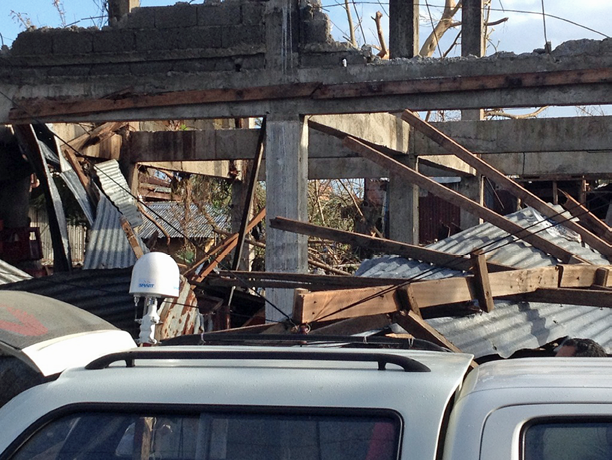 When more than a quarter of a million people were displaced by the deadly floods that ripped through Malawi in January of last year, the International Telecommunication Union (ITU) deployed satellite phones for relief and recovery efforts in districts that were affected by severe flooding.
Most recently, the ITU dispatched satellite handsets to Micronesia when the island was hit by Typhoon Maysak. These phones were used by Search and Rescue (SAR) teams to deliver rapid disaster relief. Such devices can make a huge difference in the speed at which NGOs and emergency response teams can assess and react to a situation.
The recent launch of the cost-effective DigiMed Solution by DigiGone is a huge advancement in telemedicine and SatHealth™. DigiMed bridges an information gap during crises by allowing real-time teleconferencing to occur between doctors and patients at the scene of an emergency.
Such solutions continue to revolutionize the field of telemedicine and serve as a vital lifeline for organizations working in the field or at sea. DigiMed provides critical voice communications for relief teams, weather, and mapping services—all crucial activities for those working in disaster areas.
Michael Dunleavy, President, DigiGone, said, "DigiMed meets the demands of our end-users and is a favored companion of NGOs, global media organizations, government entities, as well as energy and maritime companies requiring a reliable, portable, secure and easy-to-use satellite broadband terminal. A combination of extraordinary value and efficiency, DigiMed delivers enhanced medical care to the remotest of locations at a truly affordable price."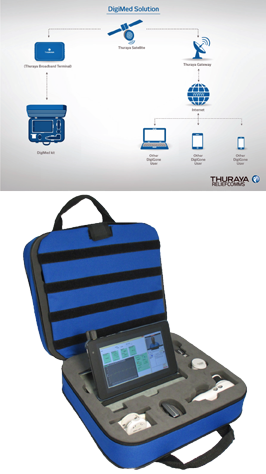 Capable of streaming patient data in real-time and allowing medical professionals to make on-the-spot decisions in emergency situations, DigiMed portable kits are designed and built for easy transport and storage. The DigiMed solution, when used with Thuraya (IP+, IP Voyager and Orion IP) terminals, establishes a secure, flexible platform that can be customized to a specific user.
New Developments + Challenges
New and lightweight flying drones, otherwise known as Unmanned Aerial Vehicles (UAVs), are also starting to play a more important role in disaster relief. UAVs can run reconnaissance missions in disaster zones, spot stranded victims, map changed ground, and document areas that need attention.
Drones help deliver communications quickly and efficiently, reaching disaster areas that are not accessible by road. With the correct terminal, drones can take and send images and they can also check the quality of a network, or give the network a boost. Drones have already been used to deliver polio virus vaccinations in Nigeria, Afghanistan and Pakistan as they are capable of carrying up to 10 kg in weight.
Clearly, satellite connectivity can make the use of telemedicine in remote areas possible. The Emergency Telecommunications Cluster (ETC) deployed Thuraya XT terminals in Sierra Leone to meet critical communication requirements.
The challenges were considerable. On top of the major health concerns themselves, the institutional infrastructure was poor and government resources were inadequate. To make matters even worse, cellular networks were deteriorating due to the influx of health workers and the lack of technical staff available to manage the cellular networks. Networks were breaking down as traffic increased.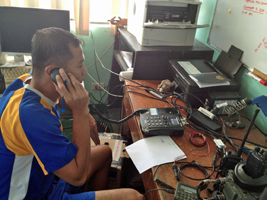 This left infected people in isolated areas with no coverage—just when they needed the assistance the most. People needed to collect data, conduct community surveillance and maintain contact with Ebola treatment centers.
While technology comes at a price, affordability is important. The satellite industry should offer developing nations flexible pricing plans, where charges are only applied when in use and services are provided at the appropriate cost. Preferential airtime rates, additional capacity readily available and technical training support all need to be supplied.
Facilitating the movement of communication equipment across borders also comes with a variety of hurdles. The Tampere Convention needs to be endorsed and ratified by governments all over the world to allow the satellite community to fully assist humanitarian teams.
To date, around 50 countries have ratified the Convention. This vital piece of international legislation could allow for communications equipment to be made available at regional offices of the United Nations and at International Aid agency offices and NGO headquarters ahead of disasters, saving critical time and ensuring the availability of vital equipment.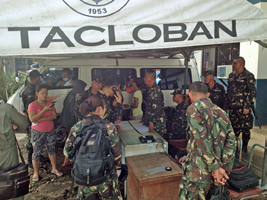 In October, a Crisis Connectivity Charter was signed in Geneva, under the umbrella of the EMEA Satellite Operators Association (ESOA) and the Global VSAT Forum (GVF). This Charter was signed with the global humanitarian community represented by the UN Office for Coordination of Humanitarian Affairs (OCHA) and the Emergency Telecommunications Cluster (ETC).
The agreement embodies a commitment from some major players in the satellite community to provide connectivity during the response to humanitarian crisis... and beyond. The Charter formalizes terms and protocols that are designed to accelerate the ability of emergency response teams to access satellite-based communications at times of disaster in 20 high-risk countries that have been identified by the ETC.
This Charter moves the satellite community one step further toward educating and working with NGOs and governments to deliver secure, reliable, portable, easily deployable and user friendly solutions in the event of any disaster. As an end-to-end satellite-based response, the agreement opens the door for more coordination among satellite operators, humanitarian agencies and governments. This will allow the humanitarian community to plan far more effectively, refining and improving its response to disasters.
The intent is to create dependable solutions based on a deep understanding of SAR requirements and the environments that will be confronted in the field. Timely and informed decisions regarding SAR activities, emergency management and situational awareness in remote and often dangerous locations are crucial determinations.
Relief users require technology that is simple and seamless and which can function in the dusty terrains of North Africa or in the rainy tropics of the Philippines. They rely on the commercial satellite industry to provide the best service at the best price.
MSS operators are duty-bound to deliver on these needs. While the satellite technology community has made huge strides in delivering life-saving services and products to relief organizations and those affected by man-made and natural disasters, there is a great deal more to be done and the community must continue to build on what has already been learned and experienced. True transformation goes beyond technology and governments, NGOs—private-sector stakeholders must come together to develop a viable long-term logistics solution, and deliver real change.
---
Case Study
Connecting First Responders during Typhoon Haiyan
When Typhoon Haiyan hit the Philippines on November 8, 2013, the Visayas region bore the brunt of one of the most powerful tropical cyclones ever recorded. Satellite technology served as the key enabler for first responders to communicate and deliver relief support to the survivors.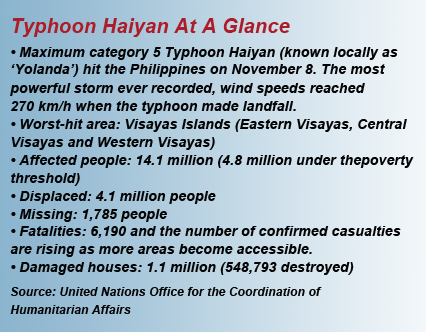 In addition to causing extensive infrastructure damage, Typhoon Haiyan resulted in severe disruption to communication networks in the worst-hit areas such as the city of Tacloban.
Global aid organizations and non-governmental organizations (NGOs) such as the International Telecommunication Union (ITU) and NetHope sprang into action. However, the lack of a reliable means of communications meant officials were unable to provide them with critical information such as road status and accessibility to the affected communities.
Gisli Olafsson, Emergency Response Director at NetHope, said, "When disasters strike, the damage to critical infrastructure could prevent relief workers from having reliable access to situation updates. That's when satellite communications capabilities become very important, in helping key decision makers make quick field assessments and deliver aid to those who are most in need."
In the thick of the emergency disaster response, Olafsson, who led the NetHope team deployed in the Philippines, explained that his organization's immediate objective was to help restore communications infrastructure. NetHope issued an appeal to collect the technologies needed to bring connectivity to the millions of people affected by the disaster. Working on the ground, the NetHope team also supported its 22 member organizations and other responding NGOs by ensuring that they are able to utilize the available technology capabilities to better coordinate relief efforts.
"We have member organizations operating in many different locations and a lot of coordination is required to cover all the affected areas, which cannot be accomplished without the proper communication platforms," Olafsson added. "Our main role was to serve as a facilitator between our corporate partners who are donating the communications equipment, and the NGOs involved in delivering aid to the affected communities."
As part of a longstanding emergency telecommunications agreement between Thuraya and the ITU, 50 Thuraya satellite phones, equipped with GPS to facilitate SAR, were also dispatched to support the Philippine government in the disaster response. In addition to the deployment of emergency communications equipment, ITU experts also worked with the local authorities to train first responders in the use of the satellite equipment during their operations and for logistical support. Thuraya donated 65 SIM cards, each preloaded with US$300 worth of credit, within 20 hours of NetHope's request.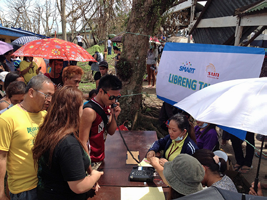 Dr. Cosmas Zavazava, the ITU's Chief of Department, Project Support and Knowledge Management, said, "The ITU took immediate action by arranging and paying for the transportation of the equipment to the Philippines. They also made an initial airtime allocation of US$60,000 for the Thuraya handsets, which was later increased based
on demand."
ITU supplied 50 Thuraya handsets to address the pressing need for satellite-enabled communications to coordinate health relief efforts. Speaking to ITU during the operations, Dr. Rodrigo H. Hao, the Chief of Medical Professional Services involved in providing medical relief during Typhoon Haiyan, highlighted the importance of communications in disaster preparedness. "The biggest challenge our team faced was the lack of communications during the relief efforts. If we had prior access to the equipment ITU delivered, it would have made a huge difference in enhancing the delivery of health services and disease surveillance," he explained.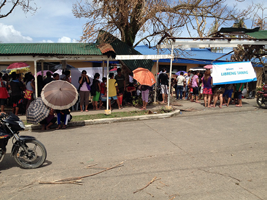 Dr. Zavazava added, "With the rapid deployment of satellite equipment, first responders gained access to timely information on the ground to help them collect data to support their emergency response activities. This enabled effective search and rescue operations and the evacuation of victims, as well as the coordination of humanitarian work such as the distribution of medicine, food, and water."
Collaborating With Local Partners
Najwa Natalie Ayoub, Thuraya Market Development Manager for NGOs and Relief, concurred that the speed of satellite deployment is key to executing a successful disaster response.
"Delivering an immediate response is of critical importance, and Thuraya is committed to providing highly portable, reliable and easily deployable satellite equipment to support NGOs," she said. "Thuraya is also able to allocate additional network resources to specific disaster areas, enabling expanded support through a congestion-free network to provide the communication platform needed for coordinating relief efforts."
To facilitate the relief efforts, Thuraya reached out to its Philippine service partner Smart Communications (Smart) and initiated the provision of more than 100 Thuraya SF2500 units, Thuraya SatSleeve and Thuraya XT handsets to the Philippine government agencies and relief organizations.
Tina Mariano, Head of Smart's Global Access Group who was involved in coordinating the effort on the ground in Tacloban, described how satellite handsets were delivered to support air control operations, after the Philippine authorities requested for assistance. She explained: "After the air traffic control towers at Tacloban's domestic airport were destroyed during the storms, the use of satellite phones enabled the local authorities to coordinate and give priority to military evacuation flights."
Thuraya and Smart also converted more than 70 Marino Phonepal (SF2500) units into mobile call centers, which were set up in more than 27 municipalities to enable survivors to contact their family members. The lack of power supply proved to be no obstacle, as the SF2500 units could be easily charged using 12-volt car batteries.
For many of the survivors in Tacloban, the public calling offices were their first opportunity to get in touch with their family and friends. Mariano recalled, "It was a highly emotional scene at the public calling offices, full of people crying and trying desperately to get in touch with their loved ones. Moments like these make you realize the true value of satellite communications."
---
Enhancing Disaster Preparedness Using Satellite
As can be determined via the above case study, Thuraya's robust satellite network performed a key role in providing relief workers with a reliable communication channel that kept them connected at all times during the relief operations for Typhoon Haiyan. By providing satellite equipment that can be easily deployed, Thuraya and its partners were able to help the Philippine authorities restore vital communication links in the affected areas.

"First responders require highly compact and portable equipment to address emergencies under demanding conditions," Najwa Natalie Ayoub, Thuraya Market Development Manager for NGOs and Relief, said. "Thuraya's broadband terminals are designed for mobility, and can be easily deployed for a range of video conferencing, email and other applications. Equally important, our handheld solution gave the relief workers high voice quality and hands-free calling capabilities. Thuraya handsets helped facilitate timely coordination and deployment of relief efforts during Typhoon Haiyan."
The versatility of satellite handsets and broadband terminals in a disaster zone is another important factor for rapid and effective deployment of emergency communications equipment. For instance, the Thuraya SatSleeve enabled NGO workers to make the most of the satellite network coverage using the familiar interface of their own smartphones.
Ayoub said, "We recognize that 'bring your own device' (BYOD) is becoming the norm today, and demonstrated our versatility by developing equipment that is highly portable, secure and streamlined. With the Thuraya SatSleeve, relief workers were using their iPhone or Android phones to respond even more quickly and efficiently in highly pressurized environments."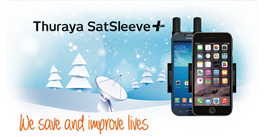 Thuraya aims to further raise the awareness of satellite as the critical infrastructure for relief operations and help government authorities around the world explore how satellite communications equipment can be integrated into disaster management plans.
"Satellite services should be included in the early planning for any disaster preparedness policy in order to facilitate rapid damage assessment and coordination between key emergency personnel. We aim to continue working with local municipalities and police departments to streamline first-responder protocol in times of a disaster, to enable government and aid agencies to communicate their needs more quickly," Ayoub concluded.
thuraya.com/
---