When I was in my twenties, it was possible to show up to the airport 30 minutes before a flight and still have time for a coffee before boarding. Over the last two decades, the time required at the airport before a flight has increased, taking a sharp rise in the aftermath of the September 11th terror attacks. The increased security, waiting in long lines, removing of shoes, and gulping down the last of the diet coke while the person in front of you desperately searches for the small perfume bottle forgotten in one of her carry on pockets, has significantly increased the time spent at the airport before a flight.
Bus and train travel have become a real alternative to air and sea travel as conditions have improved on both, with train travel being the typically more cost-effective means of travel. Customers often make their travel decision based on time of trip, cost and comfort. Depending on budget, comfort may be the primary factor, or not. And while rising gasoline costs may be seen as a
deterrent, many families are still taking to the road in their RVs, vans and luxury vehicles.
While transportation companies are constantly working to reduce costs, competition is growing more than ever before between the various means of transport.
One of the emerging service differentiators in the competitive transportation market is the ability to offer live TV and Internet access during travel. Transportation companies are now able to provide new or upgraded entertainment systems with live TV channels and individual in-seat viewing choices and always-on Internet access. The added-value service of live entertainment and Internet access can increase revenue margins, provide a strategic competitive advantage and increase customer contentment and brand satisfaction.
Connectivity Is A Must-Have
Passenger communication and entertainment for long commute hours, including Internet surfing, email, social networking and live web updates on news, sports and weather are becoming a "must-have" in many parts of the globe. In addition, transportation companies are challenged to meet the growing connectivity demands for real-time information for both passenger and cargo transportation. Connectivity requirements span a wide set of services that include not only the well-being of the passengers by providing entertainment, but also business and security services, as well as enhanced fleet operation and control applications.
Another major need for continuous broadband connectivity is in the area of operation and control applications that can provide increased security and more effective fleet management. These applications include such essential tasks as surveillance, remote monitoring and control, hazard alerts, and collision prevention. Security and regulatory standards, often government driven, are becoming stricter, requiring more stringent safety requirements.
Continuous connectivity service for both passengers and operation and control is required along the entire bus or rail route. This route might include remotely populated areas with diverse terrain conditions. The coverage of both cellular networks and the availability of WIFI hotspots is spotty or unavailable along long routes that often pass through uninhabited or sparsely populated areas.
The ground connectivity challenge is often magnified due to topology and country regulations. The challenge therefore is to provide uninterrupted connectivity independent of terrestrial infrastructure.
In addition, economic considerations need to be taken into account. Train and bus routes often pass through remote areas where it is not economical to layout communication groundwork. The high cost of installing cellular towers every few kilometers along the entire track, as well as the lengthy implementation schedule, makes this option unfeasible. Equally impractical is the option of laying out fiber or copper lines in rugged terrain.
Satellite Is The Solution
The delivery of broadband communication service in a moving bus, vehicle or train is a technologically demanding challenge. Satellite-on-the-move is by far the most robust solution and the one that can provide the most continuous coverage. It is also at times the only option and the most cost effective alternative when other means of communication are not present. Naturally, the geographic terrain, the environmental conditions, the vehicle or train mechanics, and of course the desired applications are all key to making the appropriate solution choice that will increase revenues while delivering customer and operational value.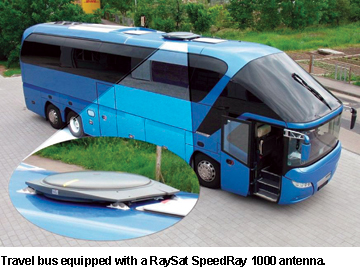 It is important to note that the requirements for SOTM are markedly different than conventional stationary satellite communication. All equipment installed on the roof of the bus, train or vehicle must be designed to meet aerodynamic and environmental challenges and in many cases, must have a low profile to fit into low height tunnels. They must operate in high and low temperatures and have high resistance to shock while in motion. The antennas must be able to track the satellite, and have fast reacquisition of the satellite link in case of line-of-sight blockage. In addition, for the solution to be cost effective, a high gain antenna is required with adequate transmission and reception rates for effective bandwidth allocation.
A SOTM solution is comprised of distinct elements that must come together to provide a robust, secure, manageable and affordable satellite communication system. A major element in this system is the low-profile SOTM antenna.
Mobile Satellite TV + On-the-Move Antennas
The satellite antenna itself is the enabling SOTM technology. The tracking antenna must be low profile, rugged, and wide reaching with a high gain to cost effectively meet the growing broadband communication needs.
Physical criteria—low profile
A key requirement for a SOTM antenna is that it should minimize the level of aerodynamic interference and be no higher than 30cm, for safe passage through tunnels and under bridges; it also must be robust enough to operate in temperatures as low as -40°C. Low weight is required for simple transport and safe installation, eliminating the need to modify the bus or locomotive/cabin roof.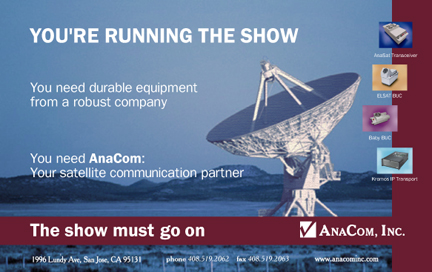 High gain—more throughput
A high gain antenna supporting higher transmission rates enables efficient data, voice and video streaming. A high gain antenna is particularly important for SOTM to enable cost effective bandwidth allocation and high enough transmission rates to overcome signal drops due to electric poles found along the train route (when electric trains are in operation). A high gain antenna can be a key factor in reducing both capital expenditure (e.g., usage of smaller power transmitters) and operational expenses (reduced satellite space segment allocation).
Elevation angle—wide coverage
Tracking of the satellite on the move requires different antenna elevation angles which are dependent on the location of the antenna relative to the equator above which the satellite is located. A wide elevation angle range can ensure maximal flexibility in choosing the satellite of operation, as well as a unified solution architecture that can be implemented over a long spread of railway tracks within the country or even within the continent.
The Conclusion is Clear
It is reasonable to assume that the transportation industry is aware of the need to provide continuous uninterrupted broadband communication to improve passenger experience for business and pleasure, operations and security. The organizations that will provide a safer, more productive and enjoyable ride are those who will prevail in the years ahead.
RaySat antennas are enabling satellite TV and on-the-move connectivity around the globe for buses, trains, VIP vehicles, luxury cars, vans and recreational vehicles. Designed for commercial use in a variety of different markets, RaySat antennas provide:
– Sleek design to complement vehicles' profiles
– Low-profile and fits many size vehicles
– Automatic and autonomous operating system for easy use
– Rapid satellite tracking for reception at high speeds
– Satellite acquisition in < 1 min for quick signal reception
– Satellite re-acquisition in < 10 sec following Line of Sight blockage
For more information about RaySat low-profiles antennas, please visit www.gilat.com/Satellite-TV-Antennas To learn more about becoming a reseller of RaySat antennas for mobile satellite TV, please visit
http://www.gilat.com/learn-more
About the author
Mr. Leichner has more than 20 years of marketing and management experience. He is responsible for corporate marketing and business development for Gilat Satellite Networks and its subsidiaries. Prior to joining Gilat, Mr. Leichner served as; the VP of Sales and Business Development at Dynasec; CEO of SafePeak Technologies; CMO at BluePhoenix Solutions; VP of Marketing at Unipier Mobile; and as VP of Worldwide Marketing at Magic Software Enterprises. Mr. Leichner has been a member of the global board of the Israeli Mobile and Communication Association since 2005.