Utilities are making significant progress in developing next-generation communication networks capable of supporting the smart grid and other critical applications. However, many utilities continue to struggle with how they can affordably and reliably extend this network to 100 percent of their service territories, especially to remote substations and customer locations that are beyond the reach of primary networks.
An IP-based satellite communications (SATCOM) solution provides utilities with the real-time data exchange, operational visibility and broadband reach required for the smart grid communications system. But there are several common misconceptions about satellite's capabilities, including reliability, latency, cost and security.
The reality is that since its humble beginnings as a one-way distribution mechanism used primarily for back-up systems and consumer television service, SATCOM has undergone a major transformation in recent years. In fact many utilities today are well served by incorporating SATCOM into their smart grid communications architectures.
Today's satellite networks have advanced to become two-way, enterprise-class platforms that provide terrestrial-grade broadband connectivity. They are high-speed systems that are built on IP and integrate seamlessly with core communications technology. No longer hampered by early latency or reliability issues, satellite is a cost-effective and secure solution that can provide back- up communications and disaster recovery, and can easily support core smart grid applications like SCADA, telemetry, AMI backhaul and distribution automation.
Reliability
The Myth: Satellite does not provide the necessary reliability/availability utilities need to run core applications.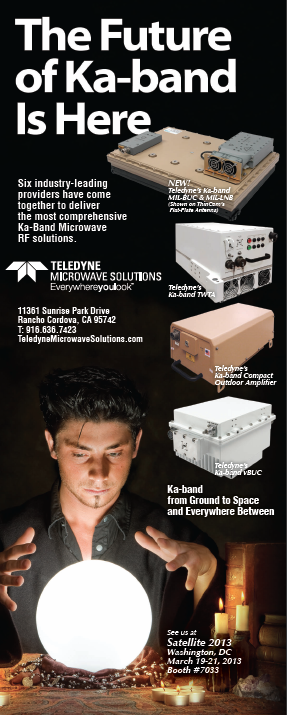 The Reality: Technological advancements have made today's satellite networks highly reliable and capable of providing up to 99.99 percent availability.
As utilities build out the smart grid and extend secure broadband connectivity to remote locations, they need a communications solution with comparable reliability to a fiber-based network that can handle critical applications such as SCADA without missing a beat.
Satellite has evolved into a highly reliable platform, in part due to the arrival of second-generation Digital Video Broadcasting Standard (DVB-S2) in combination with Adaptive Coding and Modulation (ACM). With these advancements, outbound throughput performance is guaranteed even during inclement weather.
On the return path, the satellite industry has seen improvements to demodulators and the incorporation of a significant new coding technology, 2D 16-State Forward Error Correction (FEC), which also protects link availability during rain fade and further enhances throughput. Unlike other communications technologies, satellite is a private network, which inherently makes it more reliable.
Additionally, satellite IP platforms using Time Division Multiple Access (TDMA) technology can efficiently share capacity across different sites within an organization. The establishment of Quality of Service (QoS) guarantees, based on applications remote site and sub-network, it preserves reliability by protecting critical applications against congestion.
When selecting a satellite platform, utilities should consider built-in features that can help them efficiently manage bandwidth and configure and prioritize traffic. iDirect's Group QoS (GQoS), when combined with the ACM capability of DVB-S2, allows utilities to specify committed information rates for different geographies and applications based on the service level required during inclement weather. GQoS qualifiers can also mirror the throughput characteristics of Single Channel Per Carrier technology, effectively creating a dedicated outbound link for bandwidth-intensive, constant applications.

Latency
The Myth: Satellite's latency is too high to support core smart grid applications such as SCADA.
The Reality: While current satellite systems are slightly more latent than terrestrial broadband, the difference is only a few hundred milliseconds and still low enough to meet the requirements of nearly every core utility application.
Developing a smart grid requires precise monitoring of energy supply and demand patterns, as well as real-time fault detection in a distribution network, no matter the locations. Several operational applications, therefore, require a timely response message form equipment assets.
As all communications systems, even terrestrial, have some degree of inherent latency, and as packet transport is not instantaneous, this delay must be accounted for as applications are designed. While terrestrial latency is a minimal 200ms or less, satellite latency, approximately 600 to 700ms, is suitable for nearly every utility application, including SCADA, substation automation, distribution automation, AMI, voice and video. In fact, about the only utility applications for which satellite may not be appropriate are teleprotection schemes that require extremely low, single-digit millisecond latency.

Due to advancements in satellite IP technology, each control message or alarm can be delivered within a guaranteed time frame. Specifically, a methodology called deterministic TDMA (d-TDMA) designates bandwidth per remote site based on an established time limit and video surveillance and VoIP to run without interrupting the deterministic bandwidth allocated for SCADA.
To further optimize real-time applications, such as voice that can be detrimentally affected by delay, utilities can take advantage of the iDirect platform's built-in, real-time traffic management and optimization features. These features can reduce jitter by evenly spacing time slots across a shared platform and they enable the system to interrupt large data frames to prioritize voice traffic. As a result, utilities can ensure toll-quality digital telephony over a cost-effective shared medium.
Cost
The Myth: Deploying satellite is cost prohibitive.
The Reality: Today, satellite offers flexible options for utilities to own, manage and deploy networks with low up front capital investment and minimal operational expenses.

Satellite IP platforms extend high-speed broadband and advanced communications applications to the most remote locations. For utilities, this means reaching the farthest points on the grid in a more cost-effective way than other core network technologies.
Several satellite options offer flexibility related to up front capital expenditures. Some utilities may decide to own and operate their own Virtual Private Network (VPN) for security reasons or performance control. In this scenario, the utility is responsible for purchasing and implementing the satellite infrastructure, including a hub, line cards and remotes.
For utilities looking to reduce their up front capital expenditure, iDirect offers a cost-effective model called Virtual Network Operator (VNO). As a VNO, a utility organization still buys and manages satellite equipment, including remotes and line cards, and is able to maintain control and visibility over the performance and security of its own closed network.

However, with a VNO model, the utility doesn't have to invest in a satellite hub or teleport infrastructure, since it co-locates capacity in an existing hub hosted by a satellite service provider. Alternatively, for even lower capital expense, a utility could fully outsource its satellite capacity, allowing a service provider to configure and manage the network at an operational expense that's competitive with monthly cellular costs.
No matter how a utility chooses to build and manage its satellite network, iDirect provides flexibility to help utilities match their overall communications architecture needs. Whether a utility chooses to own or outsource capacity, it can leverage iDirect's Network Management System (NMS) to configure, monitor, control and automate components of its satellite network. iDirect's NMS allows utilities to manage the network from a central location. It provides a deeper view in to network performance with real-time and historical statistics and alerts to potential issues before they occur.
Security
The Myth: Satellite isn't as secure as other technologies, such as fiber, and therefore isn't adequate to protect the smart grid.
The Reality: Satellite has become a highly secure technology that supports private networks and AES encryption, and provides enhanced security features.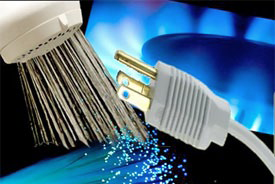 As utility systems become more reliant on an always-on broadband connection, security can be a concern. New industry regulations, including NERC-CIP standards, and the ability to centrally access substations are two of the drivers for more stringent protections against intrusion, while emerging applications such as smart metering are making data security paramount.
Unlike a terrestrial or cellular network that uses public infrastructure, a satellite platform configured as a closed network is inherently private and secure. The NMS must authorize devices before they can operate on the network, which guards against outside attacks and makes satellite IP more secure than WiFi. In an iDirect network, all remotes have to be authenticated based on their physical serial number before they transmit. Without this authentication from the hub, a remote will not be allowed to transmit or receive packets.
Concurrent two-way AES 256-bit link encryption adds another layer of security, making packet transmission via satellite just as secure as other communication technologies. Creation of a Virtual Local Area Network (VLAN) allows users in a broadcast domain to be grouped together logically and not physically. They do not have to be in the same location. Satellite support for VLAN tagging provides the security needed to segregate traffic by these defined groupings on a shared infrastructure. Permission is required for access.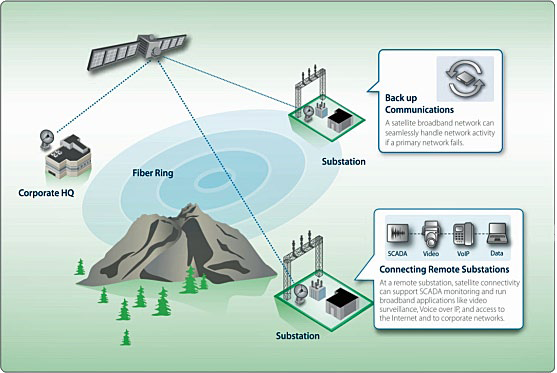 To provide even higher levels of security, the iDirect platform includes enhanced features to make it more difficult to eavesdrop or intercept data over the satellite network. Frequency hopping allows remotes to switch in route channels based on traffic. Frequency hopping enables remotes to continuously switch channel frequencies based on traffic. Tunnel-mode IPsec creates an encrypted point-to-point tunnel between substations and the control center. The ability to support Secure Shell (SSH) connections encrypts network communications to provide further data integrity.
A Smart Choice For The Smart Grid
To build the Smart Grid, utilities must understand the capabilities of today's communications technologies and how they best meet technical and business requirements.
Satellite IP communications plays a critical role in achieving this goal. With satellite, utility companies can reach every location they serve and help to ensure 100 percent network uptime. Since most utilities manage several different types of communications technologies, it may seem daunting to consider adding a comparatively new technology into the mix. However, the iDirect platform is simple to manage, and is designed to integrate seamlessly with other communications systems. With iDirect technology built into their overall communications infrastructures, utilities can extend broadband coverage anywhere and support a wide range of applications.
To learn more about the benefits of satellite communications for the smart grid, visit
http://www.idirect.net/utilities.
About the author
Michelle Larsen is a Senior Manager, Global Vertical Marketing, at iDirect. Larsen oversees the strategic initiatives and development, as well as implementation, of iDirect solutions into key verticals around the globe, including the Energy & Utilities, and Oil & Gas industries. She also defines the ongoing product development strategy for SCADA, Utilities and the Smart Grid.