SatMagazine (SM)
What are you hearing as customers' top priorities today — have those priorities evolved in recent years?
Jack Hild
They've absolutely changed. If you look back at the evolution of commercial imagery, for years we were satisfied with
LANDSAT
. The prolific use of LANDSAT opened a market for better resolution. And a little more than a decade ago, Space Imaging and DigitalGlobe's
QuickBird
hit the one-meter threshold. As the next generation of commercial satellites pushed the resolution to a half meter, technology improvements — driven in part by GPS devices — made accuracy the next imperative.
This new generation of half meter class vehicles is demonstrating that it is up to the task. What's the next demand? Speed. It's no longer good enough to have a high resolution image that is accurately positioned. Our customers expect the image to be delivered inside their decision space. Look at what has happened in Japan and the Middle East and North Africa recently. There's a growing demand that imagery collection and dissemination move at the pace of world events. We're taking the steps to make that a reality.
SM
With those customer priorities in mind, what are DigitalGlobe's top technology strategies for the next three to five years?
Jack Hild
We will continue to focus on maintaining the highest quality and accuracy possible. That's a given. From there we are focused on speed...making that high quality image available to a user at speeds unheard of just a few years ago. Our new Antarctic ground station is operational and we will be deploying additional mid-latitude ground stations within the next 18 months. That ground infrastructure plus the agility and capacity of the constellation gives DigitalGlobe unprecedented access and the ability to meet the time-sensitive missions of our customers. We continue to invest in High Performance Computing, again, as a way to improve our timeliness.
Finally, we are delighted with the performance of
WorldView-2
's eight spectral sensors, which are narrowly focused and provide complete coverage of the visual spectrum, along with two near-infrared bands. This technology is exclusive to DigitalGlobe and gives scientists a more detailed view of Earth and the ability to analyze information in completely new ways. We, along with our partners and customers, are continuing to explore its capabilities.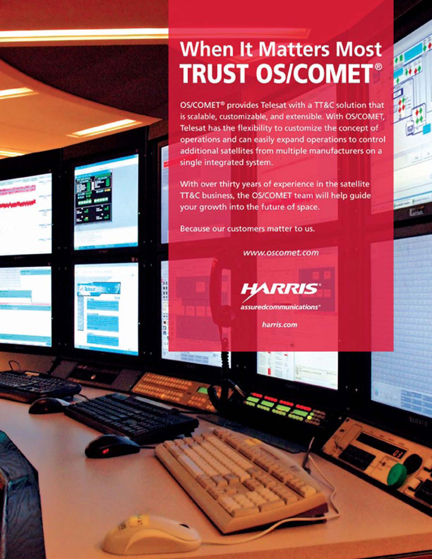 SM
Looking further out, what are the biggest changes you see coming for the industry?
Jack Hild
Growth will continue, fueled by robust high quality imagery collection. We will see the pixel market slowly but steadily expand as much more current imagery becomes available and as cloud services offer easier and more rapid access. Evolutionary changes, like increased integration with other data sources and devices, will continue, driven by a requirement for higher fidelity information for situational awareness.
Viewing and navigation devices play an important role in industry growth, and I see tablet devices also making a big difference. They are small enough to be highly portable and offer a much larger field of view than a smartphone.
Advances in multi-spectral imagery processing and signature development, especially for advanced MSI sensors will continue to yield new understanding of the global environment. Our
8-Band Challenge
yielded more than 550 entries. With that kind of interest from analysts and scientists around the world, I know we will see some exciting discoveries from WorldView-2 imagery.
SM
What are you presently doing, or planning to do, to make that vision a reality?
Jack Hild
Building out our constellation and ground infrastructure is key. That gives us a high volume of current, accurate imagery and the delivery speed to be relevant to our most demanding customers.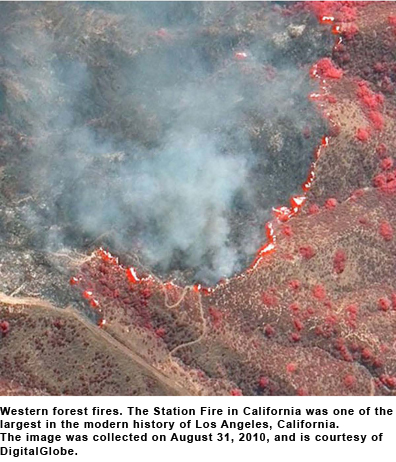 Next is access. A constantly refreshing picture of the world is within reach. Imagine all of our collection, every day, being processed to the highest quality and accuracy standards and then being exposed in any of the common viewing platforms. It will spatially enable more users from a broad array of industries and ultimately form
THE
common foundation for most location-based applications.
Finally, it's all about improving what you have — utilization and development of our 8-Band sensor will improve our content in ways that we haven't even imagined yet.
SM
A recent initiative from DigitalGlobe encompasses 8-Band multi-spectral commercial imagery. Would you please explain why this technology is so important to DigitalGlobe, its importance to current and potential customers, and how such imagery is gathered?
Jack Hild
Imaging across the electromagnetic spectrum allows you to focus on certain spectral signatures that let you see some features better than the human eye. In our case, we designed our new 8-Band sensor to be particularly adept at two functions.
First, the sensor and processing can be tuned for better insight into vegetation. Analysts can assess crop health and identify some species to a degree unequaled by traditional 4-Band sensors. Second is maritime situational awareness. Our 8-Band sensor is showing improvement over older technology in deriving bathymetric data, and, combined with its agricultural capabilities, is a useful sensor for evaluating wetland vegetation and coral reef health.
More work is needed in these disciplines, but we remain excited about the potential.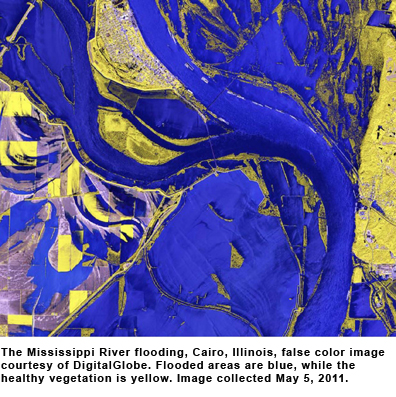 SM
Would you discuss your three, on-orbit EO satellites and the roles they play in your company's business and marketing plans? What are DigitalGlobe's future plans regarding additional satellites to satisfy increasing imagery requests?
Jack Hild
Our satellites supply the content that helps save lives and protect our world...whether the mission is National Security, supporting First Responders in natural disasters or helping scientists understand environmental impacts.
QuickBird
,
WorldView-1
and
2
continue to perform well and our ground station expansion will provide additional imagery and shorter delivery times.
WorldView-3
will be similar to WorldView-2 with evolutionary improvements in storage and transmission rates. The
WorldView-4
design is wide open for now and will be the best combination of what our customers need and the available technology.
SM
Does DigitalGlobe find an increasing interest within the military/government segment for your product, especially regarding the needs of NGOs and first responders?
Jack Hild
Our government customers have demanding missions that take them to the four corners of the globe, and our constellation has the capacity and agility to be with them. The events of this spring have shown the value of commercial satellite imagery and validate our decisions to continue to invest in processing and dissemination improvements.
We have already monitored more than 45 events in 2011, including the political turmoil in Egypt and Libya and natural disasters in Japan and Alabama. New images are collected and/or refreshed every day to aid rescue and recovery, document the impact of an event and begin rebuilding.
Our work with the
Satellite Sentinel Project
in Sudan shows that NGOs can have a significant impact on world events. We are proud of our role in humanitarian relief efforts.
Even before 9/11, no U.S. National Special Security Event has been planned or executed without commercial satellite imagery. DigitalGlobe supports these types of events for governments around the world.
As First Responders gain more experience with commercial imagery, we expect that segment to continue to grow for planning purposes and, if needed, to support response and recovery actions. As imagery becomes more widely available, image-to-user times reduced, and the tools to exploit it become easier to use, we see even more opportunities to serve those communities.
SM
What is DigitalGlobe's global coverage?
Jack Hild
DigitalGlobe's satellite constellation include three commercial satellites that are capable of collecting approximately two million square kilometers every day, or more than 700 million square kilometers of imagery per year, and of revisiting specific areas on Earth several times a day. The company's
ImageLibrary
is now three times the size of other available high resolution, commercial image libraries. When our new ground stations become operational they will yield even more capacity. We see our imagery being used by a growing number of national securitsy professionals, analysts and scientists every day. We're proud of our role in their work and are committed to those partnerships.
Jack Hild is the Vice President, U.S. Defense Strategy, at DigitalGlobe — for further company information, access...
http://www.digitalglobe.com/