On November 19th, 2013, the NASA Wallops Flight Facility launched a Minotaur 1 rocket with 13 small satellites aboard, including one constructed by University of New Mexico (UNM) researchers and students.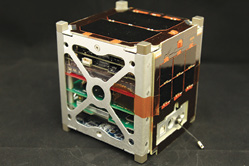 UNM's Trailblazer satellite is now in orbit and is sending back information on gamma ray radiation in the ionosphere.
Trailblazer will provide a proof of concept to an Air Force sponsored technology called Space Plug and Play Architecture (SPA). The idea is to quickly build satellites for a range of missions, using off the shelf components.
Currently satellites use individually designed components, which must be individually tested and approved for the demanding environment they will encounter in space. That drives up cost exponentially. If Trailblazer works as envisioned, its internal, commercially available components will operate well in a hostile environment within which they are bombarded with gamma radiation and subjected to extreme heating and cooling cycles as the CubeSat orbits.
"Development of this cubesat involved many students who worked on elements of the satellite and the sustained efforts of the research and development team at COSMIAC," said UNM Distinguished Professor of Electrical and Computer Engineering and COSMIAC Director, Christos Christodoulou. "We are thrilled as we move into the next phase of our program."
COSMIAC (Configurable Space Microsystems Innovations and Applications Center) built the Trailblazer. The craft has a mass of 1kg and uses Commercial Off The Shelf (COTS) components.
To reduce the mass of the satellite, COSMIAC used a Pumpkin structure and motherboard, which incorporates the standard 1U enclosure of aluminum and room at the top of the satellite for a deployable antenna system. There are also two separation springs and two separation switches on the four corners of the legs.
Trailblazer is providing radiation exposure measurements from a dosimeter designed by UNM's Configurable Space Microsystems Innovations and Applications Center (COSMIAC) and the Air Force Research Laboratory. The satellite also carries a new additive manufacturing technology designed by researchers at the University of Texas at El Paso.
Trailblazer and UNM are members of NASA's CubeSat Launch Initiative and it's Educational Launch of Nanosatellite (ELaNA) Missions. This program allows students and faculty members an opportunity for hands-on flight hardware development experience.
Craig Kief, Academic and Program Support for COSMIAC, and Brian Zufelt, Small Satellite and SPA Development, will lead the team monitoring the information gathered by Trailblazer. GENSO, a European Space Agency initiative, will provide global ground station support to the academic institutions conducting research.
The University of New Mexico's infosite: http://www.unm.edu/
Editor's note: The preceeding Trailblazer information and photographs are courtesy of author Karen Wentworth of the University of New Mexico.