George Gonzalez is responsible for XStreamHD's vision and mission, as well as the successful achievement of its business, production and technology goals.
Prior to forming
XStreamHD
in 2002,
Gonzalez
was the founder, president, and CTO of
iDirect
, a subsidiary of
VT Systems, Inc.
(VT Systems) and a world leader in satellite-based IP communications technology. iDirect, Inc. pioneered the world's premier bi-directional satellite broadband router that uses advanced networking protocol acceleration and forward error correction algorithms to achieve throughput unmatched by competing products.
Gonzalez
previously served at
GTE Spacenet
. While there, he invented the leading
demand access multiple access
(
DAMA
) technology for the satellite communications industry. He also was a member of the engineering team at
Hughes Network Systems
(HNS) that developed the
Personal Earth Station
(
PES
)
very small aperture satellite terminal
(
VSAT
) product line.
SatMagazine (SM)
Nice to be able to take advantage of your time for this quick chat, Mr. Gonzalez... how would a satellite broadcaster take advantage of XStreamHD in delivering content to subscribers?
George Gonzalez
XStreamHD is different than the services offered by the two DBS providers in the U.S. (DirectTV and Dish Network). In 2010, XStreamHD will launch the most advanced HD entertainment service ever offered to U.S. consumers. XStreamHD leverages unique satellite transport technology and advanced consumer electronics to provide consumers with delivery of the highest-quality protected content distributed to consumers digitally that matches or surpasses the quality of Blu-ray; made possible with XStreamHD temporal coding and forward error protection (FEC).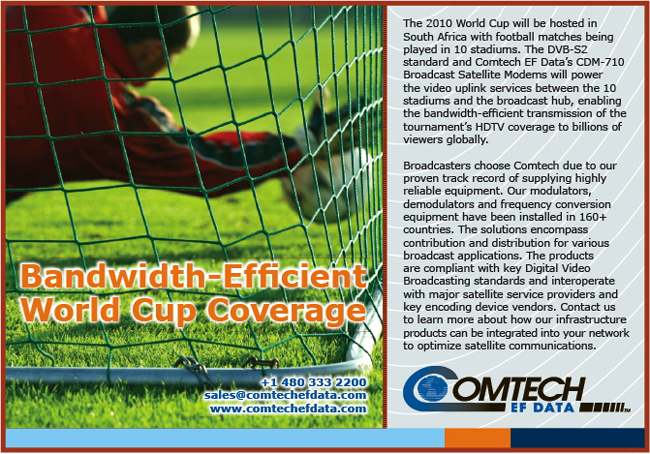 Also being driven is Pre-Fetched Entertainment (PFE) Access. This is a leap forward in-home entertainment that allows consumers to immediately access HD entertainment anywhere in their home without the hassles associated with lengthy Internet downloads, in-store shopping, or limited inventory mail order services. PFE provides every XStreamHD user with a customized virtual video store, pre-populated with content they're likely to enjoy, which is constantly updating with new titles that are ready to be enjoyed. Just push play!
Another element will be the whole-home entertainment network access — A single XStreamHD Media Server can be accessed from any DLNA Certified A/V device or HDTV equipped with an XStreamHD Media Receiver anywhere in the home. The system is capable of simultaneously streaming multiple different Full HD movies, streaming up to 400 MBPS of content throughout the home.
We'll also mix in unparalled protection of studio content by employing state-of the art encryption systems based upon public key cryptography and Advanced Encryption Standard (AES).
SM
George, given the state of the consumer electronics industry, what are the most significant consumer needs that simply are not being addressed through the various media channels?
George Gonzalez
The home entertainment industry has increasingly focused on enhancing the speed and convenience by which consumers can access media content, sacrificing picture and sound quality. This has resulted in a growing disparity between the full technical capabilities of most home entertainment equipment and the quality of most downloadable content. Consumers lack a service that can deliver in both of these areas — providing quick, convenient access to the best movies, music and games while fully using their existing elite home AV system. Our new XStreamHD service fills this void.
SM
What, exactly, is XStreamHD's focus?
George Gonzalez
XStreamHD will offer U.S. consumers unmatched access to the highest quality HD movies, music and games delivered digitally, direct-to-home (DTH), in uncompromised Full HD (1080p) video format with up to 7.1 channels of lossless DTS-HD Master Audio™.
With XStreamHD, consumers will have in-home access to the highest quality and most recent content available. XStreamHD represents the next-generation of home entertainment — it's not just different, it is better.
SM
With a myriad of new streaming options available to consumers, what makes XStreamHD different?
George Gonzalez
XStreamHD allows any home consumer to seamlessly stream uncompressed, Full HD content across their entire home network without the worry of Internet lag-time, errors in the video stream, or compromised video quality. The XStreamHD Media Server can also operate with consumers' other DLNA-compatible A/V equipment, eliminating equipment redundancies. Add-on features such as the Network Video Recorder and on-board business-class PBX also serve to further differentiate XStreamHD from its competitors.
SM
Who is your company targeting as far as a customer base is concerned?
George Gonzalez
It is expected that XStreamHD early phase adopters may have very different characteristics than future target segments. They will span a market of technophiles and HD home-entertainment enthusiasts who have longed for a whole-home solution that can not only integrate with all of their home audio video equipment, but also deliver the maximum potential output in terms of quality.
XStreamHD will implement a segmentation strategy to enable the Company to attract early adopters and then migrate to a farther reaching communications program that delivers a message with broad audience appeal.
SM
As XStreamHD plans to deliver HD video programming direct to home (DTH) via satellite, how will you circumvent FCC licensing that, to date, has allowed for only two DBS licenses in the U.S. Are you considering alternatives?
George Gonzalez
XStreamHD's unique transport network will allow the company to use conventional geo-synchronous satellites to deliver the best HD content, based upon our proprietary data algorithm. As such, the company will be able to operate under its data license to transport content.
SM
We have seen so many advances taking place in the consumer electronics industry and the home video market over the past couple of years. What do you think will be the next big revolution, and what should consumers be looking forward to?
George Gonzalez
I believe that the next big push in the consumer electronics' industry will come in the form of enhanced networking capabilities for media content. Consumers are increasingly becoming acclimated to being able to view their media content in whatever form, on whatever device that they choose, whether it be on their TV, computer, iPhone, and so on. You've seen movie studios start to respond to this trend by bundling a digital copy of a film along with the DVD. I would expect this trend to continue for the next 5 to 10 years. This is why those in the home entertainment industry need to ensure that consumers have as many tools as possible to enjoy any given entertainment purchase on any number of media devices — but not at the expense of quality.
SM
Will XStreamHD be contemplating a move into the mobile TV market?
George Gonzalez
As we prepare for our upcoming market launch, we are firmly focused on providing consumers with a home entertainment solution that allows them to enjoy the highest-possible-quality entertainment content throughout their home with the greatest amount of ease. While Mobile TV is not currently in our immediate future, it is certainly an area that holds a great deal of promise given the rapid software and hardware innovations that we have seen in the past couple of years.
SM
Where do you believe XStreamHD will be in a year or so?
George Gonzalez
XStreamHD will be in the thousands of U.S. households. It will forever change the way consumers access and enjoy home entertainment and it will set the quality standard for virtual home entertainment delivery.