Welcome to SatMagazine's annual YEAR IN REVIEW issue. Dozens of leading companies have offered their insights and an examination of their experiences regarding their operations during 2015.
Offered in alphabetical order, these major representatives of the SATCOM and related industries review the challenges and success many have had to face and deal with during 2015—all to the betterment and success of their companies.
We can certainly report that the commercial SATCOM industry, as a whole, appears to be experiencing some amazing technological advances and business success. The mergers and acquisitions of the past year will certainly continue into 2016. Personnel and projects will transition from one company or organization to another, as business models flex to account for new projects, amazing discoveries and thrilling missions.
We earnestly wish the readers of SatMagazine a most prosperous and enjoyable 2016 and that the content presented here will be of interest to you and, most importantly, offer some insight into the world of SATCOM and the bright future ahead.
All our best — the editors.
---
Advantech Wireless
By Steve Richeson, Senior Vice President, Global Sales + Marketing

Advantech Wireless has experienced rapid and consistent growth by investing in innovative products that have inspired the industry.
Over the years, the company's products have received numerous awards and recognition from industry peers and associations. In 2015, Advantech Wireless was honored with the prestigious Technology Company of the Year Award, as well as the Vertical Impact Award—Broadcast, which were presented at a ceremony held at the Satellite 2015 Conference and Exhibition.
Steve Richeson, Advantech Wireless' Senior Vice President for Global Sales and Marketing, said, "2015 exceeded our expectations. We saw the effect of increased customer confidence in our innovative and cost-effective solutions in both the Radio Frequency Product and Satellite Networking segments of our business.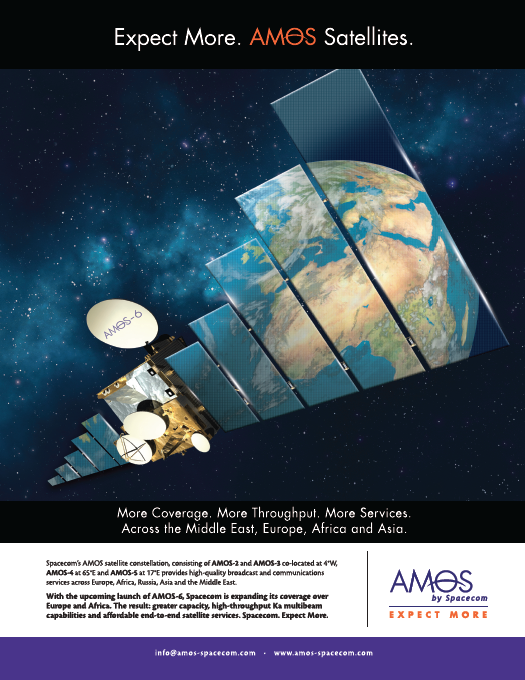 "We have maintained our market leadership and seen strong demand for Gallium Nitride (GaN) based Solid State Power Amplifiers and continue to invest heavily in the development of this technology which we introduced in 2010. In the Satellite Networking sector we have been recognized by the industry as offering the most efficient and dynamic allocation of access methods to network operators. We continue to help satellite and teleport operators optimize their investments and overcome the switching cost to move away from legacy technologies through creative business partnerships and network customization."
The introduction of Advantech's second generation of GaN based units opened new opportunities in market segments that traditionally relied on traveling wave tube (TWT) based amplifiers. The vast reduction in overall size, weight and power consumption along with the enhanced linearity of these pioneering amplifiers facilitate new applications in tactical Troposcatter communications, scientific research facilities and continue to offer drastic cost reductions for teleport operators in the broadcast industry.
In the satellite networking sector, the company won major contracts to provide VSAT solutions globally, including a complete mesh networked solution in a Latin American country for aeronautical services, Air Traffic Control (ATC) and communication with airports in remote areas.
During the VSAT Global Conference 2015 in London, Advantech Wireless was recognized as the VSAT Manufacturer of the Year. This competitive award was open to all companies manufacturing products for VSAT service providers, satellite operators and end users. This award recognized Advantech Wireless' innovation and evidence of how the products have enable next generation services and applications.
In 2015, the company announced the Series 7000 family of satellite networking routers/modems in response to operators' demand for competitive multi-service solutions. The new product family supports Advantech Wireless' A-SAT-II™ Bandwidth Optimized Satellite System technology, providing more than an 80 percent improvement in satellite bandwidth utilization through improved carrier modulation and dynamic transmission switching between multiple access schemes.
This novel combination of access schemes and intelligent allocation lets carriers and network operators use the most efficient link transmission modes across a customer base made up of diverse market sectors and applications such as Cellular Backhauling, SCADA, Broadcasting, Oil & Gas, Enterprise, Maritime, Homeland Security, Consumer Internet, Military and Mobility.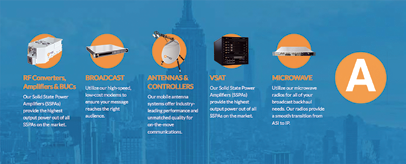 "2016 looks to be a another milestone year for Advantech Wireless and our customers" Richeson said. "We will be introducing complete solutions optimized for High Throughput Satellite (HTS) networks that leverage both the RF and Satellite Networking sectors of our business while continuing our expansion in support of the Satellite Services aspect of our business and of course continuing our commitment to expand and develop our highly motivated and successful technology and commercial team."
For more than 20 years, Advantech Wireless has built an enduring legacy of excellence by designing and manufacturing cutting-edge terrestrial and satellite communications solutions that help our customers achieve success. The company's innovative technologies have enhanced the communication capabilities of government agencies, military personnel, emergency response units, private corporations as well as Internet, television and radio broadcast providers in over 150 countries.
Offering wireless broadband communications solutions for Commercial, Critical Infrastructure, Government and Military clients, Advantech Wireless' smarter solutions give clients the freedom to reach farther, to achieve reliable connectivity anywhere in the world and to accomplish critical missions of global significance.
advantechwireless.com/
---
Bridge Technologies
By Simen Frostad, Chairman

2015 has been a year wherein Bridge Technologies has launched more product than ever before, all a result of research and development programs in many areas—at the same time, the pace of our R&D has increased too, as it must, as the media industry is undergoing profound changes.
A single theme for this year in the broadcast industry is difficult to pin down in the manner in which a fashion commentator can accomplish ("this year, be seen in lime green…"). At every major trade show, manufacturers vie with each other to carve out the headlines with some tagline that is meant to define the moment. In reality, life in this industry is a lot more complex than a simple statement. However, some underlying themes persist, while the fads come and they go. Usually the underlying themes are the more important ones and encompass the more problematic issues, less easily encapsulated in snappy taglines.
Such is true for 2015. Chickens have come home to roost for many broadcasters and media operators as they have start to realize just how complicated the full benefits of IP in a media delivery context are to grasp. This is partly because the interaction between broadcast and IP technologies throws up a lot of phenomena that are unfamiliar to specialists in one field or the other; those complexities are inherent.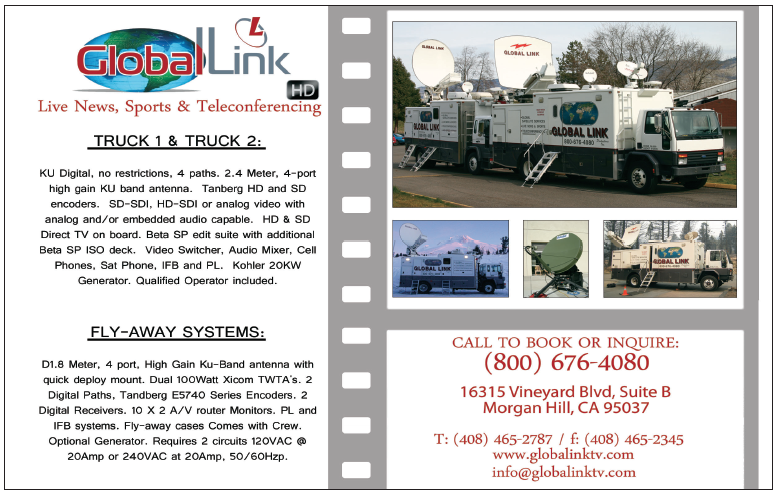 This is also due the expertise gap that media operators are struggling with are difficult to grasp, because it's difficult to hiring and retaining staff who possess a deep and thorough knowledge of both domains is difficult to accomplish. The reality of media delivery these days is that engineering staff have to become generalists.
Pity the old school broadcast engineer thrown into the deep end with OTT, IP distribution and the rest of the broadcast technologies. Likewise, the IP specialist is now suddenly confronted with the peculiarities of various broadcast technologies. The more broadcasters use IP and the more they launch OTT services, the sharper the focus will become on this seemingly ever-widening expertise gap.
We work hard at Bridge to develop products that don't assume massive expertise on the part of the user. Many of the developments we launched in 2015 are far easier for generalists to understand and act on with confidence.
Our Remote Data Wall is an enormously configurable tool that allows control room staff and field engineers to bring together exactly the grouping of data types that they need in any situation and to see the data presented in a friendly and easy to understand form at a glance. This lowered threshold for comprehension is vitally important as the technology is so fluid now that a single engineer can't hope to comprehend all of the permutations, or keep up with evolution's rapid pace.
At least some things remain relatively simple—the old computer science maxim "Garbage In, Garbage Out (GIGO" can certainly be applied at the start of the distribution chain, although many media providers don't know how to effectively exclude the garbage. One of our launches in 2015 focused on improved satellite ingress monitoring.
A great deal of development work went into our ingress cards and the list of metrics now monitored by the solution is huge. However, once more, the key is to provide a tool that can be easily understood by the operator monitoring the incoming feeds from the satellite—all without possessing arcane expertise.
The same principal underpins Timeline, a new graphical data analysis technology we launched in September that allows users to play through recorded monitoring data in an NLE-style timeline display to observe correlations and patterns of errors occurring over any time period. Users can scrub through the data at any point in the recorded archive, opening and collapsing data tracks, and zooming in to observe fine detail on all the visible tracks. The Timeline shows content thumbnails, alarm markers and all the metrics familiar from the MediaWindow displays, making visual navigation through the data simple and quick. Engineers can search through the chain of events that led up to service failures, and generate reports for remedial action or fulfillment of regulatory SLA obligations.
During service operations, when an error or failure occurs, engineers prioritize fixing the fault and, often in the heat of the moment, there is not the time available for them to understand the root causes. The Timeline functionality enables operators without a high degree of technical knowledge to go back and explore, understand, verify and document in complete detail what happened at any given time, or look for patterns over longer periods of time, and take action to forestall any recurrence of a similar problem.
With so many distribution networks becoming regional or global, the ability to implement infrastructure changes remotely is increasingly important. For customers with large server-based infrastructures, we introduced a range of virtualized monitoring probes to complement our hardware line. These virtualized probes have exactly the same APIs, functionality and behavior, but instead of requiring a slot in a rack, they can be deployed anywhere on the planet in only a couple of minutes. The demand for this type of virtualized device is another example of the way broadcasting and media distribution is changing radically, and this will continue to change through 2016 and beyond.
The glittering promise of file-based workflows and packet-based transport rather belies the critical importance of timing and this, if anything, is likely to become a theme in the future. That's ironic, as timing has always been critical to broadcast; without it there would be no coherent distribution, but OTT distribution for content on demand seems simple because it's packet based.
The timing issues become quite complex if you are dealing with a global distribution from one place, which is often the case. Don't expect "It's All About Timing" to be the next big tradeshow theme, even though this subject really should be of major concentration. Timing is far too complex an issue to simply become a fad.
bridgetechnologies.tv/
---
Cobham SATCOM
By Casper Jensen, Vice President, Business Development

In the latter half of 2015, Telenor Satellite Broadcasting's THOR 7 satellite was switched on, while Inmarsat's Global Xpress has been operating on a partial basis for the entire year—the full service is expected to be live early in 2016 and, while Ka-band HTS services are building a strong foundation of land users, HTS will make a significant impact in the maritime sector.
Though we see strength in wideband VSAT for many years to come, we are keen to help the maritime market adopt HTS with easy to install, highly reliable and best performing Ka-band antennas. Early on, we also ensured that our Ku-band antennas can be easily migrated to Ka-band in-situ, giving service providers and end-users the flexibility to change frequency bands in the future without replacing the antenna, which on a ship can be a logistical nightmare in addition to being quite costly.
Cobham SATCOM's larger Ka-band HTS antennas were ready for market in 2014 and are proving popular. In September of this year, we introduced two, new 60 cm class Ka-band antennas. The all-new SAILOR 60 GX and SAILOR 600 VSAT Ka are based on a unique, super-light, high performance Ka-band VSAT platform. They share the same advanced design and carbon fiber composites/aluminum construction, resulting in a weight of just 82 lbs / 37 kg. While being some of the lightest Ka-band antennas in the 60 cm class, both retain the performance and reliability of larger SAILOR VSAT and GX antennas, already recognized as leading technology solutions for maritime broadband.
SAILOR 60 GX and SAILOR 600 VSAT Ka- are easily lifted or carried onto a vessel and installed without occupying too much precious space. This can reduce installation costs and the use of modern, lightweight materials does not affect performance. In fact, like all SAILOR VSAT antennas, SAILOR 60 GX and SAILOR 600 VSAT Ka- (see photo in column one on the next page) offer class leading RF performance, which ensures high reliability and availability of broadband on board. For yachts, fishing vessels and workboats with space restrictions, these new antennas are an opportunity to move from L-band MSS and make more use of data and IP applications. The optimal size/performance balance of Cobham SATCOM's new antennas is possible because HTS services use spot beams instead of wide beams. With advanced engineering and software design, they can operate anywhere in the satellite footprint and provide a strong link to the satellite, even with a smaller reflector dish.
Land Innovations
In September of this year, we introduced a significant innovation in land 'Comms-On-The-Pause' (COTP) communication. The new one meter EXPLORER 8100 Auto-Acquire Drive-Away for vehicular installation is the only antenna of its kind to use stabilization technology—even if the vehicle it is installed on moves, i.e., when people get in our out of the vehicle, the antenna retains a strong link to the satellite. Stabilization is particularly important for Ka-band usage; mechanical impacts as small as 0.3 degrees may lead to an immediate loss of signal. The company introduced
'Dynamic Pointing Correction' from our stabilized Maritime Antennas on EXPLORER 8100 to ensure uninterrupted transmission when similar antennas would experience a complete loss of signal.
EXPLORER 8100 VSAT uses a state-of-the-art RTM carbon fiber reflector for impeccable precision. When combined with pointing correction technologies, the antenna delivers the most accurate Drive-Away VSAT on the market.
Other developments for land include the EXPLORER 540, a unique M2M terminal that was launched during OilComm in November. This is the world's first Machine-to-Machine (M2M) communication terminal to operate on both Inmarsat BGAN and 2G/3G/GPRS networks, which provides unique installation flexibility and M2M data communication cost-control, as it ensures the most cost-effective communication service can be chosen depending on location of the installation and service quality/availability.
Aviation Safety
While Ka-band has been in focus for Cobham SATCOM's land and maritime business units this year, in the air, BGAN is still the lead product group, especially with the on-going development of Inmarsat's SwiftBroadband safety services, which are due to be approved for commercial airline operations during 2016. Safety Services allow the fast, efficient transfer of ACARS data messages over SwiftBroadband, as well as flight deck safety voice and IP connectivity, enabling other flight enhancing operations and cockpit services.
Using SwiftBroadband safety services to transmit ACARS data, AVIATOR S Series enables secure data communication, IP connectivity and multiple voice capabilities. The combination of IP and ACARS data pipes allows network integration with a portfolio of data housing and transmitting components on the aircraft such as cockpit, Electronic Flight Bag devices (EFB), onboard maintenance computers and devices used by the crew to service passengers.
In November, the first call was completed using the AVIATOR 200S system. The 'on air' milestone represents a significant step forward in making AVIATOR S available for airlines to coincide with approval of the SwiftBroadband safety service. This event was another important milestone in the evolution of the company's game-changing AVIATOR 200S system and allows airlines to enable their fleet with a previously unseen versatile and economic SATCOM solution.
Fast Forward—2016
Next year will be the real start of HTS services in the maritime and land sectors. The last five years of development have been leading up to this and Cobham SATCOM comes to the market with the most complete
Ka-band portfolio of any manufacturer. This means that 2016 is going to be a big year. However, Ku- and C-band VSAT will continue to lead the way, so as much as the company is focusing on a new generation of services, innovation will continue for a market that continues to consume huge amounts of data over Ku-, C- and indeed, L-band. The coming changes in 2016 are extremely exciting for Cobham SATCOM.
cobham.com/satcom
---
CPI Satcom Products
By Doug Slaton, Marketing Communications Manager

2015 was another exciting year for Communications & Power Industries (CPI) with regard to both technical innovation and new product introductions.
The company answered the strong TWTA market need for higher output amplifier power at DBS- and Ka-band, implemented our LifeExtender™ technology into several product lines, and opened up an entirely new market for CPI's high-efficiency HPAs with the implementation of our patented "Dynamic Depressed Collector" (DDC) technology. Expanding CPI's already significant family of SSPAs, we continued to add to our Gallium-Nitride- (GaN-) based product line, including the introduction of a new lightweight X-band product.
2015 Highlight: Patented DDC Technology
More than a decade ago, CPI introduced a simple, yet revolutionary, product: the SuperLinear® high power amplifier (HPA). As the only fully vertically integrated HPA manufacturer in the world, we were able to optimize the pairing of a CPI-manufactured traveling wave tube (TWT) with a CPI-manufactured HPA power supply; no one else has the capability to manufacture both of these products in house. This integration has created significant power efficiency improvements, which in turn has led to advancements in the amplifiers' size, weight, reliability, and cooling structure.
For many full-time operators, CPI's technology has led to prime-power cost reductions of thousands of dollars per year per amplifier. HVAC costs and UPS requirements have also been reduced. For other operators, the smaller footprint of CPI's HPAs has allowed for more efficient and compact earth-station designs. As a result, CPI SuperLinear TWTAs are a very popular choice for:
• Fixed Earth stations with high energy costs
• Mobile uplinks for commercial and military where size and weight are a premium
• Systems driven by generators that consume valuable fossil fuels
The CPI SuperLinear® TWTA is regularly chosen by many operators over other technologies because it simply makes good technical, financial and business sense to do so.
However, not all system operators have been in a position to reap the efficiency benefits that CPI's SuperLinear TWTAs offer. Because SuperLinear HPA technology sacrifices the ability to run at peak power (Psat) so that maximum efficiency can be achieved in the linear operating performance range, those operators who require occasional full peak output power have had to rely on traditional HPAs. With CPI's new DDC technology, this has changed: no longer must operators choose between high efficiency and high power. Thanks to CPI's patented Dynamic Depressed Collector (DDC) technology, operators can alternate between highest efficiency and CW modes on the same amplifier at the touch of a button. For more autonomous systems, the HPA can automatically select the best mode of operation based on system requirements.
As with CPI's SuperLinear HPAs, the cost savings are quite dramatic when compared to traditional TWTAs operating at linear power. However, when breakthrough power is needed, the CPI DDC HPA delivers that as well.
DDC amplifiers are very appropriate for applications that require occasional operation at high output power levels, such as:
• TT&C and IOT users who need max power regardless of linearity
• Uplinkers on the edge of a beam or in rain-fade conditions who rely on full power to make their links reliable
• Single carrier users who want to push higher than 3 dB backof
• DDC technology is currently available on the CPI C-band 2.25 kW rack-mount TWTA, with more frequency and power options to follow in 2016
New 1.25 kW DBS-Band TWTA
CPI's new 1.25 kW DBS-Band SuperLinear ODU provides up to 552 W of linear output power at the flange, in the same mechanical outline as the company's 500 W and 750 W CW products. This allows for a form-fit-function upgrade in power. The TWT in this new amplifier, while remarkable for its breakthrough power, represents a relatively low-risk development compared to other high power DBS-band TWTs on the market, as the amplifier and tube were the result of a collaborative internal effort between CPI's Microwave Power Products (MPP) and Satcom divisions. For facilities requiring quieter operation and improved MTBF, CPI's 1.25 kw DBS-band SuperLinear ODU is also available with liquid cooling.
CPI Surpasses The 700 W Ka-Band Mark
Continuing the expansion of its broad Ka-band product line, CPI recently introduced a 4 GHz bandwidth, 700 W Ka-band TWTA. This combination of power and bandwidth represents a real breakthrough for Ka-band uplinks. As with the 1.25 kW DBS-band amplifier, the TWT and amplifier are the result of a collaborative internal effort between CPI's MPP and Satcom divisions.
10 W X-band Transceiver
CPI entered the RF transceiver market this year with a 10 W X-band GaN device suitable for an ARSTRAT-certified "man-pack." It is highly efficient, requires no fan, and is extremely rugged. CPI has already delivered approximately 100 of these devices to the U.S. military.
Among many other technical milestones and advancements, these four major accomplishments from CPI in 2015 are notable; they fulfill urgent market demands with new and innovative solutions. Because of these accomplishments, system operators and integrators now have options for higher power in DBS and Ka-band. Some markets that previously were not able to take advantage of CPI's industry-standard SuperLinear TWT offerings now have the option to realize similar cost savings with DDC technology.
These advances are not simply a repackaging of existing technology --- they are breakthrough solutions that keep CPI TWTAs and SSPAs at the leading edge of amplifier technologies used in ground-based satellite communications.
cpii.com/satcom
---