In August of this year, the maritime communications world was stunned as Inmarsat, the stayed and conservative ruler of maritime markets and the staunch advocate of L-band services, announced it was going to launch Global Xpress, a revolutionary new Ka-band VSAT service. At that moment, the world of communications at sea changed. VSAT, a service long scorned by the communications giant, was finally and formally acknowledged as a preferable means of providing economical, high-speed access to the Internet at sea.
Those who follow these markets closely have seen change coming. Driven by an ever-increasing demand for fixed priced high-speed broadband service, major fleet operators are abandoning pay-by-the byte service. Bit by bit, VSAT has eaten away at Inmarsat's L-band share, forcing the Company to accept the inevitable: with monthly levels of demand rising to 20 to 50 Gigabytes of data per-month, major Tanker and Containership fleets have found Fleet Broadband's pay-by-the-byte services simply uneconomic.
Among the major shipping segments, justification for VSAT adoption is increasing at significant rates. Among the reasons for the recent increase:
Average crew age is dropping as younger Internet savvy seamen come aboard ship and expect the same level of communications onboard as they have become accustomed to at home
In the Tanker industry, crew shortages are acute and providing Internet connectivity and low or no cost — VoIP calling is critical to reducing crew attrition
Video demand for personal and business use is soaring, including security and surveillance applications, and Skype with video calling is becoming a preferred means of IP communication
New, broadband dependent applications are offering ship managers the opportunity to enhance efficiency and lower costs. Applications such as Sperry Marine's new Fuel Optimization software application, Vessel Telematics, remote PC and Bridge Consol maintenance offer substantial operational savings and are becoming more common
Electronic charts will be mandatory in 2012 and can be received via VSAT without the need for a $4,000 decoder now required for the popular Chartco/Inmarsat service
Regulatory documentation is increasing. For those vessels carrying hazardous cargo access to document and forms libraries onshore has become critical

This year, Tanker Market Leaders Tsakos, Teekay, Frontline, Stolt Nielsen, Crystal Pool and others have all opted for VSAT. In the Containership segment — despite the difficult economic times — Peter Doehle has installed VSAT on several of its vessels and shipping giant Hapag Lloyd is now tendering for VSAT on 35 vessels.
More than a dozen primary VSAT providers (not including re-sellers) now offer Global Ku-service to the market, including service suppliers Marlink, Ship Equip, Eutelsat, Orange Business Services, GE Satlynk, MTN, NSSL, Speedcast, Radio Holland, Mach6, Caprock, KVH Industries and Singtel. Competition has driven prices down to the sub $3,000 per-month level for 256 X 512 (10:1 or better contention ratio) and Marlink and KVH have recently introduced entry level, upgradable services at $1,500 and $1,000 per/month respectively.
On the capacity side, to satisfy the growing demand for bandwidth, more satellites are being added. VSAT operators Intelsat, Telesat, and Eutelsat are rapidly adding new satellite capacity. Telesat now covers 2/3 of the Atlantic with Telesat 11n and 14n (soon to be replaced by 14R), and Intelsat is launching several new satellites over the next three years including IS 19, a satellite planned to vastly expand coverage over the Pacific Ocean Region.
As competition intensifies, vendors are struggling to add value and differentiate their offerings as an alternative to relying on aggressive pricing to sell their services. More and more offerings feature complete or semi-complete solutions. Some notable service advancements include:
Market leader Marlink's @SEAwebControl, software that manages bandwidth and controls access to harmful and inappropriate websites
MTN's StreamXcel Plus, which includes IP switching, remote administration of servers and computers on board, anti spam and anti-virus solutions and data compression
Integration of SeaTel antennas with the Uplogix Appliance thereby enhancing remote maintenance capabilities and reliability
Globe Wireless iFusion, one of the most aggressive efforts yet at providing a total solution, offers a service that includes a Fleet Broadband 250, a least-cost satellite router with provision for additional gateways, GSM network, crew services, applications, network management and remote monitoring and management tools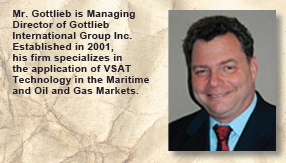 With the adoption of VSAT by many of the largest Tanker and Containership companies this year, we expect the transition to VSAT to accelerate dramatically. In 2011 and beyond, Crew Welfare, new applications, increased satellite capacity and the offering of complete solutions packages by vendors will make unlimited, fixed priced Broadband a new and widespread reality at sea.
http://gottliebinternationalgroup.com