April 2009 Edition

New Applications
UPLINK
UPLINK: The Way Things Were + Are..., by Hartley Lesser, Editorial Director
Here we are — Spring — the start of the SATCOM and MILSATCOM industry trade shows circuis. Although there have been a few alterations in various companies' plans to exhibit and/or participate at these shows, the numbers in attendance reflect a highly positive attitude regarding the business future of our various arenas. This is a good sign that the economic environs of our industries are weathering the financial ebbs and flows with far better aplomb than many had expected. Let us all be grateful for our employment, and that we are able to maintain and, yes, even forge further ahead with our satellite professions, and to create products and services that remain in demand across the globe.
INSIGHTS
Insight: Euroconsult Executive Briefing, Satellite Applications Continue To Emerge
Forty years after its introduction as an operational technology, satellite communications have reached maturity — the replacement of aging geostationary satellites and LEO constellations drive the industry's business cycle.
Insight: The Forrester Focus, Another Major Mid-East TV Development
The past few years have seen a flurry of media hubs created in the Middle East, not the least of which is the giant Media Production City in Cairo (at 35 million sq. feet) which was completed in 1996. More recently established is the Dubai Media City and its associated facilities that opened its doors in 2000. Other clones have followed, each offering similar tax-advantages, 100 percent foreign ownership with promises to boost local media production, create jobs and place the venue onto the map — as far as Hollywood and Bollywood are concerned.
Insight: The Fleck Focus, Satellite Enabled Digital Cinema in Asia
With an estimated 30,000 cinema screens, the Asia Pacific region is the largest untapped market in the world for this new wave of theatrical content. Across the region, there is a rapid conversion from the old optical projection to high definition digital projection. The systems range from US$50,000 to US$200,000 per screen and are being funded by governments, private investors, and cinema owners. Once installed, they allow the cinemas to eliminate celluloid, and projector movies from digital drives or 'trickle' downloads across the Internet. For US$5,000 per cinema (not per screen), these cinemas can be enabled to receive live content from anyplace in the world, giving them an impressive new revenue source.


Insight: Futron Executive Briefing, Suborbital Spaceflight... It's Not Just For Tourists Anymore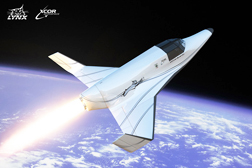 For the last several years, commercial suborbital spaceflight has been synonymous with a single application: personal spaceflight, better known as space tourism. That's due, in part, to the publicity attracted to this sector by the $10-million Ansari X Prize competition, won in 2004 by Burt Rutan's SpaceShipOne, not to mention the marketing prowess of Richard Branson and his space tourism venture, Virgin Galactic. Several other companies are developing vehicles to serve this market, from small start up ventures such as XCOR Aerospace to ultra-secretive Blue Origin, backed by Amazon.com founder Jeff Bezos.
Insight: NSR Executive Briefing, Beyond The Platform Wars... Is Collectivism Coming To TV?
To obtain a glimpse of the future of television beyond today's push for technology pragmatism and cross-platform play, one must simply observe recent developments driven by some of the most respected players in the industry. Netflix's expansion of their successful "collaboratively-recommended" mail-order DVD rental service into streaming distribution is a classic (and anticipated) case, as could be TiVo's aggregation of online video and collaboratively-filtered menus. However, perhaps a more surprising example is CNN's recent decision to rely on "collectivist" peer-to-peer (P2P) distribution technology for their live video streaming channel at CNN.com.
INSIGHT: The NGA — GPS Consumer and Contributor, by Vice Admiral Robert B. Murrett, Director, NGA
Over the past decade, the NAVSTAR Global Positioning System (GPS), managed by the U.S. Air Force (USAF) Space Command for the Department of Defense (DoD), has become the most exploited space-based asset that the U.S. government has ever developed. As GPS provides space-based radio navigation for anyone with a GPS receiver, both civilian and military uses have increased exponentially.
FEATURE
FEATURE: Securing Your Hybrid Network, What Every Satellite Operator Should Know
Satellite systems provide an excellent way to broadcast large amounts of content to wide geographic areas. But satellite pay-TV operators are struggling to offer interactive and on-demand services as they experience more competitive pressure. In general, satellite operators are enhancing their lineup with HD via the existing Digital Video Broadcast (DVB) infrastructure. Yet in order to compete effectively with cable and Internet Protocol Television (IPTV) services, they need two-way communications capability in order to offer enhanced on-demand services.
FOCUS
FOCUS: Ensuring VoIP Quality...,
Voice over IP (VoIP) allows digitized voice conversations to be transmitted via Packet Switched IP networks. Due to the unique nature of IP-based networks, certain minimum network requirements must be met in order to preserve the end-user's Quality of Experience (QoE).
FOCUS: A SMART Model for Interoperable Communications, by Chief Charles Werner, Chair, International Association of Fire Chiefs Technology Council — in cooperation with SkyTerra Communications
Public safety professionals and emergency responders are trained for the all-important job of protecting the public — on a day-to-day basis and when faced with a natural disaster or other emergency situation. Much of this training and preparation assumes that they will be able to communicate with each other when an emergency occurs.

FEATURE: : SatSharks — Knowing Where They Are...,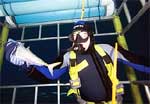 A U.K. armed forces expedition recently conducted a diving and shark tracking exercise off the coast of Costa Rica as part of the worldwide effort to increase shark conservation. A key element of the program was using SATCOM technology to update the team blog and podcasts in order to engage the public. NSSL, the international satellite communications service provider, contributed essential equipment and support for the expedition. The Broadband Global Area Network (BGAN) Explorer 500 satellite communications device, and an Iridium handset, enabled the entire team to benefit from high-speed broadband data and voice communications with the United Kingdom while at sea throughout the expedition.
FOCUS: Improving Digital Media Satellite Networks,
Since the early days of transcontinental, intercontinental and global networking of television content, great attention has been directed to maintaining the integrity and quality of video and audio content. Prior to the introduction of digital television in the late 1980's, satellite links were analog and subject to deterioration in signal-to-noise ratio and other distortions. This resulted in lowered quality of the video and audio signals delivered to consumers.
FOCUS: Plan B... For Continuous Signal Reception,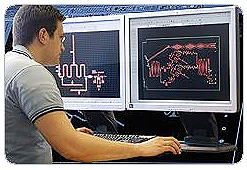 Black screens and complete audio dropouts around the world for 18 minutes; what sounds like a scenario from the Stone Age of live broadcasting became a reality for the 29.46 million TV viewers who wanted to watch the Euro semi-final between Turkey and Germany in the summer of 2008.
INPUT: Tools of the Trade