SM
Please tell our readers about your Company's business focus, and history, within the various European market segments.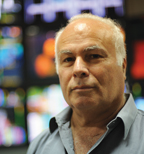 David Hochner
When SatLink Communications was founded in 1988, the company focused on Occasional Use sports and news delivery, connecting Europe and Asia. Today, Satlink is a global provider of content delivery, as well as occasional use Sports and news delivery, which is still at the forefront of our business.
Occasional Use Satellite Delivery for sports is one of our specialities and we have been responsible for transmitting a wide range of events from Europe such as the UEFA games and the Athens Olympics Games in 2004. We are delighted to say we are doing the same for the London 2012 Olympics too, reaching vast audiences in Asia and Africa. In addition to this, SatLink serves leading Europe-based satellite owners such as SES with different engineering services, as TT&C and satellite drifting.
In 2007, SatLink purchased its first transponder on the Hotbird satellite. We began distributing services for American premium broadcasters, such as Viacom, to Europe and other continents.
SM
What European SATCOM sectors do you believe offer the most potential for Company growth and why?
David Hochner
SatLink Communications sees the European market as being one of the most substantial in terms of satellite distribution and broadcast services. The use of satellites in the continent's DTH market is continuously growing, with leading platforms such as Sky Italy and Canal + expanding their outreach and offering additional HD channels from European and international broadcasters.
Leading on from this, I am positive the satellite industry will soon witness a new innovation that will combine OTT with satellite solutions in the future. This innovation will allow broadcasters and content owners to distribute high quality video feeds across the globe, and may also address bandwidth capacity issues that the industry, as a whole, is experiencing in Europe and other parts of the world.
SM
How is your Company coping with euro fluctuations?
David Hochner
We see this as an opportunity for mergers and acquisitions.
SM
How will the European markets impact global, as well as your Company's business opportunities?
David Hochner
SatLink is currently renovating its recently purchased HD Playout Centre to cater for our broadcast customers Playout, OTT, Digital Archive and content management needs. We are providing end-to-end solutions to broadcasters including, production, payout and global satellite, fibre and internet distribution. We are perfectly equipped and situated to support channel localisation, adjusting our client's feeds to the different global markets and distributing their signal all under one roof, helping them to maximize their incomes for their businesses.
SatLink, as well as other satellite and media operators, is looking closely into the OTT trends and is implementing the required technologies into its new HD Playout Centre.
SatLink is also building DVB-S2 platforms on AsiaSat5 and T12, as well as establishing a presence on AMOS 5, to distribute European channels to the emerging markets of Asia, Latin America and Africa respectively.
SM
How will the European markets impact global, as well as your Company's business opportunities?
David Hochner
SatLink is seeing consistent growth in the HD channel market, especially broadcasters wanting to distribute both to and from Europe to the world. We are also seeing this market producing interesting OTT platforms on the rise, offering linear and non-linear content in an attempt to expand their reach beyond Europe. Of course, European sports and news delivery is also on the rise, with a greater demand for HD as well as 3D content.
We also see Europe as a fantastic market for opportunities for global broadcasters, as well as proving less obstacles—other markets see limited growth because of broadcasting regulations and restrictions. However, a main obstacle for all broadcasters in Europe is the lack of bandwidth capacity, which is being address by companies across the globe as NovelSat's NS3 which we have their equipment in our teleport in use.
About the author
David Hochner has been the CEO of SatLink Communications since 1995, joining the company from Scientific Atlanta after running its Israeli branch. David joined in 1989, assisting with the implementation of Israel's cable infrastructure. At SatLink, David lead many large scale projects including teleport build up in Cyprus, a new Satellite DTH company in Japan including rights management, and acted as an advisory for the Philippines Cable Company in Manila for ABS-CBN. David is an amateur photographer and an experienced skipper.