---

---
NASA launches the Artemis I mission + Lockheed Martin info
With all of the past launch stutters now water under the bridge, NASA has successfully launched the Artemis I mission from the Kennedy Space Center via the agency's Space Launch System rocket. With four, RS-25 engines powering the rocket with 8.8 million pounds of thrust, the view of the lift-off from the ground was unimpeded by any weather anomalies.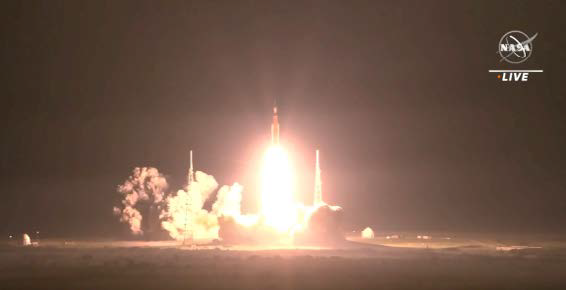 The Artemis I mission launch from Kennedy Space Center
Image is courtesy of NASA.
Artemis I is the first integrated flight test of NASA's SLS rocket, an uncrewed Orion spacecraft and the ground systems at the agency's Kennedy Space Center in Florida. The NASA launch control center with the launch director engaging in systems polling prior to launch.
The mission will pave the way for a crewed test flight and future human lunar exploration as part of Artemis.
NASA teams conducted thorough assessments of the rocket, spacecraft, and associated ground systems and confirmed there were no significant impacts that would prevent the launch.
Using the Moon's gravitational force, it will propel into a unique distant retrograde orbit that will take it about 40,000 miles beyond the backside of the Moon. Orion will orbit the Moon and collect data to allow mission controllers to assess the performance of the spacecraft and its payloads.
Orion will fly close to the Moon and use a precisely timed engine firing in conjunction with the Moon's gravity to accelerate back toward Earth — traveling at 25,000 mph as it enters the planet's atmosphere.
With a focus on leaning into commercial partnerships and building innovations that will prepare the industry for a future crewed mission, Lockheed Martin has several notables on board the Artemis I mission for the historic ride:
• Callisto: Lockheed Martin partnered with Amazon and Cisco to develop Callisto, a technology demonstration payload installed inside and interfacing with Orion during the Artemis I mission. Since Artemis I is uncrewed, Callisto was designed to test and demonstrate how commercial technology could be used to support future crewed missions in space. During the mission, controllers will operate the payload from the Johnson Space Center.
• LunIR CubeSat: One of 10 smallsats riding along with Artemis I, the Lockheed Mar tin- funded LunIR is a technology demonstration which will take images of the Moon to test the company's ultra- compact, novel infrared sensor that maps the Moon in both day and night. The team will apply learnings from this LunIR endeavor to future lunar and planetary scouting missions to suppor t lower cost, applicable small satellites and technology demonstrations.
• AstroRad Vest: The Artemis I mission will also test AstroRad, a radiation-shielding vest developed by StemRad, a partnership between Lockheed Martin and the Israel Space Agency. The vest is made for space travel and is modeled after anti-radiation vests used by first responders on Earth. The MARE experiment put two torsos aboard the spacecraft – one wearing an AstroRad vest and one without to help determine exactly how much protection it will offer astronauts.
blogs.nasa.gov/artemis/tag/artemis-i
---
Hughes JUPITER 3 satellite production to continue after EchoStar + Maxar amend their agreement
EchoStar Corporation has announced an amended agreement with Maxar Technologies for production of the EchoStar XXIV satellite, also known as JUPITER™ 3 — the satellite, designed for EchoStar's Hughes Network Systems division — is now under production at Maxar's facility in Palo Alto, California.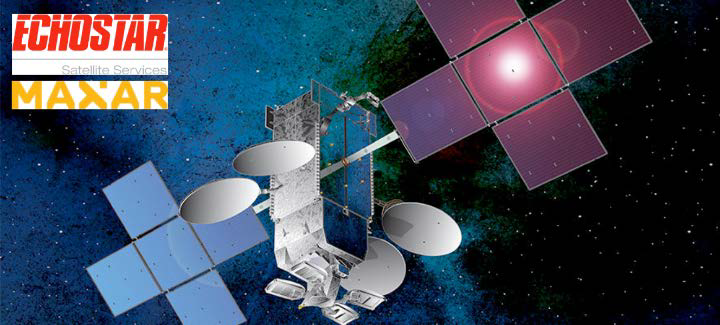 The amended agreement compensates EchoStar for past production delays by providing relief on future payments and expands EchoStar's recourse in the event of any further delays.
The satellite is currently planned to launch in the first half of 2023.
Once in service, JUPITER 3 will deliver more than 500 Gbps of high-throughput satellite capacity, doubling the size of the Hughes JUPITER fleet over North and South America.
The satellite will bring ample capacity to grow the company's flagship satellite internet service, HughesNet®, and help meet consumer, aeronautical and enterprise demand for more bandwidth and higher speeds.
The satellite is now undergoing final integration in preparation for dynamics testing.
Remaining work on the satellite consists of the launch dynamics test, final spacecraft performance tests and shipment to the launch base.
"Launching and bringing the Hughes JUPITER 3 satellite into service is our highest priority to meet our customers' needs for connectivity," said Hamid Akhavan, CEO, EchoStar. "This agreement ensures that Maxar shares that priority with us and reinforces our joint commitment to complete production of the satellite to world-class standards, as expeditiously as possible."
"We look forward to continuing our strong collaboration with EchoStar to complete construction of the JUPITER 3 satellite in line with the current schedule," said Daniel Jablonsky, President and CEO, Maxar. "This agreement underscores Maxar's state-of-the-art manufacturing capabilities as we enter into the final phases of construction of this ground-breaking spacecraft."
www.echostar.com
www.maxar.com/
---
Rocket Lab selected by NASA to Launch the TROPICS mission
Rocket Lab USA, Inc. has been selected by NASA to launch the Time-Resolved Observations of Precipitation Structure and Storm Intensity with a Constellation of Smallsats (TROPICS) mission, as part of the agency's Venture-class Acquisition of Dedicated and Rideshare (VADR) launch services contract.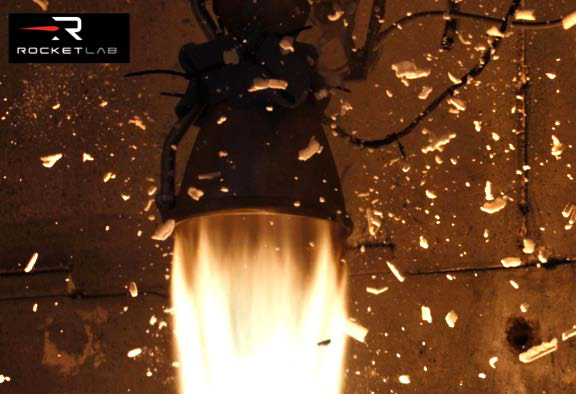 Rocket Lab will launch the TROPICS mission, which is part of NASA's Earth System Science Pathfinder Program and consists of four cubesats in two, LEO planes, into their operational orbit within a 60-day period.
These two dedicated missions will launch on Electron rockets from Launch Complex 2 within the Mid-Atlantic Regional Spaceport at NASA Wallops Flight Facility in Virginia. The launches are scheduled to take place no earlier than May 1, 2023.
The TROPICS constellation targets the formation and evolution of tropical cyclones, including hurricanes.
TROPICS will provide rapidly updating observations of storm intensity as well as the horizontal and vertical structures of temperature and humidity within the storms and in their surrounding environment.
These data will help scientists better understand the processes that effect these high-impact storms, ultimately leading to improved modeling and prediction.
"This year we once again witnessed the devastating effects of hurricanes and tropical storms on lives and livelihoods, underscoring the importance of improved climate data from space to enable scientists and researchers to accurately predict storm strength and give people time to evacuate and make plans," said Rocket Lab founder and CEO, Peter Beck.
He continued, "The TROPICS satellites need a responsive and reliable path to orbit to equip people with near real-time, actionable weather data and Rocket Lab is honored to provide a dependable launch solution as we approach the 2023 hurricane season. We look forward to working closely with the team at NASA to deliver mission success once again."
---
Contract signed by Momentus to deploy the CUAVA-2 smallsat for the Australian Research Centre
Momentus Inc. has signed a contract with the CUAVA Training Centre at the University of Sydney to deploy the CUAVA-2 cubesat to LEO in October 2023.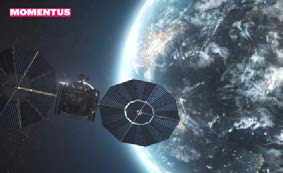 CUAVA is the Australian Research Council Training Centre for CubeSats, Uncrewed Aerial Vehicles, and their Applications and is a partnership centered at the University of Sydney that aims to fundamentally change the capabilities and applications of cubesats to create major, commercial value, with wide applications.
CUAVA-2 is a 6U cubesat with two primary payloads…
• (1) A Hyperspectral Imager developed by the Space Photonics group (SAIL) in the School of Physics at the University of Sydney to demonstrate a novel imager and provide high resolution spatial and spectral data for applications across agriculture and forestry, coastal and marine environments, urban areas, water hazards and mineral exploration
• (2) A GPS Reflectometry payload developed by the Australian Centre for Space Engineering Research (ACSER) at the University of New South Wales. CUAVA-2 will be the second satellite to be launched by CUAVA, targeted for deployment from a Momentus Vigoride Orbital Service Vehicle that will launch aboard a SpaceX Falcon 9 rocket.
CUAVA-2 also carries multiple secondary payloads and technology demonstrations, including the Charge Exchange Thruster (CXT), the wide field- of-view CROSS star tracker, the Electron Density and Debris Instrument (EDDI), the Electro Permanent Magnetorquer, the Perovskites in Orbit Test (Port) payload of advanced solar cells, and a Radiation Counter and Data over Power-bus payload. These payloads were developed at the University of Sydney.
"Momentus is proud to partner with CUAVA, a leading Australian research center," said Momentus Chief Executive Officer, John Rood. "Innovation and pushing the boundaries of technology is what we love to do at Momentus. We look forward to supporting CUAVA's mission to use leading edge capabilities in space to improve life on Earth."
"The CUAVA-2 CubeSat is the culmination of several years of hard work by the satellite team and our partners," said CUAVA Director, Professor Iver Cairns. "We are looking forward with great excitement to the launch with Momentus, and to gathering unique data from the many advanced payloads and technology demonstrators on CUAVA-2 once in orbit."
Momentus is a U.S. commercial space company that offers in-space infrastructure services, including in-space transportation, hosted payloads and in-orbit services. Momentus in-space transfer and service vehicles will be powered by an innovative, water plasma-based propulsion system that is under development.
CUAVA is funded by the Australian Research Council whose mission is to train the next generation of workers in advanced manufacturing, commercial space, and uncrewed aerial vehicle (UAV) applications. CUAVA will develop new instruments and technology to solve crucial problems, and develop a world-class Australian industry in CubeSats, UAVs, and related products. CUAVA has been in operation since December 2017, with headquarters at the University of Sydney.
---
Japan Space Imaging Corporation takes advantage of Satellite Vu's Early Access Option Program
The British company, Satellite Vu, will launch a constellation of satellites to deliver insights supporting global challenges that will be captured from the highest resolution thermal data from space. Satellite Vu has opened an Early Access Option Program (EAOP) which Japan Space Imaging Corporation (JSI) has seen as an opportunity, signing a multi-million pound purchase option.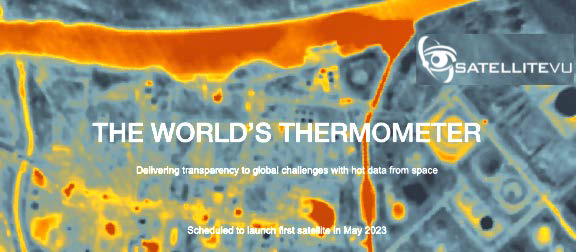 The EAOP provides customers and partners with preferred access to Satellite Vu's imagery, products, and services; as well as the opportunity to secure satellite capacity to support operational and business requirements. Satellite Vu's imaging from space any time of day.
Tokyo based space company, JSI, is a leading provider of geospatial information including satellite data, serving defense and intelligence customers as well as civil and commercial markets in Japan.
Equipped with Satellite Vu's data and insights, JSI will expand their global imaging por tfolio with high- resolution thermal data for any location on the planet.
Ahead of the first launch scheduled for May of 2023, Satellite Vu has been collecting sample data via an aerial campaign. Partners of the EAOP can influence the location of further aerial campaigns, as well as benefiting from early access to the archive.
This will give EAOP partners a head start in applying the insights from Satellite Vu's unique data, and developing their workflows, ahead of the satellite's launch.
During commissioning phase, the EAOP enables access to sample images from the satellite archive using Satellite Vu's delivery platform and API, while also reserving valuable capacity on the first satellite to enable service delivery.
Anthony Baker, Founder and CEO of Satellite Vu, said, "We are excited to be working with JSI to provide our high-resolution data to expand and enhance their imaging por tfolio and boost their national security effor ts.
The benefits of satellite technology and data from space are being felt across the globe, and the launch of our first thermal infrared monitoring satellites next year is the first step in our journey to providing high- quality, consistent data which can have a huge impact for governments and businesses."
Koji Ueda, CEO and President of Japan Space Imaging Corporation commented, "We are thrilled with this partnership with Satellite Vu. Our customers are already expressing their interest in the unique capabilities Satellite Vu brings into the market and we cannot wait to serve them with this innovative data and help them address challenging problems in various fields, including national security threats and climate change mitigation."
---
D-Orbit signs payload hosting contract with SpacePN
D-Orbit recently signed a hosted payload contract with SpacePNT, a Swiss company that specializes in the design and manufacturing of low cost, high-accuracy, GNSS receivers for the New Space satellite market.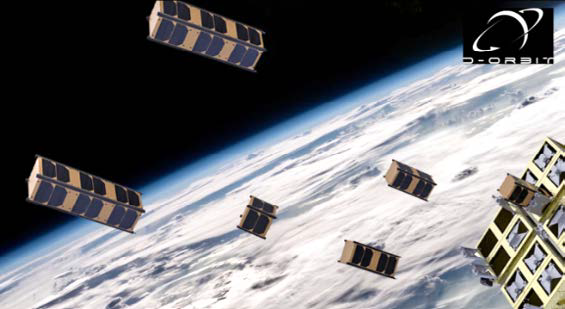 The contract covers the integration of a new GNSS receiver prototype into ION Satellite Carrier, D-Orbit's proprietary orbital transfer vehicle (OTV).
A prolonged series of orbital tests will validate the ability of the receiver to estimate the position and velocity of ION throughout its lifetime, its ability to perform in-flight firmware and software updates as well as its long-term survivability in a space environment.
SpacePNT will have the option to operate beyond the contractually established operation package through a pay-per-use pricing scheme based on usage and data transfer.
SpacePNT's GNSS payload will be integrated on the upcoming SCV010, the 10th satellite carrier launched by D-Orbit since 2020, which is scheduled for flight in Q2 2023.
ION Satellite Carrier is a multi-purpose vehicle capable of carrying out within a single mission satellite transportation, payload hosting, and advanced on-orbit edge computing services.
"We are excited to partner with SpacePNT for a mission that will provide us precise time and position of our OTV during its mission," said Renato Panesi, D-Orbit's Co-Founder and Chief Commercial Officer. "ION's ability to quickly integrate payloads and our flexible manifest enabled SpacePNT to move toward flight- qualification in record time."
"Par tnering with D- Orbit is a huge asset for our development, going beyond the IOV step, allowing to demonstrate sur vivability, maintainability and per formance through D- Orbit exper tise and D- Orbit infrastructure," said Cyril Botteron, SpacePNT 's Co-Founderand Director.
---