ABS + SS/L... A Ten Beamer To Be Built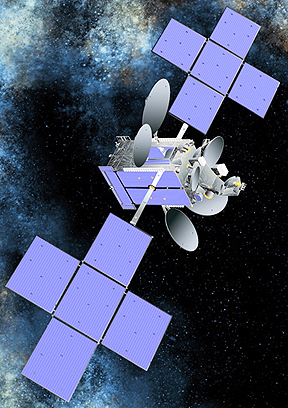 Asia Broadcast Satellite (ABS) and Space Systems/Loral (SS/L) have contracted for Space Systems/Loral to manufacture the ABS-2 spacecraft, which is scheduled for launch in 2013. ABS-2 will have over 12 kW of payload power and as many as 87 active C-, Ku- and Ka-band transponders across 10 different beams, bringing increased capacity and transmission power to the Middle East, Africa, Asia Pacific and CIS/Russia. The ABS-2 spacecraft is based on Space Systems/Loral's 1300 satellite bus, with a separated mass in excess of 6,000 Kg at launch and is designed for 15 years of operational life. ABS-2 will be located at the 75 degrees East, ABS' prime orbital location where ABS-1, ABS-1A, and ABS-1B are currently located.
More Info...
Arqiva Delivers...DIDAR Wants More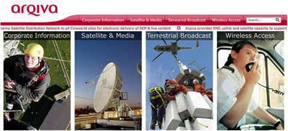 Arqiva is receiving kudos from DIDAR Global TV. DIDAR is calling upon Arqiva's expertise to expand their popular Persian content channel to an even wider TV audience. Arqiva is supporting the expansion of DIDAR Global TV with transatlantic fiber, teleport services, uplinking and satellite capacity to launch the channel onto Hot Bird. This will enable DIDAR Global TV to reach new audiences in Iran and throughout Western Europe. Arqiva has also closed a multi-year agreement with Traffic Sports International to support global distribution of its seven international soccer leagues. Via Arqiva, the television rights holder to Latin America's key soccer tournaments will reach TV households throughout the Americas, Europe, Asia, and the Middle East, which started with the August 4th transmission of the first Copa Sudamericana soccer match.
More Info...
Blue Sky Network... Operator Opportunities
Blue Sky Network is now a service partner of mobile satellite service provider, Iridium Serviçios de Satelites S.A., a subsidiary of Iridium Communications Inc. As an Iridium service partner in Brazil, Blue Sky Network can now provide its satellite-based GPS tracking and remote communication solutions directly to operators of air, land and marine vehicles based in that country. The new partnership expands Blue Sky Network's global footprint and builds upon its long-standing relationship with Iridium. The new partnership lays the foundation for Blue Sky Network's long-term growth in the Brazilian market. The Company recently opened Blue Sky Network Brazil based in Alphaville, just outside Sao Paulo.
More Info...
A Diamond Of A Contract For CapRock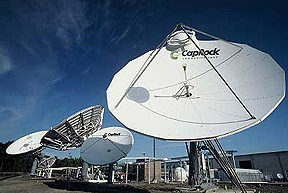 CapRock Communications received notification of an extension today. The multi-year contract extension to provide CapRock's always-on VSAT communications to Diamond Offshore's fleet located in the Gulf of Mexico. CapRock will continue to provide Diamond Offshore with a fully-managed communications solution, complete with equipment, installation and 24/7 support, so that Diamond Offshore personnel can focus on their core business and not be burdened with managing the many components of a dependable communications service. Under the agreement, the Gulf of Mexico fleet, consisting of three semisubmersibles and four jackup drilling rigs, will continue to receive CapRock's always-on Voice over IP (VoIP), Internet access, connectivity to its corporate network, as well as new increased bandwidth to further support growing crew amenities and demands.
More Info...
Comtech... Coming Soon For The Seas...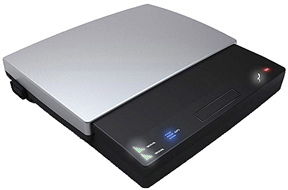 Affordable, high-quality marine broadband is one step closer, with Comtech Mobile Datacom using Dubai's GITEX Technology Week to confirm that its new advanced broadband satellite transceiver will be available to commercial fleets in early 2011. The new broadband terminals, developed in partnership with Thuraya Telecommunications Company, will deliver the first real choice for the maritime sector, complying with all maritime standards to seamlessly connect vessels to the Internet and beyond. Comtech's new state-of-the-art Marine broadband terminal is designed to deliver reliable high performance voice and data broadband services using Thuraya's advanced satellite network.
More Info...
GE - Satcom... In MEA's Best Interests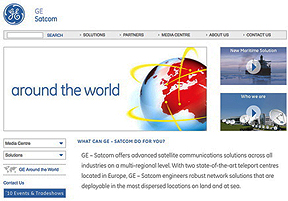 GE - Satcom (NYSE: GE) and du, (DFM: du), UAE's integrated telecom service provider, have signed a partnership agreement that will see the two companies co-operate on the delivery of satellite network solutions throughout the Middle East, Africa, and beyond. The agreement was signed between Ronny Svang, President and CEO, GE - Satcom and Farid Faraidooni, Chief Commercial Officer, du, in Dubai, United Arab Emirates. The deal, which brings together GE - Satcom's advanced satellite communications solutions and du's extensive MEA expertise, gives both partners the opportunity to achieve significant growth, particularly within the region's oil and gas, energy and financial sectors.
More Info...
Gilat + Wavestream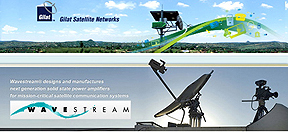 Gilat + Wavestream... [SatNews] Gilat Satellite Networks Ltd. (Nasdaq: GILT) has acquired all of the outstanding stock of Wavestream Corporation. Wavestream is a provider of high power solid state amplifiers. Wavestream's family of K-a, Ku-, X- and C-band Solid State Power Amplifiers (SSPA) and Block Upconverters (BUC) provide systems integrators with field-proven, high performance solutions designed for mobile and fixed SATCOM systems worldwide. Gilat expects to leverage Wavestream's technology and sales reach to further enhance Spacenet Integrated Government Solutions' (SIGS) market position in the government sector. Wavestream's advanced technology has achieved broad-based success within the MILSATCOM and COMSATCOM sectors. The company's products have been selected as key components in a number of DoD programs.
More Info...
Harris... Tactical Move In The Middle East
Harris Corporation (NYSE: HRS) has received $12 million in orders for Falcon III(r) and Falcon II®(r) tactical radio systems from a nation in the Middle East. Harris is supplying this country's Ministry of Defence with Falcon III® RF-7800W High-Capacity Line-of-Sight radios, which deliver greater bandwidth for transmission of data, such as streaming video. The RF-7800W provides a quick-to-deploy, point-to-point or point-to-multipoint wireless Internet Protocol (IP) infrastructure.
More Info...
iDirect... An Evolutionary Move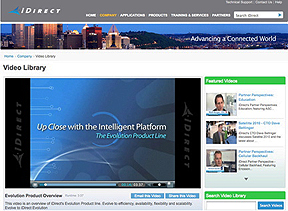 Telenor Satellite Broadcasting (TSBc), a regional satellite operator delivering services throughout Europe and the Middle East, has launched a nexgen satellite network based on the iDirect's Evolution platform. The operator's new network makes valuable satellite capacity available to the region's service providers. To power the network, TSBc has purchased an iDirect Universal 5IF Hub and installed it at its Nittedal teleport near Oslo, Norway. TSBc's Evolution network will support a variety of Virtual Network Operator (VNO) customers who are looking to expand operations and capture new opportunities in EMEA. On land, the network offers always-on, dedicated IP broadband over satellite for service providers to extend terrestrial networks and deliver business-critical Internet, voice and data connectivity to remote areas for enterprise, government and military customers in the Middle East.
More Info...
KVH... Brazil Bound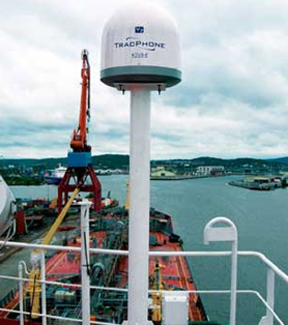 Filling in a major new region in its worldwide satellite communications network, KVH Industries, Inc., (Nasdaq: KVHI) has signed an agreement with Star One to support mini-VSAT Broadband(sm) coverage for Brazil and its offshore waters. Supported via the Star One C-1 satellite, the new service region is expected to go live in the fall of 2010, providing mini-VSAT Broadband service for commercial and leisure mariners, the expanding Brazilian offshore oil and gas fields, and network coverage to the ViaSat Yonder® in-flight broadband network for business and commercial aircraft. The mini-VSAT Broadband network was designed from the ground up to be the first nexgen maritime satellite communications solution.
More Info...
Lunasat... Merging Matters (Services)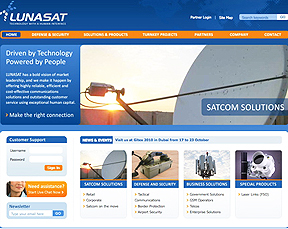 The VSAT division of Lunasat Offshore has merged with IDMH's subsidiaries, IDMI Sal Offshore and Communications Network Services Inc, to establish a new company, Lunasat-IDMI. Lunasat is a satellite services player and a system integrator that provides services to governments, institutions, corporations, GSM operators and end-users in the MENA region. IDMI is Lebanon's leading ISP with about 60 percent of the high speed Internet connection segment covering the individual and the corporate sectors.
More Info...
NYNEX... MEA Makeover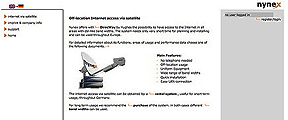 NYNEX Network Solutions (Nynex) has partnered with CETel (Central European Telecom Services) to expand its satellite IP network and introduce new broadband services on the NSS-12 satellite. The satellite network will serve customers in the Middle East and Africa, extending new capacity to Nynex's fast growing market base. To support the service expansion, Nynex has installed an iDirect 5IF Hub in CETel's state-of-the-art teleport facilities in Bonn, Germany.
More Info...
Paradigm Services + Telesat... Satisfaction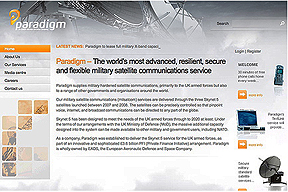 Paradigm Services, part of Astrium Services' Telecoms division, has entered into a 15-year contract with Telesat for the full X-band payload on Telesat's Anik G1 satellite. Astrium, through Paradigm Services, currently provides state-of-the-art seamless milsatcom services to the UK Ministry of Defence, the US Department of Defense, the Canadian Department of National Defence and many other international armed forces and Government Agencies, combining its own satellites with capacity leases to meet all milsatcom requirements. Anik G1, scheduled for launch in the second half of 2012, will operate from 107.3 degrees West and will use a 3-channel, global beam, X-band payload covering Canada, the Americas, and the Pacific Ocean. In addition, Anik G1 will include 16 transponders in extended Ku-band over Canada, 24 C- and 12 Ku-band transponders over South America.
More Info...
PCI Geomatics... A Geo Reach Into Africa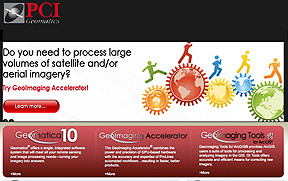 PCI Geomatics plans to undertake a business development mission to Africa and the Middle East to meet, train, and interact with local partners and customers and to participate in a key industry event. PCI Geomatics will begin its mission at the 8th International Conference African Association of Remote Sensing of the Environment (AARSE) in Addis Ababa on October 25-29. PCI will take part in the conference alongside their new reseller, GEOMARK, to raise awareness of PCI products and technology and how they can assist in solving some of the region's geospatial challenges. This is one of the largest African geo-intelligence events and brings together over 600 participants from over 40 countries.
More Info...
RapidEye... A View Of State

RapidEye's Brazilian distributor, Santiago & Cintra Consultoria, has provided RapidEye images to the State of Minas Gerais. As part of the agreement, RapidEye became the sole provider of satellite imagery for three different coverage periods of the State, which began in September 2009 and lasted until the end of July 2010. Additionally, RapidEye is currently acquiring images of major forested areas across Europe and North America. These images will be also used in RapidEye's forest cover analysis and forest inventory services such as tree species determination and stem volume estimation in boreal forests. RapidEye has also just expanded their sales territory in South America, including Argentina, Chile, Uruguay, Paraguay, Bolivia, Peru, Ecuador and Venezuela. These new sales territories will be the responsibility of Santiago & Cintra Consultoria, the company's distributor in Brazil.
More Info...
RRsat... Sporting Endeavors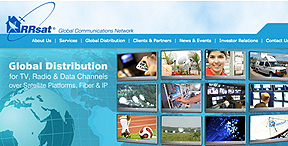 RRsat Global Communications Network Ltd. (NASDAQ: RRST) is working with Sm2 Sports Media Solutions, LLC, and their teleport partner, TV2GO in Canada, to deliver live HD sporting events worldwide in MPEG-4. The programming will include the US Open, the PGA Championship, and — for the first time, globally — the 2010 NFL season. The reduction in megahertz and reduced latency period make HD MPEG-4 broadcast particularly attractive for live sporting events with a global demand for viewership. This is precisely why RRsat and Sm2 have teamed together to broadcast major events.
More Info...
SES... African Reach
SES S.A. has signed a service agreement with the South African information and communications technology provider SkyeVine (Pty) Ltd. for the delivery of its satellite broadband service in Africa. The agreement is the second for SES' ASTRA2Connect broadband platform on the African continent. SkyeVine, a joint venture company between Q-KON and Ellies Holding Ltd., will provide the ASTRA2Connect broadband service to Internet service providers, corporations and public institutions for resale in sub-Saharan Africa. Q-KON is a South-African based engineering group that provides turnkey solutions and managed network services to the African telecommunications market.
More Info...
Stratos Global... BGAN Support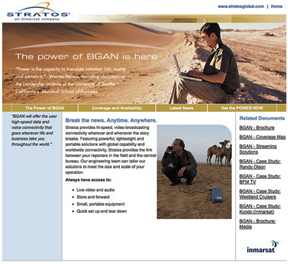 Stratos Global is providing the world's largest media organizations with Inmarsat BGAN mobile broadband satellite service to broadcast ongoing coverage of the Chilean Mine Rescue. BGAN streaming services are being used by broadcasters, including the BBC and Fox News, for live video streaming from the remote mine site. The broadcasters also are using BGAN for store-and-forward video clips as well as audio streaming for radio broadcast. All BGAN traffic is routed via the Stratos global IP network, known as StratosNexus, into the broadcasters' headquarters offices worldwide. These organizations began broadcasting news reports from the remote San Jose mine in northern Chile's Atacama Desert soon after the 33 miners became trapped on August 5th. Their coverage continued Oct. 13th when the last of the miners was rescued.
More Info...
Talia Broadband... Roll Out Refresher
Talia Broadband continues to expand with new value-added services that include Talia BackupNet, Talia MultiNet, and Talia Phone, each addressed at different customer requirements: connection resiliency, service expandability, and voice communications. Talia BackupNet is a data-based VSAT service. Designed to back up terrestrial, wireless, or VSAT primary connections, Talia BackupNet adds resilience to all network connections at an inexpensive rate. The service is available for customers throughout Africa, Europe, the Middle East, and South/Central Asia (Afghanistan, Pakistan, and India, inclusive) and is based on an inexpensive Ku- or C-band VSAT kit. Services are charged as pay as you go, so users never spend more than they use.
More Info...
Thuraya... Smallest Sat + A Seagull
Thuraya had much to share at GITEX 2010 in Dubai. Thuraya demo'd a series of customized data, maritime and voice solutions at the Thuraya stand, which was themed according to vertical market segments. Visitors tested cutting-edge SATCOM solutions, such as Thuraya IP and the world's toughest satellite phone, Thuraya XT from the Company's portfolio of products. For the maritime sector, Thuraya is displaying the Seagull 5000 and a broadband marine terminal supplied by Comtech. Other solutions exhibited by Thuraya included specialized antennas, such as the SCAN Antenna, European Antenna, and the Comms on the Move compact antenna designed for satellite broadband communications for moving vehicles at high speeds.
More Info...
TSF...Trains For The Worst, Hopes For The Best
The European Commission, through the international NGO Telecoms Sans Frontières, trained Information and Communication Technologies (ICT) emergency organizations working throughout Latin America. The seminar was held in Managua. The European Commission, through its Humanitarian Aid Department, supports relief activities for vulnerable people in crisis zones around the world. TSF is using its experience as the first NGO specializing in telecommunications to deploy telecommunications equipment in the field.

More info...
Uplogix + Tec-Nor... Cementing Connectivity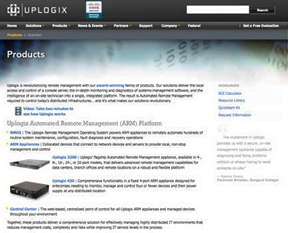 Tec-Nor, a data and communications systems integrator headquartered in Monterrey, Mexico, has deployed Uplogix appliances in VSAT applications for the oil & gas industry. Tec-Nor is using Uplogix at land-based sites using VSAT communications, as well as offshore energy platforms, for persistent connectivity and automated management and recovery of hybrid infrastructure. By deploying locally and connecting directly to satellite, SCADA, and traditional networking gear, Uplogix' intelligent appliances are able to manage devices without relying on the network and can take proactive and corrective actions.
More Info...
XCOR Aerospace... Space Tourism + Curaçao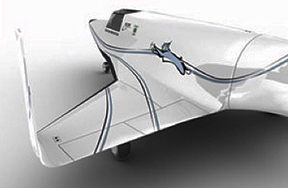 Space Experience Curaçao (SXC) and XCOR Aerospace, Inc. have jointly announced the signing of a Memorandum of Understanding (MOU) for the wet lease of a production version of the Lynx suborbital spacecraft, pending United States government approvals to station the vehicle on the island of Curaçao in the Netherlands Antilles. With a planned start date in January 2014, SXC will market, and XCOR will operate, suborbital space tourism flights and scientific research missions out of Space Port Curaçao. Recently, the Curaçao government and airport authority announced their intentions of investigating and creating the conditions suitable for the formation of a vibrant and active commercial space flight services industry. An investigation of the legal and regulatory framework necessary to enable a robust flight services industry in Curaçao has commenced. Investment in the spaceport infrastructure and operator has been committed and made by Curaçao Airport Holding, N.V., the company responsible for overseeing Curaçao airport operator. SXC is the entity selected by the Curaçao government and airport holding company to create a robust suborbital space flight business focused on research missions, space tourism, and science & technology education. SXC has, in turn selected, the XCOR Lynx as its vehicle of choice for Curaçao operations.
More Info...