DigitalGlobe
by Stephen Wood, Vice President, Analysis Center
Earlier this year, Steve Lohr wrote a piece in the New York Times titled "Online Mapping Shows Potential to Transform Relief Efforts" about the powerful role satellite imagery plays in humanitarian efforts. This year's events have demonstrated how satellite imagery is playing an integral role in assisting and enabling humanitarian efforts on a massive scale. Here at DigitalGlobe, we know first-hand the incredible impact that satellite images have in the aftermath of a natural disaster. In many instances, like during the tragedy in Japan or the flooding in Thailand in October, satellite images are the only way to immediately see and understand the full scope of what's happening on the ground.
This year, using direct access to DigitalGlobe's satellite constellation, combined with the ability to exploit on-demand an infinite and an ever growing archive of global data in our ImageLibrary, DigitalGlobe's Analysis Center experts have been able to help leaders, decision makers, investors, media and the general public see the full picture. In many ways, 2011 has been the year of analysis for our industry.
Since the first of the year, DigitalGlobe has partnered with the Enough Project, UNOSAT and George Clooney to detect and, hopefully, deter war crimes and genocide in Sudan with the Satellite Sentinel Project. We have collected nearly two million square kilometers of imagery across Sudan, focused on the existing and emerging hotspots across a country with a total land mass of 2.3 million square kilometers. We have collected, processed, analyzed and delivered imagery and information in record time, given the urgency of the situation and the need to demonstrate to both sides that the world is watching.
As we reflect on the incredible changes that took place in Egypt in the early part of 2011, it's easy to see how satellite imagery is playing a new role in world affairs. DigitalGlobe supplied imagery on a near daily basis throughout the Egyptian protests, helping media outlets and others understand what was happening on the ground. We were able to see daily how and where crowds were gathered, the evolving response from the government and the military, and clear images of where protesters, tanks and military personnel were converging.
Thanks to the DigitalGlobe Analysis Center, for the first time, we could help people see the full story. Our commercial satellites had truly become high tech witnesses in the sky.
In the last decade DigitalGlobe has been involved in responding to many disasters, but there has been nothing like the disaster in Japan—a terrible and devastating combination of a massive earthquake, a tsunami, and a nuclear disaster. Monitoring in this kind of situation takes on a new dimension. When numerous hazards, from road wreckage to nuclear explosion risks, make it impossible to conduct on-the-ground assessments, only the eyes in the sky can safely see what is going on. Passing over the impact zone for ten straight days in March, DigitalGlobe satellites revealed widespread destruction including evidence of collapsed structures, extensive debris, massive flooding and damage to key infrastructure. They witnessed the explosions and failures at nuclear facilities (including incredible images taken less than one minute before and three minutes after the explosion at the Fukushima Dai-ichi Nuclear Facility, Unit #3), documented the state of the country's highways, and assessed damage at the main ports and refineries.
DigitalGlobe's online and analytic services, FirstLook and FirstWatch, enabled users to see damage on a street-by-street basis, enabling in-country organizations to deliver aid and medical care and attempt to rescue those trapped in collapsed buildings. Using our ImageLibrary—the largest in the world—our team was able to match fresh images with historical archives to rapidly confirm the degree of damage to the area. Our imagery and analysis are helping the Japanese and U.S. governments, the United Nations, Open Street Maps and concerned groups and citizens around the world to understand the scope of the disaster, manage the ever-changing situation on the ground and set the path for recovery. We hope that with our efforts and technology, we'll continue to bring insights into this situation a little closer to home.
We aren't only engaged in times of crisis. Satellite mapping and imaging play an important role in preserving important historical sites, conserving natural resources and helping governments in developing countries create food and water sustainability. Recently, DigitalGlobe delivered high resolution satellite imagery of significant heritage sites for the Global Heritage Network, an early warning monitoring system for endangered cultural sites. In addition, we are currently monitoring 16 glaciers for Extreme Ice Survey and we have been working with the Jane Goodall Institute for several years, providing satellite imagery of areas in Tanzania, Uganda and Congo in order to make effective conservation decisions.
DigitalGlobe's Analysis Center helps by focusing and analyzing what's most important—changes that help our customers save lives, resources, and time. We keep a constant eye on the world to help our customers gain an early insight into the business, military, environmental, and political changes that impact people around the world.
* * * * * * * * *
Elbit Systems, Shiron SatCOM Business Line

The Shiron SatCOM Business Line is a unit of Elbit Systems Land and C4I, a leading satellite communications technology powerhouse which is dedicated to the design and production of the InterSKY™ network systems for cost efficient delivery of mission critical Broadband IP over satellite. The solution focuses on the resilient delivery of high quality broadband IP over satellite with emphasis on satellite space segment efficiency while maintaining the required availability, scalability, high availability/resilience and system configurable multi service.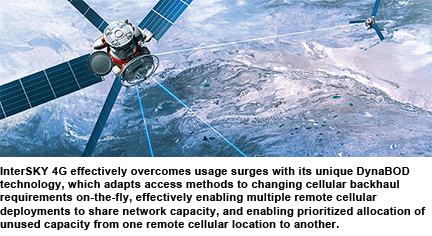 Shiron's InterSKY™ 4G for commercial applications, and InterSKYTM 4G for tactical military applications, are best suited to serve the high-end needs of satellite operators, governments, military, Telco's, ISP's, public and private companies. To date, Shiron has deployed hundreds of broadband Hubs and tens of thousands of remote terminals worldwide. Shiron's InterSKY 4G/4M are considered by many to be the most cost effective quality broadband satellite systems available in the market, offering new satellite communication products and applications for commercial and military markets.
Shiron's world-class team of engineers has consistenly brought innovations to the marketplace, such as the first integrated L-band 256Ksps satellite communications modem in 1998, the introduction of InterSKY, the first Digital Video Broadcasting/Frequency Division Multiple Access ("DVB/FDMA"), broadband satellite communications system in 1999, and the first shared alternative to Single Channel Per Carrier ("SCPC").
In 2006, as DVB-S2 standards were accepted, Shiron was the first to add DVB-S2 capabilities to its suite of InterSKY VSAT satellite communications systems. More recently, Shiron's innovation yielded a revolutionary bi-directional Adaptive Coding and Modulation ("ACM") technology with integrated Automatic Uplink Power Control ("AUPC") which delivers more than 30 percent throughput gain improvement over competing ACM solutions used on DVB-S2 products. Shiron has been able to package InterSKYTM 4G/4M as a multi service broadband SATCOM solution, fitting many types of service providers' (Telcos, ISPs) backhaul applications including 3G, WiMAX, GSM and WLL systems.
Elbit Systems Ltd. is an international defense electronics Company engaged in a wide range of programs throughout the world. The Company, which includes Elbit Systems and its subsidiaries, operates in the areas of aerospace, land and naval systems, command, control, communications, computers, intelligence surveillance and reconnaissance ("C4ISR"), unmanned aircraft systems ("UAS"), advanced electro-optics, electro-optic space systems, EW suites, airborne warning systems, ELINT systems, data links and military communications systems and radios. The Company also focuses on the upgrading of existing military platforms, developing new technologies for defense, homeland security and commercial aviation applications and providing a range of support services.
To read more concerning the Shiron SatCOM Business Line and the unit's applications for MILSATCOM, please see the December issue of MilsatMagazine's YEAR IN REVIEW section.
* * * * * * * * *
Foxcom
by Alan Wald, Director of Sales and Marketing
2011 has been a year of growth for Foxcom. In addition to maintaining its leadership role with the mature SatLight Series of fiber optic inter-facility links (IFL's), Foxcom's new high performance Platinum Series continued to grow and set the standard in product excellence.
In the last two decades, Foxcom has seen the market for fiber optic IFL's continue to grow at a healthy pace. In the beginning, fiber optic IFL's were seen mainly as a means to provide acceptable performance over long distance links where coaxial cable displayed high losses and had unequal attenuation across the band. Today fiber optic IFL's are seen as a means to provide maximum bandwidth, performance, reliability, monitoring and control.
It would be fair to say that, thanks to Foxcom's intensive sales and marketing efforts over the last 18 years, RF over fiber technology today is widely embraced by satellite and broadcast operators throughout the world. Gone are the days that we need to convince any serious operator about the benefits of deploying fiber IFL's. In fact we are seeing more and more cases of new uplink facilities deploying fiber links from day one, regardless of the distance between their antennas and control room.

Foxcom continues to pride itself in being the trendsetter when it comes to offering a complete and comprehensive range of Fiber Optic Interfacility Links with ability to cover DC to 15GHz. Our products are designed from the ground up, based on intensive feedback and requirements from our customers with strong operational experience. The fact that these same customers continue coming back to Foxcom for their new projects and upgrades, reinforces for us how important it is to listen to the needs of the customer.
One of the highlights in the last 12 months was when Foxcom broke its own record in Asia by transmitting L-band and 70MHz IF signals at a distance of 110km without amplifiers or repeaters along the way. Foxcom's next generation Sat-Light /Platinum™ series was deployed with a super high power laser in order to meet the stringent needs of the customer. This demonstrated once again Foxcom's ability to deliver unprecedented performance under the most demanding of conditions.
2011 marked the year of our first deployments of our new and long awaited G5000 series Outdoor Unit (ODU). The G5000 series ODU follows in the footsteps of Foxcom's hugely successful first generation 4000 series ODU. Unlike its IP-64 rated predecessor, the new G5000 modular platform is IP65 rated and can accommodate up to 6 hot-swappable optical cards, allowing users to upgrade or change their configuration in the field. The new ODU design reflects the needs of operators worldwide to reduce costs and risk of downtime, while providing seamless transmission of multiple high quality signals.
* * * * * * * * *
Globecomm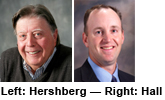 by Dave Hershberg, Chairman & CEO, and Keith Hall, President and COO, Globecomm
The biggest element that 2011 has taught us at Globecomm is that this is no longer your grandfather's satellite business. It's not even your father's or your older brother's satellite business. What we do every day — whether it is delivering network services or building network infrastructure — is driven as much by changes in terrestrial markets and technology as by the ever-improving capabilities of satellite.

Two years ago, Globecomm entered a new business by buying a GSM switch and offering hosted switching and distribution services for wireless carriers, mostly small rural carriers for whom the purchase and operation of a carrier-class switch is a high mountain to climb. Two years later, we are preparing our combined GSM and CDMA Mobile Switching Center to leap from 2G and 3G to LTE. This involves a completely new switching infrastructure and network architecture. Satellite still plays the occasional role in reaching truly remote sites, but most of the traffic travels over fiber.
Two years ago, we acquired two small maritime services companies. Mach6 specializes in VSAT to ships and platforms at sea, while Telaurus specializes in optimizing Inmarsat and Iridium L-band services for maritime customers. Today, Globecomm Maritime is serving more than 2,500 ships at sea with VSAT, L-band and auto-switching hybrid services that deliver the best of both worlds. In this case, satellite remains the core of the network, but the value lies in optimization and flexibility – in short, in the software as much as the hardware.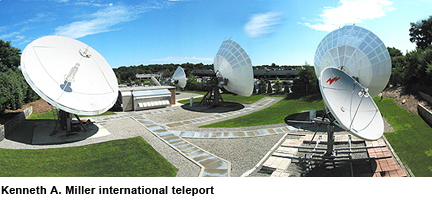 Talk today to our CTO, Steve Yablonski, and you will hear about "collaboration in the network." Instead of fixed configurations connecting point to point or point to multipoint, the network is increasingly collaborating with the applications running over it to figure out what level of performance is needed to meet the end-users' requirements. Mobile video is an example: if there are a thousand devices out there trying to access content, they will have many different screen sizes, resolutions and processing power. The handset, the network and the application collaborate to figure out how to deliver a service cost-effectively in terms of available bandwidth.
As we look forward to 2012, we feel sure of a few things. The complexity of the networks will keep growing. The intelligence of the network will keep growing with it – because otherwise, we will not even remotely be able to handle that complexity.
The integration between satellite and terrestrial services will keep getting deeper, as the world strives to push the network to ever more challenging locations on land, at sea and in the air. That's good news for our industry. When you add a little bit of satellite to a network, it introduces complications in how protocols interact. Our industry knows how to handle those complications – and nobody else really does. It's also good because the more seamlessly we connect with other telecommunications technologies, the more value we can contribute and the larger our customer base will become.

As we close 2011 and look toward 2012, we have to ask ourselves: what kind of Company is Globecomm? Is it a teleport operator? A satellite services business? A supplier of satellite terminals, systems and networks? A mobile services Company? A maritime communications Company? An interactive broadcasting Company? The answer to all these questions is "yes." And we believe our partners, competitors and colleagues in the business are all heading in the same direction.
* * * * * * * * *
Glowlink

by Jeffrey C. Chu, co-founder and CEO
2011 was a year of technological breakthroughs for Glowlink — it was also a year of technological loss for all of us. Steve Jobs, one of the greatest innovators and unique thinkers of our time, is gone, and with his passing we lost his inspiration but also gained an insight. Steve Jobs taught us that the best innovation is focused on the end user; not only in meeting their needs, but anticipating and shaping products that are visionary and revolutionary.
For more than a decade, Glowlink Communications Technology has been a leading innovator in the satellite industry. As an innovator we are focused on introducing new products and technologies while striving for quality service and customer support. We offer a full line of products to help mitigate and prevent interference, which our users depend on to provide top quality services to their end customers. Glowlink products focus on the two pronged approach of preventing and resolving interference problems. Knowing how our clients' operations work and understanding what drives their success is fundamental to our operations and corporate decision making processes.
In one of the most challenging years in the economy as a whole, Glowlink's technology and innovation has enabled us to sustain and grow our business in the satellite industry. We have never strayed from our core industry focus, and this has allowed us to be at the forefront of providing solutions that tackle the serious issue of interference head on. We're confident, but not complacent and innovation remains central to our strategy going forward.
In 2011, Glowlink installed and continued to operationally support Glowlink Model 8000 Integrated Carrier Spectrum Monitoring (CSM) and Geolocation Systems installed worldwide. These strategic placements in global satellite communications networks resulted in the successful resolution of a number of challenging interferences that were disruptive to our customers' satellite communications services.
One of the biggest events of the year which affirmed corporate confidence that our leadership and direction were on the mark, was the introduction of our VSAT commissioning and management product. Capitalizing on ubiquitous VSAT deployment and the issues encountered in managing them, we designed and produced a state-of-the-art product to meet the demands of this mature market.
Also, in response to customer requirements we continue to enhance our carrier spectrum monitoring and geolocation products to meet the evolving needs of the industry. Our Model 8000, the world's first and only fully integrated CSM and geolocation product, continues to dominate the market. The breakthrough Single Satellite Geolocation technology continues to generate tremendous interest and is the ONLY product on the market capable of geolocating interference emitters using just one satellite — especially valuable for X- and Ka-band satellites, of which adjacent satellites are not typically available for conventional geolocation techniques. At Satellite 2011 we highlighted these technology innovations and witnessed a record crowd visiting our booth.
w The satellite industry is evolving and we continue to track and anticipate user requirements that drive innovative new products to help clients manage risk and reap the benefits of these new products.
One measure of how well we are doing is the number of patents our innovators are awarded. Our business model has been tested under the most trying conditions the past few years and has proven to be both resilient and durable.
Another indicator is the number of R&D initiatives we started in 2011 that add to the solutions set to solve problems for our customers today, and, more importantly, the problems likely faced by our customers 3 to 5 years down on the road. We expect to announce some of these in 2012.
As Steve Jobs succinctly stated, "Innovation distinguishes between a leader and a follower".

At Glowlink, we will continue to be an industry leader with proven ability to innovate, enhance and deliver efficient, affordable solutions that help our customers achieve their operational goals and protect their crucial satellite services and investments.