Panasonic Raises Their Anchor On New Maritime Comms Service
Panasonic Avionics Corporation (Panasonic) has disclosed their their broadband communications and digital entertainment services will now be available to passenger vessels across the maritime market.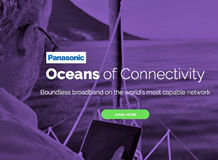 Panasonic offers a new approach to connectivity at sea, serving passengers and crew, as well as communications for ship operations and corporate networking.
Panasonic already delivers business-critical communications to a wide range of mobility markets, leveraging a high availability Ku-band satellite network that covers more than 98 percent of maritime traffic routes.
Panasonic has made calculated investments in Ku-band for a number of reasons, including global coverage, ease of scalability, the maturity of the technology, and its high reliability. In February, the company announced multi-year contracts with satellite fleet operators, SES and Telesat, for high-powered HTS spot and wide beam Ku-band capacity to supplement its existing HTS capabilities. The agreement helps ensure a broadband experience for Panasonic customers across the U.S., Canada, Mexico and the Caribbean, as well as the Mediterranean, Europe and the Middle East.

Over the next several years, Panasonic's network will continue to evolve as the company rolls out extreme high-throughput (XTS) capacity in the densest of traffic areas—across North America, Europe and Asia—where these regions will be seeing multiple gigabits of capacity.
In an effort to bring an elegant, lightweight, easy to install solution to maritime customers, Panasonic has formed a cooperative with Kymeta Corporation to bring innovative, high-performance flat panel antenna technology to the maritime market.
Panasonic will order a significant volume of Kymeta's flat panel antennas and use Kymeta's mTenna technology to manufacture and distribute maritime terminals for vessels around the world. Panasonic's high-throughput satellite network combined with
Kymeta's lightweight antenna design will give maritime vessels the ability to provide cost-effective, ultra-reliable, high-speed connectivity to passengers and crew.
Panasonic's new maritime solutions leverage the company's best-in-class entertainment technology in order to address the ever-evolving connectivity requirements of today's passenger maritime operators. Panasonic was the first to bring live, global television service to the airline industry, and has delivered more than 8,000 inflight entertainment systems and 1,100 inflight connectivity solutions to the world's leading airlines. Now that same premier entertainment platform is available to the maritime market.
"Panasonic, in close cooperation with ITC Global, is dedicated to delivering the best in digital entertainment and enterprise quality broadband communications to the maritime industry," said David Bruner, Vice President, Global Communications Services at Panasonic Avionics. "We believe our network strategy sets a new standard in connectivity across a wide range of markets including yachts, river cruises and other passenger vessels."
---
SES' First Maritime Service Is Unveiled
SES S.A. has unveiled their first maritime Ka-band services under the SES Maritime+ service offering.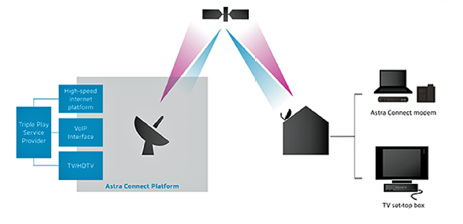 This new service for the maritime and inland shipping mobility sector will use ASTRA 2E's and ASTRA 2G's Ka-band beams to drive efficiency and operational savings.
The new Ka-band service, to be launched in Q2 2016, combines SES Ka-band spot-beams, EPAK's DSi9 maritime antenna and Gilat Satellite Networks' broadband technology.
The offering is based on SES Techcom Services' Astra Connect solution and will provide coverage over Europe, including the North Sea, the Irish Sea and inland waterways.
The new service will target customers such as offshore wind farms, inland shipping companies, and supply ships for oil platforms.
"Our new offering for the mobility market is a highly cost-effective maritime Ka-band service, which is designed to deliver communications on the move and allows a wider range of customers to profit from maritime connectivity," said Norbert Willems, Commercial Vice President at SES Techcom Services.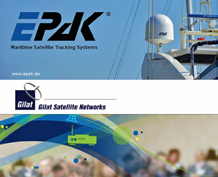 "Providing connectivity at sea has become increasingly crucial," he added. "This new service not only meets this need, but also does so economically, thanks to the attractive price per megabit of our Ka-band offering."
EPAK Managing Director Jochen Gruener said, "Our DSi9 Ka-band terminal enables us to guarantee excellent network availability, even in the most challenging conditions."
ses.com/21197409/astra-connect
epak.de/en
gilat.com/
---
MEASAT Constructing An Asian UHD Neighborhood
MEASAT Satellite Systems Sdn. Bhd. ("MEASAT") now has an agreement with Television Entertainment Reality Network International ("TERN International") for the distribution of the INSIGHT UHD channel via the MEASAT-3a satellite—INSIGHT UHD is the second UHD channel distributed via the 91.5 degrees East video neighborhood.
Marketed in Asia by Thema, Insight UHD is Asia's first UHD factual entertainment channel. The channel, featuring original UHD material co-created with industry-leading production houses, brings a range of content from entertainment to extreme sports, and from game shows to beautiful, vivid cinematography.
Under the agreement, MEASAT will use MEASAT-3a's global beam to deliver the channel to payTV operators across Asia Pacific and Australia. The MEASAT-3a global beam also covers the Middle East and Eastern Africa.
Francois Thiellet, Chief Executive Officer, THEMA, said, "Working with MEASAT and TERN International, we are looking forward to the channel expanding its reach into another major world market with a large library of entertainment series in native UHD."
"MEASAT is committed to bring the best of new content to the Asian region," said Paul Brown-Kenyon, Chief Executive Officer, MEASAT. "As such, we are delighted to welcome Insight UHD to Asia's UHD video neighborhood on MEASAT-3 / 3a at 91.5 degrees East."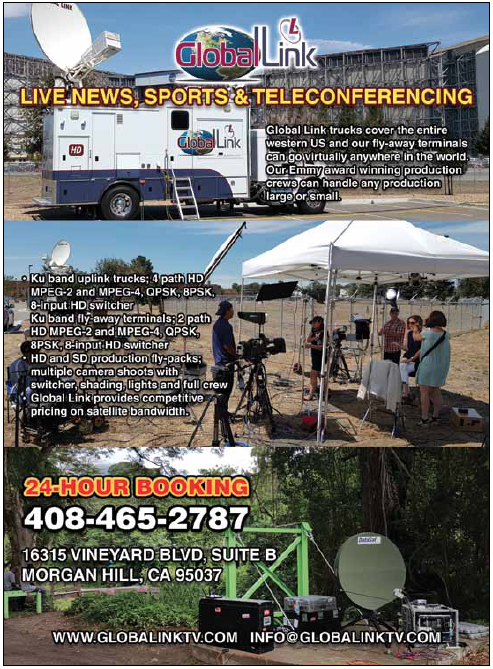 measat.com/
tern-international.tv/
---
MSUA Honors Cobham With Top Maritime Mobility SATCOM Award
Cobham has won the prestigious Mobile Satellite Users Association's (MSUA) 2016 Top Maritime Mobility Satcom Innovation award, recognizing the SAILOR 60 GX antenna system as one of the most innovative maritime VSAT systems ever developed.

The SAILOR 60 GX is a brand new 60 cm-class antenna system for Inmarsat's Ka-band Fleet Xpress—the maritime service offering of the new Global Xpress High Throughput Satellite network.
With SAILOR 60 GX, Cobham SATCOM has achieved the perfect balance between size and connectivity performance. Weighing just 82 lbs/37 kg, the SAILOR 60 GX user terminal features one of the lightest Ka-band maritime antennas and boasts class-leading radio performance to ensure a reliable link to the satellite and more availability of communication services across larger sea areas.
For maritime vessels with space and/or budget restrictions a new SAILOR 60 GX combined with a SAILOR FleetBroadband system is the perfect hardware platform for Inmarsat's new generation maritime SATCOM service.
SAILOR 60 GX is based on an advanced new lightweight carbon fiber composites/aluminum design. It retains the same performance and installation benefits that have established SAILOR VSAT antennas as clear technology leaders.
Specific innovations of the SAILOR 60 GX technology platform include: Precision reflector dishes, Direct Motor Drives using high torque stepper motors, single cable between antenna and below deck equipment, Automatic Azimuth Calibration, and Automatic Cable Calibration to eliminate cable attenuation.
Cobham SATCOM's unique SAILOR 60 GX innovations combine to deliver numerous benefits to maritime end-users.
By providing a reliable, high-throughput link to the Global Xpress network from a smaller antenna package, SAILOR 60 GX supports a wider range of vessel types that...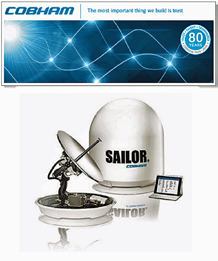 • Save money on bunker costs by optimizing fuel consumption
• Improve environmental footprint by reducing harmful exhaust emissions
• Streamline equipment maintenance tasks through remote monitoring
• Collaborate with experts on shore with always available voice calling and videoconferencing
• Contact loved ones more often and for less cost.
"SAILOR 60 GX delivers unmatched RF performance for its reflector size, meaning the high bandwidth of the Fleet Xpress service can be enjoyed fully, even on the edges of coverage, despite a smaller antenna. Both SAILOR 60 GX and its stablemate SAILOR 600 VSAT Ka for Telenor's European Thor 7 network enable more vessels and fleets operating on lower communication budgets to harness the power of reliable, flat rate, high bandwidth satellite connectivity on board," said Jan Kragh Michelsen, VP Maritime Business Development, Cobham SATCOM.
"We're delighted that the MSUA has highlighted the innovative design of the newest addition to the established SAILOR VSAT portfolio. With SAILOR 60 GX, our design engineers have leveraged the spot-beam architecture of Inmarsat Global Xpress, which encourages smaller reflector dish sizes and therefore the potential to reduce the size and weight of on board antennas.
"Our approach has the potential to considerably expand the maritime VSAT market," said Casper Jensen, Vice President for Business Development at Cobham SATCOM.
---
ORBIT Communications To Provide Comm Solutions To NATO Navy
ORBIT Communication Systems, Ltd. introduced an innovative airborne stabilized VSAT antenna system for various aircraft at Defexpo India 2016.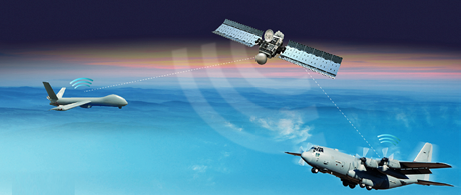 Providing high throughput and quality broadband communication via satellite, the company has already received an order for several AIRTRx™60 systems from an Asian customer.
Designed to accommodate the regional and global coverage needs of the airborne communication market, the low-weight AirTRx™ 60 is built to empower critical applications.
AirTRx™ 60 complies with the most stringent worldwide SatCom regulations and certifications, including RTCA/DO-160G.
Following the demand from the government and defense market, ORBIT released its MPT 60 Airborne VSAT Antenna systems suitable for mission aircraft and UAVs.
AirTRx™ 60 and MPT 60 support Ku- or Ka-bands and feature RF performance and dynamic response under virtually any operating environment.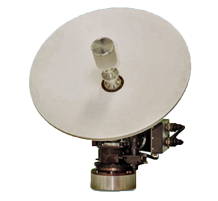 Switching between RF bands requires a simple replacement of the feed. Additional features include among the rest: multiband support, minimal swept volume, short lead time, INS and RF tracking.
According to Erez Shabirow, ORBIT's CEO, "ORBIT continues to make significant investments in R&D—reflecting customer demand for comprehensive, reliable, compact and continually more complex broadband infrastructure for audio, video, data and Internet.
"Prestigious customers—including aircraft manufacturers, major integrators, communication service providers and government agencies—have selected ORBIT's robust and dependable solutions for the past 20 years, with more than 1,500 systems in operation globally."
ORBIT's portfolio includes mobile satellite communication systems, tracking & telemetry solutions, communication management systems and earth observation ground stations which are operating on thousands of platforms worldwide.
orbit-cs.com/
---