An International Launch Services (ILS) Proton rocket successfully launched Telesat's powerful Anik G1 satellite from Pad 39 at the Baikonur Cosmodrome on April 16th at 12:36 a.m. local time (6:36 p.m., GMT, on April 15th).
Anik G1 will be located at 107.3 degrees West and provide a range of communications services that include Direct-To-Home (DTH) video for Canada, X-band for government applications in the Americas and Pacific Ocean Region, and C-and Ku-band services in South America.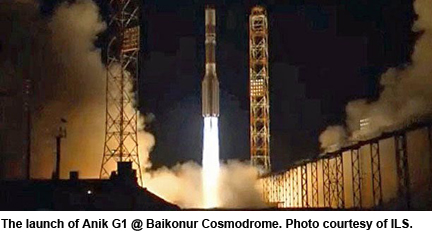 The Satellite
Telesat's Nigel Gibson, the company's vice president of international sales, offers his insights regarding the Anik G1 satellite and the firm's focus on South America during a conversation with SatMagazine.
SatMagazine (SM)
Nigel, what's the best news for Telesat's international customers following the successful launch of Anik G1?
Nigel Gibson
The best news for international customers is that Anik G1 brings new capacity to South America. An additional 12 C-band and 12 Ku-band transponders from Telesat's 107.3 degrees West orbital location. Anik G1 offers single beam coverage of the entire continent in C-and Ku-band and is ideal for VSAT, video and cellular backhaul services.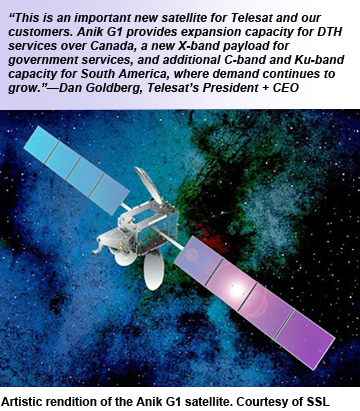 SM
Why is the South American satellite capacity so important at this time?

Nigel Gibson
Attractive C-band and Ku-band capacity with good look angles and full continental coverage has been in short supply over South America. This has caused some projects to be delayed while others have opted for interim solutions that may not offer the robust and reliable communications links Anik G1 can deliver. Telesat can now go to the market with winning solutions in both C-band and Ku-band. Very few satellite service providers have this type of capability today.
SM
What are the main advantages Anik G1 offers customers?
Nigel Gibson
In addition to having capacity available now, customers have flexibility to design networks in either C-band or Ku-band. Anik G1's power across the continent can yield very high data rates and network efficiencies. For example, Anik G1 Ku-band can deliver data rates of 60 to 80Mbps throughout South America using a 1.2 meter antenna. Its Ku-band coverage and power make Anik G1 the right choice for Panasonic Avionics that is expanding its aeronautical broadband service over Latin America by using Telesat's Telstar 11N satellite in combination with Anik G1. For cell backhaul, Anik G1's C-band beam provides one of the most efficient solutions available with full continental coverage.
SM
How do South American customers view Telesat?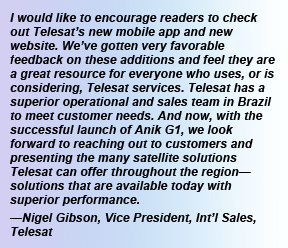 Nigel Gibson
Customers in the South American market are highly sophisticated and have a favorable view of Telesat. They appreciate that, with the successful launch of Anik G1, we now have four satellites serving the region. Those satellites are:
Telstar 14R Telstar 12
,
Anik F1
and
Anik G1
.
They also recognize that Telesat has been active in this market since the 1990s. Telesat saw the potential in South America and was among the first to bring Ku-band to the region with Telstar 14 at 63 degrees West, a Brazilian orbital slot. Customers also appreciate that, while Telesat is highly regarded for its technical expertise, we also have shown flexibility and creativity to close business. Telesat understands that our success in this market depends on the success of our customers and we have worked hard to build winning relationships that continue to pay off for both sides.
The Build + The Push
Anik G1's transponders total 55 in number; 24 C-band, 28 Ku-band, and 3 X-band The satellite separated from the upper stage of the rocket and its signal was acquired by Telesat's tracking station in Gnangara, Australia (near Perth) shortly after spacecraft separation, approximately nine hours after liftoff. This was the ninth Telesat satellite and the 26th SS/L satellite launched via the ILS Proton.
Anik G1 packs 16 extended Ku-band transponders that are fully contracted to
Shaw Direct
for 15 years.
Shaw Direct
currently uses Telesat's
Anik F1R
satellite at
107.3 degrees West
for its Canadian DTH services. The addition of Anik G1 at the same orbital location will enable the media company to seamlessly add more than 100 HD channels for their subscribers.
Anik G1 also has three X-band transponders that are fully contracted to
Astrium Services
for 15 years to support government applications across the Americas and much of the Pacific Ocean, including Hawaii. In addition, Anik G1 will bring new capacity to meet the growing demand for satellite communications services in South America. It will be co-located with Telesat's Anik F1 satellite at
107.3 degrees West
, where it will effectively double the C- and Ku-band transponders that serve South America from this orbital location. Anik G1 offers C- and Ku-band coverage of the entire continent.
Anik G1 was manufactured by
Space Systems/Loral
(
SSL
) and is based on SSL's highly reliable
1300
platform. The
Fixed Satellite Services
(
FSS
) satellite has a mass of approximately 4900kg. and an expected 15-year mission life. Anik G1 will enter into commercial service after the satellite has successfully completed orbit raising and comprehensive in-orbit testing.
The
ILS Proton Breeze M
launch vehicle was built by Russia's
Khrunichev State Research and Production Space Center
—ILS provided mission management. The Proton booster used to launch the satellite was 4.1m (13.5 ft.) in diameter along its second and third stages, with a first stage diameter of 7.4m (24.3 ft.). Overall height of the three stages of the proton booster is 42.3m (138.8 ft.)
About Telesat
Telesat is a leading global satellite operator, providing reliable and secure satellite-delivered communications solutions worldwide to broadcast, telecom, corporate and government customers. Headquartered in Ottawa, Canada, with offices and facilities around the world, the company's state-of-the-art fleet now consists of 14 satellites plus the Canadian payload on ViaSat-1. Telesat also manages the operations of additional satellites for third parties. Privately held, Telesat's principal shareholders are Canada's Public Sector Pension Investment Board and Loral Space & Communications Inc. (NASDAQ: LORL).
Select this direct link to view the Anik 1 launch video.


For additional company information, head over to: http://www.telesat.com/