---
Arianespace's 19th Vega Mission Successfully Launches Pléiades Neo 4 + 3 Smallsats
On Monday, August 16, 2021, at 10:47 p.m. local time (01:47 am (UTC) on Thursday, August 17), a Vega launch vehicle operated by Arianespace lifted off successfully from Europe's Spaceport in French Guiana (South America).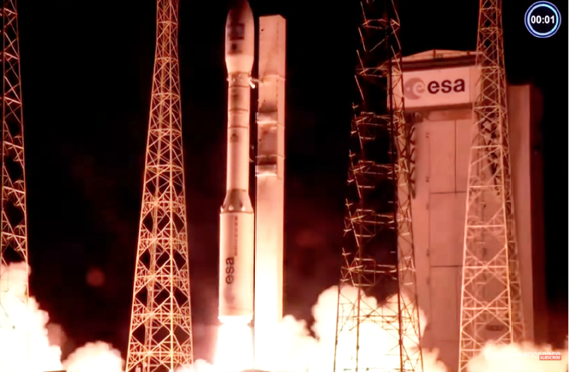 This mission marked Arianespace's 7th successful launch of the year and the second with Vega in 2021. It lasted one hour, 44 minutes and 59 seconds, during which Pléiades Neo 4 separated on a Sun- Synchronous Orbit (SSO) at an altitude of 625 km, while the four auxiliary payloads separated at 551 kilometers.
This mission's primary purpose was to orbit Pléiades Neo 4, the second of the four satellites of the Pléiades Neo constellation, the first being launched with Vega on April 28, 2021. With 30 cm native- resolution, best-in-class geolocation accuracy and twice-a-day revisit capability, the four Pléiades Neo satellites unlock new possibilities. The satellite was fully funded and manufactured by its operator, Airbus.
Pléiades Neo 4 was the 133rd Airbus Defence and Space satellite to be launched by Arianespace. There are currently 18 Airbus satellites in Arianespace's backlog 11 of which will be launched with Vega and Vega C launchers. The last two satellites of the Pléiades Neo constellation will be placed into orbit in 2022, thanks to the next generation launch vehicle, Vega C.
The 19th mission of Europe's Vega light launcher also injected four cubesats into SSO, three for the European Space Agency (ESA) and one for the French start-up Unseenlabs: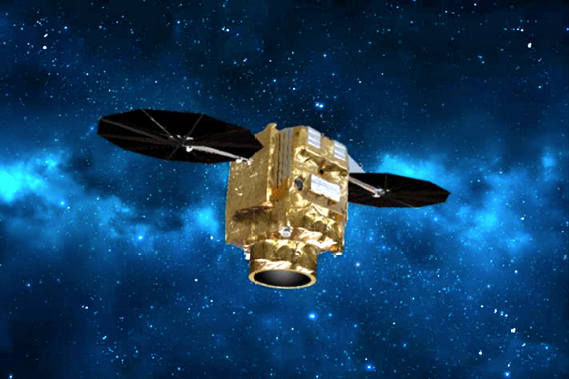 Artistic rendition of the Pléiades Neo 4 satellite.
Image is courtesy of Airbus.
• LEDSAT, an educational project from the University of Sapienza, Italy, participating in ESA's Fly Your Satellite! program, that has been conceived to investigate the performances of a technology based on Light Emitting Diodes for optical Low-Earth Orbit satellites tracking
• RADCUBE, a cubesat from C3S, Hungary, to demonstrate miniaturized instrument technologies that measure in-situ the space radiation and magnetic field environment in Low Earth Orbit for space weather monitoring purposes
• SUNSTORM, a cubesat from RSL, Finland, with an innovative solar X-ray spectrometer to detect the X-ray pulses produced by coronal mass ejections – massive eruptions of many millions of tons of material from the Sun's surface
• BRO-4, fourth cubesat from Unseenlabs, France, of the constellation BRO (Breizh Reconnaissance Orbiter), a spectrum monitoring and electromagnetic intelligence service for maritime surveillance.
The later three auxiliary payloads were under contract with SAB Launch Services. In order to meet their clients' needs and to ensure them a quicker access to Space, Arianespace and SAB Launch Services established a collaboration to integrate all four auxiliary passengers in two PSL6U Deployers installed on the Payload Adapter.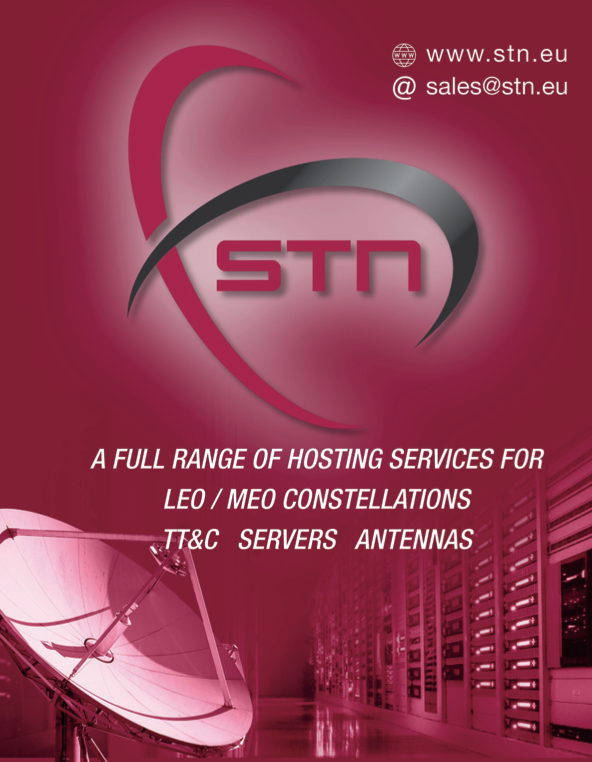 As demonstrated by this new mission, Vega is perfectly tailored to carry the growing number of commercial and governmental smallsats and other lighter-weight payloads. Vega provides launch solutions for small and medium spacecraft headed into a wide range of orbits (SSO, LEO, Transfer to the Lagrange point L1, etc.), for Earth Observation (EO), science, education, defense and other applications.
The Vega program is the result of the cooperation of 10 European countries and has been developed under the leadership of ESA, with Italy (ASI) as the first contributor and Avio Spa (Colleferro, Italy) as a prime contractor, responsible for all industrial operations up-to lift-off from Europe's Spaceport. Since its maiden flight in 2012, Vega has been a part of Arianespace's family of launch vehicles.
---
Telesat + Government Of Ontario, Canada, Pursue Lightspeed Partnership
Telesat and the Government of Ontario have partnered to bridge the digital divide in Ontario by leveraging Telesat's advanced, state-of-the-art, Low Earth Orbit (LEO) satellite network, Telesat Lightspeed.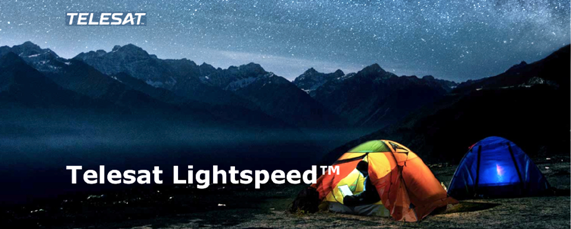 This $109 million agreement will futureproof and diversify Ontario's connectivity infrastructure, lay the groundwork for continued development and commercialization of Canadian satellite technologies and pave the way for future economic growth and jobs. Through this five year partnership, a dedicated Telesat Lightspeed capacity pool will be made available at substantially reduced rates to Canadian Internet service providers (ISPs), including Indigenous owned and operated ISPs, as well as mobile network operators to expand high-speed Internet and LTE/5G networks to Ontario's unserved and underserved communities.
Telesat Lightspeed is the only LEO network capable of delivering multiple Gbps of broadband capacity into a community, giving telecom operators the ability to offer a wide range of affordable, high-speed broadband plans and unlimited data to consumers and businesses as well as next-generation 5G wireless services. Furthermore, with multiple satellites always in view overhead, and the ability to dynamically route traffic to avoid weather events, the Telesat Lightspeed network provides unparalleled resiliency with always-on, high-quality connectivity.
As part of this partnership, Telesat will increase its Ontario-based staff by approximately 35%, growing to approximately 400 highly-skilled jobs, and invest $20 million in capital expenditures for expansion of the company's Ontario facilities. Investments include a new gateway landing station at Telesat's Allan Park teleport near Hanover, Ontario, as well as the expansion of the company's corporate headquarters in Ottawa, Ontario, where the majority of its staff will be located.
Telesat will also continue to develop and inspire Ontario's future workforce through collaborative research and development projects with Ontario-based universities and colleges. These projects provide unique opportunities for students to research and develop innovative space-based solutions to improve life on Earth.
"Access to affordable and reliable high-speed Internet connectivity is essential in today's digital economy," said Dan Goldberg, Telesat's President and CEO. "This partnership with the Government of Ontario will not only achieve the province's goal of connecting everyone, regardless of where they live, to affordable high-speed Internet, but also positions Ontario at the forefront of the highly strategic New Space Economy through Telesat's local investments in jobs and technology innovations."
"Supporting Telesat is an investment in economic growth and good jobs, now and on the horizon," said Vic Fedeli, Ontario Minister of Economic Development, Job Creation and Trade. "This is an investment in continued research and development, and the commercialization of satellite technologies in Ontario with economic commercialization of satellite technologies in Ontario with econ benefits that will resonate in communities across the province."
---
Dawn Aerospace To Empower The Indonesian Space Agency's Tsunami Warning Satellite Constellation
The National Institute of Aeronautics and Space of Indonesia (LAPAN) has selected Dawn Aerospace's green propulsion for a new satellite constellation used for the early detection of Tsunamis.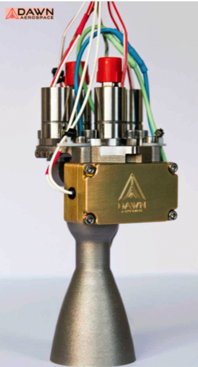 Indonesia, located along the Pacific Ocean's Circum-Pacific belt, or "Ring of Fire," is geographically prone to tsunamis; several tectonic plates meet and frequently cause volcanic and seismic activity. As a result, around 90 percent of the world's earthquakes occur in the area.
With Indonesia's history of earthquakes and tsunamis, a new Tsunami Warning System (TWS) is expected to save countless lives and result in economic benefits for the nation.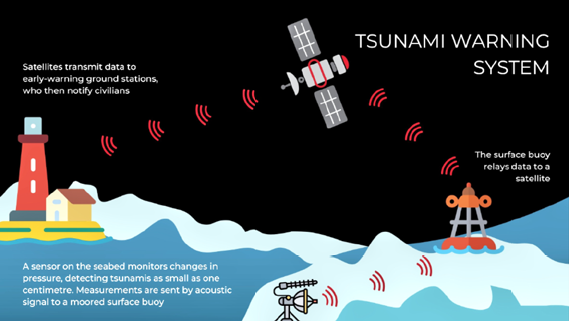 A TWS uses buoys and satellites to measure wave heights after an earthquake. It can provide warnings of up to several hours, depending on the quake's location.
After receiving a signal of unusual activity from sea bed sensors, the buoys then transmit data to satellites, sending warnings to ground stations and tsunami warning centers. The public is then informed to evacuate via sirens or text messages. The planned constellation is for nine satellites in an equatorial orbit, providing constant coverage for the nation.
"Our industry often talks about going to space to improve life on Earth," said Jeroen Wink, Dawn Co-founder. "We are incredibly proud to be part of a project designed to save lives."
Dawn has recently announced contracts with customers ALE Co., Ltd. Japan and UARX Space. The companies will use Dawn's new, smallsat propulsion architecture.
---
The Lockheed Martin LINUSS™ Smallsats Are Ready For Launch
Lockheed Martin's (NYSE: LMT) In-space Upgrade Satellite System (LINUSS) completed environmental testing and is ready for launch later this year, demonstrating how small cubesats can regularly upgrade satellite constellations to add timely new capabilities and extend spacecraft design lives.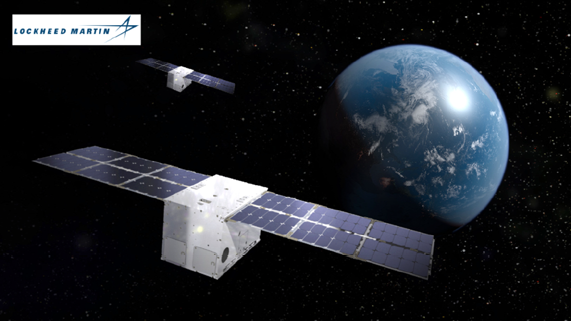 LINUSS is a pair of LM 50™ 12U cubesats — each about the size of a four-slice toaster — designed to demonstrate how smallsats can serve an essential role in sustaining critical space architectures in any orbit. Developed using internal funding, LINUSS will be two of the most capable cubesats in Geosynchronous Earth Orbit (GEO).
LINUSS' mission is to validate essential maneuvering capabilities for Lockheed Martin's future space upgrade and servicing missions, as well as to showcase miniaturized Space Domain Awareness capabilities. LINUSS also will demonstrate new, mature, onboard high-performance processing by Innoflight; low-toxicity propulsion by VACCO; and inertial measurement units, machine vision, 3-D printed components and SmartSat™ (transformational on-orbit software upgrade architecture) technologies by Lockheed Martin.
Part of Lockheed Martin's LM 50 family of smallsats, both LINUSS spacecraft — measuring roughly 8x8x12 inches — are the collaborative integration of the company's mission electro-optical payload deck with a next-generation 12U bus from Tyvak Nano- Satellite Systems, a Terran Orbital Company.
In addition to LINUSS, some other recent Lockheed Martin smallsat projects include: DARPA's Mandrake, integration for DARPA's Blackjack constellation, Pony Express, LunIR and La Jument. In Europe, the company also is involved in developing a 6U smallsat with GomSpace and Orbital Microsystems, as well as supporting the U.K.'s ambitions to launch smallsats through the UK Spaceflight program.
Chris Crawford, vice president of advanced program development for Lockheed Martin Military Space. "LINUSS will be the first step flight- qualifying this technology. The ultimate near-term goal is supporting upgradeable LM 2100™ satellite bus platforms, starting with GPS IIIF Space Vehicle 13."
Dr. David J. Barnhart, LINUSS Program Director. "LINUSS has higher bus density, payload accommodation, and on-orbit processing than any other cubesat, enabling revolutionary mission capabilities in the future. Early customer community feedback has called LINUSS 'the most capable cubesat pair off the planet.'" future. Early customer community feedbac most capable cubesat pair off the planet.'"
---
The Third Sentinel-2 Satellite Now Engaged In The Crucial Testing Processes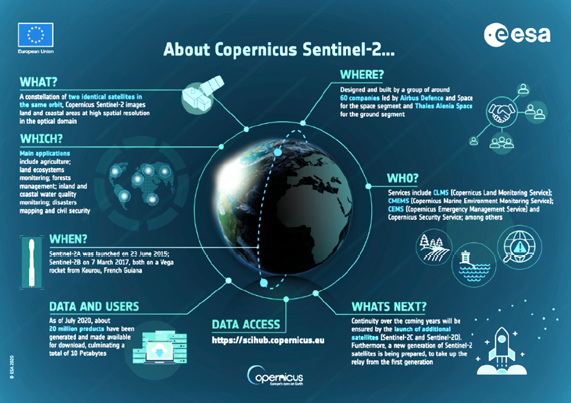 Slated for launch at the start of 2024, Sentinel-2C has just started a five-month testing program to ensure that it is fit for its started a five life in space.
The Sentinel-2 satellites each carry an innovative, high-resolution, multi-spectral imager, which combined with the satellites' 290 km-wide swath and frequent revisit times, offer unprecedented views of Earth.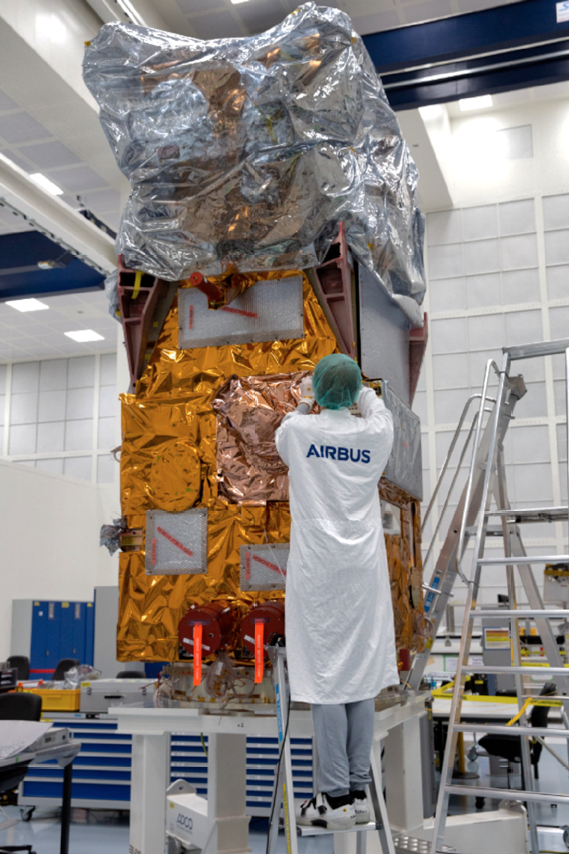 Airbus completed the integration of the Copernicus
Sentine-2C satellite, which is the third of its kind and was
shipped to testing facilities to ensure readiness for space.
Photo is courtesy of Airbus.
However, over the last six years, the mission's data have also been used to monitor changes in ice sheets and glaciers, coastal erosion, deforestation, burnt land resulting from wildfires, pollution in lakes and coastal waters, and more.
The mission is based on a constellation of two identical satellites in the same orbit, 180° apart for optimal coverage and data delivery. When Sentinel-2A retires, Sentinel-2C will be there to take its place, and eventually Sentinel-2D will replace Sentinel-2B. This pairing guarantees the continuation of data delivery that many Copernicus Services users now rely.
Engineers at Airbus Defence and Space have spent the last four months completing the build-up of the satellite by integrating its all- important multi-spectral imager instrument and have now transported it to IABG's facilities.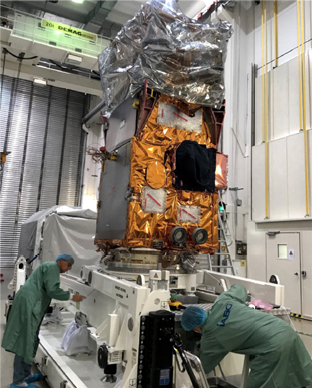 The Sentinel-2C satellite being setup
for the testing process.
Photo is courtesy of IABG.
The program includes a range of mechanical tests that simulate the noise and vibrations of liftoff, tests that check that the satellite deploys its solar wing correctly, other tests that place the satellite under the extreme temperature swings it will experience in space, and electromagnetic compatibility tests to measure radio frequency radiation levels generated by the satellite and to verify the correct operation of the satellite equipment under this environment.
Once all this has been completed, Sentinel-2C will be transported back to Friedrichshafen, Germany, for some final checks before being placed in storage to wait until it is time to ship it to the launch site in French Guiana. Liftoff is envisaged to occur in early 2024.
Constantin Mavrocordatos, ESA's Copernicus Sentinel-2 project manager, said, "We are thrilled that Sentinel- 2C is now ready to be fully tested. Airbus has done a spectacular job fitting the whole satellite out, especially during these difficult Covid times, which has led to some different ways of working to ensure all the restrictions are respected. The satellite arrived safely in IABG where it was unpacked, checked that all is well after its short road trip from Friedrichshafen and was installed in the cleanroom for series of exhaustive tests that will run until Christmas."
---
Mission Microwave's Ka-Band Titan BUC Receiving Millions In Orders
Mission Microwave Technologies, LLC has received new and follow-on orders for their 200 watt Titan BUCs for use in a variety of satellite constellations.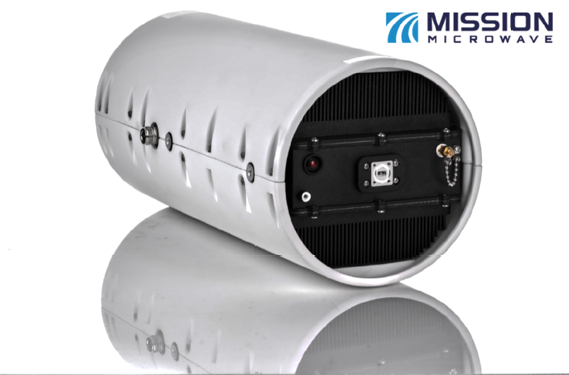 Mission Microwave's terminal integrator customers have been deploying the Ka-Band Titan BUC in volume since 2017. Titan Ka- band BUC orders placed and scheduled for delivery in 2021 exceed $8 million.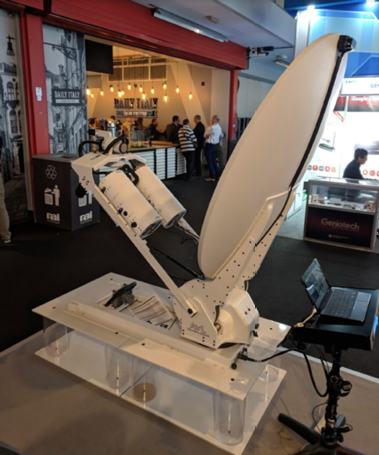 In 2020, Mission announced their first 400 watt Ka- band products and has been working closely with both commercial and government system operators to bring the benefits of high power, Ka- band, Solid State amplifiers to the SATCOM market. The company expects significant deployment of these amplifiers in 2022 in addition to the growth in the firm's 200 watt amplifier product lines.
Mission Microwave will be exhibiting their entire line of X-, Ku-, and Ka-band solid-state products at the Satellite 2021 conference September 8-10, 2021, in National Harbor, Maryland.
"Mission Microwave's customers rely on us to deliver the highest performance and throughput from their satellite networking systems," said Steve Richeson, Mission's Vice President of Sales and Marketing. "Our customers' rapid adoption of our 200 watt and larger Ka-band products validates the need for extremely high power solid- state amplifiers in Ka-band. We expect our business for Ka-band amplifiers above 200 watt to continue to grow through the decade, as our customers confirm our market leadership in this growing sector of our customers confir the space industry."
---
Plasma Processes LLC's delivers 100mN ASCENT Thrusters For Flight On NASA's Lunar Flashlight Mission
Plasma Processes LLC (PPL) has delivered its first batch of 100mN Green Prop Thrusters to Marshall Space Flight Center (MSFC), and four are now integrated onto the Lunar Flashlight Propulsion system (LFPS). The 100mN thrusters use the Advanced Space Craft Energetic Non-Toxic (ASCENT) propellant; also known as AF-M315E.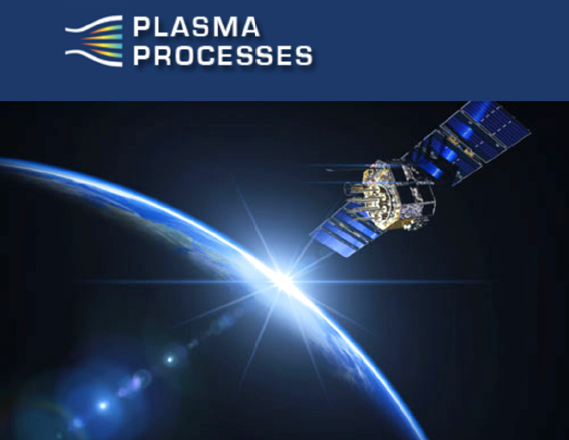 Born of a NASA Small Business Innovative Research (SBIR) award, this 100mN will be the first ASCENT thruster to fly since the NASA Green Propellant Infusion Mission (GPIM) in 2019 and will be the first use of ASCENT beyond LEO as well as the first use to support a scientific objective — illuminate permanently shadowed craters on the moon to detect surface water ice. These thrusters will be used to perform lunar orbit insertion and orbital maintenance.
PPL manufactures all critical parts of the thruster in house and has full control over the manufacturing and testing of its line of ASCENT thrusters. Building on its successful 100mN development, PPL also has mature development programs underway for 1N and 5N variants as well.
"We are thrilled to see the enthusiasm about these thrusters." said Tim McKechnie, President of PPL. "Plasma normally manufactures first space flight hardware sub-components, but this is the first end-to-end product development and qualification here. We've had a collaborative relationship with NASA, who have helped make the 100mN flight development possible. We've now applied this knowledge and our capabilities forward to build and hot fire these new knowledge and our capabilitie thrusters with great success."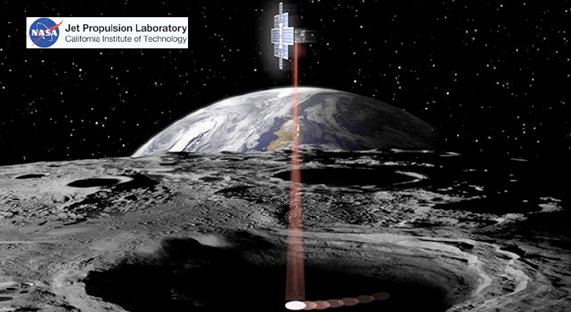 Artistic rendition of NASA JPL's Lunar Flashlight
Mission. Image is courtesy of JPL.
ASCENT propellant has a performance edge over state-of-the-art hydrazine. It is a much hotter propellant, therefore achieves high performance. But, typical high-temperature materials used in thruster construction cannot survive these higher temperatures for long. And that is where PPL has its edge.
PPL has a unique, in house capability that permits them to manufacture near net-shape refractory metal parts. This proprietary capability, called El-form, is what make it possible for PPL to build components that can take the extreme high-heat liberated from the ASCENT propellant. But these parts alone are only part of the solution. Thermal design and balance is the other part. That is the code that Program Manager, and Principle Investigator Tomas Hasanof has cracked.
"We have built a thruster that has surpassed our expectation," said Tomas Hasanof, Program Manager at PPL. "We've pushed well over 1kg of prop through this thruster to date and have nearly 6 hours of accumulated firing time on our qualification thruster. Our longest demonstrated single pulse was 101 minutes, delivering over 220 seconds of specific impulse (Isp). These thrusters are going to be very competitive. We will continue to accumulate time on this unit to reveal its full potential."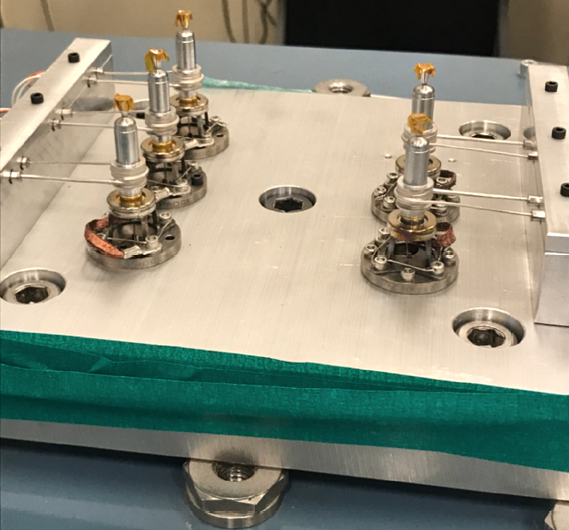 100mnN Thruster Batch, photo is courtesy
of the company.
The Lunar Flashlight mission is managed by NASA's Jet Propulsion Laboratory (JPL). The propulsion system was managed and built by NASA's MSFC in partnership with the Space System Design Lab (SSDL) at the Georgia Institute of Technology (GT).
After completing deliver to NASA, PPL started upgrading their test facility to enhance their in-house thruster testing capability, including the ability to do propulsion system level testing. PPL and GT won a Phase II STTR in 2021 to jointly develop a 12U cubesat propulsion system that builds on their collective knowledge from LFPS.
Story authored by Thomas Hasanof who works full time as a Program Manager at PPL and possesses a Master of Science degree in Space Engineering and a Bachelor of Engineering degree in Electronics Engineering from Umeå University, Sweden. Mr. Hasanof has 20 years of experience in rocket engine design, manufacturing, and testing processes. For more than 12 years, Mr. Hasanof worked at Swedish Space Corporation and ECAPS developing green propulsion technology. As a prior core member of ECAPS, he was responsible for production, manufacturing, inspection, and test. He has direct, relevant experience in all areas concerning designing, testing, fabrication and joining of complex design green monopropellant (LMP-103S)-based thrusters.
---