In a recent Northern Skies Research report, the company stated that "the global market for Commercial Satellite Ground Equipment will grow from $5.6 Billion in 2015 to $11.5 Billion in 2025, generating over $100 Billion in cumulative revenue"—certainly such an analysis offers ground equipment manufacturers a reason to be optimistic as well as motivated for the future of their businesses and prompts them to develop and deliver the latest, most efficient technologies to address these growing markets.

From the inauguration of commercial satellite communications, the burden to improve performance and efficiency in a satellite link was placed on ground segment equipment manufactures.
This was believed to be the most cost effective sector for researching, developing and implementing the next great leap in technology for a satellite connection.
Manufacturers, however, have not always been of this opinion, as they knew it was not inexpensive, quick or easy—but what choice did they have? The benefit has been to witness great advances in all aspects of the capabilities and efficiencies in ground station equipment that actually reduce the Total Cost of Ownership (TCO) to the service providers or end users.
And Datum Systems has delivered many of these leading edge capabilities to their customers via their satellite modems, many under the names of Radyne, Vipersat and additional OEM providers.
The cost of these development efforts are not always directly reflected in increasing the price of ground station equipment such as antennas, high powered amplifiers or modems—these costs must be spread across manufacturing.
The companies that accomplish this feat will still be in business in 2025 to share in a piece of the projected $11.5 billion in revenues.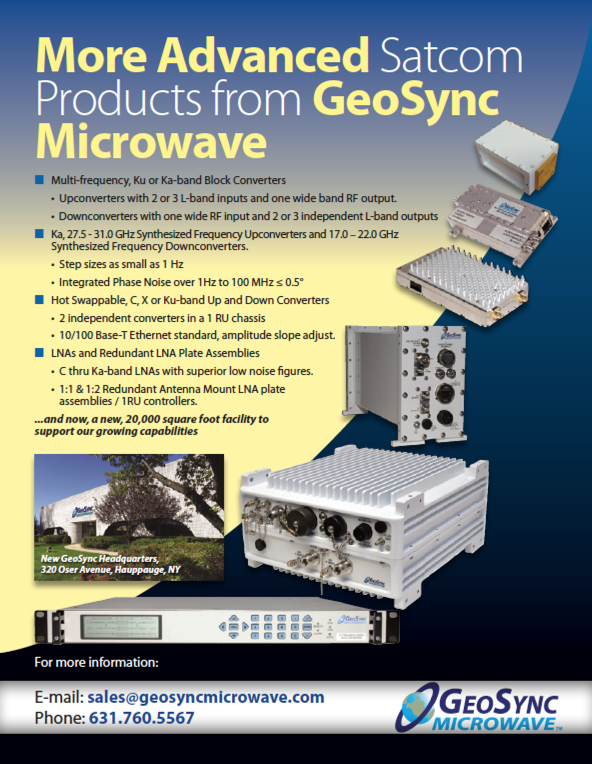 Today these manufacturers have developed, produced and implemented many new technologies, such as antennas with smaller apertures, high gain reflectors and flat panels for fixed and mobile applications. RF power amplifier manufacturers constantly introduce smaller, higher powered, more efficient and reliable consumer amplifiers.
These new amplifiers must also support whichever frequency band is the hot new ticket. Modem manufacturers continue to develop and implement new, high order modulations, robust and highly efficient forward error correction methods and also carrier cancellation capabilities that increase overall Shannon efficiency by 100 percent. Modems now support Internet Protocol (IP) interfaces with integrated routers that optimize, compress and accelerate IP traffic.
The tides recently shifted and satellite manufactures began making investments in research and development of new technologies and capabilities for use on board spacecraft. These advances have highly increased the value of space assets.
Using onboard processing for DAMA system as well as frequency reuse capabilities allows for more users on a single transponder. The life span of a satellite can now be one of many decades by building systems that are capable of being serviced on orbit and outfitted with new, highly efficient electronic propulsion systems.
Inter-satellite links allow for huge constellations by intelligently connecting large numbers of satellites that comprise a constellation into acting as a single entity. Some of these spacecraft have been launched and many are on launch schedules just around the corner, with a few starting to provide services. These new birds with increased capabilities offer a variety of forms: High Throughput Satellites (HTS), Low Earth Orbit (LEO), Medium Earth Orbit (MEO) and constellations that are composed of hundreds of small satellites (smallsats).
In the launch industry, where the business is truly rocket science, there has been significant advances—payload capacity has increased and the ability to launch multiple heavy satellites with one vehicle is now possible. This spreads the cost burden across multiple satellites and operators.
With the ability to reuse launch vehicles, this is definitely a game changer and will certainly reduce the economics involved in satellite launches and will allow for more frequent deployments and additional opportunities to attract new players. These advances in spacecraft technology, combined with the developments in efficiencies in the ground station equipment, have set the stage for meeting the growing demands of higher and higher throughput.
Now the operators and service providers must be creative with new services and capabilities that appeal to users with technical advances as well as possessing the ability to solve problems. Of course, this all has to meet the economies of scale and make business sense in order to attract new business opportunities and to expand current markets. The potential for nexgen ground station equipment is here and the skies are primed to support viable and profitable new services.
With the significant reduction in bandwidth cost in most regions, the largest barrier to entry has been reduced. The repeated warnings from MNOs, multinational enterprises and maritime operators of OPEX costs that are excessive have waned. Using the new tools developed by operators, service providers and equipment manufactures are able to now clearly show the TCO of a satellite network a profitable Return On Investment (ROI).
Developing new efficiencies and capabilities in a cost effective and reliable manner has never come inexpensively or quickly enough. Ground station equipment manufactures know this first hand. For them, the daily challenge is to develop and implement new technologies to meet growing client demands and to work within budget restraints and customer schedules.
In the satellite modem development and manufacturing sector, Datum Systems has been meeting such challenges and delivers new technologies. Although one of the smaller businesses in the modem market, the modus operandi for the firm has been to develop and implement new technologies in a methodical and highly economical way. A privately owned company with low overhead and proven high efficient manufacturing partners, Datum Systems is able to offer the industry's latest technology with improved performance over competitors, at a very substantial cost savings.
datumsystems.com/
Datum Systems Inc. is a wholly privately owned company that has been in business since 1986, and incorporated in 1995. Originally, Datum Systems designed modems and various communications gear as an OEM supplier for other companies.
---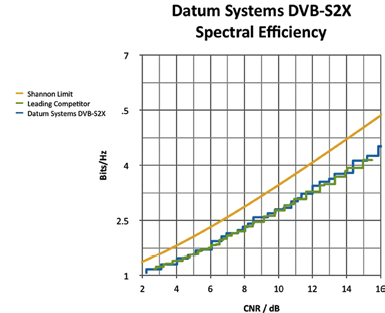 Datum Systems is located in the heart of Silicon Valley, California, and is solely focused on the innovation and manufacturing of satellite communications modems, specializing in the most spectral and bandwidth efficient SCPC modems.
Datum produces the industry's only one-half rack modem (8.5 x 11-inches and weighing less than 5 lbs), while capable of 350 Mbps TX and RX in the model M7. This compact design allows for lower part counts and less heat production, thereby increasing the MTBF to previously unreachable numbers. The M7 serves worldwide IP requirements and solutions for Mobile Backhaul, Trunking, Enterprise, Oil & Gas, Maritime, Local and International Government needs. Solution architectures include Point-to-Point, Point-to-Multipoint, Mesh, On-the-Move and SCADA.
Recently, Datum Systems released their patented Smart Carrier cancellation in the M7 modem series. The unique design of Smart Carrier Cancellation is engineered to perform cancellation at the baseband signal level of the demodulator. This allows the demodulator to acquire and reacquire carrier lock faster than any other cancellation techniques available. Long acquisition times were a constant burden and complaint from users of cancellation technologies, but Datum has solved this frustrating issue.
With the most recent release of the Datum DVB-S2 / DVB-S2X extensions in the M7 modem, the M7 now outperforms all other modems when operating at like modcodes and filter roll-offs. The M7 DVB-S2X, combined with Sharp Carrier roll offs (5, 10, 15, 20, 25, 30, 35 percent), allows for near Shannon limit performance and total throughput capability of 700 Mbps and symbol rates of 72 MHz bi-directional. These combinations equal the most bandwidth efficient and ease of set up available today, allowing the highest bits/Hz for the lowest bits/$ in the industry.
SMART Technologies
Datum offers a group of Smart Technology Features that when combined provides the industry's most efficient modem available. These Smart Technologies include our FlexLDPC FEC, Sharp Carrier, Smart Carrier Canceling, Advanced 8QAM, End-to-End Modem Communications and our fully featured Web Browser Interface with Diagnostic capabilities.
All features work together to provide the most feature loaded, reliable, spectral efficient and affordable modems on the planet. All M7 Series models support these Smart Technologies as standard features or upgradable options in the most modular modem available. The M7 universal platform was designed with flexibility in mind to support Point-to-Point and Point-to-Multipoint networks.
Experience & Know-How
With more than a century's worth of electronic design experience and familiarity with sophisticated communications systems and satellite modems, Datum Systems continues to expand its advanced technology and capability portfolio using techniques that are supported by the most reliable, cost effective and power efficient FPGAs available. These designs have supported the fastest acquisition modem on the market, the first to develop and market a flexible LDPC "FlexLDPC", Smart Carrier cancellation and much more, including our new compact and low cost professional high-speed DVB-S2X Modem.
Product Design Philosophy
Datum Systems manufactures the highest quality and most reliable modem by concentrating solely on satellite modems. The modem products are rigorously designed to provide the absolute best performance at the lowest cost. Datum Systems equipment is also engineered to be built extremely efficient. Testing is virtually all automated, from initial checkout through final testing, drastically reducing system test time.
The electronic design features zero adjustments and comprehensive digital processing. Extensive use of Digital Signal Processing and FPGAs keep the complexity hidden inside high reliability chips. Direct modulation and demodulation is the firm's hallmark, which offers customers superior performance with fewer parts and higher integration with modulation and demodulation at 70 MHz, 140 MHz and also at L-Band. The design of these incorporates communications and logic processes written in high level hardware design language.
The name "Datum" refers to the reference or reference line from which other measurements are made.
---