Awareness Ambassadors
The SATCON 2012 Hosted Payloads Association event will feature discussions, solutions, networking and special events addressing the issues surrounding hosted payloads.
The U.S. presidential election will have just taken place. The U.S. Government is facing significant budget cuts. This panel, organized by the Hosted Payload Alliance, whose mission is to increase awareness and benefits of hosted payloads on commercial satellites, will discuss the outlook for hosted payloads and innovative space acquisition, against the backdrop of the elections, the budget environment, and recent efforts by the USAF Space and Missile Systems Center to include hosted payloads in future acquisition strategies.
The Hosted Payload Alliance (HPA) is an independent, not-for-profit satellite industry alliance formed to increase awareness and promote the benefits of hosted government payloads on commercial satellites. The HPA will host its annual business meeting on Thursday, November 15, 2012, during SATCON.
The meeting will continue the discussion of issues affecting hosted payloads. Benefits to be explored will include lower costs, shorter development cycle times, the opportunity to share orbital slot locations, and the ability to disaggregate assets for more resilient space architecture. For more information and to request an invitation to this special HPA meeting email Jodi Metzgar at jmetzgar@hostedpayloadalliance.org.
Take a semi-private, guided tour of the exhibit hall, led by an industry expert, and visit several stops focused on hosted payloads! No separate registration is required—tour attendance is included with your expo or conference pass! The tour will last approximately 45 minutes.
* * * * * * * * *

A Tactical Commitment
PacStar
®
has been awarded the TacSat Nano contract by 6th Contracting Squadron, MacDill AFB, Florida, for immediate delivery to the Joint Enabling Capabilities Command's (JECC) Joint Communications Support Element (JCSE).
The JCSE TacSat Nano is a lightweight, compact, and flexible package that provides multiband voice (high performance waveform, SINCGARS, VHF/UHF, etc), ViaSat messaging services, and Radio-over-IP (RoIP) in a single case, easy-to-use solution. JCSE selected the PacStar 3700 to meet this mission requirement, based on its high level of integration, small size, weight and power (SWaP), and ease of use.
The TacSat Nano provides three distinct use scenarios: a) SATCOM-based UHF radio using the AN/PRC-152 handsets with external amplifiers and antennas, b) RoIP and radio interoperability (providing IP access and interoperability for up to six RF networks), and c) an AN/PRC-152 "Grab and Go" tactical radio with quick release and mobile accessories, providing soldier handset service.
* * * * * * * * *

Going Wide With Modules + A Hefty Contract
The contract for Cobham will be, according to Boeing, for the "highest-capacity military communications system" and will provide broadband communications connectivity for the U.S. and allied warfighters around the world.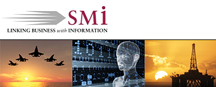 Defence Professionals reported that Cobham have been awarded a $65 million contract to supply electronic systems to Boeing's Wideband Global SATCOM satellite program.
Cobham Defence Electronics will supply 1000 modules for the phased array antennas on each satellite, with modules made up of a complex power amplifier, beamformer and receive amplifier modules, allowing the satellite to transmit and receive communications.
Jill Kale, vice president of Cobham Defence Electronics, announced Cobham is "pleased to support and enhance military satellite communications capability by providing the portfolio of RF modules that support additional bandwidth required by the military."
In addition, Cobham is also a major sponsor at the 14th annual MilSatCom conference and exhibition—Europe's event for military satellite communications professionals to discuss the contract and further developments taking place within the SATCOM arena.
Attendees will also be able to hear presentations from leading industry experts such as Eutelsat's new Chief Commercial Officer, Mr. Jean Francois Leprince-Ringuet, who will be analyzing the future role of SatComs in military satellite communications planning.
Expert speaker from the following organizations will be presenting at this event...
– DISA
– Canadian Forces
– Italian Navy
– The Netherlands MoD
– DGA France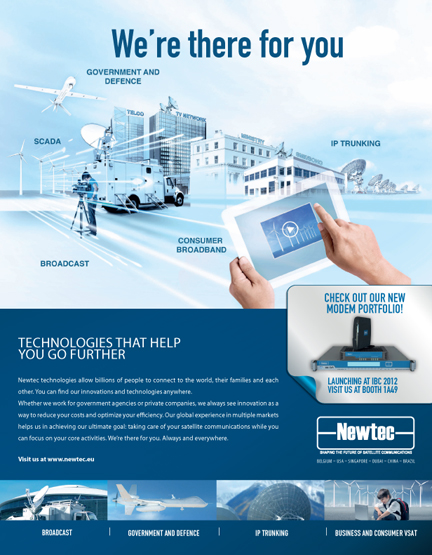 – UK MoD
– Colombian Police Force
– NATO
– USAF
– MoD Japan
– Danish Defence Acquisition and Logistics Organisation
– Vietnam National Satellite Center (VNSC)
– German MoD

Plus, there's an interactive workshop to be held on November 26th that's hosted by Cobham: What is the Future for Broadband Tactical Satellite Communications? Book today to secure your attendance!
* * * * * * * * *

The Best of Both Worlds
by the European Association of Remote Sensing Companies (EARSC) Executive Secretary
The recent announcement that DigitalGlobe will combine with GeoEye brings together two of the world's largest commercial satellite imaging companies in a deal valued at $453 million.
The transaction was anticipated in light of dramatic cuts to the U.S. government's ten-year $7.3 billion Enhanced View Contract that each company had been awarded. The valuation is low in comparison to that prior promised revenue stream, however the final dollar figure from that contract is still pending and the combination of the companies will reduce reliance on that revenue stream.
As the companies work through the steps of regulatory and shareholder approval on the deal, the task of combining and streamlining operations will begin. The anticipation is that the deal will be completed in the early first quarter of 2013. DigitalGlobe shareholders are expected to own about 64 percent of the combined company and GeoEye shareholders are expected to own approximately 34 percent. Through years of direct competition the two companies made investments to diversify their strengths and as a result the combined entity will build a better company from the parts.
The current satellite constellations of the two companies combines DigitalGlobe's QuickBird, WorldView-1 and WorldView-2 with GeoEye's Ikonos and GeoEye-1 satellites. The plan as presented is to move to a three-satellite constellation as the aging QuickBird and Ikonos reach the end of their lives. And there is also a commitment to complete the construction of the two satellites in development, with a new satellite to launch by 2014, and the other to launch by 2018.
It's widely speculated that DigitalGlobe won the bulk of EnhancedView funding based on the strength of their constellation and their ability to image the same spot of the world more rapidly. In addition to a larger constellation, DigitalGlobe has diversified sensor collection with their current 8-band capability with Worldview-2 and their planned SWIR sensor for Worldview-3.
These new sensing capabilities provide unique capabilities to sense and classify vegetation, land use and land cover that have advantages for agriculture, natural resources and extraction industries as well as military customers.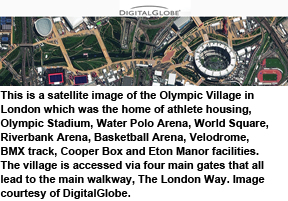 The companies share a common vision to move beyond collecting data into elevating insight, with a need to better understand our changing planet.
There are great opportunities in the combined image libraries that offer more than a decade of insight into global change. Both companies have been working to combine earth imagery with expertise, with DigitalGlobe's Analysis Center and GeoEye's analytical products and services.
GeoEye has been more successful in packaging imagery with expertise with such offerings as their Marine Services with fisheries information and vessel monitoring sold as a service.
They have also collected detailed 3D models of the world's airports for next-generation aeronautical navigation products for their client GE, and have teamed with GeoStellar to create a countrywide solar map that combines solar potential with utility rates to provide insights into the economics of renewable energy.
These combinations of addressing business problems with insights specific to changing conditions are also addressed by DigitalGlobe with their FirstLook and FirstWatch reports.
We can expect an ongoing enhancement of these types of services and rapid response analysis with the combined strengths of these companies.
DigitalGlobe has focused a great deal on the speed of imagery delivery, with investments in new ground stations in Antarctica and around the globe that are now delivering imagery within an hour of being captured. The speed of delivery makes a difference particularly with evolving events such as natural disasters.
The rapid delivery has been feeding news outlets with insights into global events, providing great marketing exposure for the kinds of insights that can be gleaned from satellite imagery, particularly in areas that are hard to reach for political or geographic reasons.
GeoEye has placed more of a focus on web services, delivering their imagery via Software as a Service (SaaS) with their EyeQ platform. The combination of speedy delivery with streamlined web-based services that mesh nicely with enterprise information systems is a compelling combination for advanced location intelligence. Analytics are increasingly seen as a business advantage, and with more globalized supply chains, this rapid insight into evolving events will drive demand and increase revenue.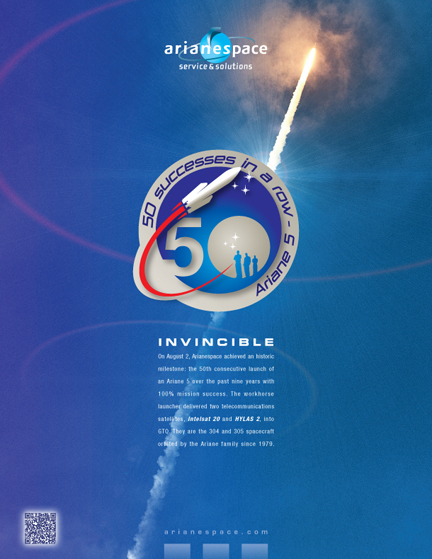 The combined operations of the two companies, with reduced capital costs, promise to position the combined company to invest in the new areas of growth.
The company is poised to offer unique analytical and location intelligence services, particularly with new advancements with GIS and imagery analysis software that make deriving insight from imagery much more accessible to less technical users.
While it's hard to see the loss of a pioneering company and strong brand, the combined entity has a bright future in delivering new levels of insight into global change.
* * * * * * * * *

Coding Core
Creonic has released the world's first high-efficiency turbo decoder IP core for DVB-RCS2 for the fourth quarter of 2012.
After DVB-RCS, DVB-RCS2 is the second generation DVB standard for interactive satellite systems. The new standard delivers a drastically increased spectral efficiency and higher throughputs compared to its predecessor, clearly reducing costs of satellite modem operators.
These improvements are achieved by employment of a new 16-state double-binary turbo code that significantly outperforms its dated 8-state counterpart of DVB-RCS. DVB-RCS2 is the first standard to adopt these highest performance turbo codes, fulfilling the continuous demand for increased spectral efficiency. The outstanding error correction performance of the DVB-RCS2 turbo decoder makes it the ideal candidate for further applications where high spectral efficiency is key for lowering costs.
* * * * * * * * *

Identifying Those Unknowns
Narda Safety Test Solutions has equipped the Interference and Direction Analyzer IDA-3106 with additional functions that allow even faster and more reliable localization of interference and unknown signal sources.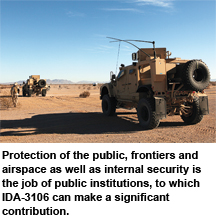 It is now possible to localize pulsed or sporadic signals using a horizontal scan for direction finding, a feature that is a world first in a hand-held device. The spectrogram display shows the variation of the spectrum with time. Deviations from a reference trace can be seen at a glance using the delta spectrum display.
The IDA-3106 now offers a special Max Hold algorithm for localizing unknown sources with a horizontal scan. This allows the instrument to also produce a polar diagram from pulsed and cyclic or sporadic signals and to determine the direction of signals that have hitherto been difficult to localize, such as radar installations or intermittently used walkie-talkies.
The IDA-3106 records up to 400 compressed individual spectra for the spectrogram display and shows the signal strength in color. This visualizes the variations in the spectrum with time, which can give information about the type of signal, so that industrial control equipment with cyclical signals, mobile communications services using frequency hopping, stationary transmitters, and sporadic emitters can all be distinguished from each other.
A new feature is the ability to save spectra as reference traces and display the current spectrum as a difference or delta spectrum. In this way, deviations from the normal status, such as new sources in the communications band or an unusual state in an industrial plant, can be seen immediately. The instrument display is designed for outdoor use and can now be switched for optimum visibility in daylight, normal lighting, or darkness.
The Interference and Direction Analyzer IDA-3106 was developed for identifying and localizing electromagnetic signal sources. Its applications include the areas of communications and security. In communications, the task is to find and eliminate spurious interference from whatever source. For security, the device can be used to locate unknown sources and identify potential dangers. The IDA can automatically determine the direction of the source based on a horizontal scan, and display the bearing angle on a polar diagram. The IDA then automatically calculates and displays the position of the interfering source from several bearing results. Freely available electronic maps can be recorded optionally, so that the source can be precisely pinpointed on a street plan, just like a navigation system.
Determination of the position of an interference source is based on a GPS receiver in the measuring instrument and the electronic compass in the antenna handle for determining the direction, elevation, and polarization. Optimized antennas which can be inserted vertically or horizontally in the ergonomically formed handgrip are available for different frequency ranges.
As a hand held device for on-site use, the IDA-3106 basic unit weighs less than 3kg including battery. The antenna and handle draw their power supply from the basic unit and thus weigh less than 1kg. The rechargeable battery can be hot-swapped without interrupting operation.
* * * * * * * * *

Making Waves With Voice
MTN Satellite Communications (MTN) and Wireless Maritime Services (WMS) have now made available the Connect at Sea voice application, enabling passengers and crew to make cost-effective phone calls and send text messages from their personal Apple iOS or Android devices while at sea.
The unique features of Connect at Sea allow passengers and crew to make and receive calls from loved ones and friends or work from anywhere around the world. In addition, intra-ship calling enables passengers to connect with their friends and family onboard to make plans or keep track of one another. Crew can leverage this feature as well to call other vessels.
Communication at sea is a complex matter and MTN and WMS have jointly developed a unique solution that not only offers a clear connection, but a service that works with a vessel's Wi-Fi infrastructure and data/voice prioritization strategy for the maritime industry.
Unlike other voice applications, Connect at Sea is built for the maritime industry and delivers high voice quality while keeping bandwidth usage low. In addition, customers do not have to purchase an Internet plan to use the application and can download it from iTunes or the Android store.
In addition, the application adds to any crew welfare initiative by offering a cost-effective way for families to communicate with their loved ones who are at sea for months at a time.
The Connect at Sea voice application is a valuable addition to MTN and WMS' suite of products, which provides cruise passengers and customers with a complete communications package, including voice, Internet, television and content.
* * * * * * * * *

Rally For RF
RF-Design invites attendees of IBC2012 to visit their stand (Hall 1 / Stand F51, co-exhibiting with HilKOM Digital), where their following products and solutions will be showcased...
– FiberLink—Stand-alone and modular RF-over-Fiber (RFoG) solutions
– RLA250—1:1 redundant RF Line-amplifier
– FlexLink-K3—New and innovative L-band Switch/Routing-Matrix series
– RLS25XX—1:8 or 1:16 RF splitters with 1:1 redundant amplifiers
– RLS2S-2XX—Dual 1:8 or 1:16 RF splitters with dual 1:1 redundant amplifiers
– SA3B—New Broadband Spectrum-Analyzer series
* * * * * * * * *

It's A SIN Not To Use CID
The Satellite Interference Reduction Group (sIRG), has announced the launch of their Carrier Identification Ready Logo Initiative, which is being introduced in time for IBC2012.
Encoder and modulator manufacturers will be able to display the Carrier ID logo, both on Carrier ID capable products, and on marketing material.
"One of the biggest hurdles remaining with Carrier ID is the fact that many users don't realise the equipment they have in place is able to handle Carrier ID," said Martin Coleman, Executive Director, the Satellite Interference Reduction Group. "This simple initiative will give them much more visibility, as well as hopefully providing a useful marketing tool for those manufacturers on board with Carrier ID."
The Satellite Interference Reduction Group (sIRG) is an organization working to reduce satellite frequency interference. It comprises three main working groups, covering video, data, and VSAT.
Manufacturers helping with this initiative include Ericsson, Comtech EF Data, and Newtec. The Group's membership is comprised of members who have a stake in combating radio frequency interference.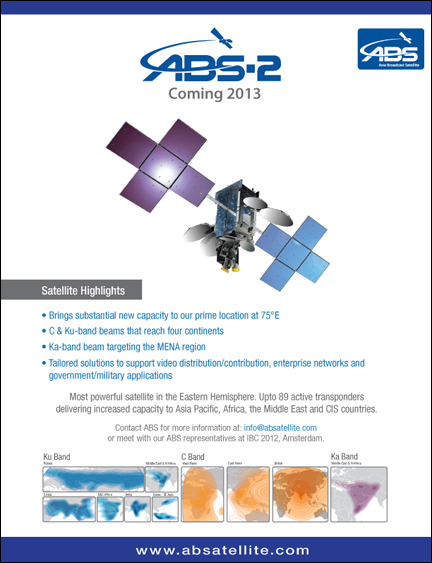 "We are pleased with this move by IRG to recognize Carrier ID ready products," commented Lisa Hobbs, Head of Broadcast Compression Solutions, Ericsson. "As we introduce Carrier ID across our satellite modulator and encoder products, being able to display this logo will make it very clear to existing and potential customers that our equipment is ID ready."
* * * * * * * * *

Back In The Saddle
NASA has awarded the CalTech in Pasadena a new five-year contract to manage the agency's Jet Propulsion Laboratory (JPL).
The contractor's primary mission is to support NASA's Science Mission Directorate (SMD) in carrying out specific objectives identified in the SMD Science Plan. The contract is for $8.5 billion. The contract extends the agreement beyond its current expiration date of September 30th. The new contract runs from October 1 through September 30, 2017.
JPL conducts research expanding human understanding of Earth, the sun, the solar system, stars, planetary systems, galaxies, and the formation and evolution of the universe. JPL also manages NASA's Mars Exploration Program, which currently operates two spacecraft orbiting the Red Planet and two rovers on its surface, including the recently landed Curiosity.
* * * * * * * * *

SpaceWire Support Enhancements
Ball Aerospace & Technologies Corp. will incorporate essential data communication enhancements for the Joint Polar Satellite System (JPSS-1), currently under development for an early 2017 launch.
JPSS is the Nation's next generation polar-orbiting operational environmental satellite system, procured by the National Oceanic and Atmospheric Administration (NOAA), through the National Aeronautics and Space Administration (NASA). JPSS will provide continuity of observations for accurate weather and storm forecasting, vertical profiles of temperature and moisture, global measurements of atmospheric and oceanic conditions, and ozone measurements.
Ball Aerospace built Suomi National Polar-orbiting Partnership—the first of the JPSS-class satellites—using the IEEE 1394 (FireWire) and MIL-STD 1553 data networks to support the five-instrument payload suite. For JPSS-1, Ball is converting the NPP spacecraft design from 1394 to a SpaceWire databus protocol for use by the Cross-track Infrared Sounder (CrIS) and the Visible/Infrared Imager Radiometer Suite (VIIRS) instruments. The high-speed (>200Mbp) on-board communications provided by SpaceWire mitigates 1394 obsolescence risks at the JPSS program level and can be incorporated without risking schedule. The SpaceWire databus is a point-to-point cable bus based on the IEEE 1355 standard and has successfully flown on other NASA and international space agency missions.
Ball Aerospace will also modify JPSS-1 to improve reliability and flexibility for operations by replacing the primary X-band Science Mission Data (SMD) downlink with a Ka-band telecom system transmitting to the ground communication system. A backup Ka-band SMD downlink system will be added, transmitting to NASA's Tracking and Data Relay Satellite System (TDRSS), which offers possible future cost avoidance and latency improvements.
Ball is under contract to NASA's Goddard Space Flight Center to design and build the JPSS-1 satellite bus, the Ozone Mapping and Profiler Suite (OMPS) instrument, integrate all instruments, and perform satellite-level testing and launch support. The JPSS-1 spacecraft is a member of the BCP family of spacecraft designed for cost-effective, remote sensing applications. The JPSS-1 spacecraft bus is the twelfth spacecraft built by Ball Aerospace on the BCP core architecture. In all, this architecture has more than 50 years of successful on-orbit operations.
The Joint Polar Satellite System (JPSS) provides global weather forecasts and long-term environmental monitoring critical to public safety, and economic and national security. JPSS will operationalize the advanced technologies currently being demonstrated on Suomi NPP, to provide enhanced Earth-observing information and environmental data. JPSS development is progressing smoothly, with an early 2017 launch anticipated for the first satellite in the JPSS series.
* * * * * * * * *

This Small Platform Captures An Olympic-Sized Picture
The London Olympics were watched by viewers from all over the world—and beyond.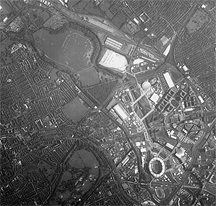 Benefiting from a cloudless sky, this view of London's Olympic Park was captured by the smallest imager aboard ESA's smallest mission: The High Resolution Camera on the Proba-1 microsatellite.
The Olympic Park, dominated by the circular Olympic Stadium, is visible towards the base of this 5m-resolution image, with Victoria Park to its west and Hackney Marsh to the northwest.
This black and white digital camera incorporates a Cassegrain telescope miniaturized to fit aboard Proba-1. Orbiting Earth at 720km altitude, the entire satellite's volume is less than a cubic metre. HRC operates alongside Proba-1's larger CHRIS (Compact High Resolution Imaging Spectrometer) hyperspectral imager, which takes 15m-resolution scenes across a programmable selection of up to 62 spectral bands, from a variety of viewing angles. This HRC image was acquired on August 11, 2012.
* * * * * * * * *

Successful Deployments
The joint effort between Gilat Satellite Networks and Optus Satellite, first announced in May 2011, will include up to 48,000 SkyEdge II VSATs expected to be deployed over the next three years.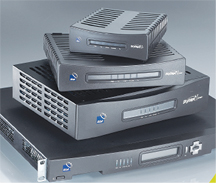 Gilat Satellite Networks Ltd. has successfully completed the deployment of the first 10,000 VSATs (Very Small Aperture Terminals) with Optus as part of NBN Co's Interim Satellite Service.
The joint effort between Optus and Gilat will include as many as 48,000 Gilat SkyEdge II VSATs expected to be deployed over the next three years.
Gilat is responsible for the VSAT CPE installation and maintenance and end-to-end management and maintenance of the NOC (Network Operating Center) and eleven hubs across three earth stations. Subject to final design and implementation of the network, the project represents a potential value of up to $120 million for Gilat.
Gilat's SkyEdge II advanced capabilities are leveraged in multi-beam environments and the satellite-based network uses IPSTAR's Ka-/Ku- multi-spotbeam capacity as well as Optus' Ku- capacity over Australia.
Provided will be broadband services to eligible Australian households, small businesses, indigenous communities, not-for-profit organizations, schools, health clinics and local council facilities such as public libraries around Australia where geographic location impedes the ability to provide either fiber or advanced wireless connectivity.
"Satellite-based connectivity is a critical element in NBN Co's commitment to offering broadband services across Australia.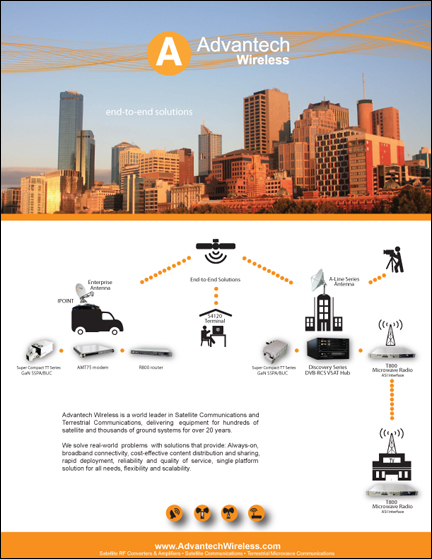 "Gilat's expertise in delivering large scale projects has been key to helping Optus meet this important milestone of connecting more than 10,000 sites," said Paul Sheridan, Vice President, Optus Satellite.
"We are very pleased to have achieved this milestone ahead of time and see this as an important accomplishment for both Gilat and Optus. The rapid deployment is a testament to the teams' cooperation and dedication in supporting NBN Co's commitment to delivering high-speed broadband to Australians living in rural and remote locations", said Erez Antebi, CEO, Gilat Satellite Networks.
* * * * * * * * *

Certifiably Certifiable
KRYTAR, Inc. has announced its certification to AS9100 Revision C Quality Management System.

This latest certification is a high-quality standard designed to meet stringent, complex and unique demands of worldwide customers within the defense and commercial aerospace industries. KRYTAR's upgrade to the Revision C Certification from Revision B meets the industry's newest and highest standards of quality and places KRYTAR in an elite class of companies that are registered to this rigorous standard.
KRYTAR is one of the first component manufacturing companies in the RF and microwave industry to reach this high standard.

This internationally recognized certification confirms KRYTAR's position as an approved supplier to OEMs, improves customer satisfaction, enhances performance and cost savings, while at the same time positions the company with a distinct advantage in the marketplace for its products.
AS9100 Rev. C is the quality management standard specifically written for the aerospace industry based on ISO9001:2008 and it continues KRYTAR's commitment in design, production and on-time delivery of the highest quality products for all its customers with applications in aerospace, defense, testing, medical, or homeland security.
* * * * * * * * *

U.K.'s 1st South Asian HDTV
Great news for fans of Hindi entertainment—Arqiva is to support South Asian broadcaster Star in their launch of the U.K.'s first South Asian HD channel.
The Star Plus HD Channel will be uplinked onto satellite capacity on Arqiva's dedicated HD platform on Eurobird 1. This will enable subscribers on BSkyB to enjoy Star Plus HD, the world's most watched Hindi entertainment channel.
John Bozza, Director of Sales at Arqiva, said, "Arqiva already provides satellite distribution services for four of Star's channels and we are delighted to be expanding our relationship by supporting their move into HD broadcasting. With our extensive expertise in launching TV channels and our dedicated HD platform we were able to facilitate the fast launch required by Star. We wish the channel every success."
Rajan Singh, Head of International Business at Star, added: "The pace of innovation at Star UK has been phenomenal and Arqiva has proved to be a great technical partner. Working with us closely to evolve our business "Arqiva has delivered speedy and innovative solutions to support our growth. With the U.K. launch of Star Plus HD we are delighting viewers and advertisers alike with an unmatched and exciting viewing experience—and Arqiva was our first choice of technical partner for this new service."
* * * * * * * * *

Nice To Have A ClearView™
Cloud cover has always been a problem for companies that rely on satellite or aerial imagery in tropical locations such as Colombia, where the ground is obscured for up to 90 percent of the year.
With this in mind, Geoimage has created a low cloud Landsat image mosaic over Colombia to aid numerous industries with their mapping needs.
Created using multiple scenes from the Landsat satellites, the new ClearView™—Colombia product has taken the cloud element out of the imagery to reveal what lies below and allow consistent mapping at 1:50,000 scale across the entire country. Remotely-sensed satellite images of large areas provide a bird's eye view of the landscape, which supports a range of activities essential for industry operations.
Satellite imagery, digital surface models and supplementary spatial datasets can all assist the planning for and construction of vital infrastructure.
The team at Geoimage have extensive experience in providing core spatial datasets including satellite imagery for mapping land cover plus feature extraction of infrastructure and other terrestrial or marine based characteristics.Digital surface models are used to understand topographic variability, site suitability or routing of infrastructure and are especially vital in comprehending costs associated with slope, topographic variability or elevation. Geoimage also provides advice on when very high resoluton data is required and when alternatives can be deployed to save time, costs and processing requirements.
* * * * * * * * *

The Host With The Most
Harris Corporation will be the industry host for MILCOM 2012, the premier international conference and exposition for military communications.

The annual government/military/academia/industry forum will take place October 29-November 1 at the Gaylord Palms Convention Center in Orlando, Florida.
The theme for MILCOM 2012 is "Trusted Communications...Awareness to Action." The conference will feature more than 400 unclassified and classified technical presentations, tutorials, and panel discussions by leading experts in defense communications.
Topics will include the spectrum of command, control, communications, computers, intelligence, surveillance and reconnaissance (C4ISR) technologies and capabilities that address 21st Century communications challenges related to national defense, homeland security, disaster response and interoperability. Continuing education credits are available for all attendees.
Planned keynote speakers for the conference include U.S. Army Lieutenant General Susan Lawrence, U.S. Army chief information officer; Chris Inglis, deputy director of the National Security Agency; Jeb Bush, former governor of Florida; Mark Kelly, astronaut and retired U.S. Navy Captain; and Bill Brown, Harris Corporation's president and chief executive officer. The conference also will feature a small business workshop to encourage and facilitate collaboration with large aerospace and defense companies.
MILCOM is co-sponsored by the Armed Forces and Communications Electronics Association (AFCEA) International and the Institute of Electrical and Electronics Engineers (IEEE) Communications Society. The Johns Hopkins University Applied Physics Laboratory is the official academic advisor for this year's conference.
All proceeds from the conference will benefit AFCEA and IEEE educational programs, as well as "The Mission Continues", a nonprofit organization that reaches out to post-9/11 veterans, empowering them to transform their lives by serving others and directly impacting their communities.
* * * * * * * * *

State-Of-The-Art Antennas Monitor The World's Longest Coastline
"With the second-largest landmass on Earth and the longest coastline in the world, Canada's sovereignty depends on the effective monitoring of our land and borders.
The Honorable Joe Oliver, Minister of Natural Resources, today announced funding of $38.9 million to equip Natural Resources Canada's (NRCan) satellite station facilities with state-of-the-art antennae. The Minister made this announcement during a speech at the Prince Albert Satellite Station facility.
"The Government of Canada is committed to supporting science and technology in order to build a competitive advantage for our nation," said Minister Oliver.
"With the second-largest landmass on Earth and the longest coastline in the world, Canada's sovereignty depends on the effective monitoring of our land and borders."
Canada uses leading-edge satellite technology to provide real-time scientific information on its landmass in order to address a wide array of topics that are important to Canadians—environmental monitoring, stewardship, resource exploration and development, emergency response, navigation, sovereignty and security.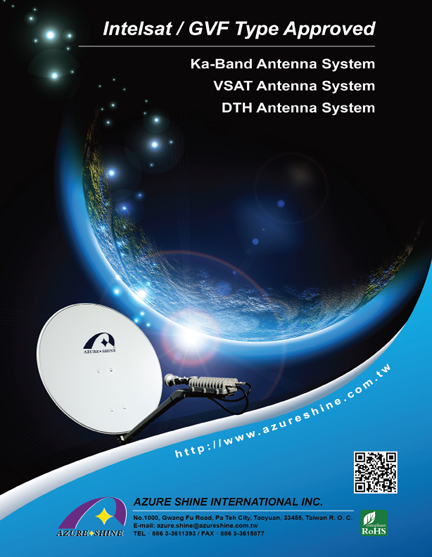 This announcement provides funding for the installation of four antennae at Natural Resources Canada's satellite station facilities: two in Prince Albert, Saskatchewan, one in Gatineau, Quebec and one in Inuvik, Northwest Territories. These three satellite station facilities are strategically located across Canada to provide full coverage of Canada's landmass.
Funding also supports a data management system to house and safeguard satellite information. In addition, the announcement coincides with the 40th anniversary of the Prince Albert Satellite Station facility.
Space-borne observation is a powerful and cost-effective tool to help promote the safety and security of Canadians as well as monitor the environment. The landmass information it gathers provides knowledge that can be used to ensure the responsible development of Canada's natural resources.
Funding for the new Canadian satellite antennae and the overall revitalization of the Natural Resources Canada satellite station facilities is part of the Harper Government's commitment to support applied science within Canada's Economic Action Plan 2012. Natural Resources Canada is the federal centre of expertise for Earth observation data generated by satellites.
* * * * * * * * *

A Major Weather Role Now Under Contract
NASA has completed negotiations and finalized the contracts for the spacecraft and instruments that comprise the Joint Polar Satellite System-1 (JPSS-1) Satellite, NOAA's second next generation operational polar-orbiting satellite, planned to launch in 2017.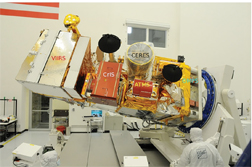 JPSS-1 will follow the Suomi National Polar-orbiting Partnership (Suomi NPP) satellite to maintain continuity of weather and environmental observations.
The final contract was signed on June 19, 2012, with Raytheon Space and Airborne Systems of El Segundo, California, for the Visible Infrared Imager Radiometer Suite (VIIRS) instrument.
The Advanced Technology Microwave Sounder (ATMS) contract was signed with Northrop Grumman Electronic Systems in April, 2012. NASA completed the JPSS-1 Spacecraft and the Ozone Mapping and Profiler Suite instrument contract with Ball Aerospace in 2011.
The contract to Raytheon Intelligence and Information Systems for the JPSS Ground System was also completed in 2011, as was the Crosstrack Infrared Sounder (CrIS) instrument contract with ITT Exelis.
These instruments form the backbone of space-based observations used for weather forecasting, and environmental and climate monitoring. The ATMS and CrIS instruments onboard JPSS-1 will be used as input for numerical weather prediction models, essential for weather forecasts beyond three days.
The JPSS-1 VIIRS instrument will provide imagery that is essential for monitoring severe weather in areas like Alaska and for detecting and tracking volcanic ash and wildfires. It will also gather data on a wide range of Earth's properties, including the atmosphere, clouds, radiation budget, clear-air land and water surfaces, and sea surface temperature.
The instrument contracts include work to build the instruments for the JPSS-1 mission while also providing support services for units previously launched on the Suomi NPP mission in October 2011. All the instruments on NPP have been activated and are operating nominally. For example, preliminary data is being released to aid forecasters and researchers, including images of fires in Southwest Wyoming and Southeast Idaho.
The JPSS program is the restructured civilian portion of the National Polar-orbiting Operational Environmental Satellite System (NPOESS) program and this step represents the final action to transition the instrument contracts to NASA.
NOAA is responsible for the JPSS program with NASA's Goddard Space Flight Center in Greenbelt, Maryland, procuring and integrating the system elements.
* * * * * * * * *

Conversion Concerns Couched
T-VIPS will launch their new CP524 TS Adapter, which supports multi-stream (any input to any output), remultiplexing, and flexible format conversion at IBC2012 in Amsterdam.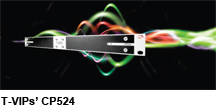 The CP524 has been designed to meet the requirements of operators and service providers for flexible repacking, and delivery of content for multiple end points.
The CP524's filtering and remultiplexing features enable operators to save valuable bandwidth. Pre-production models have been successfully trialed at operators' sites and the product is now ready to ship. T-VIPS anticipates that the CP524 will be particularly popular with:
– Satellite network operators for contribution to satellite uplink sites

– Broadcast service providers that offer television contribution and distribution services

– IP network operators offering managed video services

– Terrestrial network operators for the primary distribution of ATSC, DVB-T and DVB-T2 signals
The variety of network infrastructures used in the broadcast industry today has led to increasing demand for network adaption and conversion between formats and interfaces. The CP524 solves these issues, for up to four transport streams, by offering powerful network adaption between ASI, IP, SONET/SDH and SMPTE 310.
In addition to providing conversion between interfaces, the CP524 provides powerful TS processing capabilities that are easy to use and configure. The CP524 is also equipped with reliability features such as hitless switching with diversity reception, service fallback and T-VIPS Embedded Redundancy Control (TERC) to ensure 100 percent uptime even in the case of severe packet or link loss.
The CP524 is part of T-VIPS' cProcessor toolbox which makes TS processing simple and delivers flexible, cost-effective interfacing to broadcast and IP-based networks. The CP524 gives operators the capability to process, tailor and distribute signals according to their own needs.
* * * * * * * * *

Tracking Success
SatService Gesellschaft für Kommunikationssysteme will present its sat-nms ACU-RMU antenna tracking system for satellite ground station antenna at IBC2012 in Amsterdam.
Since 2004, SatService GmbH has integrated and delivered antenna tracking systems. These are integrated directly at the antenna with the Company's well know sat-nms ACU-ODU outdoor tracking cabinet. SatService now has an addition solution that is based on the highly sophisticated sat-nms ACU-ODM core module—the sat-nms ACU-RMU—fully integrated and the frequency inverters are inside.
The same functionality is now delivered in a 19-inch 6RU equipment drawer which can be installed in an equipment room or in an antenna shelter. This has an advantage in harsh environmental conditions as all the electronics are protected by the equipment room itself.