---
By James Dodez, Senior Vice President, Marketing and Strategic Planning
KVH has always approached the maritime satellite communications market with an innovator's desire to find a better solution. With maritime satellite communications, the biggest challenge historically has been how to address a complicated need—providing reliable and affordable satellite Internet connectivity to vessels at sea anywhere in the world—with a simple solution.

Adding to this challenge is the fact that demand for broadband connectivity onboard vessels is skyrocketing. There are a number of reasons: Ships today need Internet connectivity to operate more efficiently in their voyage planning, compliance with regulations, and crew morale, to name a few. In 2014, we also saw the start of the next big trend in maritime SATCOM: the need to provide entertainment and operations content onboard vessels.
With both these demands—for connectivity and content—KVH met the challenge with a unique within the industry solution—the mini-VSAT Broadbandsm network combined with our TracPhone® V-IP satellite communications systems and the new IP-MobileCastTM content delivery service. Our mini-VSAT Broadband network and TracPhone V-IP satellite communications systems provide broadband connectivity to more than 4,000 vessels worldwide. According to an industry report by Euroconsult earlier this year, that makes KVH the market share leader in maritime VSAT. In addition, our IP-MobileCast content delivery service, which we launched in May, is a maritime first: This service employs multicasting technology to deliver commercially licensed news, movies, TV programs, sports, music, chart updates, weather data, and training programs to ships at sea. No other company has such a complete solution, and KVH surpassed many challenges to create this one-provider convenience.
IP-MobileCast overcomes the prohibitively high satellite communications costs typically charged to deliver files for individual use. The new service is notable for numerous technological advancements: Content is delivered over the top of the network, so there is no charge for the delivery, only for the content itself; the multicasting transmission does not affect the vessel's mini-VSAT Broadband onboard data speed; the service ensures digital rights management (DRM) of copyrighted material, such as Hollywood movies and television programs; and the content is delivered using forward error correction to minimize burden on the mini-VSAT Broadband network.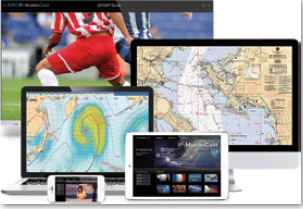 Thousands of hours of beta testing were completed to ensure the IP-MobileCast service can deliver large multimedia files and regularly updated content to a vessel's onboard server, which can then make the content available to nearly all types of platforms on the ship, whether it is a flat screen TV, a computer, or a Wi-Fi enabled personal device, such as a smartphone, tablet, or laptop.
Creating IP-MobileCast involved overcoming tremendous technology hurdles as well as making certain we had rights to the content that mariners most want to enjoy while onboard ship. For news and entertainment content, we rely on our own KVH Media Group, which produces NEWSlinkTM publications in 60 different editions for mariners worldwide, and also secures rights to new-release movies from Hollywood (MOVIElinkTM), TV programs (TVlinkTM), and sports events (SPORTSlinkTM, see the graphic below). One of our first SPORTSlink events delivered via the IP-MobileCast service was the 2014 FIFA World Cup® in June and July of 2014, enabling mariners at sea to enjoy this international event.
For IP-MobileCast, we are also forming partnerships with leading maritime companies to provide operations data to vessels via the IP-MobileCast service. For example, we announced arrangements with Transas for its electronic chart updates and AWT for its high-resolution weather data. We also acquired Videotel, the leader in maritime e-Learning and will make their training courses available via IP-MobileCast multicasting delivery.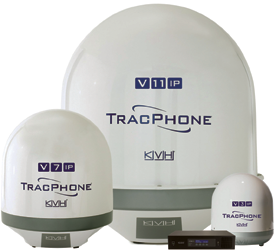 The key to our satellite communications solution meeting the needs of mariners worldwide lies in the robustness of our mini-VSAT Broadband network, which covers 100 percent of the global maritime market through a combination of 19 Ku-band transponders and three C-band beams. KVH has built this global infrastructure by leasing available commercial satellite capacity, rather than investing in our own satellites, leading to lower costs and better prices for customers.
In 2014, we completed a six-month rollout of new Adaptive Coding, Spreading, and Modulation (ACSM) technology to enhance the mini-VSAT Broadband network. The ACSM upgrade followed a yearlong Variable Coding, Spreading, and Modulation (VCSM) technology upgrade. Together, the ACSM and VSCM upgrades enabled us to deliver more data at faster speeds. On an ongoing basis, we continually monitor and enhance the mini-VSAT Broadband network.
The most important challenge for the maritime satellite communications industry in the near future is to continue to improve on ways to provide affordable transmission of data and content to and from vessels. This challenge is compounded by the fact that shipping companies have spent years focusing on IT strategies to circumvent the use of satellite communications, due to the ridiculously high costs of the legacy satellite services.
The economies and efficiency of access to the Internet and cloud-based applications are too well documented on land to deny. Shipping companies will be compelled to adopt better satellite communications solutions to meet many needs: access to current data to meet new regulatory requirements; ways to improve crew living conditions; reducing greenhouse gas emissions and saving bunker through improved voyage planning; delivering charts electronically; and meeting new training requirements.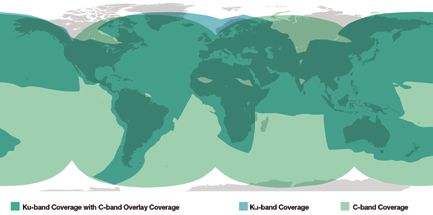 New satellite services using HTS technology will offer the next major enhancement to maritime satellite services. We're looking forward to enhancing our mini-VSAT network using this technology in areas where we have concentrations of customers in one region. KVH works with leading satellite providers such as Viasat, Intelsat, Eutelsat, SES, and Skyperfect JSAT, so we feel we're in a great position to leverage new technology and enhance the value of the airtime packages we offer our customers.
Going forward in the manner that has always guided us, we want to be in the solutions business. We are always interested in our customer's problems, and are having great discussions with our application service partners about the future services that will be enabled by enhanced, affordable connectivity. Short term you will see enhanced versions of our application partners' services and our own eLearning and distance learning courses, plus new ideas for providing the critical data our customers need in the most cost-effective ways possible.
Real-time data about weather forecasts and sea conditions, for example, plays a key role in optimizing voyage planning for a vessel, and the only affordable way to get the quality and frequency of weather data that ships need is with our multicasting technology. With the new greenhouse gas emission regulations and more expensive fuels that are involved, route planning and vessel compliance with instructions relating to course and speed will become more of a vessel management priority. Captains' decisions to ignore voyage planning recommendations will be reduced, ultimately resulting in safer voyages, and greater profitability for all maritime operations.
New maritime regulations are going to create significant new requirements for training courses and automated systems that monitor individual seafarer's training and test their capabilities. A new generation of seafarers, raised with Internet access, game systems, and abundant multimedia, need to be trained with high quality, entertaining, multimedia content.
Training is required to operate equipment is becoming more complex. Our vision is a consistent, high quality, distance-learning service that enables seafarers onboard vessels to take courses and demonstrate their competency with centralized, shore-based instructors and collaborate with other students working on the same class work. Satellite connectivity is a key to this vision.
With a strong position in terms of being able to access readily available commercial satellite capacity, we are committed to maintaining KVH's mini-VSAT Broadband network as one of the highest quality, most reliable maritime VSAT services on the planet. Adding new capacity is a fast, dynamic process and fielded terminals on vessels worldwide are automatically updated over the air to take advantage of the new satellite capacity so all customers benefit from future expansion.
You'll see us continue to monitor and improve the network, thereby providing more consistent data speeds for bridge and crew, and all at affordable airtime costs. With our acquisition of maritime e-Learning leader Videotel in July of this year, we made a significant step forward in our ability to provide seafarers with the type of training most needed today, and deliver it on a variety of platforms. You'll also see us continue to pursue ways to provide the most engaging content and essential data to ships at sea, using the most advanced satellite communications technologies available to improve maritime operations worldwide.
An expert in maritime industry trends, James Dodez joined KVH in 1986, and has held a variety of positions where he has helped to guide the company's strategy as a disruptive entity in the maritime satellite communications market.
---
By Mishaal Ashemimry, Aerospace Engineer, President and Chief Executive Officer
This year has been a quite unique for Mishaal Aerospace, a U.S. based Smallsat Launch Vehicle Provider. We moved from the design and manufacturing of our vehicle concept to testing and demonstration.

To list some of our accomplishments this year:
• Successfully passing Hydro-proof testing of the M-SV combustion chamber
• Successfully completing our first static test of the M-SV hybrid rocket propulsion system
• Receiving Letters of Intent to launch future Smallsats for several clients
• Meeting with several key potential investors
Naturally, accomplishments are replete with difficulties and 2014 had a fair share of obstacles. For example, we had several failed hydro-proof tests of our combustion chamber before finally succeeding—this was especially stressful, as one of our biggest technological milestones depended on the success of the static test. The failed hydro-poof test forced us to think on our feet in order to meet the static test date. Luckily, we have a great team who were up for the challenge and finally, on July 22, 2014, we passed our hydro-proof test. This placed us back on track for the August 10th static test.
The next challenge was our most important test of the year, the first static test of the hybrid rocket motor. The hybrid rocket motor is formulated and built in-house using our own proprietary technology. This motor powers our M-SV, Suborbital Vehicle, and also serves as the booster in the M-OV, Orbital Vehicle. Therefore, demonstrating this rocket motor at the static test is extremely crucial to the development path of our vehicles, as it will prove the design and power of our hybrid fuel formulation.

August 10th was the big day. By 11:30 a.m. Pacific Time, the test configuration was nearly complete. We still had several functional tests to finish before starting the LOX loading.
Later in the afternoon, we experienced some issues loading the oxygen— we needed more spare parts. Given the excessive heat at the FAR (Friends of Amateur Rocketry) test site near Mojave, California, and the need to obtain those spare parts, we scrubbed the test to August 11th.
After several nail-biting problems the that morning, we managed to solve all of the issues and were ready for count down—our hearts were pumping with excitement. At last, the moment we had all been working and waiting for had arrived, and the test was a complete success—this validated and demonstrated our hybrid rocket propulsion system and made our years of hard work with an amazing team all the more worthwhile.
From a business perspective, some of our highlights are meeting several serious potential investors who, like us, want to disrupt the aerospace market by providing smallsats to provide a cost-effective and the ability to frequently access space on their terms. We look forward to working together with these investor as we pave the way for a "New Space" where sending satellites to orbit is more common place and accessible to all interested parties. In addition, we are also fortunate to have received, after intensive hard-work, several signed Letters of Intent with visionary clients that are able to apply game-changing technologies to missions.

While 2014 has been a difficult year that tested our resolve and drive, Mishaal Aerospace has accomplished many milestones, all with flying colors. As we approach 2015, we have a highly positive and plentiful list of additional milestones to achieve.
From a technical perspective, we plan to continue our testing efforts on the M-SV to complete four more static tests which will finally lead to a flight test and qualification. In addition, we will also perform several M-OV upper-stage motor testings and verifications, as well as finalize the M-OV main engine design and manufacturing. Moreover, we plan to initiate launch site Phase I efforts to ready our facility for ongoing flight tests as well as commercial flights.
From a business perspective, we plan to close our series A round with strategic investors and continue efforts to advance the development of our vehicles. Consequently, Mishaal Aerospace will be hiring several more positions to fulfill these milestones with key personnel.
Just recently, MISHAAL Aerospace Corporation announced that Outernet Inc., a New York-based global broadcast data startup, signed a Letter of Intent for launch of their satellites, once MISHAAL Aerospace's M-OV, Orbital Vehicle, is ready.
The Letter of Intent highlights Outernet's satellites launch requirements and the minimum payload intended for launch. This letter of Intent also paves the way to enter into negotiations once the M-OV is ready for commercialization and launch.
In addition to its existing Fixed Satellite Service over conventional geostationary satellites, Outernet is interested in offering a mobile service from a constellation of CubeSats sent to Low Earth Orbit (LEO). Their aim is to provide basic information such as news, education and emergency alerts to the 60 percent of humanity who do not have access to it.
"We are eager to have MISHAAL Aerospace succeed in the development of their M-OV, which will enable us to access space on our terms and increase the utility of our service" said Syed Karim, Outernet's CEO.
We look forward to 2015 and welcome the challenges that the new year will bring—without the challenges, our creativity and ingenuity will not be tested to its fullest, and the latter is needed for ultimate success.
Founded in 2010, Mishaal Aerospace specializes in launch vehicle development to send small satellites (<=500 kg) to Low Earth Orbit. We design, develop and launch our own line of rockets, the M-Rocket, which is the first generation of cost-effective dedicated small satellite launch vehicles. The M-Rocket serves the broad applications of small satellites for clients from government, research, commercial aerospace and telecommunication industries. Mishaal Aerospace's objective is to provide a turn-key and cost-effective approach to space access, making it more common place and accessible.
Mishaal Ashemimry is an aerospace engineer by profession and an entrepreneur at heart. Based in Miami, Florida, Mishaal founded Mishaal Aerospace in 2010. After working for Raytheon Missile Systems, Mishaal decided to roll up her sleeves and pursue her life-long dream of building rockets for space access.
Her professional experience and areas of expertise include: aerodynamics, wind tunnel testing, vehicle design, predictive simulation and analysis and rocket stage-separation analysis, with a strong focus on computational tool development. Her academic focus included: experimental and analytical aerodynamics, rocket design and nuclear thermal propulsion.
---
By Howard Hausman, President and Chief Executive Officer
For MITEQ 2014 is a good year; bookings are up over 20 percent. The Microwave industry seems to have released many projects that were on the drawing boards but held up for a multitude of reasons. The increase in procurement has spanned all of MITEQ's major product areas including satellite communication, space systems, and commercial and military microwave components and systems.

To better understand MITEQ's view of the industry in 2014, a short background about the company is in order. MITEQ is an engineering company with 15 different departments that designs and manufactures microwave components, microwave subsystems and microwave systems. Approximately 50 percent of our products are used for military applications and the other fifty percent 50 percent are used for non-military applications. Approximately 10 to 15 percent of these products are for military and non-military use in space craft for commercial, scientific and military applications.
In addition to being ISO certified, we are also certified to AS9100, the high reliability aerospace standard. MITEQ is known in all sectors of the industry for our technology, quality and reliability. Three of our 15 departments focus on the Earth station SATCOM business, which is 40 percent of our total sales.
The 12 other departments design microwave amplifiers, oscillators, synthesizers, microwave switches, mixers, phase shifters, integrated microwave assemblies and microwave fiber optic links for military, space, and commercial customers. In addition, our microwave component departments supply high technology microwave components and subsystems used in our satellite Earth Station equipment. MITEQ designs and manufactures virtually all of the RF and microwave components as well as the subsystems used in satellite Earth Stations, save for the high power amplifiers and waveguide assemblies. Some of the major subassemblies supplied to our satellite Earth Station customers are dual conversion frequency up and down converters, block converters (single and multi-channel) in outdoor environmentally seal boxes, indoor block converters in our patented 1/3 rack 1RU assemblies, low noise amplifiers, low noise amplifier redundant systems, Up Link Power (UPC) controllers, beacon receivers, RF/Microwave Fiber Optic links, test translators, amplitude and group delay equalizers, in rack mount or environmentally sealed outdoor packages.

By product segment, our RF/Microwave business designing and manufacturing Low Noise Amplifiers (LNA), Oscillators, microwave synthesizers, Microwave switches, attenuators and phase shifters, RADAR and Electronic Warfare (EW) receiving systems, and Microwave Fiber Optic links has been extremely active, with a significant increase in orders over the past year.
The space segment equipment orders have been particularly good this year with many multi-million dollars projects for military and non-military satellite applications such as spaceborne radar, Earth Observation (EO) platforms, and communications.
In the airborne SATCOM sector, MITEQ won multiyear contracts for Low Noise Amplifiers and antenna switches used to connect passengers to the Internet on commercial aircraft.
In the satellite Earth Station sector of MITEQ's business, Ka-band programs are our primary growth area. New programs are being rolled out by every major communications supplier, and MITEQ has captured a significant amount of those projects. We have started many new programs, captured follow on work from programs we were involved with in the past and have been awarded additional work on programs that are continuing. Many of these programs are custom products designed to the customer's unique specifications with large manufacturing quantities and multi-year production cycles. MITEQ anticipates continued and robust growth in this area, as satellite owners and manufacturers are designing for higher capacity in each satellite, which makes the industry more competitive with ground based Internet connectivity solutions.
MITEQ's success is, in part, due to its unique capability, diversity and capacity to design specialized microwave equipment. We have in-depth experience in most of the primary microwave components used in our microwave systems and use this technology advantage to successfully design and manufacture custom systems to support our customer's exacting requirements. In addition to our microwave engineering capability, resident at MITEQ is an embedded systems capability that enhances the performance of our microwave equipment. We provided instrument accuracy in our control and monitoring functions over temperature ranges greater than the capability of most instruments.
Even with the large amount of new Ka-band systems rolling out, MITEQ continues to support a highly robust Ku-, C- and DBS-band (Direct To Home) TV market. Ku-band remains the primary satellite service around the world, C-band is still the service of choice in areas of high atmospheric participation and DTH services are a thriving and expanding market across the globe. Q-band (45GHz) and V-band (50GHz) are future growth markets. MITEQ has being designing and manufacturing equipment in those bands for customers who are researching the anomalies and possible uses for future bandwidth expansions.
MITEQ's Earth station primary products are frequency converters for indoor and outdoor operation; however, the company also builds a significant number of diversified microwave-based support equipment for Earth stations. Our Uplink Power Controller (UPC) has been used successfully for many years to stabilize the level of the transmitted signal received at the satellite.
With a surge of Ka-band systems going into operation and the issues with atmospheric attenuation under adverse environmental conditions at Ka-band the transmitter power controller sales in 2014 have significantly increased. In 2014, MITEQ introduced a new multi-channel up link power controller that has enhanced capabilities to function in L-band and VHF/UHF IF frequencies with upgraded local and remote controls.
Other new products introduced in the current year are third rack slope correction modules to mitigate the problems encountered when the Earth stations must use long coaxial cable runs from and to L-band Block converters and fiber optic transmitters and receivers embedded in our block converters for those users who want to mitigate the issue of long coaxial cables.
MITEQ has numerous satellite Earth station equipment usage around the world that have been operating successfully for decades. This equipment, although still functional, is nearing end of life in that maintenance is difficult due to parts obsolescence. MITEQ is working with our customers to plan upgrades to the older Earth station equipment to support future long term operations with no disruptions.
MITEQ has been highly active developing and manufacturing equipment for our customer as they roll out new Ka-band satellites and Earth stations to support the satellite infrastructure. We are supplying up converters, down converters, pilot generators, test translators, and uplink power controllers to major satellite programs around the world. This year alone we have been awarded many contracts over $1,000,000 for Ka-band equipment. We have also have been doing well supporting current equipment in the C-and Ku-band. MITEQ is investing with our customers in Q- and V-band equipment to satisfy future bandwidth demands.
The industry is active and expanding and MITEQ expects to be a significant part of the continued industry growth.
Howard Hausman received his BSEE and MSEE degrees from Polytechnic University now part of New York University and is President/CEO of MITEQ, Inc., Hauppauge, New York. MITEQ, Inc. is a microwave engineering company with approximately 350 employees. The company designs products for ground based satellite communications systems, space borne microwave systems, Radar systems, Reconnaissance systems, commercial aircraft WiFi systems, and various microwave products for defense electronics . Howard Hausman directs the four engineering divisions of the corporation, Microwave Electronic Components and Systems, Microwave Amplifiers, Satellite Communication Systems, and Special Projects. Reporting to Mr. Hausman are corporate finances, corporate services, quality assurance, operations and marketing.
During his career, Howard Hausman served as Chief Technology Officer, Vice President of Engineering, and other related titles, before being appointed President/CEO of MITEQ, Inc. As an engineer he has designed microwave systems and components for satellite communications, Radar and reconnaissance systems that include receivers, transmitters, and synthesizers. Mr. Hausman was also an Adjunct Professor at Polytechnic University, now part of New York University and Hofstra University where he taught graduate and under graduate courses in Electronic Engineering. Howard Hausman is also a recipient of the 2010 New York University / Polytech Distinguished Alumni Award and the 2013 IEEE LI Section Alex Gruenwald Award "For outstanding contributions to enhance the knowledge of the IEEE LI Section members in Satellite Communications and Microwave Theory". He has lectured around the world and authored many papers relating to microwave systems, satellite communications, Radar, and reconnaissance systems. Mr. Hausman also holds a patent titled; "Measuring Satellite Linearity From Earth Using A Low Duty Cycle Pulsed Microwave Signal".
---