Mission Possible
On April 17, 2013, St. Thomas More Cathedral School (STM & ATK) kicked off Mission Possible.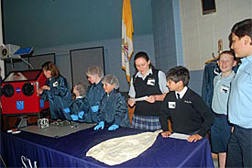 STM's goal is to be the first K-8 program in the United States to have a student-built satellite launched into orbit by 2014. Reverend Robert Rippy, Rector of the Cathedral of St. Thomas More, said, "It is a blessing to have our students rooted in faith as they explore new frontiers."
Eleanor McCormack, Principal, said, "It is an honor and a thrill to provide the students of St. Thomas More Cathedral School with such an awe-inspiring opportunity."
With the assistance of STM Computer Teacher, Melissa Pore, and STM parent and NASA Mission Manager, Joe Pellegrino, STM students will help build a CubeSat satellite and then use the data the satellite collects for school research purposes. CubeSats are a class of research spacecraft called nanosatellites. The cube-shaped satellites are approximately four inches long, have a volume of about one quart and weigh about three pounds.
"As teachers, we have to take risks to meet the academic needs of today's students. We need to provide opportunities for them to discover and apply learning to real world scenarios. Students are able to formulate their own ideas and conclusions through teacher-guided activities and make them the leaders of their own learning experience. We will build tomorrow's leaders by working hard today. Our future is in their hands," stated Melissa Pore, STM Computer Teacher and Mission Manager.
"It was a teacher who sparked my interest in engineering when I was in grade school which led to rewarding career in the space industry. I hope to do the same with this CubeSat mission. For me, mission success is when a child turns to his / her parents and says 'I want to become an engineer or scientist'" expressed Joe Pellegrino, NASA Mission Manager and STM Parent.
"This is the kind of venture that inspires kids to make a career out of science," asserted Stephen Rozzi, STM parent and Spacecraft Manager.
STM is the first K-8 program to offer this exciting opportunity. Students, through hands-on work, will develop skills and experience used in the aerospace industry. The CubeSat program creates important educational opportunities for our future leaders.
STEM is an educational initiative that focuses on the coordination of science, technology, engineering, and math in classroom lessons. The STM faculty is coordinating the STEM philosophy with the curriculum guidelines of the Diocese of Arlington to provide students with an authentic educational opportunity.
According to STM's Assistant Principal, Marie Scheessele, "We are examining all curriculum guidelines including language arts, religion and fine arts to integrate STEM easily into a student's daily educational experience."
STM received its first donation of $10,000.00 from ATK Space Systems to assist in the building and launching of this project. ATK Space Systems is a strong supporter of STEM initiatives in K-12 schools focusing on inspiring young people to pursue careers in science and engineering.
If you would like to learn more about the project, donate resources or your time, please contact Melissa Pore at
mpore@stmschool.org
.
* * * * * * * * *

Staying In Touch
Eutelsat Broadband's satellite business solution is helping workers from Ross-Shire Engineering stay in touch while constructing water treatment plants for Scottish Water Solutions II in some of the remotest areas of the country.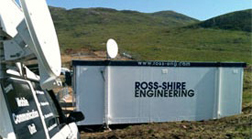 The engineers use the Eutelsat satellite broadband service for email and accessing systems at head office as well as for Voice over IP telephone calls while on site.
So far installed at five sites, including the Shetland Isles and on remote areas of the west coast, by Scottish reseller Internet Anywhere, Eutelsat provides an always-on satellite service delivering speeds of up to 20Mbps downstream and 6Mbps upstream, with no need for a telephone line.
The equipment is comprised of a small satellite dish and a modem or wifi router, which connects to the computer. The company first turned to Eutelsat when it found that its engineers were struggling to get a mobile 3G signal for telephone calls or data at some of the remotest Scottish Water Solution II construction sites.
Ross-Shire Engineering has an average of 10 workers on site at any one time building drinking water treatment plants for Scottish Water and the team are able to connect to the Eutelsat system via the wireless router and then access their office systems via VPN or make VoIP calls.
The service uses Eutelsat's KA-SAT High Throughput satellite, which ushered in a new era of competitively priced, satellite-delivered services for consumers, businesses and broadcasters when it was launched in 2011.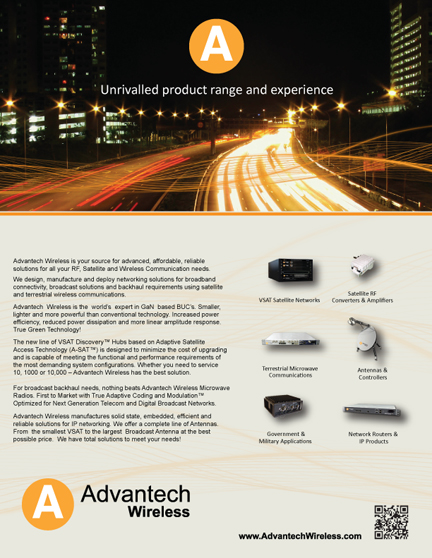 The satellite forms the cornerstone of a 350m euros state-of-the-art communications infrastructure, which includes a sophisticated on-ground network made up of eight main satellite gateways across Europe connected to the Internet by a fibre backbone ring.
* * * * * * * * *

EO For The Defense
According to Euroconsult's newly released research report Earth Observation: Defense and Security, demand for data to support imagery intelligence (IMINT) continues to grow globally to support defense activities and military operations.
However, as a result of the relatively high cost to maintain and launch EO defense satellites and the investment required to fund R&D, only 11 countries have developed EO defense capacity dedicated to supporting IMINT.
"Since only a few countries operate proprietary high-resolution satellites, the commercial sector is expected to make up a significant part of future demand for IMINT," said Adam Keith, Director of Space and Earth Observation at Euroconsult and Editor of the report.
"The number of unclassified defense and dual-use satellites launched by these 11 countries totaled 75 over the past decade. This figure is expected to rise to 100 satellites over 2013-2022, with a further three countries launching dedicated capacity. With costs remaining high, and budgets strained, development of dual-use systems is therefore expected to increase, with costs spreading across multiple government departments in order to fulfill the data requirements of numerous public sectors, such as engineering, infrastructure and resources monitoring.
Further mechanisms to re-coup system costs and/or to support national industry will include commercialization of government satellites through dedicated data distribution entities, such as those already observed in France and Italy through the sale of data from their dual-use systems.
In 2012, 77 percent ($990 million) of the total $1.5 billion EO commercial data market was attributed to defense customers, realizing a CAGR of 20 percent over the last five years. Of this $990 million, close to 50 percent is attributable to the U.S. government, which, through the National Geospatial-Intelligence Agency (the NGA), represents the first customer of commercial EO data.
The increased level of procurement by the NGA drove growth in the overall commercial data market from 2006 to 2010. However, following the award of Enhanced View contracts to U.S. operators and data providers (DigitalGlobe and GeoEye) in 2010, demand stabilized, and indeed, U.S. procurement is expected to drop in 2013, with Enhanced View impacted by austerity measures within the broader U.S. government, prompting the merger of the two companies.
Growth in the commercial data sector is now being driven by wider global sales to defense users, particularly by countries with high IMINT requirements and limited viable proprietary solutions.
In order to meet these needs, commercial operators are finding success in providing direct access contracts to end-users, providing secure imagery access to defense clients. With continued high demand, revenues from commercial data sales to defense are expected to grow to $2.2 billion by 2022.
Over the last three years much has evolved in the wider defense environment. Continued global unrest drives requirements for satellite imagery to support defense applications, however this is being met by growing economic pressures in leading economies (particularly in North America and Europe) leading in the case of the U.S. to its support of the commercial sector being revisited.
In the second edition of Euroconsult's research report
Earth Observation: Defense and Security
, government attitudes towards imagery acquisition and satellite procurement are assessed in order to identify the preferred approaches to meeting defense requirements globally and to identify opportunities and risks for the commercial data industry in these challenging economic times.
* * * * * * * * *

Losing One's Head
Abilis Systems and MaxLinear have announced the world's first eight-channel satellite headless gateway reference platform.
This "headless gateway" platform addresses the ever-increasing demand for viewing of high-quality content on multiple screens. This platform is not directly connected to a TV, like a set-top box, but is network connected and accessible by multiple screens in a home.
Acting as a media server, these headless gateway platforms are optimized for SAT>IP and DLNA services. The gateway reference platform converts satellite TV content into IP packets for streaming in home, thereby enabling users to enjoy the benefit of watching today's DTH services on televisions as well as on IP-enabled devices such as tablets, laptops, smartphones, game consoles and other platforms.
The gateway platform has four RF inputs to be used with existing satellite dishes and low-noise block (LNB) down converters.
It combines the high throughput of the Abilis TB101 network processor with the MxL584 receiver to realize unprecedented low-power consumption and a very low bill-of-materials (BOM).
This new platform offers satellite operators a cost, performance, and size-optimized solution to expand their TV offering to tablets and smartphones.
The reference platform is very small and can be designed with multiple applications in mind, for example with a single LNB (using DiSEqC) up to four LNBs.
The small design is enabled by MaxLinear's highly integrated MxL584 Full-Spectrum Capture™ (FSC™) DVB-S/S2 receiver. The four-input MxL584 receiver integrates tuners required for multi-inputs, eight demodulators, and all the active front-end components, including the low-noise amplifiers (LNA) into a compact and cost-effective 10x10 QFN package.
* * * * * * * * *

Passing With Flying Colors
The Galileo In-Orbit Verification (IOV) In-Orbit Test Review Board, held on April 9, 2013, at the European Space Agency (ESA) ESTEC facility in Noordwijk, the Netherlands, has been declared a full success.
The satellites, built by Astrium for validation of the European satellite navigation system Galileo, passed all their milestones. ESA confirmed that the satellites are fully operational after the launch and are capable of fulfilling the intended mission lifetime.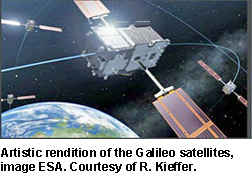 With this review, Astrium has demonstrated that the satellites are operating correctly and as predicted in ground-based tests, showing that the satellites fulfil their technical requirements. Routine operations are now able to take advantage of the lessons learnt during the in-orbit testing.
For Astrium, the development of the IOV satellites has a truly European dimension; it has involved hundreds of highly skilled people and 43 companies from 15 European countries.
The Astrium-built Galileo IOV satellites represent the first European navigation satellites with full functionality, initiating the build-up of the operational constellation. The first two IOV satellites were launched on October 21st in 2011 aboard the first Soyuz launch from Kourou. Both are well performing in orbit and have been transmitting all defined signals for more than a year now.
The second pair of IOV satellites were launched on a Soyuz rocket from Kourou on October 12, 2012, following a smooth, completely problem-free launch campaign. The following in-orbit of tests these satellites, reviewing the platform, payload and security issues, were completed by the end of February and revealed that the satellites and their payloads are performing well. This was formally confirmed by the Review Board on April 9th.
* * * * * * * * *

2 Prep'd, #3 In Development
Satrec Initiative (SI) of South Korea and the Emirates Institution for Advanced Science and Technology (EIAST) of United Arab Emirates jointly announced the development program of the DubaiSat-3 Earth observation small satellite system.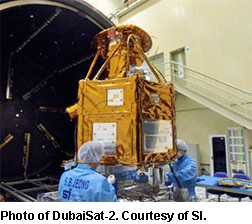 DubaiSat-3 will be a state-of-the-art small satellite carrying an electro-optical camera with 0.7-meter resolution imaging capability and weighting less than 350 kilograms.
The DubaiSat-3 program is the third space program of EIAST in collaboration with SI following the DubaiSat-1 (launched in July 2009) and DubaiSat-2 (ready for launch) programs.
The launch of DubaiSat-2 is expected in the third quarter of this year and it will be the first small satellite for commercial operation in the world that will provide 1-meter resolution image data.
EIAST will have the leadership in the development of the DubaiSat-3 system by maximizing the local activities in Dubai. SI has already signed an agreement with EIAST to provide technical consultancy for the DubaiSat-3 program this January.
Dr. Byungjin Kim, the President and CEO of SI, said "This third agreement with EIAST is a typical example that shows we have strong competitiveness in the small satellite market and we value the long-term needs of our partners."
* * * * * * * * *

Smartphones In Space
Three smartphones destined to become low-cost satellites rode to space last Sunday aboard the maiden flight of Orbital Science Corp.'s Antares rocket from NASA's Wallops Island Flight Facility in Virginia.
The trio of "PhoneSats" is operating in orbit and may prove to be the lowest-cost satellites ever flown in space. The goal of NASA's PhoneSat mission is to determine whether a consumer-grade smartphone can be used as the main flight avionics of a capable, yet very inexpensive, satellite.
Transmissions from all three PhoneSats have been received at multiple ground stations on Earth, indicating they are operating normally. The PhoneSat team at the Ames Research Center in Moffett Field, California, will continue to monitor the satellites in the coming days. The satellites are expected to remain in orbit for as long as two weeks.
"It's always great to see a space technology mission make it to orbit—the high frontier is the ultimate testing ground for new and innovative space technologies of the future," said Michael Gazarik, NASA's associate administrator for space technology in Washington. "Smartphones offer a wealth of potential capabilities for flying small, low-cost, powerful satellites for atmospheric or Earth science, communications, or other space-born applications. They also may open space to a whole new generation of commercial, academic and citizen-space users."
Satellites consisting mainly of the smartphones will send information about their health via radio back to Earth in an effort to demonstrate they can work as satellites in space. The spacecraft also will attempt to take pictures of Earth using their cameras. Amateur radio operators around the world can participate in the mission by monitoring transmissions and retrieving image data from the three satellites. Large images will be transmitted in small chunks and will be reconstructed through a distributed ground station network.
NASA's off-the-shelf PhoneSats already have many of the systems needed for a satellite, including fast processors, versatile operating systems, multiple miniature sensors, high-resolution cameras, GPS receivers and several radios. NASA engineers kept the total cost of the components for the three prototype satellites in the PhoneSat project between $3,500 and $7,000 by using primarily commercial hardware and keeping the design and mission objectives to a minimum. The hardware for this mission is the Google-HTC Nexus One smartphone running the Android operating system.
NASA added a larger, external lithium-ion battery bank and a more powerful radio for messages it sends from space. Each smartphone is housed in a standard cubesat structure, measuring about 4 inches square. The smartphone acts as the satellite's onboard computer. Its sensors are used for attitude determination and its camera for Earth observation.
The PhoneSat mission is a technology demonstration project developed through the agency's Small Spacecraft Technology Program, part of NASA's Space Technology Mission Directorate.