---
New Rocket Launchpad Being Built By Orbex In Scotland
Orbex has started construction of their first state-of-the-art Launch Platform, the first orbital space launchpad to be built in the UK for more than half a century.

Orbex has commissioned Motive Offshore Group, a leading Scottish company specializing in the design and manufacture of marine and lifting equipment, to fabricate and install the Launch Platform at a dedicated test site near Kinloss, close to the Orbex headquarters in Forres, Scotland. The Launch Platform, known as Orbex LP1, is expected to be fully operational by early 2022.
The new Launch Platform will support the testing of Orbex´s Prime rocket, a micro-launcher designed to transport smallsats weighing around 150 kg. to LEO. Although actual launches of the Orbex Prime rocket will not occur at the Kinloss site, the Launch Platform will be fully capable of launching an orbital rocket, allowing for full 'dress rehearsals' of launch procedures. Orbex LP1 is the first launchpad of its kind to be built in the UK since the High Down Rocket Test Site facility on the Isle of Wight, which was decommissioned in the early 1970s. High Down was the test site for the Black Arrow rocket, the first — and so far, only — British-made rocket to successfully deliver a satellite into Earth's orbit, launching from Woomera in Australia on October 28, 1971.
The new Launch Platform in Kinloss will enable Orbex to accelerate plans to launch Prime from its 'home' spaceport at Sutherland in the North of Scotland. Space Hub Sutherland is the world's first, carbon neutral spaceport and the only spaceport in the UK to have received full planning permission. Construction of the spaceport is due to begin early in 2022 ahead of the first expected launch of Orbex Prime later in the year.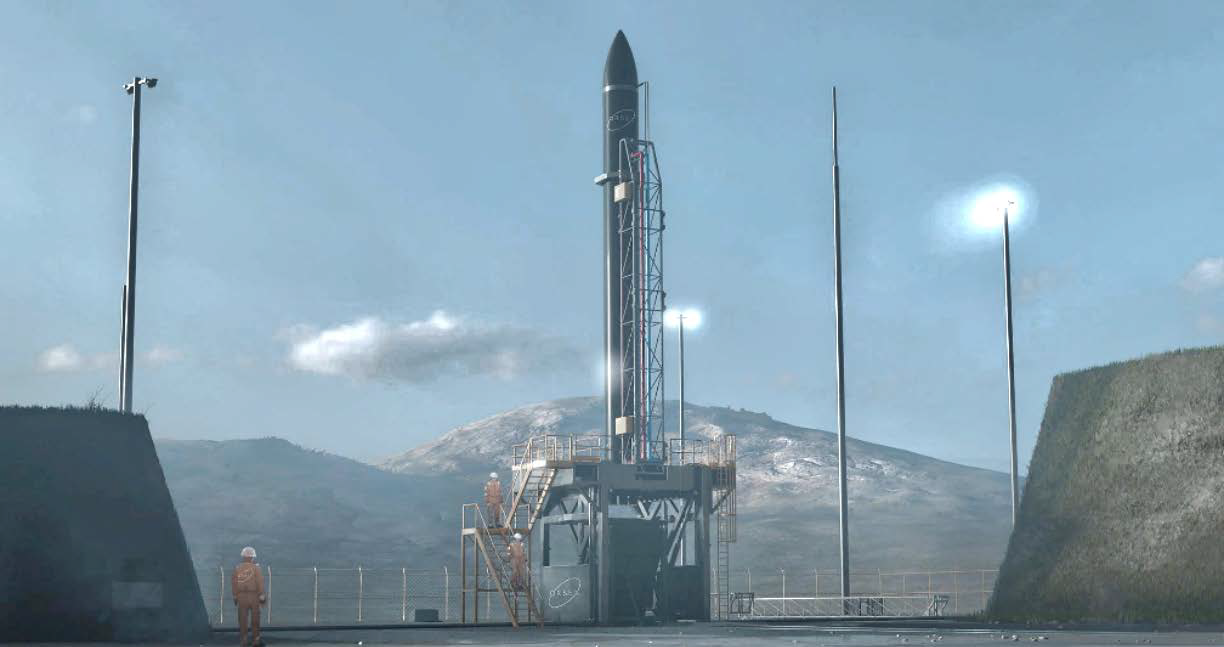 Motive Offshore Group has a rich heritage in the design and manufacture of bespoke deck and subsea equipment and is a major supplier across the energy, oil and gas industries. All equipment is manufactured onsite at Motive's headquarters in Banff, Scotland, and is built and tested to meet strict international standards across highly regulated industry sectors.
The new Launch Platform will be comprised of all the infrastructure and supporting services that will enable a wide variety of integration tests to take place during launch campaign preparation, including the testing of the main propellant tanks and multi-engine hot fire testing under vertical firing conditions. It will also enable the launch operations team to test launch procedures including rollout, strongback erection and fueling procedures in advance of the first expected launch.
Chris Larmour, the CEO of Orbex, said, "The ability for our engineers to test Prime on its own launchpad is a major advancement on the roadmap to launch, and we are happy to already be constructing this major piece of infrastructure with Motive Offshore, a partner which has a very strong track record in other relevant industries. This will be the first launchpad of its kind built in the UK for more than half a century and we look forward to seeing it completed and ready to go into service in the New Year."
James Gregg, the COO at Motive Offshore Group, said, "Motive Offshore Group welcomes the opportunity to work with Orbex on this exciting project. Whilst the Aerospace arena may be new territory for Motive, we are completely focused on the standards and performance required to deliver outstanding custom engineering, so very much look forward to transferring our skills and expertise on this project."
---
Series B Funding For PLD Space Attracts Million$$
The total capital raised by PLD Space has now risen to more than $50 million and will allow the company to advance its upcoming milestones: the launch of the company's MIURA 1 (artistic rendition below) suborbital rocket at the end of 2022 from El Arenosillo (Huelva), MIURA 5 orbital vehicle (artistic rendition above) manufacturing and its subsequent launch in 2024 from French Guiana and also includes strategic advances that involve the expansion of the company's productive capacities and team. The firm expects to increase its workforce to as many as 200 employees in 2022 and triple its size during the next three years.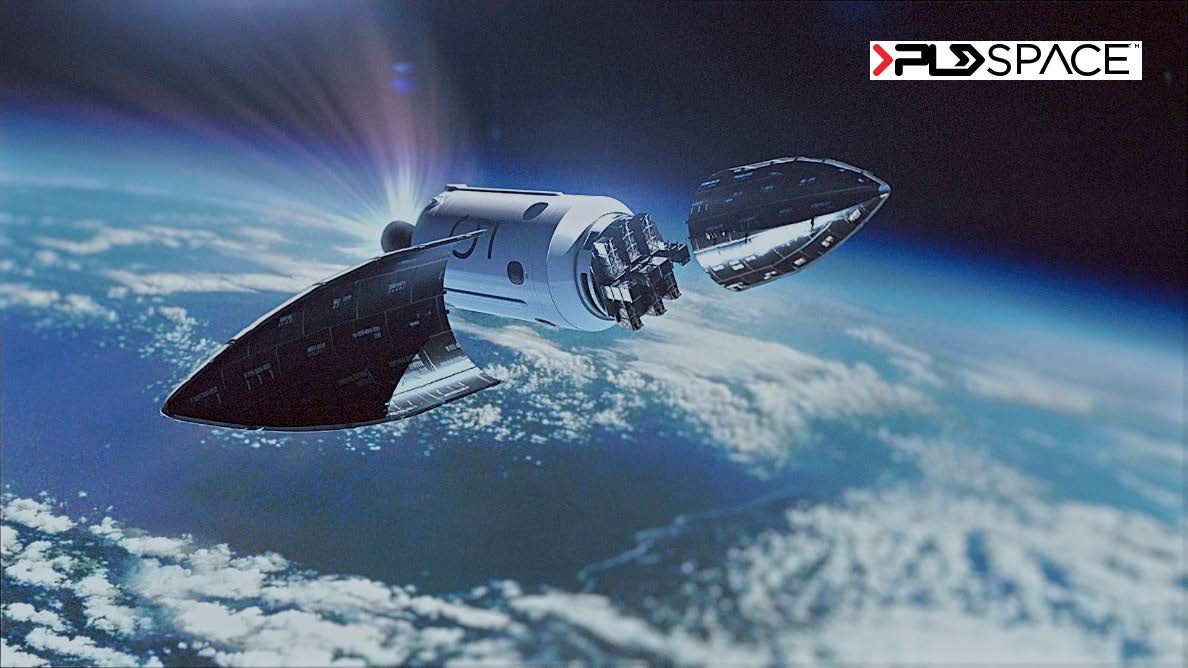 PLD Space has now closed the second tranche of Series B round in equity, oversubscribing its initial funding target. In this phase, the company has had the accompaniment of its current partners, especially Aciturri, reinforcing its position, as well as the entry of different financial partners. In addition, the company, based in Elche (Alicante), has maintained the interest of both private investors and public institutions. This is the case of CDTI, which has consolidated its position in PLD Space with an additional investment commitment of more than $2.9 million.
The COO and Co-founder of PLD Space, Raúl Verdú, said, "We are very grateful to all the investors in this round, both the new shareholders and the current partners. With this level of follow-on, PLD Space financial viability is guaranteed to undertake their next milestones such as the first commercial launch of MIURA 5, the internalization of a good part of the rocket production processes and, of course, the demonstration flights of MIURA 1."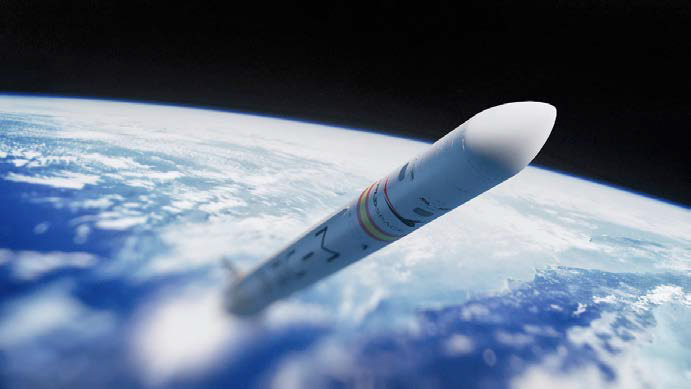 The General Director of Aciturri, Álvaro Fernández Baragaño, added, "this new financing round allows us to consolidate our position as a reference industrial partner of the PLD Space project, one of the main lines in our positioning strategy in the Aerospace&Defence segment. After our incorporation in 2018, we renew our support for the development of PLD Space, a project that will involve the development of different technologies nationwide. We are completely confident that PLD Space team has the necessary capabilities to make this project a major player in this market globally."
The General Director of CDTI, Javier Ponce Martínez, said, "CDTI's support for PLD Space initiative is part of the Spanish Administration's firm commitment to the so-called new space, which is transforming space activity and presents interesting opportunities in a high-tech and qualified sector. Through the INNVIERTE program, since 2019, CDTI supports the capitalization of technology companies in co-investment with other private investors. In this manner, these companies are capable of overcoming the first stages at the market, which carry a high technical risk."
---
SpaceBridge Expands Satellite Connectivity For 39 Airports In Columbia
Aerocivil Colombia, Columbia's Civil Aviation Authority, is expanding their network in a continued, successful partnership with SpaceBridge Inc.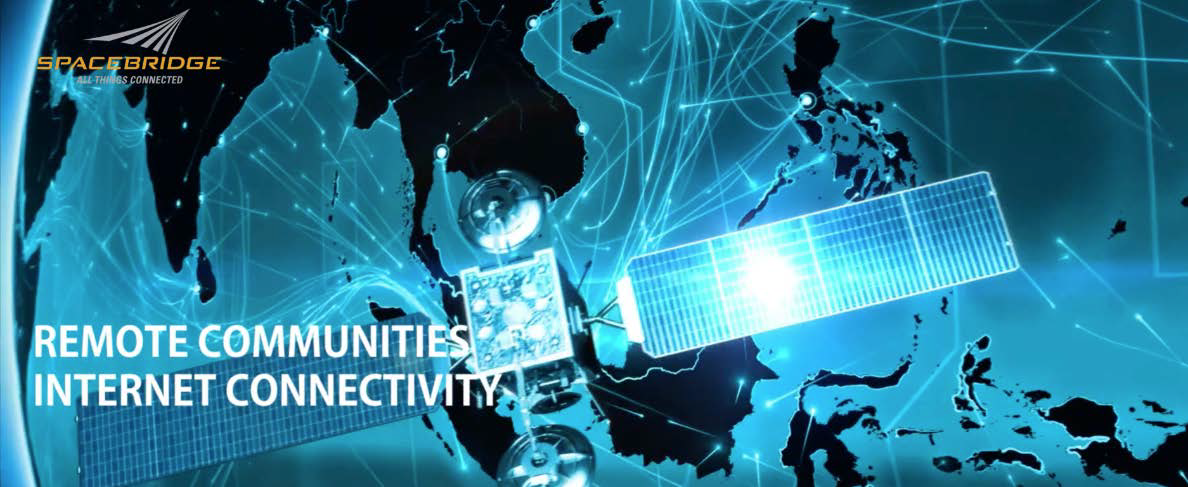 ln 2015, Aerocivil and SpaceBridge launched a joint project to ensure continuous connectivity between aircraft and ground air traffic control. SpaceBridge Inc. implemented dual star and mesh technology infrastructures, allowing aircrafts and airports to communicate with each other while significantly decreasing the overall round-trip delay. This project was implemented as many Colombian airports are located in regions that are geographically outside the range of cellular tower connection. As such, these airports can now rely on satellite connection, thanks to the partnership between Aerocivil Colombia and SpaceBridge Inc.
SpaceBridge has provided two geographically redundant gateways; one in the major city of Bogota and one in Barranquilla. This ensures that in the event a natural disaster affects one gateway, the other gateway will automatically take over to maintain constant connectivity.
CEO David Gelerman explained that this is the reason SpaceBridge's stateof- the-art, point-to-point, Mesh Satellite connectivity was implemented, as ensures reliable, constant connectivity. "Having this type of connection is dire for Aerocivil Colombia to mitigate the potential dangers that could occur during flight," he said.
The Civil Aviation Authority of Colombia is a government agency of the Colombian Ministry of Transport. This agency is in charge of regulating civil aviation, the aviation industry, and of managing the Colombian airspace. Aerocivil is also in charge of managing and controlling all of Colombia's public airports.
SpaceBridge Inc. is an established supplier and global market pioneer in broadband satellite communications systems technologies and infrastructures. Headquartered in Montreal, Canada, the company develops and provides satellite network solutions and managed services. This includes VSAT HUBs and Terminals for Point-to-Point, Point-to-Multi-Point, and Mesh topologies, as well as SCPC and broadcast modems for GEO and NGSO satellite constellations.
SpaceBridge Inc. also provides autonomous managed services for its customers, through implementation of creative and collaborative business models to reduce CapEx investments and save on network management OPEX, while speeding time-to-market.
---
Euroconsult Projects Government Space Project Budgets To Reach $1 Billion During The Next Decade
Euroconsult has released their highly anticipated "Government Space Programs" report for 2021. The highlight of this year's findings is a continued, even accelerated, volume of governmental investment in the space sector, driven by two major drivers: ambitious space exploration programs by leading space countries and rivalries driving the militarization of space.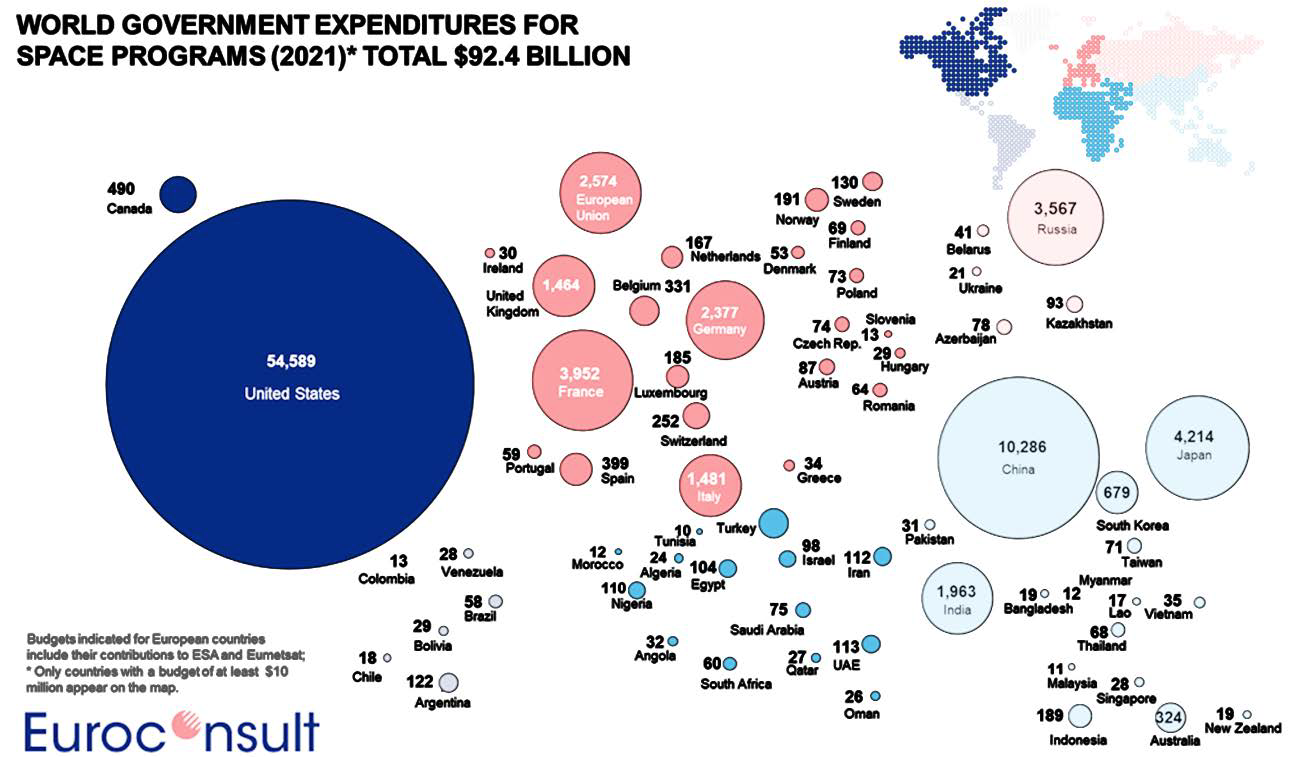 Euroconsult's "Government Space Programs" flagship market intelligence report draws on 36 years of experience to provide readers with unrivaled insight into the prevailing strategic space trends among governments.
Despite a year of uncertainty, the space sector has received record government investment totaling over $92 billion, an 8% increase compared to 2020.
Civilian space budgets, totaling $53 billion in 2021, continue to receive more funding than defense space programs, at 58% of total spending, though the share going to defense, $39 billion in 2021, is increasing.
Geopolitical tensions, increasing rivalry between leading space powers and the value of space as the ultimate high ground drive the militarization of space trend, with leaders increasing their investments in defense space assets and technologies.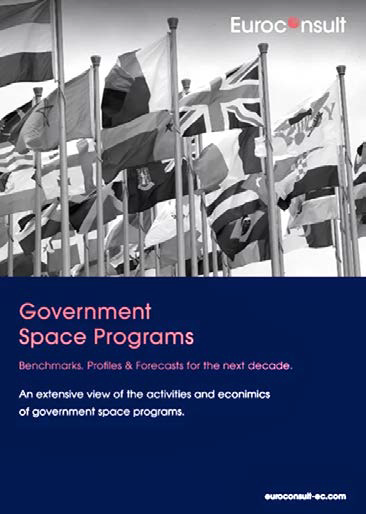 This year's edition of the report takes a close look at the surge of public funding intended to shore up the space industry against the economic repercussions of the COVID-19 pandemic. Government Space Programs 2021 provides details on national space programs' spending priorities, as well as two potential 10 year forecast scenarios, digested into negative and optimistic models.
For only the second year in the long history of this report, Government Space Programs is now available on Euroconsult's Digital Platform, a powerful tool packed with premium features to help customers easily sort, compare, customize and visualize datasets of their choice.
With a few clicks, Premium Users can now sift through the thousands of data points included in the entire database to create customized datasets tailored to their specific needs.
A long running paragon of the trademark methodology that has made Euroconsult a global leader for in-depth data and reliable intelligence for the space sector, "Government Space Programs" offers 89 country profiles in exhaustive detail, including analysis on policy & strategic objectives, Governance tables and organigrammes, Space Expenditures, Civil Space Programs, Defense & Security Space Programs, Missions Road Maps, and more.
In addition to this valuable data granularity, "Government Space Programs" sets the industry benchmark for usability and transparency, with features appealing to government, industrial, and satellite operator readers in particular.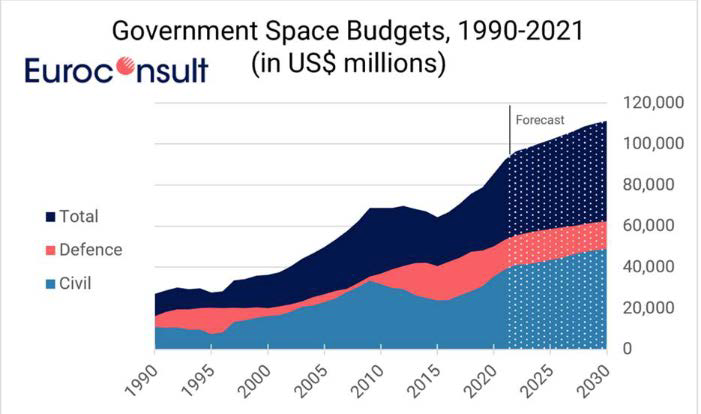 Access to Euroconsult's extensive database provides customers an exclusive look "behind the curtain" with thousands of data points for annual space budgets from 1990 to 2030. Detailed Country Fact Sheets provide key, high-level take-aways, providing key information on national space programs quickly and easily. These include total 2021 space budgets with five-year CAGR, top 3 applications, space spending per capita and as a % of GDP as well as select high-profile missions and satellites.
New in this year's edition, the "Government Space Programs" forecast, its foremost feature, has now been extended to 2030. In addition, "country pages" on the Digital Platform further implement ease of use functionalities by linking directly to official online resources for government space policies, strategies, budgets and legislation.
Finally, the report includes more detailed governance organigrammes, illustrating the relationships between government bodies and institutions, to help readers navigate complex decision-making processes and better understand the policy making landscapes and players.
"Government Space Programs" is a must-read and the essential tool to understand the state and drivers of all space programs worldwide. Euroconsult's highly-regarded and repeatedly trend-setting analysis is now enhanced by its innovative Digital Platform, providing leading-edge insight and unmatched perspective on the evolution of government investments in space.
Premium customers now benefit from the full range of powerful tools on the Digital Platform for easy data management, visualization and export, in addition to the Classic version including expansive Excel database.
Read the report today at Government Space Programs.
The Euroconsult Group is a leading global strategy consulting and market intelligence firm specialized in the space sector and satellite enabled verticals. Privately owned and fully independent, the company has more than 30 years of experience providing first-class strategic consulting, developing comprehensive market intelligence programs, organizing executive-level annual summits and training programs for the satellite industry. Euroconsult accompanies private companies and government entities in strategic decision making, providing end-to-end consulting services, from project strategy definition to implementation, bringing data-led perspectives on the most critical issues. Clients are assisted in understanding their business environment and are provided with the tools they need to make informed decisions and to further develop their business. The Euroconsult Group is trusted by 600 clients in more than 50 countries and is headquartered in France, with offices in the U.S., Canada, Japan, Singapore, and Australia.
---