It takes a strong message, one that resonates deeply and broadly with the electorate, to motivate the masses to vote a candidate into office. While politicians and their advisors were fine tuning their messages in the months and weeks leading up to the historic Brazilian presidential elections of 2010, an equally dedicated and talented team of telecommunications experts and technicians from today's leading satellite communications companies were fine tuning and testing the reliability and strength of the nationwide network that would support the surge of citizens casting their vote for the first woman president.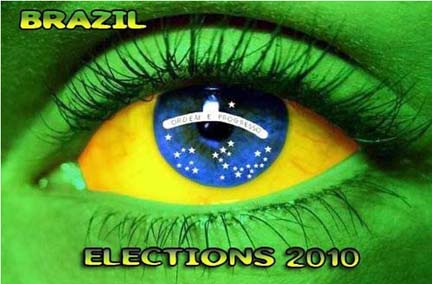 The highly coordinated and collaborative, behind-the-scenes effort of Vizada, Inmarsat and Arycom was vital in ensuring the successful conclusion of the elections on October 31, 2010. These three companies formed an unprecedented partnership during the months leading up to the elections.

Their assignment was to provide seamless, secure and reliable network services throughout the country during both election periods. The three separate global organizations created a cross-functional team of more than 35 professionals — network engineers, product managers, customer care representatives and commercial staff — to effectively address transmission, support, security and reliability needs for this critical application.

Coordinating simultaneous activations and registrations of Inmarsat BGAN terminals as well as data transmissions during specific voting periods were the team's biggest challenges — and their biggest achievements.

Brazil's three time zones had to be covered by the satellite solution and each time zone had a different requirement as to when the voting period must close. The total number of BGAN terminals was more than 1,400. During the peak voting period across all three regions, more than half of these sites required activation and near real-time transmission of results. Even at this peak activity, with more than 700 simultaneous transmissions taking place, the network delay was minimal. Furthermore, the remote voting sites concluded their data transmissions in less than a minute. The election results were processed and concluded in record time, only one hour and four minutes after the polls closed.

To achieve these results, it was critical that activations, registrations and data transmissions did not degrade the average network delay. To support simultaneous activity during peak hours, Inmarsat optimized the network capacity, allocating more resources to manage it. Under most circumstances, each regional beam handles a volume of BGAN terminal activations based on the probability of simultaneous activations per region. In this case, that number was multiplied to avoid any risk of delayed registrations. It was vital that network operators saw no network congestion. With this network optimization strategy in place, the operator's experience was virtually the same as if he or she were activating just one BGAN per beam.

While the team had confidence in their strategy, it required testing, traffic analysis and training before it could be implemented effectively. In advance of the voting period, the team executed several pre-test procedures over the network with the customer's participation. They activated and registered a large number of BGAN terminals — nearly 700 — simulating the conditions projected for Election Day. These BGANs were all operating simultaneously, just as they would be during the election.


Additionally, network simulation covered each of the 15 Brazilian states participating in the election. During the testing period, the team was able to refine operational procedures, verify the accuracy of the APN (Vizada), make sure they were using the correct IP addressing scheme, and optimize satellite pointing, or line of sight. With these in-depth simulations and comprehensive training during the testing period, Inmarsat, Vizada and Arycom greatly reduced the possibility of human error on Election Day and improved the overall security of the operation.

Ensuring integrity of the network transmissions was also a critically important security measure. Vizada's network engineers located in the United States and France implemented a dedicated Terralink Interconnect solution that relied on a site-to-site IP security VPN tunnel from Vizada's New York City PoP to the Brazilian TSE election HQ data facility. Vizada Engineering support helped to design the technical solution for the IP network using private addressing and preventing public Internet access.

Through these collaborative efforts during the elections, Inmarsat, Vizada and Arycom made terminal activation, registration and data transmission as easy, secure and fast as possible. The team created a network to successfully handle nearly 15,000 voice and data calls in a roughly 24-hour period during both rounds of the election. The name of the new president was officially confirmed an hour after voting concluded — a new record.

Short of a natural disaster, there may not be a more important use for satellite communications than creating a network that helps ensure that everyone — including people from remote regions of the world — are able to participate in the democratic process and elect new leadership for their countries. In the end, it was both a powerful message and a robust network of satellite technology that led to the election of the country's first woman president.



About the author
Catherine Melquist has served as the head of marketing for the Americas division of Vizada since 2007. She's responsible for developing and driving Vizada Americas marketing strategy, aligning corporate vision and goals with commercial initiatives and building brand equity with through channel outreach programs and new product roll outs. Before joining Vizada, Catherine held strategic marketing director positions with positions at Telenor Satellite Services, Lockheed Martin Global Telecommunications and COMSAT Corporation. She holds an MBA from The American University and a B.A. in Political Science from the University of California at Santa Barbara.

The All-Star Team
Each of these professionals, along with their company's technical and commercial teams, worked on site in Belo Horizonte, Brazil for the entire month of October. Because of their collaborative efforts, the satellite network and related applications supporting the voting process for Brazilian Election were implemented flawlessly.

Fabio Alencar, head of Latin American sales for Vizada, served as project manager. He was responsible for interacting with team members at Inmarsat, Arycom and Vizada to ensure coordination of testing and to detect network performance issues in advance of and during Election Days.

Lee Marston, Solution Manager at Inmarsat, also acted as a project manager. His responsibilities included coordinating activities and communications among personnel at Inmarsat. His role was integral in understanding the complete network design and the satellite network operation.

Tord Wester, a system engineer expert at Arycom and lead engineer for the project, worked with Vizada and Inmarsat to debug every network problem in advance of the Election Days. He was also responsible for successfully implementing the configurations, like the VPN, and providing on-the-ground training to most of the engineering support in the field, during the testing period and Election Day.

Also contributing were the Technical and Commercial Teams of Inmarsat, Vizada and Arycom with locations spanning the U.S., U.K., France and Brazil.