With the help of mission integrator NanoAvionics, US company Blink Astro successfully tested its communication link between its satellite-based IoT receiver and its ground terminals.
Blink Astro, LLC (Blink), based in Atlanta, Georgia and a wholly owned subsidiary of SpaceWorks, is the small satellite (smallsat) unit within the overall SpaceWorks Group of companies. A spin-off from an internal SpaceWorks project of the same name, Blink was formed in 2015 to enter the rapidly growing Internet of things (IoT) and Machine-to-Machine (M2M) connectivity market. The company intends to provide affordable and reliable data messaging services via IoT ground terminals and a small network of nanosatellites operating in Low Earth Orbit (LEO).
---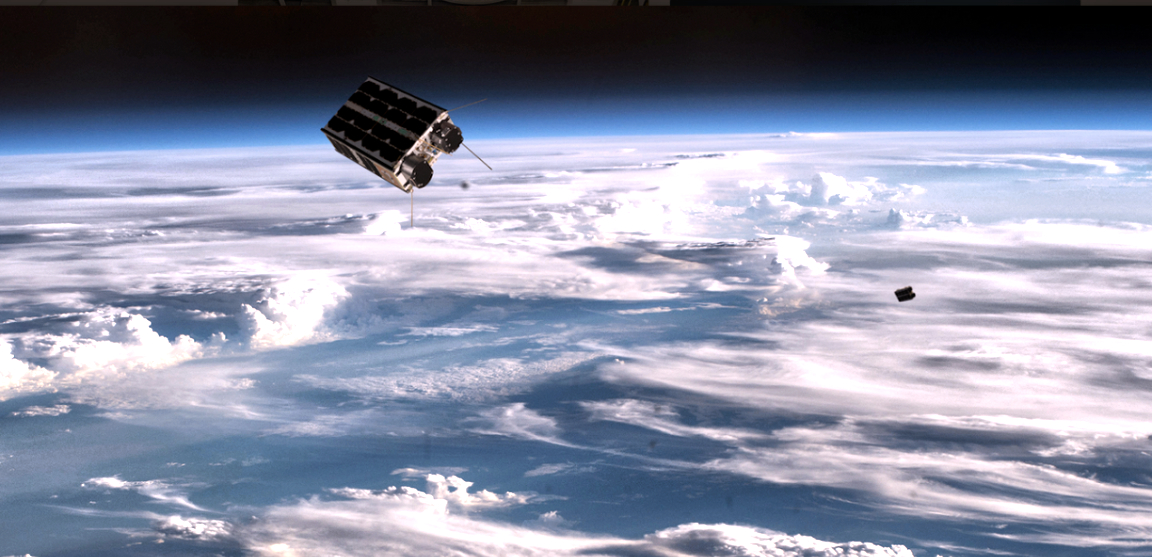 NanoAvionics smallsats on orbit. Image is courtesy of the company.
---
Blink's target markets include oil and gas, precision agriculture, logistics and shipping, marine biology, environmental monitoring, and the military. While primarily offering a satellite data network that supports the reception of low power signals with low data rate packet streams, the company is also developing a complementary series of small ground transmitters called BlinkRs to serve as direct-to-satellite IoT terminals for its network. To add additional value to its network services Blink also plans to provide cloud-based data analytics services.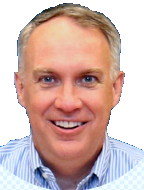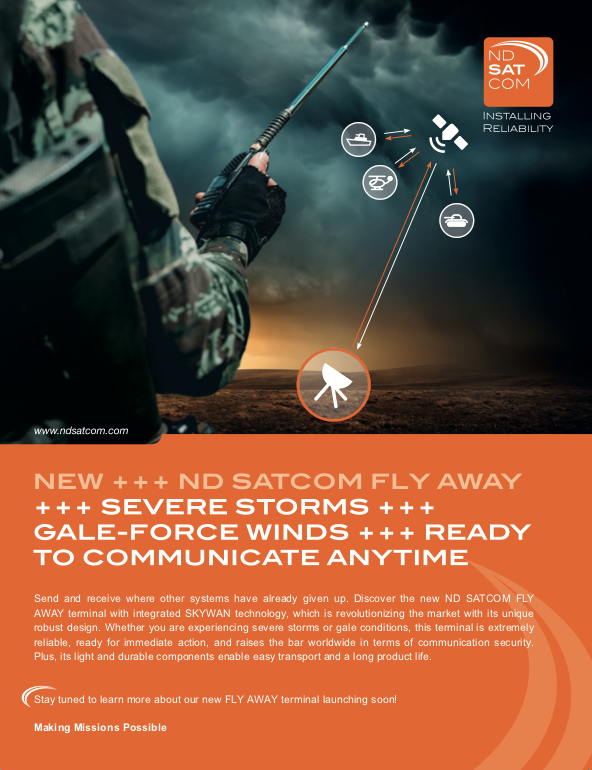 "Space-based IoT and M2M connectivity is predicted to be one of the most rapidly growing LEO markets over the next ten years," said Dr. John R. Olds, CEO of Blink and Blink's parent organization, SpaceWorks. "Global IoT is already a very rapidly growing market. We anticipate trillions of smart devices will need periodic connection to the Internet within the next decade. Think smart homes, smart cities, smart cars, smart shipping containers, smart farms, smart factories, etc.
"A reasonable percentage of those IoT devices must be placed in remote areas and operated outside current wi-fi or cellular service areas. Satellites are an excellent choice to serve those areas. Inmarsat, Iridium, and ORBCOMM already provide satellite-based short-burst data services to these remote IoT markets, but we believe end-user prices will come down significantly with the adoption of small satellite platforms in LEO. In turn, that will increase the space-based IoT market share relative to terrestrial network options. A growing share of a growing market is a good position for us."
At the end of 2017, after three years of development, the company rolled out its AgriBlinkR (formerly BlinkR Series 1000) ground terminals as a part of its first end-to-end customer solution for agricultural applications. The AgriBlinkR system is designed for precision agriculture applications to dynamically increase crop performance. According to the Food and Agriculture Organization of the United Nations farmers need to increase their yields by about 50 percent by 2050 to be able to feed the world.
The AgriBlinkR measures soil moisture, ambient temperature and ambient humidity. It also includes an onboard GPS system for geolocation of data. Data sampling intervals are customizable, typically taking place every 30 minutes. Upload intervals via satellite are also customizable, but typically happen four times per day.
Such a satellite-enabled device provides farmers with one-stop global coverage and eliminates dead spots typical of cellular solutions. This will give farmers a better view of their fields and crops and help them increase agricultural output from available arable land. Additional BlinkR models, such as the company's AquaBlinkR floating IoT terminal for water monitoring, are under development for a variety of new IoT applications.
After completing radio frequency ground tests in its facilities in Atlanta and conducting outdoor field assessments with surrogate satellite systems in agricultural settings from late 2017 to early 2018, Blink was looking for a way to quickly and cost-effectively test and demonstrate some of its own IoT technologies in orbit.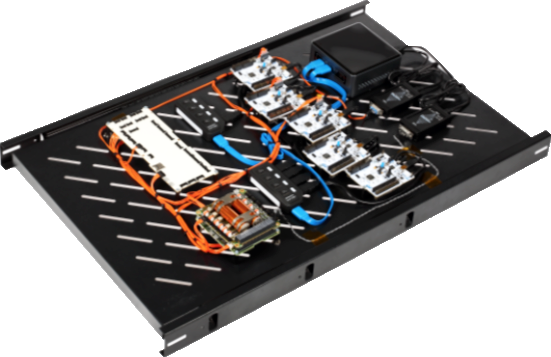 The M6P FlatSat testbed.
Olds said the desired goal of the Blink Technology Demonstration (BTD-1) mission was to demonstrate the reliability and quality of its custom IoT radio receiver and planar antenna technologies, and perform live field tests in LEO. A successful space flight test of the company's patented end-to-end connectivity architecture would allow Blink to progress to the next 'Technology Readiness Level' and move closer to its final products and services.
"We were seeking a way to perform an affordable space flight test as the next step in the progression of our space-based IoT architecture business model," he said.
During the same time period, Blink had been in preliminary contact with NanoAvionics, which was offering hosted payload flight opportunities to Low Earth Orbit (LEO). According to Olds, NanoAvionics offered a complete launch package taking care of all aspects of spacecraft and launcher integration, matching Blink's requirements for low cost testing of its technology.
NanoAvionics is a global smallsat mission integrator with several successful IoT missions among its 25 satellite missions and 55 satellite related projects. It was the first company to develop a pre-configured nanosatellite bus 'M6P' and the first company to develop and launch a nanosatellite with environmentally friendly "green" chemical propulsion.
Following discussions and a meeting with Vytenis Buzas, CEO NanoAvionics, Blink proceeded to negotiate a business deal for hosted payload flying services on NanoAvionics' versatile M6P nanosatellite bus optimized for IoT and M2M missions among others purposes.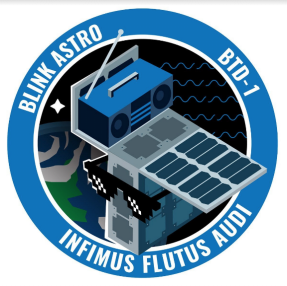 "We were looking at a group of three to four other options to conduct BTD-1, including building our own free-flyer spacecraft for this technology demonstration. Ultimately, we chose NanoAvionics' MP6 and rideshare option based on a combination of its lower price, faster schedule, and lower risk factors relative to the other options," Olds said.
Over the next 12 months, Blink worked closely with the team at NanoAvionics to integrate its custom high signal-to-noise ratio, short-burst data Blink receiver. Both teams had to make certain that the payload was compatible with the MP6 bus and developed on time.
"There were a great many video meetings and teleconferences for project coordination during this stage," said Darshan Shah, Program Manager at Blink. "NanoAvionics' experienced technical team, led by CTO Ernestas Kalabuckas and their lead software engineer Rimantas Žičkus, answered all of our questions and shared their know-how and expertise."
One of the useful advantages of working with NanoAvionics during the payload development process was the ability for Blink engineers in the United States to access remote hardware and software at NanoAvionics test facilities in Lithuania 24 hours a day. It allowed Blink to remotely connect their IoT receiver to NanoAvionics' FlatSat, a dedicated M6P model, which itself was connected to a ground station simulation. Via a simple network access Blink was able to run mission tasks, write and test their scripts, debug, do further developments and make sure the payload and the M6P can communicate with each other.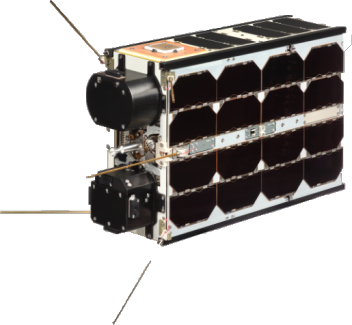 NanoAvionics M6P smallsat.
The FlatSat provided the same full functionality as the actual M6P hardware in NanoAvionics' laboratory, without the need to buy the expensive engineering model of the bus first and no waiting time for any hardware to be shipped. Shah said this remote approach was both "time and cost-efficient and more convenient than the traditional way of purchasing two satellite buses – the engineering and flight model".
"The access to the M6P FlatSat significantly accelerated the development timeframe of the payload and entire mission," Shah said.
Once finished, Blink sent their payload with additional equipment to Lithuania to be integrated in NanoAvionics' volume-efficient MP6 bus.
The next step was shipping Blink's hosted payload, now integrated into the M6P bus, to India where it was successfully launched, together with 29 other satellites, aboard the Polar Satellite Launch Vehicle (PSLV C45) from India's Satish Dhawan Space Centre on April 1, 2019.
After commissioning the spacecraft and checkout by NanoAvionics, which took about one month, Blink's payload was first activated in early May 2019. Blink's team of engineers was able to communicate with the receiver in LEO over many passes and from multiple ground locations through very low power using advanced, low power versions of the company's custom BlinkR IoT terminals.
For several months Blink conducted specific IoT tests during the technology demonstration over various ground sites in the continental United States. The tests included reception of short-burst data signals from Blink's IoT ground terminals, demonstration of a multi-patch antenna performance on the ground and in space, demonstration of Blink's proprietary terminal software, and experimental validation of overall signal quality.
Shah said during the mission, "NanoAvionics team went an extra mile providing 24/7 mission support as we needed to run additional tests, which required manual changes of the payload configuration, manually switching subsystems and making some operational maneuvers when the satellite was flying over certain locations during certain times."
"This flight demonstration was very valuable for guiding Blink's future plans for space-based IoT systems and our partnership with NanoAvionics on this technology demonstration saved us time and money," Olds said. "While specific results are proprietary, all of our primary goals for our communications link were met, and our technologies are now one important step closer to market."
www.spaceworks.aero/orbital/
---