The talk of the Energy Industry, or more specifically the Oil & Gas Sector, these days is centered on the trickle-down impacts of the near-term instability of crude oil pricing.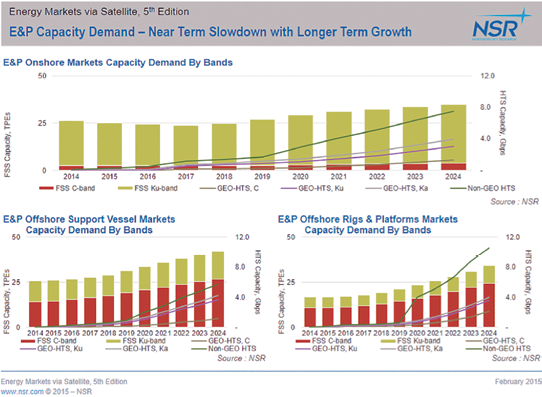 With rig counts continuing to decline compared to previous years, a slowdown across onshore, offshore, conventional and unconventional markets due to lower exploration activity, and budgets across the E&P sector getting slashed for 2015-2016, there is probably good reason to worry, for the near term.
As the E&P sector turns its focus towards the reality of a $60 crude oil barrel hovering around, the overall result is a greater focus towards improving operations across the business—both onshore, and offshore. What does the impact of all this mean for SATCOM in the Energy markets?
As discussed in NSR's Energy Markets via Satellite, 5th Edition (www.nsr.com/research-reports/satellite-communications/energy-markets-via-satellite-5th-edition/) report, it may be just a bump in the road through 2016-2017, with growth thereafter brought about by HTS.
Onshore will be hit the strongest as crude supply and demand remain disconnected. Without clear pricing stability and an oversupply of crude and natural gas in key markets, satellite service providers should see some consolidation amongst independent producers.
Additionally, as crude pricing favors lower production cost fields in areas such as the Eagle Ford, the market for remote communications into these areas will lean more heavily towards a terrestrial-based primary communications solutions.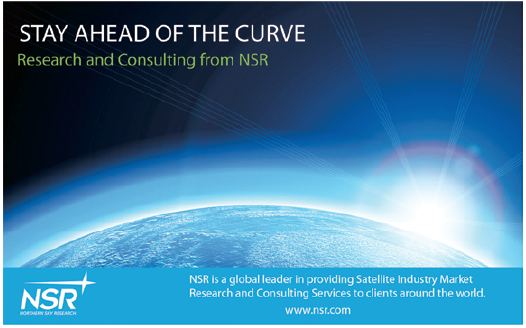 Without the quicker drilling tempo of an $80 barrel, and activity concentrating into the more profitable fields, the next 12 to 18 months will see a dip in satcom services demand.
Those rigs that continue to operate through either longer term contracts or more profitable operations will likely see higher demand for data connectivity, but fewer rigs still means less demand.
Offshore E&P is a harder market to find a connection for, with longer term contracts weighing more heavily as well as longer lead-in and shut-down times dampening the link between crude pricing and satellite demand.
For the offshore support vessels (OSV) market, the next few months will be challenging as seismic activity will likely remain lower than normal, and new builds continue to enter the market. However, the core market—vessels on longer term contracts or providing more sophisticated services—will continue to require connectivity. And, once the market stabilizes, more vessels will mean the upward trend will pick up in more places.
Within the rigs and platforms sector, ultra-deepwater activity will likely feel some impact in the near term as greenfield projects are re-evaluated. Those projects which are still on the drawing boards will likely remain so until markets stabilize, and areas such as the Arctic will slow down as cheaper oil elsewhere remains.
In the core markets of the North Sea and the Gulf of Mexico, terrestrial options will play a larger role as O&G end-users stick to existing fields that have well known quantities of petroleum and are within easy reach of existing assets.
Additionally, with a greater focus on 'improving operations' will also come a greater demand for lower latency, higher throughput connectivity options from stabilized microwave or sub-sea fiber. Yet, the market for SATCOM services will still remain in key markets for the remote projects that are already under development, from near shore operations in Southeast Asia to deep water locations in Brazil.
There will be no getting around the impact of rigs being idled, especially for onshore operations in the shale/unconventional plays. For the rigs and vessels without longer term contracts, the market will remain exceedingly difficult and end-users will need to either reduce the number of active equipment, or significantly cut day-rates.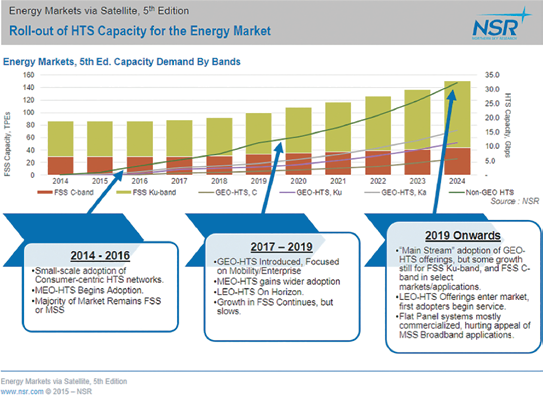 Those sites and vessels which remain active will need to become leaner, more efficient operations, a process which typically involves more data at more stages of the well lifecycle. Any conversation within the Energy sector that involves "improving operational efficiencies" implicitly means "more data."
Everything from narrowband/M2M data to bandwidth-hungry video conferencing applications will be brought to bear in the name of improving operations. However, budgets will still remain constrained as IT managers are told to do more with the same—or less.
The satellite industry is already in the process of developing a strong solution to the 'do more with less,' with many High Throughput Satellites (HTS) launching over the next 12 to 18 months. Fitting right into the current budget constraints of O&G end-users, the 'more bits per buck' value proposition of HTS will help offset the traditional hesitation across the energy sector of adopting newer technologies.
The satellite communications sector continues to recognize this, and continues to announce new HTS-enabled satellites across C/Ku/Ka bands in all corners of the globe, with footprints mirroring existing FSS coverage being only a question of 'when', not 'if.'
With more capacity in the sky, and more pressures on the ground to reduce cost and improve operations, HTS-enabled services will become a core component of the remote energy communications puzzle. Although traditional FSS will remain (and grow as activity pick up again), the focus on improving operations and the bottom line will be a strong motivating factor for a quicker than usual adoption which will make the current downturn merely look like a bump in the road for the satellite industry.
NSR: http://www.nsr.cm/

Mr. Grady has been involved in the Satellite Communications industry since 2005, joining NSR in 2010. He is NSR's Energy market subject matter expert, and a core member of NSR's mobility research practice for both civil and government markets. He regularly provides his insights and analysis to NSR's single-client consulting practice, and is also a regular contributor to leading industry publications and forums.
Before joining NSR, Mr. Grady served as the Sustainable Development Projects Coordinator Intern with the Global VSAT Forum where he worked regularly with the GVF Secretariat and the Regulatory Working Group on many of the forum's initiatives. Working with the Regulatory Working Group, Mr. Grady helped develop and implement various RWG initiatives aimed at protecting satellite spectrum, increasing awareness of satellite services, and working to promote regulatory reforms across the globe.
Mr. Grady holds a Bachelor's degree in Economics from the University of Maryland, College Park where his research focused on renewable/alternative energies, Information Communication Technologies and the Satellite Communications Industry. He works in NSR's Washington DC office.
---