Thales Alenia Space, the joint company between Thales (67%) and Leonardo (33%), logged a number of successes in 2021, including key contracts, major industrial milestones and launches, a series of innovations and new capital investments.
Space to Explore
Thales Alenia Space confirmed its global leadership in orbital infrastructures last year, by confirming the development contract for the communications and refueling module ESPRIT on the upcoming Gateway lunar space station. This business win followed two contracts signed in 2020 to produce the I-HAB and HALO pressurized modules. Gateway is being developed within the scope of NASA's Artemis program, designed to return astronauts to the Moon by 2024. The lunar space station will also be used as a waystation to prepare crewed missions to Mars.
---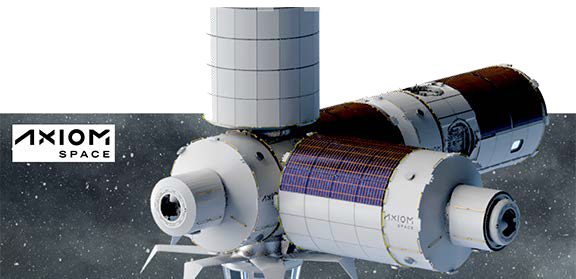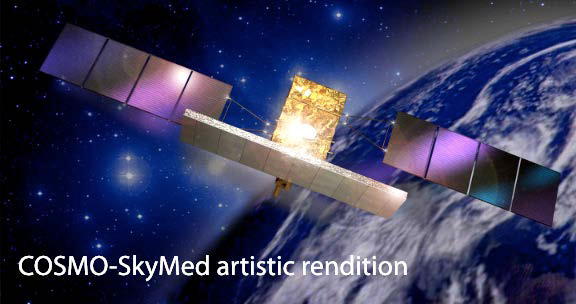 ---
Thales Alenia Space also announced an order for two more pressurized cargo modules on Cygnus, the resupply vessel for the International Space Station, and won a contract from Axiom Space to build two pressurized modules for the first commercial space station, Axiom. Thales Alenia Space is also playing a major role on the Orion spacecraft, designed to carry astronauts to the Moon as part of the Artemis program, especially as supplier of thermomechanical systems for the European Service Module (ESM).
In 2021, Thales Alenia Space participated in the final integration of critical systems on the second module (ESM 2) and also signed a contract amendment providing for a similar contribution to ESM 4, 5 and 6. Additional highlights in 2021 included significant progress on major programs such as the second ExoMars mission, to be launched in September of 2022, and EUCLID, a science mission dedicated to the study of dark energy and matter.
Space to Observe and Protect
The second COSMO-SkyMed second-generation satellite was shipped from the company's Rome plant in December 2021 to Cape Canaveral, where it's now being readied for the planned launch in late January. The second generation of COSMO-SkyMed radar observation satellites is being built by Thales Alenia Space as prime contractor on behalf of the Italian space agency and defense ministry. The payload and platform for SWOT, the French-American oceanographic satellite, were integrated in 2021, a major milestone for this revolutionary satellite, slated for launch in 2022.
Space To Connect
Capitalizing on its globally recognized expertise in constellations, Thales Alenia Space was selected by the operator Telesat in February of 2021 to build Lightspeed, a constellation of 298 telecom satellites in Low Earth Orbit (LEO). The Lightspeed network will offer data rates of several terabits/second worldwide, providing secure, high-speed and high-performance connectivity for professional applications.
---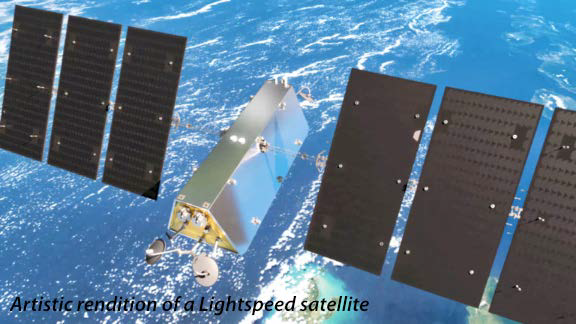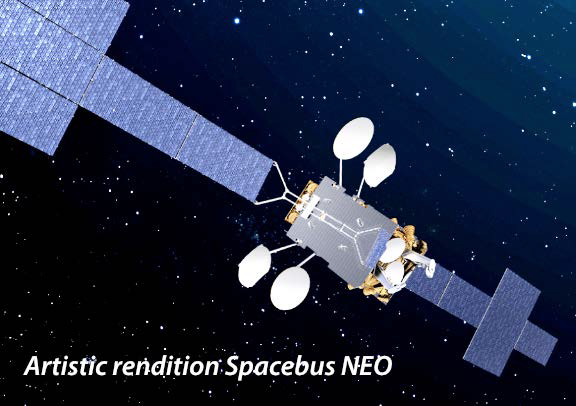 ---
Also in February of 2021, Thales Alenia Space and Satelit Nusantara Tiga (SNT) announced that they had finalized funding for the development of the Satria broadband communications satellite, designed to bridge the digital divide in Indonesia. This key step follows the preliminary agreement to start various activities for the satellite, signed in early September 2020.
Thales Alenia Space won five new contracts in 2021 as prime contractor for geostationary satellites. The company will build the SICRAL 3A and 3B satellites for the Italian Ministry of Defense, the HTS 113BT satellite for the Indonesian operator Telkomsat, and the ASTRA 1P and ASTRA 1Q satellites for the operator SES.
The latter two satellites are based, respectively, on the all-electric Spacebus NEO platform, proven in orbit, and Space Inspire, the company's brand new, all-digital solution, highly flexible and reconfigurable in orbit in virtually real time. Thales Alenia Space ended the year on a high note with these five satellites, giving it leadership in the geostationary telecom satellite market in 2021.
Space to Travel + Navigate
Thales Alenia Space was selected by the European Space Agency (ESA) and the European Commission to build 6 of the 12 new satellites in the second-generation Galileo constellation. Thales Alenia Space also signed an extension of the first-generation Galileo mission and security ground segment contract, to continue increasing the system's operational capacity.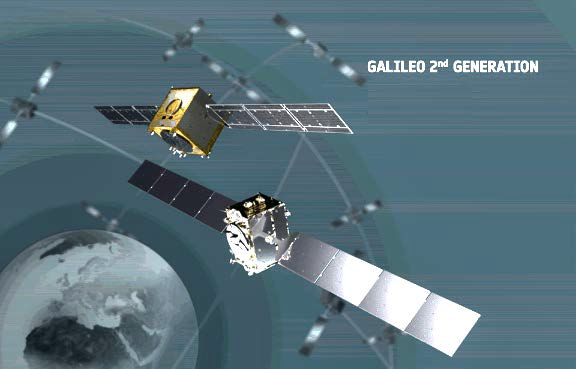 In addition to the company's work on the Galileo satellites, Thales Alenia Space, the prime contractor for Europe's EGNOS navigation overlay system, continued to upgrade the ground system to ensure the integrity needed to address ultraprecise and reliable positioning requirements for new and highly demanding applications. These new uses include autonomous road vehicles, as well as autonomous rail and maritime transport systems. The associated high-reliability integrity and "safety of life" services are already being implemented for aviation.
At the same time, Thales Alenia Space successfully carried out several flight demonstrations with ASECNA (air navigation safety agency for Africa and the Indian Ocean), in preparation for a satellite navigation system covering Africa.
Major Satellite Launches In 2021
Two geostationary telecom satellites — SES 17 and Syracuse 4A, built by Thales Alenia Space as prime contractor for SES and the French Ministry of the Armed Forces, respectively. Both use the Spacebus NEO platform with all-electric propulsion.
Two Cygnus resupply vessels for the International Space Station — Since the outset of this program, Thales Alenia Space has supplied all pressurized cargo modules for Cygnus, totaling 20 to date, on behalf of Northrop Grumman.
Three CERES military signals intelligence (SIGINT) satellites, with Thales Alenia Space supplying the platforms.
---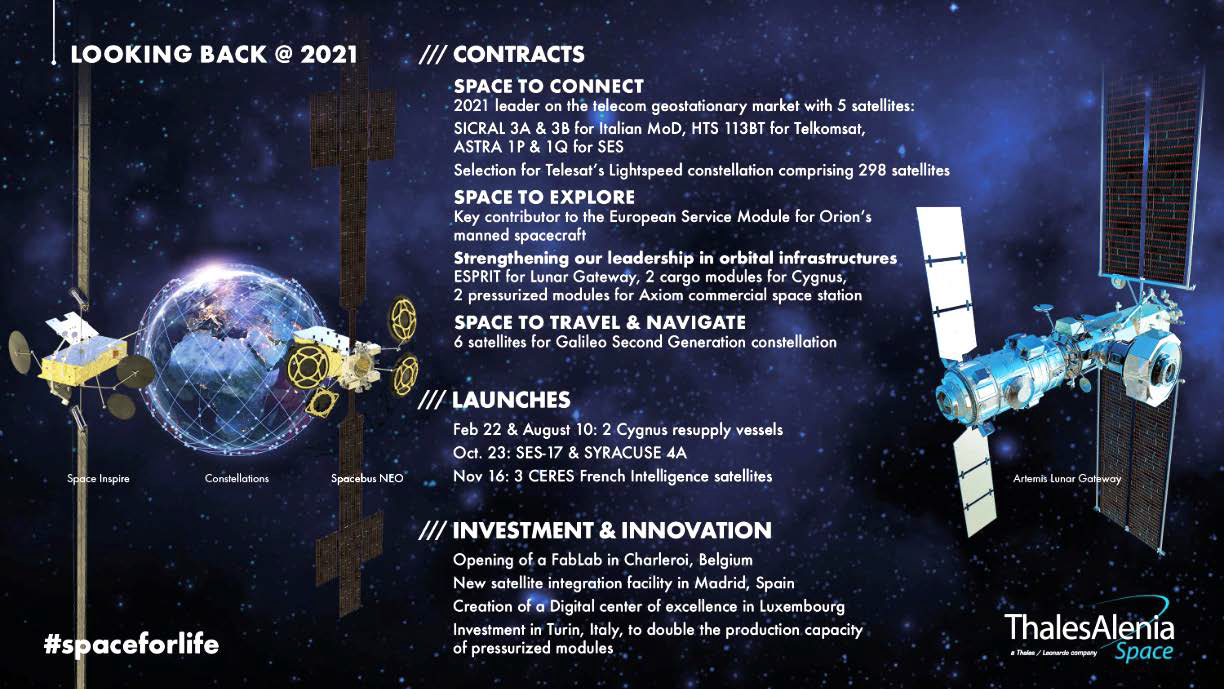 ---
Thales Alenia Space continues to invest in the space ecosystem, with the recent opening of a digital center of excellence, investments in satellite integration and pressurized module production at its industrial facilities, and the development of FabLabs across Europe. A number of key capital investments were completed in 2021. Thales Alenia Space expanded its European footprint by creating a digital center of excellence in Luxembourg. The Madrid plant now features a state-of-the-art satellite integration center, and Turin has doubled production capacity for pressurized modules. A new FabLab has been inaugurated in Charleroi, Belgium, along the lines of those already up and running in Toulouse, Cannes, Rome and Turin.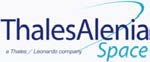 These FabLabs are designed to stimulate employee creativity and foster an innovationbased culture across the company. Through these FabLabs, employees can submit ideas that could result in concrete improvements through both professional and personal projects.
www.thalesgroup.com/en/global/activities/space
---