Latin America, broadly identified as the countries of Central America, South America, and the island states of the Caribbean, represents approximately 8.5 percent of the world's population and about 7.6 percent of the world's gross domestic product (GDP).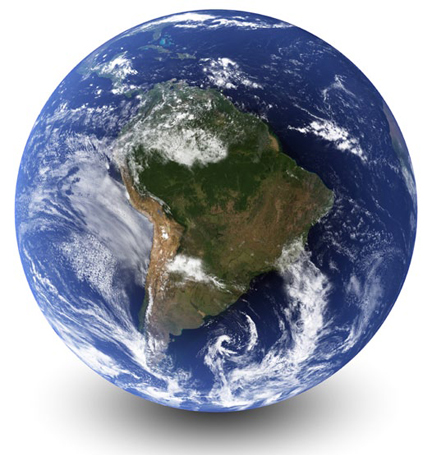 In recent years, as the world has seen a marked economic slowdown, Latin America has realized somewhat stronger growth with the five largest regional economies—Brazil, Mexico, Venezuela, Argentina and Colombia—having a combined GDP growth rate of 6.0 percent and 3.9 percent in 2010 and 2011, respectively; compared to global GDP growth rates of 4.3 percent and 2.7 percent over the same years according to figures released by The World Bank.
Latin America holds a lot of promise as a market for the satellite industry, and major satellite operators and service providers have identified it as an important market for their future growth. Economic growth in Latin America along with an increasing trend towards globalization—both from multinationals looking to invest and expand into the region; and from regional companies looking to gain global presence—has resulted in an increase in demand for satellite bandwidth for corporate infrastructure needs.
One of the major drivers of growth in the region is Brazil, which contains 48 percent of the Latin American population and accounts for about 41 percent of the region's economy. It is currently ranked sixth in the world behind the United States, China, Japan, Germany, and France, based on
World Bank
2011 GDP numbers, but is expected to overtake France as the fifth largest national economy by the end of 2012.
Though somewhat depressed by the world's economic slowdown, growth in energy, manufacturing, mining, food production and distribution, and retail industry are fueling a net increase in demand across Latin America for satellite capacity for enterprise and infrastructure needs.
Another important driver of growth in demand for satellite capacity is the
direct-to-home
(
DTH
) satellite TV market. Here, the market is also following trends in globalization with greater numbers of international channels being brought in for regional consumption with content in Spanish, English, and Portuguese. Even economically disadvantaged populations now consider TV to be a necessity and it is the primary medium for consumption of news and entertainment in these markets.
DTH satellite TV providers are increasingly offering
high definition
(
HD
) channel lineups to augment or replace their standard definition (SD) offerings. For example,
Sky Brazil
, which was founded in 1996 and is now majority owned by
DirecTV
, started its HD offering in 2009 with 10 HD channels and now carries over 40 HD channels. (Sky Brazil is carried on
Intelsat 11
, whose Ku-band payload supports the DirecTV coverage.)
Sky Mexico
, which was also founded in 1996 and is jointly owned by
Groupo Televisa
and
DirecTV
, also offers about 40 HD channels. (Sky Mexico operates from
Intelsat-9
and
Intelsat-16
.) The
2014 Soccer World Cup
in Brazil, followed by the
2016 Summer Olympics
also in Brazil, will no doubt accelerate the growth in demand for satellite capacity for satellite TV in Latin America with an increase in the number of channels offered; the conversion of SD to HD; the growth in satellite capacity for enterprise needs to support the economic development and infrastructure growth associated with these world events; and the temporal growth in demand for satellite capacity for occasional use
satellite news gathering
(
SNG
) services surrounding these events.
There are a number of global and regional satellite operators that offer satellite coverage to Latin America. According to information published by the
Brazilian Agency of Telecommunications
—
Agência Nacional de Telecomunicações
(
ANATEL
), amongst FSS satellite operators,
Intelsat
,
SES
,
Eutelsat
,
Telesat
,
Star One
,
Hispasat/Hispamar
,
HNS Americas
,
DirecTV
, and
SatMex
are permitted to operate in Brazil.
Intelsat is currently the largest provider of satellite capacity to Latin America with 13 satellites covering the region:
G-28
at
89 degrees West
,
IS-21
at
302 degrees East
,
IS-16
at
302 degrees East
which is leased to DirecTV for providing DTH services,
IS-9
at
302 degrees East
,
G-11
at
304.5 degrees East
,
IS-1R
at
310 degrees East
,
IS-14
at
315 degrees East
,
IS-11
at
317 degrees East
,
IS-903
at
325.5 degrees East
,
IS-801
at
330.5 degrees East,
IS-907
at
332.5 degrees East
,
IS-905
at
335.5 degrees East
, and
IS-901
at
342 degrees East
.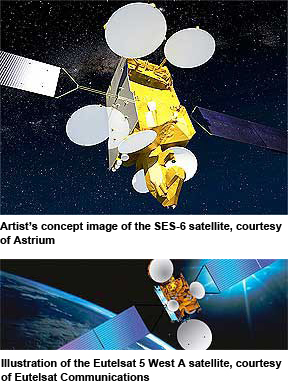 Intelsat has a recent launch and an upcoming launch:
IS-23
, built by
Orbital Sciences
was successfully launched by
International Launch Services
(
ILS
) on October 14, 2012 to replace
IS-707
at
307 degrees East
; and
IS-27
, based on the
Boeing
702MP
platform, which is expected to be launched in January 2013 by
Sea Launch
to replace
IS-805
at
304.5 degrees East
. (
IS-805
will then be relocated to
310 degrees East
and may continue to serve the Latin American market in a more limited capacity.) Both satellites have significant C- and Ku-band coverage over Latin America.
Seven satellites in the
SES
global fleet provide Latin American coverage:
QuetzSat-1
at
77 degrees West
, which is leased to
Dish Mexico
,
AMC-4
at
67 degrees West
,
NSS-703
at
47 degrees West
,
NSS-806
at
319.5 degrees E
,
NSS-10
at
322.5 degrees East
,
SES-4
at
338 degrees East
, and
NSS-7
at
340 degrees East
.
Several additional SES satellites in the
AMC
(
heritage Americom
) series have continental U.S. coverage that also extends into Central America and parts of the Caribbean. An additional satellite,
SES-6
is being built by
EADS Astrium
and is expected to be launched in 2013 to replace
NSS-806
at
319.5 degrees East
, which is past the end of its design life.
EUTELSAT
currently operates three satellites providing Latin American coverage:
EUTELSAT 12 West A
(formerly
Atlantic Bird 1
) at
12.5 degrees West
,
EUTELSAT 8 West A
(formerly
Atlantic Bird 2
) at
8 degrees West
, and
EUTELSAT 5 West A
(formerly
Atlantic Bird 3
) at
5 degrees West
.
An additional satellite,
EUTELSAT 3B
that is being built by
EADS Astrium
is expected to be launched in 2014 to the
3 degrees East
orbital position and will provide C-, Ku-, and Ka-band coverage, some of which will be over Latin America.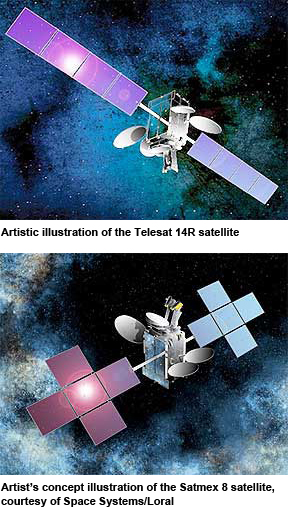 Four
Telesat
-operated satellites provide Latin American coverage:
Anik F1
at
107.3 degrees West
,
Telstar 14R
at
63 degrees West
,
Telstar 11N
at
37.5 degrees West
, and
Telstar 12
at
15 degrees West
.
An additional satellite,
Anik G1
, is being built by
Space Systems/Loral
and is expected to be launched in Q1 2013 to the
107.3 degrees West
orbital position and will provide C-, Ku-, and X-band coverage over Latin America.
Hispamar
is a joint partnership between
Hispasat
of Spain, and, the largest fixed telephony operator in Latin America. Hispasat/Hispamar currently operate six satellites with coverage over Latin America:
Hispasat 1C
,
1D
, and
1E at 30 degrees West
,
Amazonas 1
and
2
at
61 degrees West
, and
SpainSat
at
30 degrees West
.
Mexico City-based satellite operator
Satmex
(
Satélites Mexicanos S.A. de C.V
.) currently operates
Satmex 5
and
Satmex 6
.
A third satellite,
Satmex 8
, is being built by
Space Systems/Loral
, and is expected to be launched in December 2012, just in time to replace the ageing
Satmex 5
satellite, which only has a few months of fuel left.
Satmex 8
has 64 Ku- and C-band transponders, and will replace
Satmex 5
at
116.8 degrees West
, subsequent to which,
Satmex 5
may be deorbited or moved to an inclined orbit at another orbital location.
Satmex has also teamed with Hong Kong based operator
Asia Broadcast Satellite
(
ABS
) on a package deal with Boeing to build four satellites based on their
702SP
"small platform" that employs the revolutionary, light-weight, all-electric propulsion system, with an option for four more satellites. As part of the deal, Satmex is expected to acquire two of the satellites, the first of which will be named
Satmex-7
and will carry the equivalent of 61 36-MHz Ku- and C-band transponders and will operate at Satmex's
114.9 degrees West
orbital slot. Satmex is expected to make a final decision on the second satellite no later than July of 2013.
The Mexican government has contracted with Boeing to build a three-satellite geo-mobile satellite system to provide next-generation satellite services to the Mexican government for military, civilian, and humanitarian purposes. The
Mexican Satellite
(
MEXSAT
)
System
consists of two L- and Ku-band satellites operating in the
Mobile Satellite Services
(
MSS
) segment (
MEXSAT-1
and
MEXSAT-2
) based on the Boeing 702HP bus with 14kW of power, a 22-meter L-band reflector for mobile terminal links, and a 2-meter Ku-band antenna.
Boeing subcontracted with
Orbital Sciences
to build the third satellite (
MEXSAT-3
) operating in the
Fixed Satellite Services
(
FSS
) segment with 12 extended C- and 12 extended Ku-band transponders. MEXSAT-3 is expected to be launched in December of 2012.
The Mexican government currently operates a number of services on Satmex satellites. Once the MEXSAT satellites become operational, a substantial portion of these Government services are expected to be moved from Satmex to MEXSAT, freeing a significant amount of capacity which will then be available for commercial use.
Brazilian satellite operator
Star One
(a subsidiary of
Embratel
, a major Brazilian telecommunications company) currently operates six satellites:
BrasilSat B2
,
B3
, and
B4
, and
Star One C1
,
C2
, and
C12
.
A seventh satellite,
Star One C3
built by Orbital Sciences and scheduled for launch by
Arianespace
in late 2012 will have 28 active C-band transponders for coverage of South America and 16 x 72 MHz Ku-band transponders with six channels switchable between a Brazilian and an Andean coverage region. The Star One C3 satellite will replace
Brasilsat B3
at
75 degrees West
.
Earlier in 2012, Star One also contracted with Space Systems/Loral to build an eighth satellite,
Star One C4
, which will have 48 Ku-band transponders. There are also future plans to develop additional satellites
C5
,
C6
,
D1
, and
D2
with Star One D1 and D2 expected to carry Ka-band high-throughput multi-beam payloads. With the new C generation of satellites, Star One is seeking to grow its DTH TV business and rebrand itself as a regional, rather than a Brazilian domestic operator, with coverage designed to cater to the broader Latin American region. Star One is headquartered in Rio de Janeiro, Brazil.
Venezuela launched its first geosynchronous satellite,
Venesat-1
(also known as
Simón Bolívar
) in 2008. Venesat-1 is owned by Venezuela's
Ministry of Science and Technology
and operated by the state-owned telecommunications company,
CA Nacional Télefonos de Venezuela
(
CANTV
). Venesat-1 has 12 C- and 14 Ku-band transponders and operates at
78 degrees West
, an orbital slot assigned to Uruguay and used by Venezuela under mutual agreement. It was launched on a Chinese
Long March 3B
rocket, from the
Xichang Satellite Launch Centre
on October 29, 2008. A second satellite,
Venesat-2
is expected to be launched in 2015.
Argentina's state-owned satellite company,
ARSAT
has contracted
INVAP
, an Argentinian space contractor, to build the
ARSAT-1
satellite to be launched in mid-2013 by Arianespace to be followed by
ARSAT-2
and
ARSAT-3
which will also be built by INVAP. The satellites will be deployed at
81 degrees West
and
72
degrees West
and will operate in C- and Ku-band.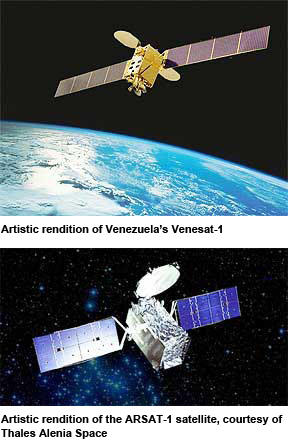 The adoption of Ka-band for delivering high throughput multi-beam satellites capable of providing broadband services throughout the world has not gone unnoticed in Latin America. In November 2011,
ANATEL
, the
Brazilian Agency of Telecommunications
, released a document soliciting comments from the public regarding standards for operation of geostationary satellites operating in Ka-band over the Brazilian territory. The solicitation, which was received favorably by the industry, sought to set clear standards for operation in Ka-band with specified limits and methods for computation of adjacent satellite interference, and the coordination process.
ANATEL's May 2012 report on the list of satellites authorized to operate at Ka-band lists orbital slot exploitation rights for
Hispasat/Hispamar
at
61 degrees West
,
HNS Americas
at
45 degrees West
,
Star One D1
at
70 degrees West
, and
Star One D2
at
84 degrees West
.
The
Amazonas-3
satellite built for Hispasat by Space Systems/Loral and expected to be launched in the first half of 2013 (delayed from late 2012) by Arianespace carries 9 Ka-band broadband spot beams (in addition to 33 Ku-band and 19 C-band transponders), and will be deployed at Hispasat's
61 degrees West
location. It has also been reported that Eutelsat won an auction for Ka-band exploitation rights at
65 degrees West
earlier this year—as of this writing, that company has not announced any plans for use of the slot.
Global operators
Inmarsat
and
O3b Networks
are also building systems to bring high-throughput Ka-band satellite capacity to Latin America—Inmarsat with its
Global Xpress
system consisting of three initial
Inmarsat 5
Ka-band satellites; and O3b with its
medium Earth orbit
(
MEO
) low-latency system consisting of an initial fleet of eight satellites. Two O3b gateways are planned in Latin America, one in Lima, Peru and another in Rio de Janeiro, Brazil. The O3b satellites are expected to launch in 2013, with the system commencing commercial operations in early 2014. Inmarsat also expects to launch its Global Xpress satellites starting in 2013 with global coverage becoming available with the launch of its third satellite expected in late 2014.
Changing Dynamics
With this level of activity from global and regional satellite operators in Latin America, there is some concern that there will be an oversupply of capacity in the 2013-2016 timeframe before demand catches up with supply. However, some of this oversupply is likely to be offset by the increase in demand and the premium that is expected to be placed on satellite capacity in Latin America around the 2014 World Cup and 2016 Summer Olympics, which will no doubt bolster the profitability of the satellite business in this interim period.
The changing dynamics of the Latin American market brings new challenges for regional and global satellite operators and service providers. Regional satellite operators with available satellite capacity need to appeal to, and gain access to, a broader base of customers. Some of these customers are global service providers that have established Latin American subsidiaries, but in other cases, they are service providers who have historically operated in other markets such as North America, Europe, and the Middle East, and now seek to tap the growth potential of the Latin American market, but have little or no prior experience operating there.
On the other hand, global satellite operators wishing to operate in Latin America face competition from these regional operators, and in some cases, protectionist government agencies and regulations that place hurdles before international companies. Global operators that tend to see Latin America as a monolithic market bloc often fail to realize the differences between the many cultures and regional alliances.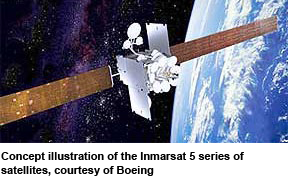 For example, Mexico, although a Latin American country, has stronger ties to the North America market and historical alliances with United States and Canada, rather than with the South American countries, and is worth considering as a separate sub-market with its somewhat distinct business practices. Similarly, while resident populations in the island countries of the Caribbean represent a relatively small market for satellite capacity, the extensive oil and gas exploration and drilling activities in the Gulf of Mexico sharply define this market with major oil multinationals, drilling and exploration companies, rig operators, service and supply ships generating significant demand for satellite bandwidth to fulfill their remote communications requirements.
Brazil, which represents almost half of the Latin American economy, is also a different sub-market. First, unlike the other countries in Latin America, Brazil's primary language is Portuguese, not Spanish, and though a majority of the educated population can understand both languages as well as English, Portuguese is still the language for most business conversation.
Second, due to its size as a regional economy, it is worth adapting business practices to Brazil's legal and regulatory environment that is under the jurisdiction of ANATEL, which governs all commercial satellite communications within the country, sets its own limits and guidelines for interference and coordination, and authorizes companies for access to space. ANATEL, in most cases, requires that business contracts be executed through a Brazilian company, which, in the case of international satellite operators and service providers, means establishing a subsidiary to conduct business in Brazil.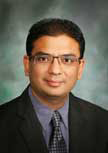 About the author
Ahsun H. Murad is the President and CEO of Optimal Satcom, which he co-founded as a spin-off from Lockheed Martin Corporation in 2002. Since creating the company, Mr. Murad has focused Optimal Satcom on developing new applications for fully-integrated, enterprise management systems. In addition, he continues to pursue various market opportunities around the world, targeting satellite operators, satellite service providers, and satellite-centric MILSATCOM initiatives, and their requirements for efficient management of their satellite capacity and associated networks.

Prior to Optimal Satcom, Mr. Murad worked in various positions across the satellite communications industry. Immediately before founding Optimal Satcom, he held management positions at Lockheed Martin and COMSAT Laboratories. In these positions, he headed the development of products for transmission planning and satellite capacity management and was the lead system architect for a number of commercial SATCOM and MILSATCOM projects.
* * * * * * * * *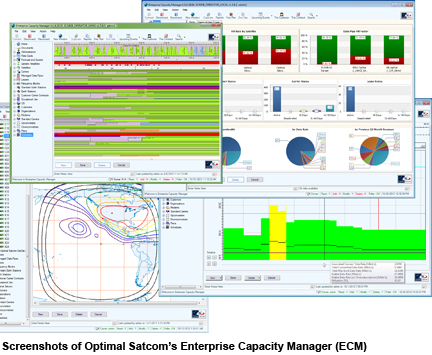 About the company
Optimal Satcom® has been supporting its customers who operate in the Latin American market for a number of years, working with global satellite operators that serve Latin America, Latin American regional satellite operators, major satellite service providers that operate in the region, and governmental entities. As a provider of enterprise software systems for satellite capacity management including market-leading products Enterprise Capacity Manager®(ECM) and COMPLAN®, Optimal Satcom seeks to support its customers with planning, management, and operations of their satellite business, facilitating expansion in global markets and adaptation to regional markets.

ECM is a software system that integrates all the functions related to satellite capacity planning, management, operations, sales, cost and revenue tracking, and customer management into a single system; and is in operational use by a number of satellite operators, some of the world's largest satellite service providers, and several governmental agencies.

Global companies seeking to expand into Latin America and regional companies wishing to expand into international markets find ECM's ability to support multi-site integrated operations, multiple currencies, multi-language reporting, and easy customizability to be attractive. The ability to easily segregate and track business performance by regions, market verticals, product types, technologies, etc. provides real-time business intelligence to help them understand their market and identify metrics for success. For companies that need to operate through regional subsidiaries in different markets, ECM also supports the use of a single system that reduces overhead by integrating the planning, operation, and management of satellite capacity at the parent organization level, while allowing financial functions to be segregated amongst the separate business entities.