A discussion with Mr. Zarkesh regarding the rebranding of satellite connectivity for Latin America (LATAM).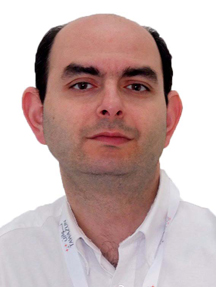 A seasoned professional of the space and satellite communication industry, Ali Zarkesh has been the Business Development Director at Vislink for almost two-and-a-half years. With more than 20 years of experience, 10 of which were within program management, Ali has worked at leading space and IT companies throughout his career such as Inmarsat, Astrium, Eumetsat, Vega and ComDevz­—as well as his current position at Vislink, a global provider of satellite communications technologies.
Having completed a BSc and then an MSc in Computer Science in the early 1990s, Ali started his career at Immarsat as an engineer. Following an eight year stint as a consultant to
Vega plc
, Ali then held two senior management positions at
Astrium
and
ComDev Europe
before acquiring his current position of Business Development Director of SATCOM Products at
Vislink
. His role involves the direction and oversight of product development of the entire range of SATCOM products as well as defining the strategic direction and road map for future products. He also develops new business contacts and markets for the company.
SatMagazine (SM)
Good day, Mr. Zarkesh. You have seen a number of technological changes for SATCOM over your 20 years in this industry. Over the past year or two, what recent advances do you believe hold the most opportunity for the various SATCOM market segments?
Ali Zarkesh
In my opinion, Ka-band provides the biggest opportunity—as it provides a large new capacity to complement Ku-band. Existing satellites operating in the Ku-band simply cannot keep up with the ever rising need for broadband; specifically, they don't have the available capacity needed by three main groups.
First, businesses are increasingly relying on richer content to expand their business as well as keep ahead of their competitors. Second, consumers who want to surf the Internet, stream films, send and receive emails, phone and video calls, all require capacity. Finally, governments around the world need high-bandwidth applications to provide services to their people.
Over the past two years there has also been an expansion of man portable satellite systems using reflector sizes of below 1.2m, often using a 65cm reflector (or even lower). Such systems are generally used in the military and surveillance sectors (X- & Ka-band) where size and weight are of optimal concern. Many militaries are now using these small terminals for tactical communications in support of foot patrols and also to get data and video back from the battlefield to base. However with the expansion of Ka-band systems, smaller units are also being used in the broadcast markets.
SM
What prompted you to take your talents over to Vislink?
Ali Zarkesh
I wanted to join Vislink as they are the leading provider of satellite communications equipment. They're a global organization, providing significant opportunities for development while allowing me to contribute to Vislink's long term goals by providing a wealth of experience for our customers—both new and existing.
SM
How can satellite communications equipment provide reliable access to those who need it, such as broadcasters and emergency services?
Ali Zarkesh
SATCOMs are more continually reliable than land-based communications networks, such as wireless or mobile networks, as these services are susceptible to being knocked out following a disaster or a large-scale event, either where the physical equipment required is damaged due to disaster, or is overloaded due to a large scale event. The benefit of SATCOMs in these eventualities is that the technology does not rely on surface level based equipment to function. The equipment can't be damaged by a natural disaster, nor can it be overloaded due to the multiple satellites in operation. This makes SATCOM the perfect solution for broadcasters who are looking to provide up-to-the-minute live coverage of breaking news events, as well as emergency services seeking to relay important information to headquarters or command posts.
SM
Given your role as the Business Development Director, you must know your markets—how is Latin America's (LATAM) perception of satellite technology changing, in light of the recent launch of the Amazonas 3
?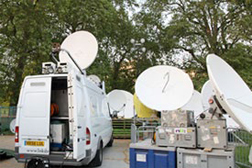 Ali Zarkesh
There is currently a big push in the American and LATAM regions to increase available communications capacity and coverage. Given the local terrain and lack of existing coverage, satellite communications is the perfect solution for these particular needs as it cuts out the requirement for numerous and costly relay stations and provides a continuous method of communication.
SM
Why does the LATAM market need specific satellite hardware to address different applications and market needs?
Ali Zarkesh
Latin America, traditionally, has had a poor "view" of satellite connectivity. For years, satellite has been seen as a high-cost, high-latency and unreliable solution. However, as modern satellite hardware has dramatically advanced, this view is gradually starting to change. The launch in February of the Amazonas 3 Ka-band satellite, which promises to deliver broadcast TV, fixed and mobile telephony, broadband and communication services, is a case in point and provides the region with much needed communications infrastructure.
SM
Will the launch of Amazonas 3 impact on Brazil FIFA 2014 and Rio 2016? If so, how? What will the SATCOMs legacy be?
Ali Zarkesh
As the demand for responsive and timely communications across Latin America continues to increase—particularly in Brazil with the 2014 FIFA World Cup and the Rio 2016 Olympics upcoming—satellite communications is rising up the necessity agenda. This is especially true as the existing fixed line infrastructure cannot be relied upon for communications today, let alone when the region plays host to what are arguably the world's biggest sporting events and the resulting influx of visitors.
However, while satellites like the Amazonas 3 will provide much needed capacity to the region, this is only one part of the puzzle. For SATCOMs to really become a viable communications tool, satellite hardware that tackles specific applications and requirements is also needed.
Emergency services forces, for example, need quick, immediate and reliable access to detailed incident intelligence and communications networks. Often in these cases, the uplink speed and portability of equipment are critical requirements. Broadcasters have different needs, often using stationary terminals as their main hub, but relying on multiple portable terminals for the best images and video. Again however, the availability and speed of communication is critical.
Network capacity will be a primary concern for the region, particularly as the whole world will be watching during FIFA 2014 and Rio 2016 and there will be a need to deliver a consistent and reliable communications signal, the legacy of which will be to bring the LATAM market up to the same standard as the rest of the world.
SM
What do you see occurring within our industry that will assist in offsetting satellite interference?
Ali Zarkesh
Satellite providers are making their regulations more stringent, resulting in larger dishes or a reduction of radiated power. There is a balancing act at play here. Vislink is presently working on new modulation and encoding schemes that will allow more data to be packed into the same bandwidth without an increase in power requirements. Any power increase will result in interference—Vislink's aim is to deal with the interference issue in this way. We also have carrier identification included in our transmissions that will allow the satellite authorities to identify terminals causing interference.
SM
What other challenges will the SATCOM industry face over the next year or so that need to be addressed immediately to overcome?
Ali Zarkesh
The major challenge over the next year will be, in my opinion, the issue of interference as satellite spacing become closer together. As mentioned before, this will require a careful balancing act to allow clean transmissions while allowing data rates and terminal sizes required by users.
SM
Given your experience, when you look over your career, what projects have you been involved in that bring a smile to your face?
Ali Zarkesh
Over the past 20 years I have been lucky enough to be involved in many projects from which I have acquired new knowledge. However, if I was to name one, it would my involvement with the Vislink MSAT project. This development was carried out in less than nine months and involved a small team of dedicated professionals. The team spirit and technical excellence required to complete the project on time and schedule will always bring a smile to my face, especially as MSAT has been so well received in the market place.