Putting The Program Into Practice

Quality assurance is at the heart of Intelsat's US$1.2 billion Global Xpress system.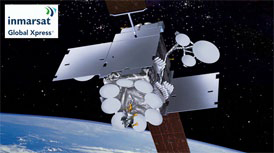 The launch of this new satellite service will be enhanced through the implementation of mandatory Earth station testing requirements. This will be done in coordination with the Global VSAT Forum (GVF), the international association of the satellite communications industry.

Through Intelsat's testing program, Earth station products to be used with the 2013 launch of Global Xpress broadband services will be required to demonstrate high levels of performance to ensure customer satisfaction.

Intelsat's program will be aligned with the GVF Product Quality Assurance Framework, and meet the GVF Quality Products Industry Initiative.

"Intelsat is committed to ensuring that our customers receive high-performance broadband satellite products," said Leo Mondale, MD of Global Xpress. "Our decision to require product testing in alignment with the GVF Product Quality Assurance Framework is a clear demonstration of that commitment."


"The global satellite industry is taking next-generation broadband solutions to a higher level of performance," said David Hartshorn, Secretary General, GVF. "Intelsat's requirement for type-approved Earth station products, and Global Xpress' coordination with the GVF Quality Products Initiative will give customers the standard of quality that is essential in today's demanding marketplace."

GVF provides Earth station testing through a mutually-recognized type approvals framework and an industry-authorized network of testing entities. Major satellite operators rely upon or conduct their own testing in coordination with the service, which is provided by GVF through its Mutual Recognition Arrangement Working Group (MRA-WG).

"Global type-approvals, which have a major bearing on industry profitability and competitiveness, have gained in importance as demand for satellite-based systems and services have increased and volumes have risen," said Colin Robinson, Chairman of the MRA-WG. "Intelsat's support for the industry's quality-assurance initiative is well timed to address that trend."



The MRA-WG maintains procedure GVF-101, which defines a set of standard tests that an antenna or Earth station manufacturer must perform in order to apply for type approval from any satellite operator who is a member of GVF.

Use of this procedure assures the quality of the ground communication equipment and provides the Earth station operator with a complete set of measured and verified test data. This helps reduce the time and cost required to bring new ground-segment technology to the market, provides credible measured performance data for use in developing link budgets, thereby advancing the competitiveness of satellite communications services.

* * * * * * * * *

Signed, Sealed + Delivered

Boeing and partner Orbital Sciences Corporation are a step closer to helping the government of Mexico provide advanced communications services throughout the country and surrounding maritime area with the completion of the MEXSAT Bicentenario communications satellite.



Orbital designed, manufactured and tested MEXSAT Bicentenario before shipping the completed spacecraft to Kourou, French Guiana, where it is scheduled to be launched aboard an Arianespace Ariane 5 rocket on December 19th (Flight VA211).

Under a contract with Boeing, Orbital completed the work on MEXSAT Bicentenario as part of a three-satellite order for the Federal Government of Mexico. As prime contractor for MEXSAT, Boeing is providing two larger satellites in the series that are scheduled for launch in 2013 and 2014. The Secretaria de Comunicaciones y Transportes of Mexico will take over day-to-day operations of the satellites as they are launched and undergo on-orbit testing, verification and positioning.

Boeing Space & Intelligence Systems is the overall integrator of the MEXSAT communications network, which will comprise three satellites, two ground telemetry and control sites, associated network operations systems, and reference user terminals. The second and third MEXSAT satellites will be Boeing 702HP geomobile satellites that will each supply 14 kilowatts of power and carry a 22-meter L-band reflector for mobile satellite services.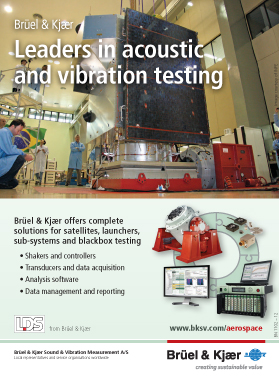 * * * * * * * * *

Single Button Access

Hermes Datacomms has developed a mobile wireless VSAT solution.



The trailer mounted system is self-contained, simple and reliable in hot, dusty and wet conditions.

With the touch of a single button, the system is deployed and ready to use in four minutes, providing instant WiFi Internet access.

Bill Green, Global Account Director, said, "We are very excited about this new product development. It builds on our existing deployed mobile systems in Ethiopia and Kenya, offering an even greater level of simplicity and reliability".

Barry Bouwmeester, Account Manager, added," Hermes Datacomms now provides extensive coverage in Africa using AMOS-5 satellite which features a high power C-band beam and regional KU-band beams. The new Wireless mobile VSAT technology is an add on to the services we can offer to our customers who are often working in difficult and challenging environments".

* * * * * * * * *

ITSO Mandate To Continue

Representatives from more than 80 countries convened in Uganda in July 2012 to debate the future of the International Telecommunications Satellite Organization (ITSO).



The decisions taken were significant and could have a far reaching impact on the overall development and evolution of the global satellite industry.

ITSO is the residual intergovernmental organization which remained following INTELSAT's privatization in 2001—when the operational assets of the international organization, including the satellite fleet, customer contracts and management, were transferred to Intelsat, a private company currently registered in Luxembourg.

Pursuant to the terms of an amended international treaty, ITSO is charged with ensuring that the privatized Intelsat meets several public service obligations including continuing to offer public telecommunications satellite services and maintaining global connectivity and coverage.

These obligations were also agreed to by Intelsat and ITSO when the company was formed and are separately enshrined in a formal Public Services Agreement entered into between the two entities.

While the creation and role for a residual organization made sense in 2001, the advent of new satellite services and increased options for global connectivity raised questions about the organization's future. Indeed, some within industry and Intelsat—as well as certain ITSO Member States—have questioned whether ITSO should continue at all.

This was the crux of the issues considered at the July 2012 Assembly of Parties. Ultimately, the Parties determined that the rationale for ITSO's existence remained as strong in 2012 as it had been in 2001, and that ITSO continued to have a significant role to play in ensuring that the principles, obligations and objectives for the organization that were established in 2001 would be adhered to by the privatized Intelsat. The Parties agreed to again reassess the future of ITSO in another 8 years, and extended the mandate of the current Director General, Mr. Jose Toscano, through July 2017.


Of interest to many within the satellite community is the funding mechanism for the organization. Funding for the organization through July 2013 has been provided by an annuity established in 2001 for that purpose. After July 2013, Intelsat has agreed in the Public Services Agreement to cover the organization's future funding requirements on an annual basis, the amount of which is to be determined based on the final year of funding provided by the annuity, which was set at S1.8 million USD.

One of Director General Toscano's first tasks under his renewed mandate will be to develop a strategic plan for the period from 2014 through 2017. ITSO's staff is lean, and its resources tight, but it has several opportunities to make the most of its extended life. Building upon its strong relationship with member governments, it can continue to craft a relevant role in providing capacity building, regulatory guidance and advice in a changing world in ways that would benefit the satellite industry as a whole.

To better meet the evolving satellite communications requirements of its Member States, ITSO is fully committed to becoming a more powerful advocate for the interests of its membership in a manner consistent with the scope of its overall mandate.

ITSO's biggest challenges in this regard will be the continued protection of the Parties' Common Heritage (i.e., orbital locations and associated frequency assignments that Intelsat uses to meet its obligations) and the continued preservation of the public service obligations embedded in the ITSO Agreement, so as to ensure that all ITSO Parties are able to receive access to satellite services with affordable pricing, global coverage and continuity.

* * * * * * * * *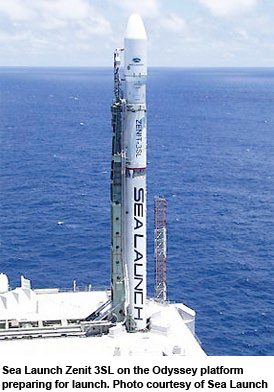 Reserving Propulsion

Sea Launch AG and Asia Satellite Telecommunications Co., Ltd. have recently entered into an option agreement covering launch services using the Sea Launch Zenit 3SL launch system.

The agreement provides an option which AsiaSat may exercise for the launch of a future AsiaSat satellite on Sea Launch. Sea Launch will provide AsiaSat with an integrated schedule assurance plan in support of AsiaSat's satellite deployment plan.

"We are very pleased to build upon our relationship with AsiaSat with this very important agreement" said Kjell Karlsen, President of Sea Launch. "Sea Launch is excited to play a role for AsiaSat in assuring the on-time deployment of its spacecraft."

"AsiaSat is pleased to secure this launch option with Sea Launch to ensure the timely deployment of our satellites" said William Wade, President and Chief Executive Officer of AsiaSat.

"Sea Launch has demonstrated its flexibility in meeting the needs of our future launch requirements and we look forward to closely working with their teams moving ahead."
* * * * * * * * *
Signing On For Strategic Product Development

World Reach Limited has revealed that its wholly-owned subsidiary, Beam Communications Pty Limited, has entered into a strategic product development initiative with Iridium Communications.

The agreement signed by the two companies defines a new product development initiative for which Beam Communications will be the Primary Contractor and Original Equipment Manufacturer of the end customer solution.

The initial order commitment for the new product will produce incremental sales revenues exceeding AU$3M in the first 12 months of commercial sale. The prospective launch of the product will be in the second half of 2013.

Joel Thompson, Vice President Product Line Management of Iridium Communications, said, "Beam was appointed a Value Added Manufacturer ten years ago and since this time has developed a strategic range of Iridium based accessories and terminals for the Iridium satellite network. This new initiative however is the first whereby Iridium is directly utilizing Beam's engineering and manufacturing expertise to design, develop and manufacture a new dedicated Iridium product."

"This undertaking by Iridium clearly demonstrates, once again, Beam's capabilities in developing leading edge high tech solutions for satellite network operators. This initiative will enhance the company's overall position in developing products under contract in the future. For commercial reasons the exact details of the product being designed and manufactured cannot be disclosed, however the company is extremely excited that Iridium has contracted Beam to undertake this new product initiative" said Michael Capocchi, Managing Director, Beam Communications. #

* * * * * * * * *

Bringing More To Brazil

SES has a new long-term capacity agreement with Level 3 Communications.


The new agreement is for the delivery of advanced corporate communications services to businesses across Brazil.

Level 3 in Latin America is using 25MHz of Ku-band capacity aboard SES' new SES-4 satellite to deliver high-speed broadband, and unified and highly reliable IP communications to small and large enterprises in Brazil.

The two companies have a long-time business relationship through which they deliver sophisticated telecom and video solutions to businesses in Argentina, Colombia, Chile, Venezuela and Brazil.

Sea Launch Zenit 3SL on the Odyssey platform preparing for launch. Photo courtesy of Sea Launch

* * * * * * * * *

Vacuum Victory Milestone

Skybox Imaging has successfully completed the simulated space environmental test of its first high-resolution imaging microsatellite.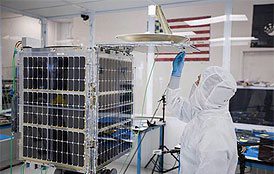 During the 16-day test campaign conducted at NASA's Ames Research Center in Moffett Field, California, the satellite was placed in a thermal vacuum chamber that accurately simulated the thermal and environmental conditions of low Earth orbit.

Skybox evaluated the spacecraft's performance in a variety of operational modes. This included a "day-in-the-life" test where the Skybox operations team simulated flying the spacecraft for 20 orbits. The test data collected was used to accurately correlate the detailed spacecraft thermal and power models and verify that all subsystems performed as expected.

"Spacecraft thermal vacuum testing is the largest and most important phase in our integrated spacecraft test program," said Jonny Dyer, chief engineer at Skybox. "Successful completion of this milestone gives us greater confidence that our first spacecraft will perform well in the space thermal environment."

Skybox is now entering final testing phases of the spacecraft, including integrated system testing and launch base testing. The next key test is set to take place in early 2013, when the spacecraft will undergo vibration testing. This will be the last major milestone preceding the satellite's planned launch in the second quarter of 2013.

"Our team is the foundation of our success, and we are extremely proud of the completion of this milestone which brings us one crucial step forward in the lead-up to launch," said Tom Ingersoll, Skybox CEO. "This marks only the beginning of our endeavors as we advance toward the deployment of the constellation." #


* * * * * * * * *

GaNamic DTH Solutions

Advantech Wireless Inc. has acquired a major sale of its unique Direct-To-Home (DTH) Uplink Solution in Latin America.

The combination of the Advantech Wireless 2.4 kW Ku Phase Combined Outdoor GaN High Power Amplifier, matched to the Advantech Wireless 13m A-Line Antenna, offers unprecedented ground power, linearity and resiliency for DTH uplink systems on the planet.

"We are the only company capable of offering this powerful combination. It is a technological achievement beyond any of our competitors, thanks to our leadership employing GaN technology, expertise in switchless outdoor phase combined high power amplifiers, and in house integration expertise in ground stations", said Paul Sandoval, VP Americas.

"We have successfully deployed these solutions in other parts of the world, including Brazil, Japan and Europe. This solution delivers the most watts per dollar in extended Ku-Band—no other company in the market can make such claims".

Following on the heels of an extremely positive year, Advantech Wireless is confident this multi-million dollar win will continue to increase our profitability and secure new markets in the Americas.

Adding emphasis to this product technology revelation is the fact that Advantech Wireless Inc. has just announced major sale of the aforementioned Direct-To-Home Uplink Solution in Latin America. #

* * * * * * * * *

Analysis For Canada Welcomed

Telesat has welcomed the Report of the Aerospace Review just released and believes that its recommendations provide a clear path forward for the Government of Canada.

Telesat congratulates Minister Paradis for mandating the Aerospace Review and Mr. Emerson and his colleagues for their work in delivering a timely and focused report that addresses many of the critical issues facing Canada's space industry.

Among the key aspects of the Report is a clear statement that the imperatives of development and security in the North should be high on the list of Government priorities in a Canadian Space Program.

"Telesat agrees that the North presents an important opportunity and believes that it can be best addressed by leveraging the advanced capabilities of today's satellite services", said Dan Goldberg, President and CEO.

"For the past several years, the Government of Canada has studied the development of a capability to provide broadband communications infrastructure for sovereignty, safety and security objectives in the North and to allow for meteorological observation in the Arctic to permit weather forecasting, modeling and environmental monitoaring.

"Creating such a capability would greatly enhance the government's ability to deliver on some of the key objectives identified in the Report, usings satellites as a key instrument of policy."

The Aerospace Review Report also identifies that one of Government's key responsibilities relates to making procurement decisions that strengthen domestic industries, and therefore the national economy, while respecting international trade rules and acquiring the best products at a reasonable price.

Telesat applauds the Report's approach in relation to procurement practices of the Government. "Given that Canada is making fewer space investments than certain other countries the Government of Canada must be highly targeted and strategic when it procures space related services and goods with a view toward enhancing the competitiveness of the Canadian space sector while at the same time achieving a good value proposition for the Canadian taxpayer", said Mr. Goldberg.

* * * * * * * * *

Switched On

COM DEV International Ltd. has revealed that the ChinaSat 12 satellite, successfully launched on November 28, was reliant upon a number of COM DEV-built switches on board.

Thales Alenia Space built ChinaSat 12 for Beijing-based satellite operator China SATCOM; it carries 24 C- and 23 Ku-band high power beams. The satellite will provide communications, satellite broadcasting, data transmission, digital broadband multimedia and media streaming services in China, East Asia, South Asia, the Middle East, Africa and Australia, as well as the Indian Ocean and China Sea regions from its orbital position above the Indian Ocean.