The maritime SATCOM market has seen tremendous changes over the past ten years, notably with the introduction and growth of maritime VSAT services in C- and Ku-band that allowed for higher throughput and therefore a range of new, previously unthinkable IT applications at sea.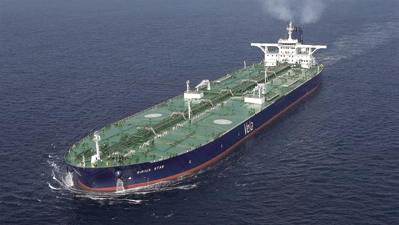 2014 may mark another milestone in the maritime SATCOM industry and the entry into the next era of maritime satellite communications with the arrival of High Throughput Satellite (HTS) systems targeting the maritime sector that will allow for yet another major leap forward in terms of telecom applications allowed on board vessels.
In 2013, the global maritime satellite communications market comprised around 350,000 active SATCOM terminals, of which the vast majority, more than 95 percent, were still legacy narrowband L-band terminals using the Inmarsat and Iridium systems for voice communications, safety and regulatory compliance. In recent years, growth in the sector has however mainly been driven by broadband applications and increasing data usage, with strong growth in maritime VSAT and MSS broadband systems.
While the overall maritime SATCOM market grew at approximately 4.5 percent in 2013 in terms of active terminals and approximately 10 percent in wholesale revenues, active maritime VSAT terminals increased at a CAGR of over 13 percent in the last three years, nearly doubling since 2005 to more than 11,000 terminals in 2013. Growth of maritime broadband systems was observed across all major maritime verticals such as merchant shipping, passenger vessels, fishing, oil & gas and leisure. It was driven by increasing throughput requirements per vessel, a range of new, bandwidth intense applications for ship operations and crew, and a relative price and performance advantage compared to the legacy narrowband L-band solutions, for which Inmarsat has raised prices.
In particular, the fast-increasing crew communications on board merchant ships and the increasing demand for passenger communications needs on cruise ships and superyachts have generated huge capacity and throughput requirements in recent years, which cannot be met by MSS services at an affordable cost. For operational communications, new applications such as real-time monitoring, remote engine diagnostics, maintenance, route planning, and electronic port declaration are being adopted by an increasing number of vessels; all of these applications drive growth of on-board bandwidth requirements.
Consequently, the installation of broadband VSAT systems has become inevitable, especially for high-end vessels such as cruise ships, superyachts, offshore rigs, tankers, oil and gas survey vessels and an increasing number of merchant ships.
However, with the ongoing growing need for data and throughput, traditional C- and Ku-band VSAT systems may as well soon reach the limit of what they can provide to the maritime sector in a cost efficient and affordable way for certain market tiers. Therefore, a number of operators have started to invest in HTS multispot-beam systems in Ka- as well as Ku-band, which will allow them to offer higher data rates, better efficiencies, more affordable bandwidth, and smaller equipment to the maritime sector.
The leading MSS operator, Inmarsat, announced its Global Xpress (GX) new Ka-band service back in 2010, with its Boeing contract for the delivery of three Ka-band satellites (I-5), each providing 89 fixed spot-beams. Each of the new satellites will provide over 20 times more capacity than the current satellites in orbit that provide MSS services through L-band capacity.
The first I-5 satellite was launched in late 2013, and two additional I-5 satellites are expected to be launched later this year, for a start of global GX service sometime in early 2015. Inmarsat announced that Global Xpress will be able to provide services of up to 50 Mbps per ship. Although this could be true for the very high-end part of the market, average data rates provided through GX are expected to be much lower.
According to Inmarsat, GX will however still provide about double the capacity of current maritime VSAT offerings for the same or slightly lower monthly fees. While ramping up its installed base of new Ka-band terminals will be an issue in the early years, Inmarsat intends to leverage heavily on its leading position in the sector, its active L-band and Ku-band VSAT subscriber base, as well as its global distribution network.
As one of the major suppliers of maritime C- and Ku-band capacity today, Intelsat as well plans on launching HTS capacity for the maritime market in Ku-band. In 2012, the world's largest FSS satellite fleet operator announced its next generation HTS satellite series, called Epic, with a high performance open architecture design primarily consisting of Ku-band spotbeams.
While Inmarsat GX will be a closed architecture requiring Inmarsat-certificated end user antennas and terminals, Intelsat chose an open architecture strategy for Epic and intends to leverage on the current installed base of maritime Ku-band terminals. Intelsat claims that Epic satellites will each provide 25-60 Gbps, typically 10 times more than a traditional FSS satellite. The first Epic satellite, Intelsat 29e, is planned for launch in 2015 and will ensure coverage over the Northern Atlantic as well as the Gulf of Mexico. In total, Intelsat has announced five Epic satellites to be launched over 2015-19. As of today, Intelsat has signed two major maritime customers on Intelsat 29e; MTN, a service provider focused on passenger ship and government markets, and Harris CapRock, a service provider focused on the offshore and cruise ship markets.
These are merely two examples from a number of HTS systems that will be launched over the coming years, with a number of them providing ocean coverage, including ViaSat-2, Telenor's THOR 7, O3b, Telesat VANTAGE, and several others. In total, Euroconsult expects that with the launch of currently announced HTS systems, the Ku/Ka-band capacity available over ocean regions will increase from approximately 15GHz in 2013 to approximately 90GHz in 2016, a six-fold increase in raw capacity. And HTS systems will also be more efficient in terms of Mbps provider per MHz.
However, one has to be careful when looking at the increase in capacity supply through HTS systems, differentiating the total amount of capacity over ocean regions (aggregate) and the amount of capacity available to a single ship at any given point in the ocean. Given the multispot-beam architecture of HTS systems, the two measures will be substantially different and the available capacity per ship, although growing significantly, may not rise to levels that some reports might suggest. As an example, Euroconsult expects that maximum available capacity for a given point in the Northern Atlantic will increase from approximately 1.7 Gbps today to 4.5 Gbps in 2016.
The impact of this significant increase in capacity over the oceans has to be reviewed in detail, but it is quite certain that new HTS systems will change the way satellite communications are used at sea over the coming years. In early years, SATCOM was mainly used for basic voice and low-data applications for safety applications. With the arrival of broadband services, such as Inmarsat FleetBroadband, Iridium OpenPort, or mini-VSAT services, the market started to use more bandwidth-consuming applications.
As of today, maritime satellite communications moved to fully-integrated IP applications providing Internet access, audio and video streaming, and integration of the ship into corporate networks. HTS systems are expected to significantly increase data traffic and the available bandwidth per vessel, consequently enabling a range of new applications for end users over the coming years.
In late 2013, Microsoft expressed an interest in developing an adapted version of its popular Skype product for use over satellite. Such applications are extremely appreciated by the crew to stay in contact with their family and friends. As part of crew and passenger entertainment, the access to live television and video broadcasting are applications that also gain in popularity at sea. Also e-commerce and the way business is done in general will continue to drive the maritime market. Commercial ships and fishing vessels need real-time information about the market prices of their goods and real-time information systems to adapt routes, ports of destination, and the ability to sell fish stock while the ship is in transit.
Cloud solutions are other examples of applications that drive the need for high throughput connectivity at sea. In addition, applications focused on content could also start to take-up more significantly, enabled by the availability of more capacity. 2013 already marked an increased push from service providers towards a richer suite of value added services— including content and cloud applications.
In May 2013, KVH acquired Headland Media Limited, a media and entertainment services company providing commercially licensed news, sports, movies, and music content in the maritime, hotel, and retail markets. Inmarsat also has plans for a service enablement platform (SEP) that will include an application hosting infrastructure over its future Global Xpress Ka-band network as well as the current FleetBroadband L-band networks. Software companies connected via the platform will need to be approved as certified application providers (CAPs). By the end of 2013, Inmarsat had approximately 75 CAPs, including Microsoft.
The addition of contents and cloud applications into the service portfolio could be a differentiating factor for satellite operators and service providers and possibly a smart way to generate additional ancillary revenues, and drive more usage of connectivity. Content such as movies, news, and sporting events broadcasting are increasingly demanded by crew members. The acceptance of such content over satellite mainly depends on the pricing strategy and content quality. The acceptance of applications seems more challenging since it will take time to discover the crews' specific needs, and to educate ship owners and crew on these new tools. Professional applications will require shipping companies to adopt applications and integrate them into existing operations. However, in the case where such applications could become mandatory, there will be a huge potential addressable market, enabled by HTS systems.
In addition to the vast new range of applications that HTS systems should enable, other impacts of these systems will most likely include a decreasing price per Mbps, a decrease in hardware prices, and ultimately new maritime VSAT markets that would have historically not been addressable for satellite providers.
Growth in number of terminals should consequently be driven heavily by HTS systems in the next ten years with both Ku- and Ka-band in our view coexisting, offering the end user a broader choice of solutions. Euroconsult expects the number of VSAT terminals to grow at an average annual rate of approximately 13 percent over the next ten years to more than 40,000 active maritime VSAT terminals by 2023.
The upcoming launch of HTS systems and services over the next years is expected to drive the maritime SATCOM market, however it will also lead to a number of changes, both on the supply and on the demand side. On the satellite operator and service provider side, Euroconsult expects the market to become more competitive, with lower capacity prices and an increasing focus on value added services. For the end users, the market will likely provide better services with more affordable choices and range of new and exciting applications that were once unimaginable.
About the author
Capucine Fargier is a consultant at Euroconsult and main contributor to the research report, Maritime Telecom Solutions by Satellite: Global Market Analysis and Forecasts. She can be reached at fargier@euroconsult-ec.com.
About Euroconsult
Euroconsult is a leading international consulting and analyst firm that specializes in satellite applications, communications, and digital broadcasting. Analysts provide strategic, financial and regulatory assessment for space-related activities.
With more than 500 clients in 50 countries, Euroconsult has become a partner to satellite industry leaders. Clients entrust their confidential strategic projects to Euroconsult, and rely on our reports and forecasts in their planning.
Clients include leading satellite operators and service providers; satellite manufacturers and launch service providers; equipment providers and integrators; government agencies; media and broadcasting companies; and banks and investors.
For further information regarding Euroconsult, access http://euroconsult-ec.com/