Associated Press Television News (APTN) is one of broadcasting's unsung heroes. Although very well known to the broadcasting industry itself, it has almost no visibility to the general public, even though it is frequently APTN's (or arch-rival Reuters) images that make up many of the reports the public sees during their evening news telecasts. AP is now well along on an 18-month, multi-million dollar planned endeavor to convert all of its operations from standard definition (SD) to high-definition (HD) video. AP's London bureau has just been fully converted to ingest and playout HD. New York's conversion is happening now, while Los Angeles, Paris and Johannesburg's HD work has been completed. During 2011, a total of eight AP locations were converted, with another 25 to be completed by next year. The decision to convert to HD embraces all aspects of AP's workflow, from newsgathering and production to content distribution.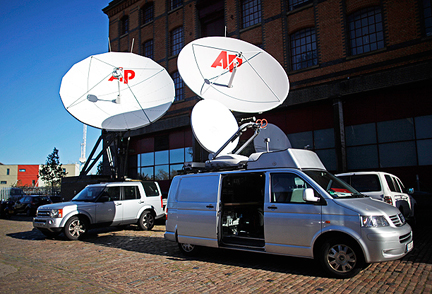 While its newsgathering staff in the key locations have already been supplied and trained with about 200 new HD cameras, resulting in the availability of AP's output in HD will be staggered. For example, the first of its sub-divisions, AP Entertainment News, goes 'all-HD' on November 11.
Sports news, via its joint-venture with Sports News Television (SNTV), converts in January of 2012. The completion date for the main breaking news service will be June 2012, just in time for the 2012 London Olympics in July and the U.S. presidential elections in November. New HDTV OB trucks and satellite 'fly-away' vehicles have also been purchased.
The move to HD will see AP change the way it gathers, produces, and distributes news to its customers, involving a series of upgrades. In addition to HD cameras, it is upgrading mobile satellite trucks and enhanced backhaul capabilities to handle the HD signal.
Video news bureaus around the globe have also been upgraded to the latest generation of video editing, compression, and transmission technologies. Additionally, state-of-the-art HD Master Control Rooms (MCR) are being constructed in more than 20 locations, including London, New York, and Washington.
The AP's extensive video archive will also be transformed to accommodate HD with customers able to download broadcast quality and HD footage from its website, says David Hoad, AP's Director of Global Video.
Hoad adds, "The magnitude of this project is such that we are upgrading all our infrastructure right from the camera lens to the distribution technologies and everything in between. We recognize in today's information driven world it's all about choice and getting the information you want, when, where and how you want it. As such, we're upgrading our technology to make it simpler than ever for customers to receive and use our video footage."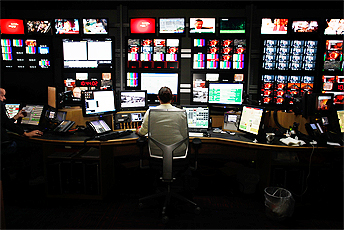 Nigel Baker, VP Business Operations for EMEA/Asia at AP, says that the move was needed to reflect client demands, and to stay ahead of its rivals. "We have 19 out of our top 20 clients either already transmitting in HD, or are expected to have shifted to HD by 2012 — one-third of our client base will be HD by 2012. We see 2012 as representing the 'tipping point' for HDTV."
Baker said there had been an explosion over the past three or four years in their client's demand for celebrity-led video footage. "You cannot imagine the number of people who seem to want Paris Hilton stories every day! This has seen us enlarge our entertainment supply, and clients can now benefit.
"AP has always been focused on being 'first, fast and accurate' but nowadays broadcasters want absolute immediacy, live footage no matter how raw, and this is reflected in AP Direct which started out as a 'live' channel back in 2003 covering events in Iraq. It has been hugely successful, even though some editors do not push the footage to air as live — they nevertheless want to see events unfolding so as to get a better perspective on the story, and to make their own decisions on their own editorial line."

Baker adds that the other step-changes in news supply has been in the usage of user generated mobile phone images, as well as initial on-the-ground reports from its own journalists. "We can often tap into a local 3G telephone network to send material back to our local bureau, and this technology can provide quite acceptable quality on a breaking news story. We saw this to a great extent during the Arab Spring demonstrations in early 2011. The amount of content coming in is huge, and still needs sifting and sorting, and validating when it arrives from a third party, but it is revolutionizing the speed of getting video onto TV screens." Baker says mobiles are also important in that there's new business coming to AP from cellular operators looking to offer AP content to their mobile users.
These technologies, as well as more conventional video feeds, were used extensively in the recent Libyan uprising to great effect. "We were the first with a satellite uplink truck into Tripoli," says Baker, "and broadcasters used that facility via our Global Media Services unit and where broadcasters pay us on an ad-hoc basis."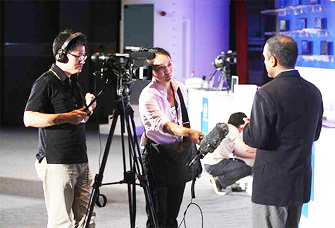 Baker says the Middle East and parts of Asia have represented growth areas for AP. India also has seen a surge, but it is also a market where growth has been somewhat tempered by consolidation. China also represented a very real opportunity. But where China has tended to be outward looking that is now changing into more traditional demand. "There have been no significant declines but growth in the TV markets of Europe and North America have been slower than the new regions like the Middle East and Asia."
AP is also digitizing into HD its complete video and celluloid archive, including that acquired when it bought WTN (the old UPITN news agency) in 1998 and rolled the content into is AP Archive division. That business, says Nigel Baker, has seen a seven-fold growth in revenues over the past 10 years. "However, one of the problems with the archive was its poor cataloguing. That is being remedied, as you can imagine. We started with the 'most popular' footage first, but we have some 20,000 film cans to plough through containing everything from reports on the Nixon/Watergate era to very old footage of Colonel Ghaddafi. The resource is of key interest to film researchers and documentary/factual producers."

About the author
Chris Forrester is a well-known broadcasting journalist and industry consultant and has been reporting on the "broadband explosion" for more than 25 years. Since 1988, Chris has also been a freelance journalist who specializes in content, the business of television, and emerging applications on all delivery platforms. He founded Rapid TV News and has edited Interspace and its successor Inside Satellite TV since 1996. He also files for Advanced-Television.com. In November 1998 he was appointed an Associate (professor) of the prestigious Adham Center for Television Journalism, part of the American University in Cairo (AUC), in recognition of his extensive coverage of the Arab media scene. He wrote "High Above — the untold story of Astra, Europe's leading satellite company," in 2010.