Since its inception in 1996, Asia Broadcast Satellite (ABS) has grown from a single-satellite operator to operating a fleet of satellites that include ABS-1 (flagship), ABS-1A, ABS-7, ABS-3 (scheduled for operations December 2011) and ABS-2 (under construction and scheduled for launch 1H 2013).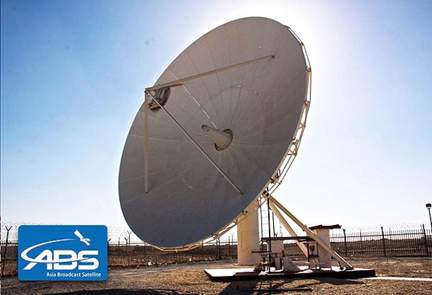 Over the past year,
ABS
has recorded impressive growth with acquisitions and strategic partnerships that have expanded the company's business and goals. ABS has secured key partnerships in the region offering transponder lease to multi-platform satellite-based data and telecom service providers. ABS has also added prestigious broadcast customers such as
MTV Asia
,
Outdoor Channel
and
ITV
. The Company has also successfully established the
75 degrees East
orbital position as the preferred DTH video neighborhood.
In December of 2010, ABS established an office in Dubai to expand its presence and to meet the rapidly growing demands in the Middle East and Africa.
ABS-1
,
ABS-1A
and
ABS-7
collectively offer significant C- and Ku-band capacity directly over the Middle East region with broad coverage, as well as unique Ku- and Ka-beams that target specific regions over Pakistan and Afghanistan and neighboring countries.
The Middle East is experiencing tremendous growth in VSAT deployments for corporate networks and rural demand for broadband and telecommunication connectivity. Serving this region, ABS's Bahrain teleport is equipped to support iDirect hub-based applications, IP Backbone connections, and Co-Location services.
Africa, as a huge landmass, offers tremendous opportunity to satellite operators. There is a distinct advantage in serving this region versus other terrestrial communication networks. Fibre connectivity, although gaining ground in the continent, is still limited to coastal areas. Fibre penetration inwards to Central Africa and the sub-Saharan region is usually slow and unstable, if available at all. The sub-Saharan region has high potential for Internet connectivity required by ISPs and voice backhauling for the telecommunications industry. This is where satellite services come into play with great effect.
ABS-3
(3 degrees West
) scheduled for launch in December of 2011 will provide additional C-and Ku-band capacity for the sub-Saharan continent with a most competitive pricing model. Although satellite bandwidth may not be able to currently compete with fibre on price, it does offer a reliable and competitive value proposition. This will be further supported with the launch of ABS-2, scheduled for the first quarter of 2013.
In addition to the growth of the satellite fleet, ABS is also working on its ground facilities to support services for Africa. Discussions are underway for new facilities in Nairobi and Dar Es Salaam that will allow for the provisioning of end-to-end satellite systems for VSAT, Internet trunking, and GSM backhauling.
ABS-2
will be one of the most powerful commercial satellites launched for service in the Eastern Hemisphere. The satellite have 87 active C-, Ku- and Ka-band transponders across 10 different beams, bringing increased capacity and transmission power to the Middle East, Africa, Asia Pacific, and CIS/Russia, and will be co-located at 75 degrees East.
The satellite will also feature switchable beams that can be re-oriented to blanket a particular region when demand for current orientations and coverage arise. ABS-2 is specifically designed for a wide range of satellite services. ABS-2 will provide continuity of service and expansion capacity to existing ABS-1 customers, and will also act as in-orbit spare and provide full backup for the ABS-1 transponders.
About the author
Richard Pak is the Senior Vice President of Business Development for Asia Broadcast Satellite (ABS). He has spent more than 14 years as an IT and Telecom professional. Mr. Pak moved to Asia in 1999 as the Regional Managing Director of the Business & Enterprise Services unit for Yahoo Inc. covering Korea, Hong Kong, Taiwan, China, Singapore, India and Australia. Mr. Pak was one of the original Internet pioneers of broadcasting and streaming technologies and built the world's first and largest Internet broadcast company (Broadcast.com) in 1995. He helped to grow Broadcast.com into the leading Internet destination for multimedia programming and took the company public in 1997, breaking NASDAQ's record for its most successful IPO. Subsequent to the phenomenal success of the IPO, Mr. Pak played a critical role in completing the merger with Yahoo Inc. totaling more than USD $5.7 billion. Richard Pak is a graduate of Texas A&M University in Mechanical Engineering and Business Analysis with post-graduate studies at the University of Texas in Austin.